About Al Manama, Ajman
The peaceful district of Al Manama is located 60 kilometres east of the downtown area in the city of Ajman. The Hajar Mountains may be seen in stunning detail from the area, which is well recognised for its spectacular scenery. Large areas of lush land are used to raise crops for human consumption.
Al Manama Ajman also offers several freehold properties and pieces of land for individuals who want to live away from the hustle and bustle of the city. 
Al Manama Ajman is widely known for its attractive terrain, historic forts, and vineyards framed by the stunning Hajar Mountains. Visitors who prefer the outdoors will enjoy seeing the Acacia trees, flowers, and Asiatic honey bees in the area. Three strongholds in the region attract history buffs. The restaurants and grocery stores that are necessary urban amenities are all close by. The parks and expansive fields in Al Manama are some of its outstanding features. It takes around an hour to get there from the city centre. 
The region will serve as the ideal getaway for urban dwellers. The dry plains can be reached by travelling down Sheikh Maktoum Bin Rashid Street and then onto Emirates Road (E611). Al Manama is one of Ajman's most sought-after communities because of the good quality of life and easy access to other parts of the city. There are various mixed-use structures in Al Manama. Investors can make investments in residential properties in the developing suburb of Ajman. Low-rise to mid-rise apartments can be found nearby.
Key Highlights of Al Manama, Ajman
What's Great Here!
Tranquil, serene setting

Easy access to the best healthcare facilities

Offers freehold properties, including villas and plots

Perfect for individuals seeking a change of pace from city life.

Lush and green areas all around
What Needs Attention!
Traffic congestion

Maintenance issues

High cost of living
Properties in Al Manama, Ajman
Al Manama is a well-known residential neighbourhood in the centre of Ajman's commerce. Both locals and tourists like the area's stunning homes, upscale amenities, and convenient location. At Al Manama, there are many different kinds of properties. The neighbourhood has a wide variety of flat designs and room configurations. Numerous neighbouring homes provide access to first-rate facilities and services and stunning views of the Hajar Mountains. 
Apartment buildings in Al Manama provide tenants with various conveniences and facilities like private swimming pools, 24-hour security and fitness centres. Many apartments offer access to community amenities like playgrounds and gardens, which will appeal to families. Villas are also a part of the Al Manama Ajman real estate. Most villas have four bedrooms and covered areas ranging from 4,693 square feet to 4,929 square feet. In addition to the usual architectural features, they have a balcony, broad halls, and five bathrooms. 
Each residence has a minimum of two parking spaces. Al Manama also offers residential plots for sale with covered spaces ranging from 4,520 square feet to 5,600 square feet. Depending on their size, location, and amenities, properties in Al Manama may cost more or less. Many believe that Al Manama's luxurious lifestyle and convenient location make up for the city's high cost of living. Al Manama is highly tempting for individuals looking for opulent real estate and access to first-rate amenities and services. Many properties are available in this lovely area, so there is something for everyone.
Off-Plan Trends in Al Manama, Ajman
Even while purchasing off-the-plan homes may be a wise financial move, one of the key advantages of doing so in Al Manama is the possibility of financial appreciation. As the community develops and evolves, it is anticipated that home values will rise, allowing investors to recover their early investments.
The majority of off-plan homes in Al Manama are equipped. Investors can buy homes in the Al Manama neighbourhood as Ajman's real estate market grows and develops to diversify their portfolio with high-end assets and boost returns. No such off-plan development is occurring in the Al Manama area currently.
Rental Trends in Al Manama, Ajman
Since Al Manama is such a well-liked area of Ajman, the rental market is highly competitive. The Al Manama rental market is influenced by a variety of factors, including but not limited to location, amenities, and property size.
Homes in Al Manama come in various styles and dimensions, with varying average square footage. Apartments with one bedroom often measure 700 to 900 square feet, while those with two bedrooms might reach 1,100 to 1,400 square feet. Floor layouts for three-bedroom apartments may range from 1,800 to 2,500 square feet.  
Four-bedroom plots and villas are for sale, with covered areas ranging from 4,693 square feet to 4,929 square feet. Al Manama's affluent lifestyle and convenient location may cause tenants to expect to pay more on the rental market. 
The rent for one and two-bedroom flats is declining, but it has increased by 4.2% for three-bedroom units. Even if the median flat size in the neighbourhood varies based on the type of structure, renters should be prepared to pay extra for larger units with more desirable amenities.
Sale Trends in Al Manama, Ajman
Al Manama has fast grown to be one of Ajman's most well-liked residential neighbourhoods because of its high concentration of luxurious residences, ideal location, and accessibility to first-rate amenities. Property prices in the area reflect the high demand and adjacent communities have a very competitive selling trend.
However, location, convenience, and maintenance all affect real estate sales in Al Manama, which fluctuate. The sales patterns for the 3 and 4-bedroom villas in Al Manama are consistent with other emerging communities. The future off-plan developments will alter the situation, and the sell tendencies will sharply rise.
Public Transport
The trip to Al Manama Ajman takes about one hour from the city core. Take Sheikh Maktoum Bin Rashid Street or Emirates Road (E611). The principal bus lines that pass through Al Manama and Ajman are as follows:
| Bus Line Number | Destination |
| --- | --- |
| E400 | Union Square Bus Station to Umbrella Beach |
| E88 | Al Manama Stop to Snarjah |
Amenities
Nurseries/ Educational Institutes

Supermarkets

Healthcare Facilities

Places of Worship
Al Manama is home to several schools and nurseries. These organisations provide their students with the greatest education possible and adhere to international standards. Some of them are listed below.
Suheela Advanced Kindergarten 

Al Manama Charity School

Ben Hazim School For Boys

Al Noaimia School for Girls

Al Sabah Indian Private School

The University of Sharjah
Al Manama has many shops offering locals and tourists daily essentials, frequently at discounts and promotions. Several of the supermarkets in the area are listed below:
Noor Al Madina Supermarket

Saif Supermarket 

Market Square
In Al Manama, numerous medical facilities can meet general and special needs. General medicine, physiotherapy, plastic surgery, dermatology, paediatric care, etc., are a few examples of medical services. The following is a list of hospitals and medical facilities:
Al Dhaid Health Center

New Zulekha Medical Centre

Berlin Medical Centre

Al Mahila Medical Centre
Al Manama, Ajman, is home to numerous places of worship that reflect its residents' different religious and cultural backgrounds. The following are some of the names of some of the neighbouring places of worship:
Al Manama Grand Mosque

Jamia Hameed Bin Rasheed Al Naeemi Mosque 

Our Lady Of Perpetual Help Church 

St. Gregorios Orthodox Church
Best Hotels in Al Manama
Al Manama, an active suburb in Ajman, is home to several hotels that can accommodate guests with a range of wants and needs. People may now easily find four- or five-star hotels for the greatest services in this city. The typical hotel amenities are conference rooms, spas, swimming pools, gyms, and jacuzzis. People can easily find cheap hotels in Al Manama's main business districts that are perfect for a quick stay. Some of the local hotels' names are listed below:
Ibis One Central

Novotel Dubai

Fairmont Dubai

Sofitel Dubai

Atlantis
Lifestyle
Shopping Centres/ Malls

Restaurants/ Dining

Beaches Nearby

Leisure Activities Nearby
Al Manama is a popular destination for locals and visitors due to its modern amenities. However, the new Al Dhaid Mall will be a 14-minute drive from the neighbourhood. Once built, it will provide visitors with an opulent shopping, dining, and entertainment experience. In addition, the community can purchase supplies from surrounding local shops, including Al Fard Shoes, Roman Perfume, and Honey & Bees Equipment. In Ajman, well-liked shopping centres include:
Ajman City Centre

Dana Mall 

Al Manar Mall 
With a wide variety of shops, eateries, and entertainment options, each mall provides a unique shopping experience. The shopping centres in Al Manama provide everything from high-end luxury to regional brands.
Al Manama has a thriving culinary sector. Some numerous eateries and restaurants offer different cuisines. The most popular restaurants in Al Manama are listed below.
Al Sanafi Fast Food Restaurant

Reef Al Manama Restaurant 

Sabr Al Manama Cafeteria

Shamal Restaurant

Firdous Restaurant 

Seeh Al Shay Cafeteria
Whether looking for a leisurely day in the sun or an exciting day of water sports, Al Manama has something to offer. With its unique combination of fine sand, clear waters, and spectacular vistas of the Arabian Gulf, each beach offers a unique experience. The beaches near Al Manama are a must-see for locals and visitors. The following is a list of a few Al Manama beaches that are just a 30- to 60-minute drive away:
Sandy Beach

Umbrella Beach 

Khorfakkan Beach
Umbrella beach is one of Fujairah's busiest beaches. The kids can have as much fun as they want in the designated play area. Khorfakkan Beach, a well-liked tourist destination, provides a range of fun activities. Plan your watersports and boating trips with local tour leaders for an entertaining beach day.
Visitors and locals can enjoy a variety of amusing activities in Al Manama. Every journey presents a special chance to learn about and appreciate the regional arts and culture. Both culture vultures and excitement seekers will find something to enjoy in Al Manama. Some neighbouring Al Manama entertainment alternatives are listed below:
The Red Fort

The White Fort

Hassa Buweid Castle

Masafi Fort

Wadi Shis

Al Raugh Tunnel
Two fortresses in Manama Ajman that are well-known sights are The Red Fort and The White Fort. These places host local gatherings over the holidays. The White Fort, originally known as Al Mareer Fort, is currently home to the Al Manama Museum. The Red Fort was constructed in the 20th century and comprises four chambers in two towers. 
The Scarlet Fort was named because the walls were constructed using gravel and crimson plaster. The primary draw for the area is the Hassa Buweid Castle. This castle was constructed in 1976 as a bastion by H.H.'s late Sheikh Rashid bin Humaid Al Nuaimi. The hills at its base give Hassa Buweid, which translates to "white stones," its name.
Al Manama - Location Map and Landmarks
Distance and Commute Time
Al Mareer Fort is 2.3 kilometres away and can be reached in 6 minutes. 

A 30-minute journey will bring you to Sharjah International Airport.

It takes 8 minutes to travel 4.3 kilometres to reach Ajman Beach. 

Al Raugh Tunnel is 4-5 km away and may be reached in 15 minutes.
Al Manama, Ajman
Ratings and Reviews
Chirayu Jain
One of Ajman's wealthiest districts, Al Manama, is home to some of the city's most beautiful residential structures. Although living in Al Manama is pricey, those who can afford it will have a high living level with all the modern conveniences they could desire.
Ruhani Bhatt
Access to world-class healthcare facilities
With some of the best hospitals and clinics in Al Manama, Ajman, access to high-quality medical treatment is not a problem. There are several excellent medical facilities in Ajman. Al Manama may be the ideal location for those willing to pay a premium for quick access to top-notch medical care.
Samantha Fernandes
Due to the high expense of lodging, food, and entertainment in Al Manama, Ajman, maintaining a level of life can be expensive. Living in Ajman is a wonderful experience for those who can afford it. The city offers access to top-notch medical care, educational possibilities, and recreational activities, making it the perfect place to escape the rush and bustle of everyday life.
Smith Jonas
Traffic congestion and noise pollution
Al Manama Ajman residents may face traffic congestion and louder noises during rush hour. The area's high decibel levels result from heavy traffic and surrounding construction. However, many residents claim that these shortcomings are more than offset by the area's accessibility and convenience.
Abdullah Khan
The abundance of parks in Al Manama, Ajman, is a big perk of living there. Despite the area's appeal due to modern structures and straightforward accessibility, the area's abundance of parks and other natural spaces is a bonus. Al Manama is located outside the city centre, but some people may consider this disadvantage to be offset by the convenience and low crime rate of the area.
Top Articles on Real Estate in Ajman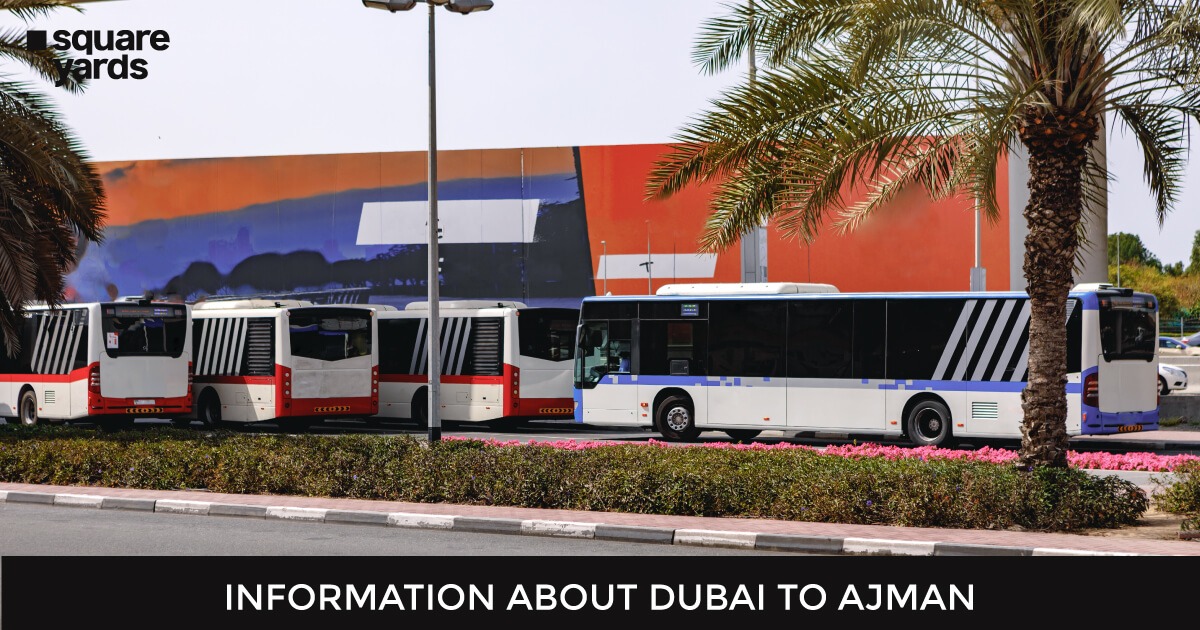 Since Dubai is a rapidly developing city in the Middle East, inter-city travel from Dubai to Ajman bus service has…...
Frequently Asked Questions (FAQs)
Is Al Manama freehold?
Al Manama is classified as a freehold area.
What are the top attractions in Al Manama, Ajman?
Al Manama has many attractions, including Hassa Buweid Castle, Masafi Fort, Wadi Shis and Al Raugh Tunnel.
How to get to Al Manama in Ajman by bus and metro? And which is the nearest metro station?
You can take a bus to get to Al Manama. Within the neighbourhood, visitors can take a taxi or a bus to get where they need to go. A few buses traverse via Al Manama are E 66, E 400 and E 311.
What are the best communities in Al Manama, Ajman?
Buildings in Al Manama have a variety of uses. There aren't many houses for sale in the agricultural area of Al Manama Ajman. Hospitals, supermarkets, and schools are conveniently located near Al Dhaid in the south-west.
What are the best hotels and restaurants in Al Manama?
Some of the best hotels in Al Manama include Ibis One Central, Novotel Dubai, Fairmont Dubai, Sofitel Dubai, Shamal Restaurant and Firdous Restaurant.
Which are the famous malls and supermarkets in Al Manama?
Al Manama has several popular malls and supermarkets in the surrounding areas. The most notable mall and supermarkets in the vicinity are the Ajman City Centre, Dana Mall and Market Square.
What are the best schools in Al Manama, Ajman?
Al Manama has several reputable schools in and around the area, including Al Manama Charity School, Ben Hazim School For Boys and Al Noaimia School for Girls.
Which are the best hospitals and clinics in Al Manama, Ajman?
Some of the top medical facilities in Ajman are convenient to Al Manama. These include the Berleen Hospital, Al Mahila Health Center, and Al Dhaid Hospital.
Which are the famous places of worship in Al Manama, Ajman?
Al Manama is home to several places of worship, including the Al Manama Grand Mosque, Jamia Hameed Bin Rasheed Al Naeemi Mosque, Our Lady of Perpetual Help Church and St. Gregorios Orthodox Church.
What are the pros and cons of living in Al Manama, Ajman?
Al Manama, an upscale neighbourhood in Ajman, offers luxurious, high-end properties in low to mid-rise buildings. Numerous facilities are available in the neighbourhood, which makes life easier and more comfortable. The only disadvantage might be that there are currently few options for shopping and entertainment and that getting to them requires a long trip.