About Dubai Sports City, Overview
Dubai Sports City is a multi-venue sports complex in Dubai, United Arab Emirates. It is constructed around five notable sports venues that accommodate several sports academies. The city encompasses many housing, shopping, sporting, dining, and recreational facilities. The project's residential portion comprises mid-rise apartment buildings, townhouses, and villas. Three different residential districts are set up in the Sports City: Victory Heights, Gallery Villas, and Canal Residence. Famous builders such as The First Group build brand-new structures in the three villages.
The neighbourhood is home to the International Cricket Council Academy and Els Club, serving as a top-notch option for sports aficionados. 
Aside from sporting facilities, this neighbourhood provides a variety of lifestyle amenities to ensure convenient accommodation for the residents. Dubai Sports City is a freehold neighbourhood in Dubai. While having a car is advantageous to commute within the city to reach many of the facilities inside, plenty of shops, restaurants, cafes and bars are within walking of every residential building.
Key Highlights of Dubai Sports City
What is Great Here!
Located at the heart of the city

Easy access to major highways

Wide choices of residential properties at affordable prices

Offers active and fitness-focussed lifestyle

Good nurseries and schools nearby

Proximity to various popular malls

Several dining options

Lush green landscaping

Stunning view of the golf course
What Needs Attention!
Ongoing construction

Noise Pollution

No metro stations
Properties in Dubai Sports City
Within Dubai Sports City's three residential districts, there are thousands of villas, apartments, and hundreds of townhouses. The community epitomises the love for sports. Sports enthusiasts who desire an active lifestyle can prosper well in Dubai Sports City. The residential buildings offer modern apartments, studio apartments, and luxury villas, from which one can choose according to their preference and lifestyle. These housing complexes are available for purchase or rent.
Living in Dubai Sports City can be exhilarating only if you select wisely from the best communities. Elite Sports Residences top the chart of best communities. This apartment complex consists of ten towers with more than 3,000 flats altogether. The community offers studios to 3-bedroom apartments with fantastic golf course views, canal views, and a park view.  
Victory Heights is another community to consider in Dubai Sports City. Victory Heights comprises villas with over 1,000 units and hundreds of townhouses.
Additionally, there are two other projects—Global Golf Residence and Canal Residence West, located close to Canal Promenade. Canal Residence West is one of the best places for someone looking for an affordable living space where one can find 2-bedroom apartments for rent.
The apartment options range from studios to 3 BHK, and the villas consist of grand 3-bedroom to extravagant 6- bedroom properties. All of the residential complexes are a plethora of excellent and ultra-chic amenities. 
Other top locations in Dubai Sports City are Royal residences, Red Residences, Frankfurt Sports Tower, Bloomingdale, and Champions Tower.
Off-Plan Trends in Dubai Sports City
Dubai Sports City, a community spreading over a 4.6 million square foot area, supports its resident's active and healthy lifestyles. It is acclaimed for housing one of the world's best multi-venue sports complexes. 
Sports City has several projects that are under construction. There are 11 off-plan projects in consideration, some in the initial development stage and some in the blueprint stage. Investing in an off-plan property in Sports City has many financial benefits, and one such advantage is that many builders offer attractive payment plans for an off-plan purchase.   
An upcoming project in Sports City is the Profile Residence, which is planned to be built in a contemporary style with all of the high-end facilities. It offers apartments with various configurations like studios,1 BHK, and 2 BHK units. The rooftop of the building is devoted to recreational space that features a swimming pool, bathing deck, gymnasium, sauna, and steam room.
Property Rates in Dubai Sports City
Rental Trends in Dubai Sports City
The properties for rent in Dubai Sports City have magnificent layouts and flaunt diverse architectural styles, including futuristic, contemporary, and conventional Arabic touches. Renters have various options, including studio apartments, 1BHK to 3BHK flats, villas, and townhouses. In Dubai Sports City, one-bedroom apartments are available at an affordable price. The rent depends on the property you select and the total space. You can also rent a 2 or 3-bedroom apartment if you prefer a spacious dwelling, but the rents will shoot up accordingly. 
Villas with three to six bedrooms are available for those seeking independent housing in carpet areas ranging from 2,000 sq. ft. to 3,370 sq. ft. Townhouses for rent are also available in gated communities and offer 4 and 5 bedrooms ranging from 2,300 sq ft to 3,300 sq ft.
Studio space typically ranges from 350 to 570 square feet. Cricket Tower, one of the most popular structures in Dubai Sports City, offers spacious studios for rent. The Cricket Tower is a 15-story building comprising 140 youth-friendly residential flats for rent.
By Budget
By Property Type
By Beds
Sale Trends in Dubai Sports City
You can find several properties for sale in Dubai Sports City. Instead of the usual high-rise structures, the city's apartment complex contains mid-rise buildings. The apartments are reasonably priced and are furnished with all the necessary modern luxury amenities.
Dubai Sports City presents a wide range of investment options, from ready-to-move flats to off-plan projects. In Dubai Sports City, various apartment types are for sale, like studios, 1 BHK, 2 BHK, and 3 BHK. You can purchase two-bedroom flats that are about 1,200 sq. ft. One can find such apartments at Olympic Park and Global Golf Residence, which have a stunning golf course view.
The villas and townhouses in this city are constructed with ample space to include 3 to 6 bedrooms of spectacular opulence. One can acquire townhouses or villas if looking for grand independent housing, and these buildings often have outdoor space and private parking.
By Budget
By Property Type
By Beds
Public Transportation
For residents to commute within Dubai sports city, they must mainly rely on private transport. Since Dubai sports city is an inland area, there are no metro stations within the city. The closest metro stations to Dubai Sports City are the Dubai Internet City Metro Station and  Mashreq Metro Station, which are a 10-minute drive from Dubai Sports City.
Bus services are also in place, and there are two main bus stops in Dubai Sports City – Victory Heights East Gate and Dubai Sports City Offices.  The Bus F29 commute between Dubai Sports City and the Mall of Emirates metro station.
| Bus Line Number | Destination |
| --- | --- |
| F 29 (Dubai Sports City) | |
Amenities
Nurseries / Educational Institutions

Supermarkets

Healthcare Facilities

Places of Worship
Dubai Sports City is a vibrant, self-sufficient community with many schools in the neighbourhood. Schools in this area have received accolades for their performance and hence, have excellent ratings.
With a stellar reputation, the community is home to numerous educational institutions. Some of the famous nurseries are –
Victory Heights Foundation Stage

The Wonder Years Nursery

IDEA Early Learning Centre
Some of the best schools in Sports City are:
American School of Dubai

Bright Riders School Dubai

Delhi Private School Dubai

Next Generation School 

Renaissance School

Royal Grammar School Guildford 
The University of Balamand, located in Dubai Investment Park, is a notable name in the higher education sector and is just 10 minutes away from the sports city. Several universities are based in Knowledge Park, which is 20 minutes away. Some of the famous universities within the Knowledge Park are:
Middlesex University Dubai

University of Wollongong in Dubai 

University of Bradford Dubai

University of Manchester, Middle East Centre
Al Maya Supermarket and Carrefour Supermarket are two of the most well-known supermarkets in Dubai Sports City. Grocery shopping is convenient since all your grocery needs can be met at the shopping centres established near every community.
Apart from food items, this supermarket also offers clothing, electronics, and various household items. Situated in the neighbourhood, it provides residents with all daily necessities and fresh food. Al Maya Supermarket is a fantastic one-stop shop for all types of shoppers with free home delivery services and operates 24 hours.
Apart from your regular groceries, you can also buy accessories, apparel, and electronics from this supermarket.  Carrefour online Dubai facilitates your shopping and delivers the products to your door. You earn reward points while you shop, which are redeemable in future purchases.
There are not many clinics and hospitals in Dubai Sports City, but it is very easy to find a pharmacy because there is so many spread across the neighbourhood. You can visit these hospitals and clinics with or without any prior appointment for a routine check-up or in case of an emergency. Some of the popular healthcare facilities near Dubai Sports City are –
Eupepsia Medical Clinic

Medcare Medical Centre

Your Health Clinic
In Dubai Sports City, there are two newly constructed mosques at each end of the community. When Sports City constructions are completed, community mosques will spread throughout. 
Some of the nearby mosques are:
Sports City Mosque

Mosque Masjid Elite 4 
The Evangelical Christian Church of Dubai and the Hindu Temple, Jabel Ali, are at a 12-minute drive from this neighbourhood.
Best Hotels in Sports City, Dubai
The glitzy city of Dubai is famous for its stunning skyscrapers, upscale shopping centres, and opulent lifestyle. The city is renowned for housing some of the high-end elite hotels in the world. Some of the best hotels in Dubai Sports City are -
Treppan Hotels and Suites by Fakhruddin

Ghaya Grand Hotel

The S Hotel Al Barsha Dubai

Novotel Jumeirah Village Triangle

FIVE Jumeirah Village Hotel

The First Collection
Lifestyle
Shopping Centres / Shopping Malls

Restaurants / Dining

Beaches Nearby

Leisure Activities Nearby
The abundance of malls in Dubai Sports City satisfies people's urge for shopping and entertainment. You can easily reach these malls because a reliable bus route conveniently connects them. You can shop at upscale clothing stores and can also enjoy good cuisine. 
Mall of Emirates
a splendid and impressive retail complex that covers over 2 million square feet. 

The Kempinski Hotel and Sheraton are the two 5-star hotels within the Mall of Emirates.
First Avenue Mall
Designed in a contemporary European style and stretches over an area of 50,000 sq. ft.

It encompasses over 15 cafes and restaurants and houses over 50 high-street retailers
Although the region is mainly known for its sporting activities, foodies can find several trendy and modern restaurants to try out a variety of cuisines. This area houses some great dining and entertainment centres. Trendy restaurants and cafés have flooded Dubai Sports City, much to foodies' delight. Some of the famous restaurants are:
Pop-Up Cafe & Restaurant

Kickers Sports Bar

Shawarma Al Karmel

Pulcinella Restaurant

Reddy Roast

 Big Easy Bar and Grill

The Kebab Shop

Wooden Cellar
Some of the fast-food centres that line the neighbourhood are:
Valu Burger

McDonald's

Wendy's

Food spot restaurant

KFC
If you are looking to sip aromatic coffee, plenty of coffee shops are nearby. Here are a few:
Starbucks

Tchibo coffee shop

Sweet tout de suite

Dunkin

QALAT ALBANN COFFEE SHOP
Visitors kite surfing in Kite beach Dubai 
Residents can easily access Hessa Street, and it takes only less than 20 minutes from here to get to Jumeirah Beach. It is a well-liked public beach with lots of cocktail bars and eateries. If you want to participate in water sports such as kite surfing, head straight to Kite Beach, which offers a variety of entertaining activities for both children and adults.
JBR Beach, which is close to Dubai Sports City, is another famous beach. It offers many recreational opportunities, from Roxy Cinemas to an outdoor gym and a splash pool. Some of the famous beaches near Dubai Sports City are –
Jumeirah Beach (24 min)

Kite Beach (28 min)

JBR Beach (26 min)
If you are looking for a day out to engage in various entertainment and adventurous activities or sporting, then Sports City and the nearby areas have a lot to offer. Some of the leisure centres where one can spend quality time are:
Dubai International Stadium

Els Club

Roxy Cinemas Outdoor at Galleria Al Barsha

Shaz al Kahira

Magic Planet City Centre Me'Aisem
Dubai Sports City - Location Map and Landmarks
Distance and Commute Time from Dubai Sports City to Other Popular Places
The ICC Academy, located 1.3 km from Dubai Sports City, can be reached in less than 5 minutes.

Traveling from Dubai Sports City to Dubai Autodrome via Detroit Road will take 7 minutes. It is situated 3.5 Km away.

Dubai Motor City, which is 3.3 km away, can be reached via Detroit Road, and the commute time is nearly 7 minutes.

One of Dubai's biggest recreational hubs, Dubai Marina, is an 18-minute drive away. It is at a distance of 14.1 km.
Dubai Sports City, Dubai
Ratings and Reviews
Naveen Bhansali
Sports City is in a great location and has little traffic. The residences are quite impressive, and the security system is excellent. My apartment has six elevators for quick access and a sizable parking lot. There are a lot of facilities available within walking distance.
Mudassir Yunis
The location of Sports City is one of its best features. It's generally a pleasant neighborhood, and one can access several restaurants, malls, and many other services, including the Els Golf Club. The area is very developed, with many buildings, but the structures are not significant. Lack of proper maintenance is my biggest worry.
Latha Parameshwaran
I've been living in Sports City for the past couple of years. The apartment's layout is incredibly well-thought and effective. Our kitchen is very spacious and has tonnes of storage space.   Another huge bonus is that the apartment has large windows opening to the balcony, which makes the room well-lit and ventilated. Although quiet and serene, the area looks dull. No close convenience stores within walking distance from my apartment building.
Priscilla Rodriguez
Excellent neighbourhood with a good mix of nationalities. The apartment is spacious. This apartment building has two swimming pools, a gym, and two large parking spaces. But there are numerous faults with the amenities. I've experienced many issues with the air conditioner not cooling, water leakage, unpleasant sewage odours, poor finishing of rooms, and even door lock malfunctions.
Mehreen Kareem
My family enjoys living in this nice, safe, and environmentally conscious neighbourhood. It is easy to get to all the nearby local malls, airports, theatres, beaches, and restaurants without getting halted in heavy traffic, thanks to the major highways. The kitchen is furnished. Nevertheless, the new stove works on antiquated technology and hence takes an eternity to heat up. The washing machine has neither room for a drier nor a built-in dryer.
Top Articles on Real Estate in Dubai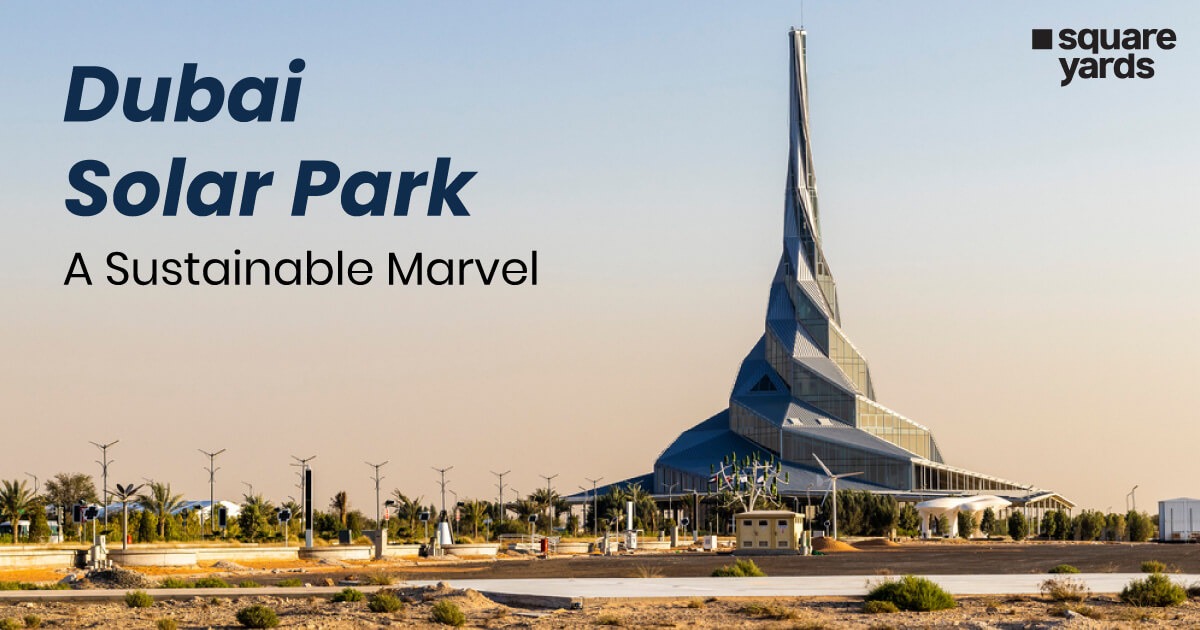 Over the past ten years, the UAE's efforts to ensure sustained national growth have heavily focused on producing clean energy.…...
Frequently Asked Questions (FAQs)
Is Dubai Sports City Freehold?
Yes. Sports City is a freehold residential community in Dubai. Individuals interested in investing in Sports City can choose from various villa communities and apartment complexes.
What are the top attractions in Dubai Sports City?
Sports City is a one-stop destination for sporting events, dwellings, and shopping. The Dubai International Stadium, The Els Club, and several hotels are located in this area.
How to get to Dubai sports City by bus and metro? And which is the nearest metro station?
With several forms of public transport and effective road connectivity, Dubai Sports City is easily approachable. The bus stop nearest to this area is Sports City, Victory Heights West Gate. One can also use the Dubai Internet City Metro Station.
Which are the best communities to live in Dubai Sports City?
Elite Sports Residence, Royal Residence, and Olympic Park are among the most well-known. However, if you're interested in purchasing villas, consider the most well-liked neighborhoods in Dubai Sports City, such as Victoria Heights and Bloomingdales.
What are the best hotels and restaurants in Dubai Sports City?
Ghaya Grand Hotel and Treppan Hotel and Suites by Fakhruddin are the best hotels. Reddy Roasts, Pulcinella Restaurant, and Wagamama Restaurant are famous restaurants in the locality.
Which are the famous malls and supermarkets in Dubai Sports City?
First Avenue Mall and Mall of Emirates, located conveniently along the bus route, are the two nearest shopping centres to Dubai Sports City.  There are two famous and popular supermarkets in Dubai Sports City: Al Maya and Carrefour Supermarkets.
What are the best schools in Dubai Sports City?
The neighbourhood has several reputed schools, and a few of them are the American School of Dubai, Bright Riders School Dubai, and Delhi Private School Dubai
What are the best hospitals and clinics in Dubai Sports City?
Residents can visit  Your Health Clinic anytime for any emergency or routine check-up. The Medcare Medical Center is about a 6-minute drive away in the Motor City neighborhood. 
Which are the famous places of worship in Dubai Sports City?
Residents can worship at Mosque Masjid Elite 4, The Evangelical Christian Church of Dubai, and the Hindu Temple, Jabel Ali, which are a short distance from this neighbourhood.
What are the pros and cons of living in Dubai Sports City?
If you enjoy sports, Dubai Sports City is the perfect place for you to live, and it offers a variety of residential apartments at reasonable prices. It is conveniently located near Sheikh Zayed Road and Al Khail Road, two of the city's main highways. However, there are no metro stations in proximity. In many parts of the city, ongoing construction projects can inconvenience those living nearby.