About Arjan, Dubai Overview
Dubai has boundless energy, bustling commerce, and dazzling nightlife. From its glimmering skyscrapers and opulent malls to its emerald-blue waters and glistening beaches, Dubai has something for everyone.
For those seeking an off-the-beaten-track experience, Arjan is the perfect place to explore. Arjan is a thriving neighbourhood of art and culture in Dubai, a growing city. It is full of restaurants, cafes, galleries, and more.
Offering a range of entertainment and experiences, such as live music, skiing, movie theatres, and amusement parks, Arjan has something for everyone. Visitors will have plenty to keep themselves occupied.
A visit to Arjan is the perfect way to explore all Dubai offers. Whether you are looking for a luxurious stay or an intimate experience, Arjan provides something for everyone. So, why not explore everything the city offers while creating memories that will last a lifetime?
Key Highlights of Arjan
What is Great Here!
Rich cultural sites

Vibrant markets

Excellent educational institutions

Scenic beaches and calm backwaters

Delicious cuisine
What Needs Attention!
Lack of public transport

Slow internet connection

Limited recreational facilities

Lack of garbage disposal

Inadequate water supply
Properties in Arjan
Arjan is one of the most popular and rapidly developing areas of Dubai. Located on the outskirts of the city and close to Miracle Garden, Arjan offers a wonderful blend of convenience and tranquillity. The area has many homes, from studios and one-bedroom apartments to two-bedroom and three-bedroom villas. The carpet area of the various properties ranges from 550 sq. ft. to 1500 sq. ft.
Arjan is the perfect destination if you love socialising and indulging in retail therapy! With proximity to the Sheikh Zayed Road and the Dubai Miracle Garden, Arjan is well connected to all the main points of interest in Dubai. You can easily find a variety of commercial establishments, including restaurants, cafes, and even a go-karting track, among other attractions.
With such a wide range of properties, various payment plan options are easily accessible to individuals of all budgets.
Off-Plan Trends in Arjan
Off-plan properties in Arjan, Dubai, are among the hottest trends in the area. Privately owned one-bedroom, two-bedroom, and luxury villas and studio apartments are available as off-plan units. Each living space has different features, such as ample space, built-in amenities, modern technologies, and energy-efficient features.
For those looking for one-bedroom apartments, the area offers options with a floor area of 753 sq. ft. to 1,581 sq. ft., high-quality fixtures, government-approved standards, and luxury amenities. For two-bedroom units, the floor area ranges from 1209 sq. ft. to 2030 sq. ft., with en-suite bathrooms, balconies, and modern kitchen appliances.
Luxury villas in the region come with a floor area of 1,382 sq. ft. to 4,450 sq. ft., furnished with private terraces, swimming pools, and landscaped gardens. Studio apartments with furnished options start from a floor area of 302 sq. ft. to 501 sq. ft.
The off-plan housing market in Arjan is an interesting place to invest because of its high quality, modern amenities, and profitable options. You can easily find an option that best fits your lifestyle and budget.
Rental Trends in Arjan
Rental trends in Arjan, Dubai, are on the rise as the district continues to offer excellent housing solutions at competitive rates. Recent figures show that studio, one-bedroom, two-bedroom apartments, and villas are available in the Arjan area, ranging in floor area from a minimum of 500 sq. ft. to a maximum of 6,000 sq. ft.
Studio apartments start from 800 sq.ft., while one-bedrooms start from 900 sq.ft., two-bedrooms from 1300 sq. ft, and villas start from 1700 sq. ft.
Apartments in Arjan, Dubai, offer a unique rental value proposition. Individuals and families looking for a new place to call home will benefit from their prime location, quality housing solutions, and excellent infrastructure.
By Budget
By Property Type
By Beds
Sale Trends in Arjan
Arjan, Dubai, is one of the most desirable locations to buy property. With booming sales trends, people from all around the world are investing in property in this locality.
The floor area of a one-bedroom apartment in Arjan starts from 1,100 sqft to 2,200 sqft. Two-bedroom apartments range from 1,500 sqft to 3,500 sqft. Studio apartments have 600 to 800 sqft, and villas range from 1,500sqft to 3,500sqft.
The sale trends in Arjan, Dubai, have been relatively stable over the past few months. The demand for property in the area is increasing rapidly, especially due to the increasing number of ex-pats arriving in the area.
By Budget
By Property Type
By Beds
Public Transportation
Public transport in Arjan can be a great way to get around. Tourists and locals can conveniently explore this beautiful city with multiple buses and metro lines. Bus service in Arjan is plentiful and efficient, with various routes running throughout the day to help passengers reach their desired destination when and where needed.
See below for a selection of the regular buses from Arjan Bus Station.
| | |
| --- | --- |
| Bus Route Number / Metro Lines | Route |
| 23X | Arjan Central Bus Station | Sharjah Expo Center (Frequency - Every 10 minutes) |
| 25R | Arjan Central Bus Station | Dubai Airport (Frequency - Every 10 minutes) |
| 27D | Arjan Central Bus Station | Ajman (Frequency - Every 10 minutes) |
| Red Line | Al Bustan | Arjan Ras Al Khaimah | Dubai (Frequency - Every 15 minutes) |
| Green Line | Ajman | Dubai Healthcare City Sharjah Expo Center | Sharjah (Frequency - Every 15 minutes |
Amenities
Nurseries / Educational Institutes

Supermarkets

Healthcare Facilities

Places of Worship
Arjan's nurseries and educational institutions aim to provide educational excellence by focusing on learning and knowledge. They are an ideal platform to equip students with the skills they need to excel in the future.
Al Arabian International Nursery:

Located in Arjan, this nursery focuses on boosting the development of children through creative and stimulating activities.

Interworld International School:

This school has carved a niche within Arjan's education space by developing a healthy balance between academic rigour and creative exploration.

International Arab University: With its holistic approach to learning, this university strives to equip young minds with the tools necessary for success in the 21st Century.
Many excellent grocery stores may be found in Arjan. Three of the more common are as follows.
Spinneys

– Spinneys is a premium supermarket chain that offers high-quality fresh produce and groceries in Arjan. It is ideal for an extensive selection of distinguished international products.

Al Maya Supermarket

– Al Maya Supermarket is a well-known supermarket chain that specialises in stocking traditional Arab, Emirati, and international grocery items. Offering the finest quality, this supermarket ensures your grocery requirements are fulfilled.

Union Coop – One of the most reliable supermarkets in Arjan, Union Coop has a comprehensive selection of fresh produce and grocery items. All products are sourced from trustworthy vendors and are of the highest quality.
No matter which medical facility you choose in Arjan, ensure that it meets your healthcare needs. You can be sure of getting quality care and services with any of these top-rated hospitals/clinics.
Emirates Hospital Arjan

iCare Medical Centre Arjan

Solidarity Hospital Jumeirah
Are you looking for somewhere to connect with your faith? Arjan is one of the most popular areas of Dubai, and there are plenty of places of worship to explore. From Mosques to churches to temples, Arjan is full of breathtaking spiritual havens that both locals and visitors alike can enjoy.
Grand Jamia Masjid

St. Mary's Catholic Church

Shiva Temple
Best Hotel on Arjan
Whether you are looking for a luxurious stay or a great hotel experience at an affordable rate, you will find what you need at these three hotels.
Grand Safari Hotel

Al Ahlam Hotel

Crowne Plaza Hotel
Lifestyle
Restaurants / Dining

Beaches Nearby

Leisure Activities Nearby
Is it your goal to dine at the finest establishments Arjan has to offer? If that's the case, good fortune smiles upon you! The food in this bustling area of the United Arab Emirates is second to none.
Al Mansour:

Al Mansour is a chic seafood restaurant specialising in traditional Emirati-style dishes, such as marinated seafood and

biryani

. Their tagine dishes are especially popular, so try them during your visit.

The Kitchen:

The Kitchen is a modern restaurant focusing on international cuisine with a twist. Their mix of Middle Eastern and Western flavours will delight your taste buds and satisfy you. Some of their signature dishes include goat and yoghurt,

spiced lamb meatballs

, and

shish taouk

.

Spice House: Spice House offers a delectable selection of Indian and Pakistani dishes. Enjoy a taste of flavorful Kashmiri and Hyderabadi delicacies such as green chilli chicken, tandoori chicken, and Lahori machli. They also offer an array of vegetarian dishes, perfect for those looking for a meat-free meal.
There is a beach in Arjan that will satisfy your need for solitude or your desire for a good time in the sun. Arjan is home to some of the finest beaches, so pack your sunscreen and prepare to relax.
Jumeirah Beach

Al Manama

Umm Suqueem
Why not give these pastimes a go if you're seeking something fun to do in the Arjan area? The ideal balance of excitement, relaxation, and retail therapy is waiting for you!
Adventure Sports:

From thrill-seeking canopy tours to thrilling kayak trips, Arjan has something for everyone to get their adrenaline pumping. If you're looking for an adventure-filled experience with family or friends, Arjan is the place to be.

Scenic Outdoor Hiking:

Pack your food and explore stunning mountain views and nature trails around Arjan for a breathtaking hiking experience.

Go Shopping: With its vibrant boutiques, pubs, and cafes, Arjan is a fantastic destination for an exciting shopping experience. Enjoy this destination's variety and take home memorable souvenirs from the place.
Arjan - Location Map and Landmarks
Schools Near by Arjan Dubai
Distance and Commute Time from Arjan to Other Popular Places
Arjan is a popular area of Dubai for its unique lifestyle for locals and tourists. With its great accessibility and wonderful amenities, it stands to reason why many people are drawn to the Arjan area. Though it is a distant drive away from many popular places within the city, it is also a short distance in some cases.
Let's take a look at the distances of some of Arjan's most popular attractions and destinations, and you can decide for yourself whether it is the right area for you.
Distance from the Airport:

Arjan is a relatively short drive from the Dubai International Airport. It is only 27.2 km away, taking an average of 28 minutes to get to the airport with moderate traffic.

Distance from Metro:

Nearest metro station from Arjan is Dubai Internet City Station, which is only 8.1 km away. It will take about 16 minutes to get to the station without traffic.

Distance from Beach:

Arjan is close to the famous Jumeirah Beach, only 10.1 km away. With moderate traffic, the total travel time is about 22 minutes.

Distance from Major Connecting Roads: Arjan is located near two major roads of the city, the Sheikh Mohammed bin Zayed Road and the Emirates Highway. The closest access to them is from the intersection of Arjan and Al Barsha South road, which is only 5 km away. This journey will take only 14 minutes with normal traffic.
Arjan, Dubai
Ratings and Reviews
Leonardo
Arjan is a great place to stay during my recent visit. The property is well maintained, very friendly and accommodating, and the food served is delicious.
Ivy
I had a wonderful stay at Arjan! Comfortable houses, great amenities, and helpful people made my stay a breeze. Would recommend this place to others!
Joyce
My stay at Arjan was exceptional! Nothing less than 5-star service and facilities. Would love to come back here again!
Kirk
Arjan was beyond my expectations, from the decor and ambience of the place, to be frank. It was a great experience to stay here.
Samuel
I have nothing but great things to say about Arjan! From house quality to hospitality, everything was top-notch!
Top Articles on Real Estate in Dubai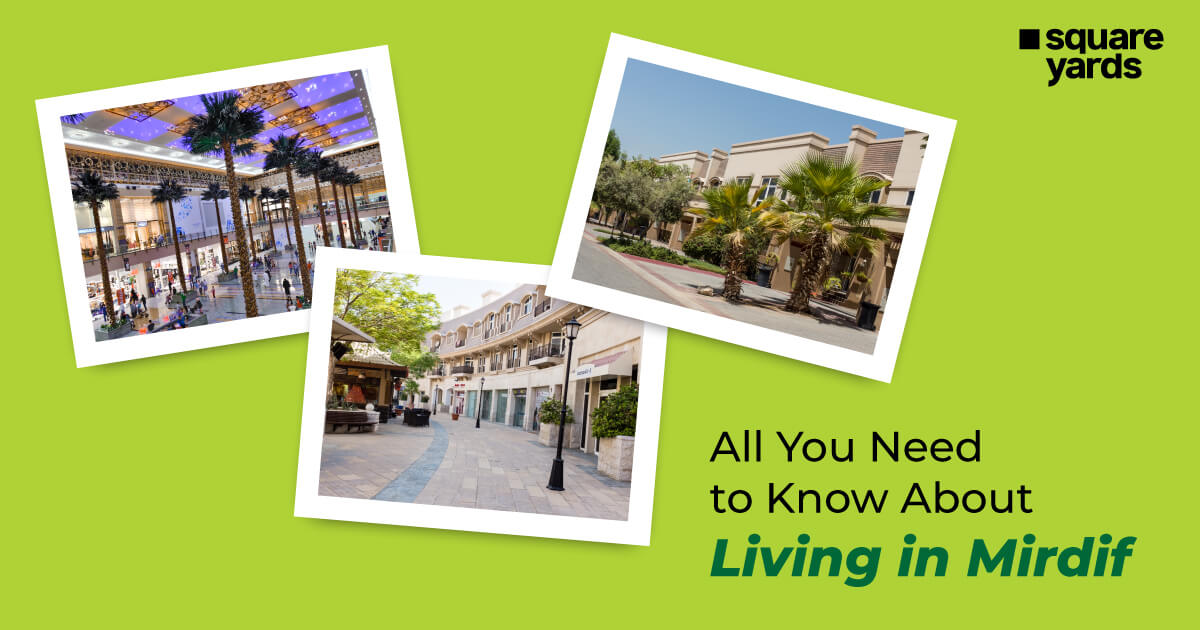 It won't be an understatement to say that Mirdif, situated in Dubai, is where elegance meets the comfort of serene…...
Frequently Asked Questions (FAQs)
Is Arjan Freehold?
Arjan is freehold, meaning you can buy or rent property in Arjan and do not need a UAE partner.
What are the top attractions in Arjan, Dubai?
Miracle Garden, Global Village, Dubai Miracle Garden, Butterfly Garden, and Al Khawaneej Mall are some of the top attractions in Arjan, Dubai.
How to get to Arjan in Dubai by bus and metro? Which is the nearest metro station?
Arjan is connected to the rest of the city via the city's vast public transport network. The nearest metro station to Arjan is The Mall of the Emirates Metro Station.
Which are the best communities in Arjan, Dubai?
The best communities in Arjan, Dubai, include Green Community, The Villa, and Mediacity.
What are the best hotels and restaurants in Arjan?
Arjan's best hotels and restaurants include Raffles Dubai, Gastronomica, and The Envista.
Which are the famous malls and supermarkets in Arjan?
Dubai Miracle Garden, Dubai Garden Centre, and Arabian Center are Arjan's most popular malls and supermarkets.
What are the best schools in Arjan, Dubai?
The best schools in Arjan, Dubai, include Horizons International School, Star International School, and Dubai International Academy.
Which are the best hospitals and clinics in Arjan, Dubai?
Some of the best hospitals and clinics in Arjan, Dubai, include Canadian Specialist Hospital, Medicina Healthcare, and Dr Sulaiman Al Habib Medical Center.
Which are the famous places of worship in Arjan, Dubai?
St. Mary's Catholic Church, Bethel AG Church, and Bur Dubai United Church are the most famous places of worship in Arjan, Dubai.
What are the pros and cons of living in Arjan, Dubai?
Pros of living in Arjan, Dubai, include access to a wide array of entertainment and shopping options, proximity to the airport, and various employment opportunities. Cons include a lack of public transport links and higher community services fees.