About Arabian Ranches 2, Dubai Overview
Dubai is one of the most well-developed cities in the world, and you will find several incredible residential localities. And one of these localities with a tranquil landscape of the desert is Arabian Ranches 2. It has many individual villas, sub-localities or enclaves such as Casa, Lila, Rasha, Yasmin and Azalea. Additionally, there are 2 newly developed communities that you will find in Arabian ranches 2, namely, Camelia and Reem.
It stretches over 1,500,000 m² of land, including residential neighbourhoods in various architectural styles. It has various sub-communities, and you will find all of them have commercial and recreational areas. Moreover, in total, it has more than 1900 luxurious townhouses, making it one of the most developed communities in Dubai. Due to its incredible infrastructural properties, it is considered an ideal place for families looking for luxury and comfort at the same time.
Key Highlights of Arabian Ranches 2
What is Great Here!
Pet-friendly community

Excellent Amenities

Family-friendly events and activities

Luxury villas with large backyards
What Needs Attention!
Lack of public transportation

High cost of living
Properties in Arabian Ranches 2
The properties you will find in Arabian Ranches 2 are quite developed and packed with incredible infrastructural properties. You will find some of the very well-developed townhouses and villas in this city, and the properties are furnished for suburban living. Apart from this, residential villas are also available for rent in this locality, making it suitable for people willing to relocate to Dubai for a shorter duration of time like a year.
There are various types of villas in Arabian Ranches 2. For different family sizes, different types of villas are available there, which are spacious and provide you with a variety of included amenities. You can get an abundance of flexibility in the bedrooms and the floor area, making it suitable for people of big and small families. In Arabian Ranches 2, you will also see attached separate villas with contemporary interiors and exceptionally beautiful exteriors.
Off-Plan Trends in Arabian Ranches 2
Concerning the other communities of Dubai, Arabian Ranches 2 is considered highly suitable for investing in the off-plan trends. It is considered a very well-developed locality. Therefore, the number of trends was at its highest in 2014 and 2015. Various newly developed projects were inaugurated in these two years, making it one of the best localities in Dubai to live in. Moreover, you will find a certain percentage of freehold property in this locality, making it a good place for everyone to reside and change their apartments as per their will.
Also, the properties you will find in Arabian Ranches 2 are well-developed, with all the amenities required for an incredible lifestyle. You will find spacious villas indoors and outdoors. These properties also have huge backyards. 
Even if you are willing to invest to earn returns, it is considered to be the best locality in Dubai to invest. The return percentage in this locality of Dubai has the highest potential of 5.4%. This is the percentile for three-bedroom as well as four-bedroom units.
Rental Trends in Arabian Ranches 2
The rental rates will be different according to the type of property you are looking for. Depending on your requirement, you can go for a three-bedroom apartment which is the most affordable option. Four-bedroom apartments in Arabian Ranches 2 have different price ranges according to the level of furnishing you need. 
If you are in search of a bigger configuration of bedroom apartments in the Arabian Ranches 2 locality, you can go for the five-bedroom or 6- bedroom configurations. You will get various luxurious amenities with this bedroom configuration. Bigger 6-bedroom configurations will cover a 6000 ft.² carpet area, and you will get various luxurious amenities along with it.
Sale Trends in Arabian Ranches 2
Arabian Ranches 2's sale trends are quite diversified because you have about 500 freehold properties available in this locality. It includes townhouses, villas as well as apartments. In the coming years, new projects will be added to the list. But today, you will find various bedroom configurations ranging from three-bedroom to six-bedroom apartments.
Public Transportation
Arabian Ranches 2 is considered a very well-developed locality in Dubai. Public transport facilities are quite developed in this area, and you will get bus services at cheaper rates. You can reach Arabian Ranches 2 by bus via transit lines. The two nearest stations to Arabian Ranches 2 are Arabian Ranches and Mirador La Coleccion -1 which is a 49 min walk.
More details about public transport services in Arabian Ranches 2 are as follows:
| Bus Line Number | Destination |
| --- | --- |
| F29 | Equiti Metro Bus Stop Seaside |
| F30 | Mall of Emirates Metro Bus Stop |
Amenities
Nurseries / Educational Institute

Supermarkets

Healthcare Facilities

Places of Worship
Every part of Arabian Ranches 2 has several educational institutions and nurseries. You won't fall short of good options for your kids to receive excellent education and environment for their well-rounded development. A few best options for nurseries are:
Blossom Arabian Ranches 2 Nursery 

Jebel Ali Village Nursery
Some of the best secondary education schools in Arabian Ranches 2, Dubai, are given here:
Nord Anglia International School

JESS Arabian Ranches
Arabian Ranches 2 is one of the city's most popular localities. Therefore, supermarkets are constantly increasing in this locality. Here is a list of some famous supermarkets in Arabian Ranches 2:
Carrefour Market in The Ranches Souk
Run by one of the largest networks of hypermarkets and supermarkets in the region, it has everything you would need ranging from groceries, households, beauty and personal care, smartphones, mobiles, and electronics appliances. 
A well-rounded supermarket with good customer service. 
These supermarkets have almost everything essential you would need, under the sun. The above-mentioned are only a few of the popular ones, you can find more options suitable to your needs.
Health is a priority for everyone and thus, Arabian Ranches 2 has no shortage of top-notch healthcare centres. Here is a list that covers all your medical needs:
Aster Clinic 

Aster Medical Centre

Bin Sina Pharmacy

Emirates Hospital
The majority of the people in Dubai practice Islam, and there are several mosques situated here. The Al Shakoor Mosque is located right at the main entrance. However, all kinds of religions are practised here freely and under the law, and all of them are treated equally. That's why you can find several places of worship. 
The main mosque here is Al Shakoor Mosque. Casa de Oración Torre Fuerte is a church located in Arabian Ranches 2 that is a 17 mins trip via Umm Suqeim Street. You can also find temples in Bur Dubai, just 30 mins away from here.
Best Hotels in Arabian Ranches 2
Arabian Ranches 2 is quite a popular tourist attraction in the city of Dubai, making it home to premium hotels. Some of the hotels inside Arabian Ranches 2 and nearby localities are as follows:
Arabian Ranches Golf Club

Radisson Hotel Dubai Damac Hills

Courtyard by Marriott Dubai

Studio One Hotel
Lifestyle
Shopping Centres / Shopping Malls

Restaurants / Dining

Beaches nearby

Leisure Activities Nearby
Dubai is the ultimate shopping destination. You'll find plenty of malls and big shopping complexes here. A few of the most popular ones among these shopping centres are:
Ranches Souk

City Centre Me'aisem

Ibn Battuta

Mall of the Emirates

Dubai Mall
Arabian Ranches 2 is home to a few of the best eateries in town. You'll find a vast variety of restaurants which serve mouth-watering dishes. You should definitely explore the following eateries and restaurants in Arabian Ranches 2:
Carluccio's

Chez Sushi

McDonald's

Café Bateel

Caribou Coffee
The location is not located anywhere near the sea but if you're someone who enjoys the beach, a short 50 km trip will get you to the Dubai beach strip that offers a variety of marine activities and a great place for leisure. 
The two beaches nearest to Arabian Ranches 2 are:
Jumeirah Beach

Al Mamzer Beach
Strolling down the streets in Arabian Ranches 2 is one of the simple pleasures in life due to its spectacular environment and real estate. But there are several options for leisure around the town for everyone be it an adult or a kid. 
The Leisure Centre is a community centre that is a dream place for people who enjoy a premium lifestyle club. It has a great gymnasium, swimming pool and tennis court. 

Cheeky Monkeys Arabian Ranches 2 is an amusement park that is a kid's favourite. Many birthday parties are held here. 

Arabian Ranches Gold Club is yet another great place for spending an afternoon playing golf and enjoying the beauty around you.
Arabian Ranches 2 - Location Map and Landmarks
Schools Near by Arabian Ranches 2 Dubai
Distance from Arabian Ranches 2 to Other Popular Places
Arabian Ranches 2 is a 22-minute drive from the Dubai International Airport.

Business Bay and Downtown Dubai are 21 and 22 minutes away from Arabian Ranches 2, respectively.

Dubai Marina is 38 minutes away from Arabian Ranches 2 by car.

Palm Jumeirah is 23 minutes away.

The shortest distance to Dubai Sports City is 11 km via Al Qudra Road
Arabian Ranches 2, Dubai
Ratings and Reviews
Akbar Ali
Massive bedroom apartments
The locality has a peaceful and silent environment; simultaneously, the bedroom sizes are massive. All in all, it is a great place to call your home!
Waqar khan
In a locality like Arabian Ranches 2, there is a heavy rush on roads during the day and calm at night. To maintain security in such a condition, cameras are installed in every public place.
Miranda Gilbert
Great social and residential infrastructure
Comprised of villas and townhouses, the infrastructure here is good and well-maintained.
Maqbool
There are many shopping centres and malls with all-brand outlets in and around the locality, making it ideal for shopping.
Beautiful environment and excellent facilities
The location of Arabian Ranches 2 makes it a beautiful place with its desert-themed suburban living.
Top Articles on Real Estate in Dubai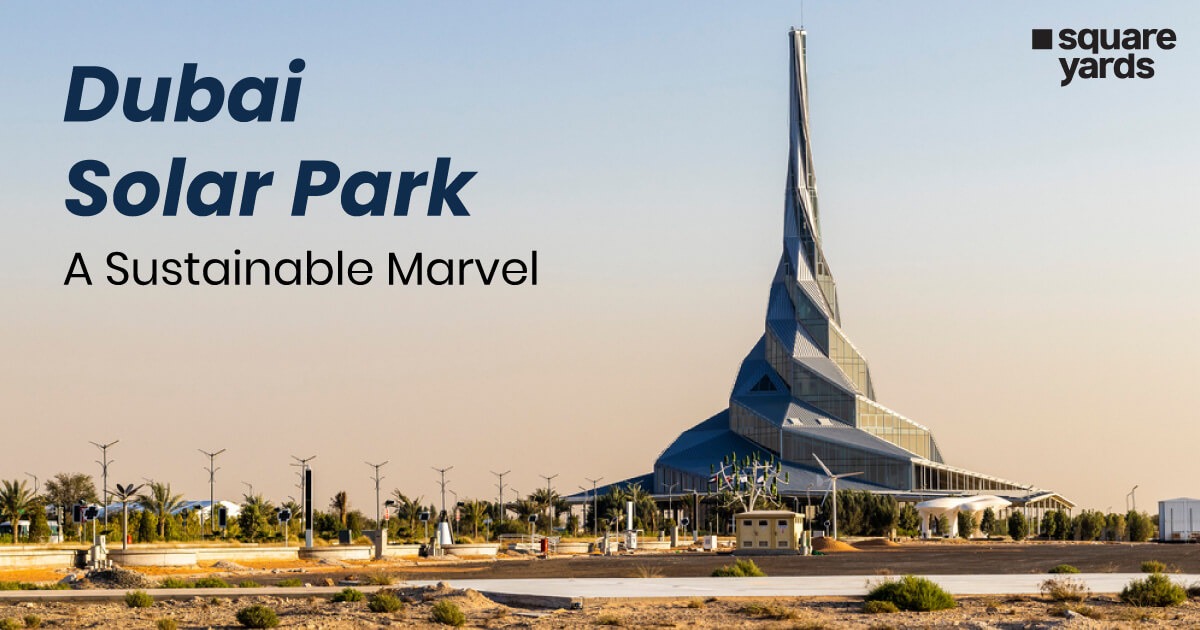 Over the past ten years, the UAE's efforts to ensure sustained national growth have heavily focused on producing clean energy.…...
Frequently Asked Questions (FAQs)
Is Arabian Ranches 2 Freehold?
Only 140 freehold villas in Arabian Ranches 2 and 4-6 bedroom configurations are available here
What are the top attractions in Arabian Ranches 2, Dubai?
Some of the top attractions here are:
Dubai Miracle Garden

Global Village

Dubai Autodrome
How to get to Arabian Ranches 2 in Dubai by bus and metro? And which is the nearest metro station?
Take a bus from Silicon Oasis High Bay to the Centrepoint Metro Station. Then take a bus to Arabian Ranches 2, Main Entrance. The nearest Metro Station is the Dubai Mall/ Burj Khalifa Metro Station.
Which are the best communities to live in Arabian Ranches 2, Dubai?
The best communities here are Al Reem, Palmera, and Saheel, with 3-6 apartment configurations.

What are the best hotels and restaurants in Arabian Ranches 2?
Some of the most important hotels and restaurants in this locality are Carluccio's, Sansation Arabian Ranches and PAUL Bakery & Restaurant.

Which are the famous malls and supermarkets in Arabian Ranches 2?
The popular malls and superstores nearby Arabian Ranches 2 are
The Ranches Souk

The Village Community Mall

Carrefour Market Ranches
What are the best schools in Arabian Ranches 2, Dubai?
The best schools here are:
Ranches Primary School

Blossom Arabian Ranches Nursery
Which are the best hospitals and clinics in Arabian Ranches 2, Dubai?
Some of the popular clinics and hospitals and clinics in Arabian Ranches 2, Dubai –
Cooper Health Clinic

Health Bay Polyclinic

Mediclinic
Which are the famous places of worship in Arabian Ranches 2, Dubai?
The top 3 famous places of worship here are – 
Alshakoor Mosque

Palma Community

Popayan Dubai
What are the pros and cons of living in Arabian Ranches 2, Dubai?
Living in Arabian Ranches 2 provides an opportunity for you to experience high-range amenities, nearby attractions, and luxury. The only plausible drawback of residing in Arabian Ranches 2 is the high cost of living.