About Jumeirah Park, Dubai
Jumeirah Park is one of Dubai's most extensive and high-end villa communities, with Nakheel Properties as its master developer. It is near posh residential communities, like Jumeirah Lake Towers, Jumeirah Islands, Meadows, and Discovery Gardens. 
The Jumeirah Park Community is one of the most popular neighbourhoods for renting villas spread over 360 hectares, with 2,000 villas available for rent or sale. It is a whole community comprising green community parks, a sports complex, a cricket ground, a community park, schools, and a few restaurants and cafes. The community has jogging and cycling tracks and a children's play area. 
The Community features posh and luxurious detached villas to provide residents with security and privacy. The bedroom configuration of these properties varies from three to five bedrooms, and the coverage area ranges from 3,000 to 10,000 square feet! Large windows that look out onto patios, balconies, and gardens are incorporated into the villas' open floor plans, high ceilings, and architectural details.
It is located in a strategic location and has ample public transit options available for easy commuting. There are no bus stops inside the Community, but several bus stops are available nearby Jumeirah Lake Towers and Jebel Ali Village area.
Key Highlights of Jumeirah Park, Dubai
What's Great Here!
Features three to five-bedroom duplex villas

One of the largest villa-based communities in Dubai

Located behind Jumeirah Lake Towers and adjacent to Jumeirah Lake Islands and Meadows

Features numerous amenities, like a community mall, a sports complex, a clubhouse, and much more

Lush greenery and family-friendly neighbourhood
What Needs Attention!
Villa-only community; no apartments

Limited nightlife and entertainment options nearby

No public bus stop in the Community
Properties in Jumeirah Park, Dubai
One of Dubai's wealthiest areas, Jumeirah Park, includes homes that accentuate the contemporary amenities necessary for its residents. The luxurious residences are furnished with modern comforts. The Jumeirah Park villas range from 4000 to 11,000 square feet and are perfect for anyone searching for a spacious, opulent place. 
The neighbourhood, which consists of eight districts and around  2,000 luxurious villas, is home to 10,000 residents. From three to five bedrooms, the detached houses in Jumeirah Park offer a range of living spaces. The living room and dining area are often located on the ground floor of two-story villas, while the bedrooms are upstairs.
Four types of villas are found in Jumeirah Park, spread over eight community districts. The types of villas are Legacy, Heritage, Legacy Nova, and Regional. Legacy consists of 460 luxurious villas with three to five bedrooms and is highly popular among others. 
The Regional villas featured traditional Arabian-style architecture, three to five-bedroom villas with extensive geometrical design and galvanised work. Next is Legacy Nova, the newest addition to the Community, featuring spacious villas with a coverage area of 4,100 square feet. The villas near the Meadows community have large windows, skylights, and an expansive terrace. The villas in Heritage flaunt French architecture and offer buyers three bedrooms and other amenities. 
Every villa has spacious living spaces and separate maid and laundry rooms. While the architecture and designs of the villas differ, they all have the same amenities. These residences feature a child play area, a BBQ area, and a private garden.
Off-Plan Trends in Jumeirah Park
The development of Jumeirah Park was finished in 2013; there are still off-plan projects under construction in the Community. One of the recent off-plan projects in the Community is Jumeirah Park Homes, whose construction should be completed by the last quarter of 2021. 
It features 147 contemporary four-bedroom residences featuring spacious terraces, lush-green gardens, and private swimming pools. The coverage area of the residential properties varies from 3,800 to 5,400 square feet. The project offers attractive payment plans and is nearby several amenities.
Rental Trends in Jumeirah Park
Jumeirah Parks consist of three to five-bedroom, high-end luxurious villas that satisfy the demand of Dubai's real estate market. These residences include all the opulent extras one might need, spacious bedrooms, personal patios, and other characteristics one may like in residence.
These villas are popular among families, with the coverage area varying from 3,000 to 10,000 square feet. The exceptional architecture and characteristics of Jumeirah Park have increased the value of properties. Moreover, its strategic location plays a major part in expensive rental rates.
Rental costs in Jumeirah Park depend on the unit's location, coverage area, room configuration, and features. The rental costs might increase as per the locality and the type of villa the locality features. A three-bedroom villa is popular among the renters, and the properties are high-end, but it is all worth it with all the amenities nearby and posh locality with family-friendly vibes.
By Budget
By Property Type
By Beds
Sale Trends in Jumeirah Park
The Jumeirah Park Community is strategically located behind Jumeirah Lake Towers and nearby Discovery Gardens and Meadows. With lavish villas and state-of-the-art amenities, property prices have settled at a higher end. 
The demand of three-bedroom is high. Although the sale price for four and five-bedroom villas is high, the property rates for four- and five-bedroom villas have decreased by 3.3%. 
The villas in Jumeirah Park offer a nominal ROI, with three-bedroom offering the highest, 5.3%, and five-bedroom offering the lowest, 4.9%. Jumeirah Park offers investment and living-worthy villas with ample amenities and high-standard living.
Public Transport
Jumeirah Parks has several modes of public transportation, thanks to its location near the coast and Dubai Marina. The Community is near tram and metro stations and bus stops.
The DMCC metro station connects users to the Dubai Tram, and the closest metro station to Jumeirah Park is Discovery Gardens Metro Station. A few bus stops are located in the surroundings of the Community, nearby Jumeirah Lake Towers, like JLT Dubai Star Tower and Jebel Ali Metro Landside Bus Stop. Here are the bus routes passing through these bus stops:
| Bus Line Number | Destination |
| --- | --- |
| F57 | Jebel Ali Metro Landside Bus Stop to Blue Islands |
| JLT2 | DMCC Metro Landside Bus Stop to JLT, Dubai Star Tower |
Amenities
Nurseries/ Educational Institutes

Supermarkets

Healthcare Facilities

Places of Worship
There are many educational institutes in the family-friendly Community of Jumeirah Park. This city has numerous schools and colleges that allow students to enrol in the higher education system. Following is the list of the top-notch educational institutes in the area.
Dubai British School

Taleem British School

Hrkmah School

Redwood Montessori Nursery

Marina Village Nursery 

Toddler Town British Nursery 

Keystroke University
Jumeirah Park neighbourhood is appealing, with its many supermarkets and shopping malls. These supermarkets and shopping malls make accounting for regular price decreases and purchases simple. Some of the nearby supermarkets are:
Spinneys

Park n Shop 

Choithrams 

Carrefour Market
It is possible to find primary care and specialised treatment choices nearby. Primary care, rehabilitation, cosmetic surgery, dermatology, paediatrics, and other medical services are available. The area's hospitals and clinics are listed below.
Mediclinic Meadows 

Medcare Medical Centre 

BinSina Pharmacy 

Medshop Garden Pharmacy
There are numerous places of worship, including churches, temples, and mosques, to accommodate the city's diverse population's various religious needs. Some major places of worship in the area include:
United Christian Church 

Guru Nanak Darbar 

Shirdi Sai Baba Mandir

Masjid Bani Hashim 

Masjid Abdullah Ali Al-Chaafar

Nakheel Mosque
Best Hotels in Jumeirah Park
Jumeirah Park is a residential area, so there are no hotels in the Community; however, one can find several hotels in the surroundings. You may easily select a hotel based on your requirements. The modern amenities given by four-star hotels include a spacious room with an attached bathroom, a stunning view of the city, air conditioning, WiFi, a gym, a pool, a jacuzzi, club rooms, and so on, making the extra money justified. Here are some of the best hotels nearby Jumeirah Park:
Madinat Jumeirah Resort

The St. Regis Resort

Rotana Resort and Villas

Movenpick Jumeirah Lake Towers

Parkside Hotel Apartments LLC

Chelsea Garden Hotel and Apartments
Lifestyle
Shopping Centres/ Malls

Restaurants/ Dining

Beaches Nearby

Leisure Activities Nearby
Jumeirah Park has its shopping mall on its premises, The Pavillion. A few fast-food restaurants, casual dining options, and retail stores exist in the Pavillion. Apart from that, several other mega malls are close to Jumeirah Park. All the shopping malls around Jumeirah Park include restaurants, movie theatres, kids' play areas, high-end international and local brands, and seasonal shopping events. Several shopping centres and malls around Jumeirah Park are listed below:
Marina Mall

Ibn Battuta Mall

Al Khail Avenue
Visitors, tourists, and locals may be pleased with a region's potential if it offers the best representations of its distinctive food. There are a few restaurants in the Jumeirah Park community, like Starbucks, Loui Restaurant, and Cafe. However, the Community is surrounded by residential communities; residents must travel to Jumeirah Lake Towers or Dubai Marina to find exquisite and high-end dining restaurants. Here are just a few fantastic dining options instead of the usual cafes and restaurants.
Cheesecake Factory

Farsi Restaurant

Tokyo Noodle Bar

Terrace

Amsterdam Hub

Amarillo Tapestry Bar
Jumeirah Park in Dubai is popular for locals and visitors to relax, catch the sunshine, and cool in the water. Because there are so many beaches nearby, Jumeirah Park is in an excellent location. It takes only 15 minutes to go to the exclusive Cove Beach. There are nearby beaches like: 
Public Jumeirah Beach

Aquaventure Beach

Al Sufouh Beach
With its numerous appealing amenities, Jumeirah Park is primarily a residential area. Residents can live in a peaceful suburb with ample leisure activities, like community parks, sports complexes, a cricket ground, and a gym. Sports Mania and DG Tuskers cricket ground is for sports and cricket enthusiasts in the Community. 
However, no entertainment venues are nearby, so they must hunt around and relocate to adjacent communities to visit recreational facilities. A few recreational places to visit nearby Jumeirah Park are: 
Dubai Marina Walk

Skydive Dubai

Ain Dubai 

Top Golf Dubai

Jumeirah Golf Estate and Country Club
Jumeirah Park - Location Map and Landmarks
Schools Near by Jumeirah Park Dubai
Distance and Commute Time
Dubai International Airport is 35.9 km, and it takes 28 minutes to reach there. 

Al Maktoum International Airport is 29.4 km, and it takes 26 minutes to reach there. 

Discovery Gardens and Al Furjan Metro Station are approximately 4.2 km away; it takes 9 minutes to reach there. 

Ibn Battuta Mall is 6.4 km, and it takes 10 minutes to reach there.

Dubai Marina Walk, Skydive Dubai, and Dubai Harbour are 7.7 km away, and it takes 12-14 minutes to reach there. 

Ain Dubai is 6.9 km, and it takes 12 minutes to reach there. 

Dubai Production City is 11.3 km, and it takes 13 minutes to reach there. 

Jebel Ali Village is 13.5 km, and it takes 14 minutes to reach there.
Jumeirah Park, Dubai
Ratings and Reviews
Abu Kazi
Luxurious lifestyle and amenities are nearby
In Dubai, Jumeirah Park may be where you can find that upscale way of living. High-class and lavish communities surround it, providing tough competition to the nearby neighbourhoods. It is close to the Jebel Ali Village neighbourhood, which has all the essential amenities. However, there is a lack of entertainment options, but overall, it is a place to live lavishly and elegantly. 
Rizwan Faroqi
Nearby metro station and beaches
I love travelling on weekends and holidays, and Dubai has ample recreational and leisure spots in different corners. So, I was looking for a home with ample public transport facilities and found a perfect home in Jumeirah Park. It is near Jebel Ali Metro Station, and it is near the beach as well. Proximity to the beach was like icing on the cake. Overall, the environment here is good, and the Community is friendly. 
Sameera Sheikh
The upscale services offered by Jumeirah Park add to Dubai's rising living expenses. This Community contains some of the most costly residences in Dubai, and the neighbourhood is more expensive than much of the city. The maintenance cost and other costs are relatively higher than in other areas. So, overall, be prepared for additional expenses if you consider buying a property here!
Elina D'Souza
No entertainment activities nearby
The neighbourhood is sophisticated and nice, but it is extremely boring. There is nothing much interesting to visit in your leisure time or do something productive. I have to travel long distances to spend time with my friends in restaurants and cafes. So, if you are an extrovert, think twice before purchasing here. 
Mahima Choudhary
The residential properties are expensive and pricey. When I saw the price range, I wondered what amenities and features residential property offers, so I thought of visiting the area and was amazed. The villas are spacious, with lavish interiors and exteriors, and the Community's surroundings are well-decorated. So, after visiting, the price seems justified.
Top Articles on Real Estate in Dubai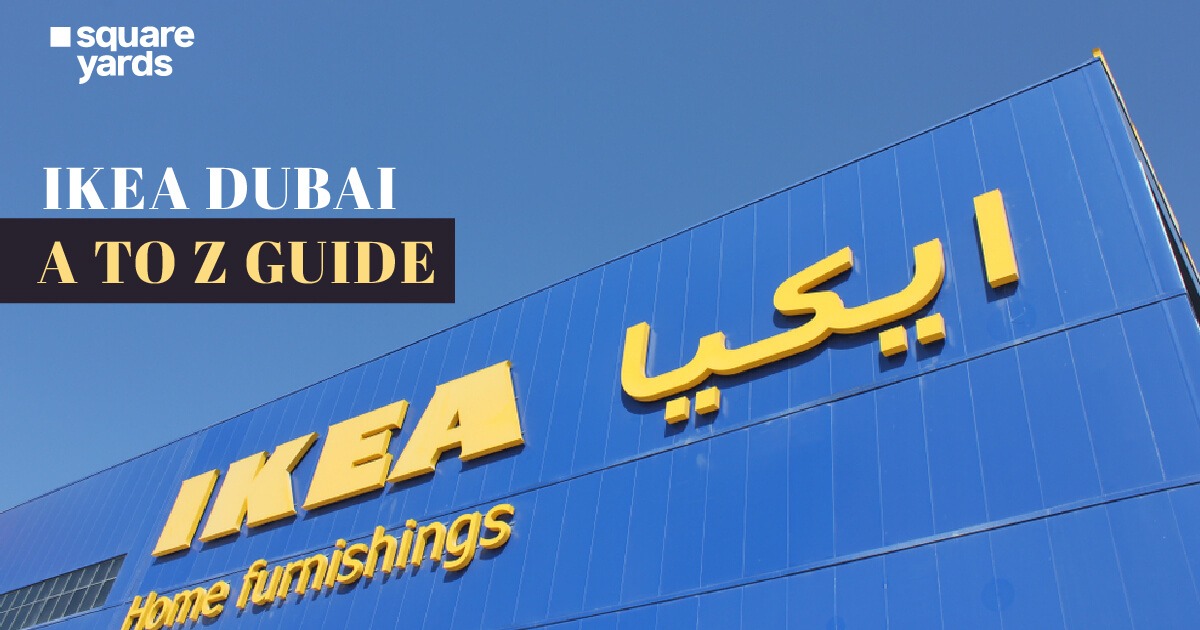 IKEA, one of the best furniture retailers in Dubai, just launched a second location in Jebel Ali. Today, December 18,…...
Frequently Asked Questions (FAQs)
Is Jumeirah Park Freehold?
Jumeirah Park is a freehold development in Dubai, allowing expats and foreigners to own property in the Community without any restrictions.
What are the top attractions in Jumeirah Park, Dubai?
There are limited attractions in Jumeirah Park, Dubai. However, ample options are nearby, like Ibn Battuta Mall, Ain Dubai, Dubai Marina, Dubai Harbour, and Top Golf Dubai. 
How to get to Jumeirah Park in Dubai by bus and metro? And which is the nearest metro station?
Discovery Gardens Metro Station 2 is the nearest metro station to Jumeirah Park. There are no bus stops in the Community; however, several bus stops surround the area, like JLT The Dubai Tower. JLT2 bus route traverses the area. 
What are the best communities in Jumeirah Park, Dubai?
Jumeirah Park is a residential, villa-only community nearby Jumeirah Islands and Jumeirah Lake Towers. Legacy, Regional, and Legacy Nova are a few communities in Jumeirah Park. 
What are the best hotels and restaurants in Jumeirah Park?
Jumeirah Park is a residential-only community so residents can find ample hotels and restaurants in the surrounding neighbourhoods. Some hotels nearby Jumeirah Park are Movenpick Jumeirah Lake Towers and Voco Bonnington Hotel. Some nearby restaurants are Hot Plate Restaurant, GrillO Restaurant, and Qasioun Restaurant. 
Which are the famous malls and supermarkets in Jumeirah Park?
Jumeirah Park in Dubai offers several popular malls and supermarkets, including Ibn Battuta Mall and The Pavillion. Some nearby supermarkets are Al Rifai, Island Mini Mart, Al Amal Mini Mart, and India Supermarket. 
What are the best schools in Jumeirah Park, Dubai?
Jumeirah Park in Dubai offers several top-rated schools, including Dubai British School, Marina Village Nursery, Toddler Town British Nursery, and Keystroke University.
Which are the best hospitals and clinics in Jumeirah Park, Dubai?
Jumeirah Park in Dubai offers several top-rated hospitals and clinics, including Mediclinic Meadows, Medcare Medical Centre, BinSina Pharmacy, and Medshop Garden Pharmacy.
Which are the famous places of worship in Jumeirah Park, Dubai?
Several places of worship for different religions are easily accessible in nearby localities, including United Christian Church, Guru Nanak Darbar, Masjid Bani Hashim Masjid Abdullah Ali Al-Chaafar, and Nakheel Mosque.
What are the pros and cons of living in Jumeirah Park, Dubai?
Jumeirah Park in Dubai offers a fantastic living environment with scenic beaches and first-rate amenities. The neighbourhood is a secure and safe place for both families and visitors. Limited entertainment and nightlife options exist, and the properties are expensive here.