About Discovery Gardens, Dubai
Discovery Gardens is located in the Jebel Ali suburb between Sheikh Mohammed Bin Zayed Road (E311) and Sheikh Zayed Road (E11). Additionally known as Jebel Ali Discovery Gardens. One of the popular projects for families to launch new businesses adjacent to the Jebel Ali Free Zone was the neighbourhood. Foreign families who frequently visit the adjacent commercial areas find it highly popular.
The rectangular shape of the community and its network of important roads are near the well-known residential neighbourhoods of The Gardens, Al Furjan, and Jebel Ali Village. The area's accessibility is primarily to blame for its appeal. Locals may easily access the Discovery Gardens Metro Station, which is situated on Dubai Metro Route 2020. 
Due to its proximity to Ibn Battuta Mall and Dubai Marina, living at Discovery Gardens is a fantastic choice for families, singles, and young couples looking to enjoy the many advantages of this bustling city. It offers spacious apartment towers of various sizes, surrounded by lovely landscapes and well-kept grass. Above all, it is among the best locations in Dubai to rent studios at reasonable prices compared to the market.
The delightful neighbourhood of Discovery Gardens offers its residents a cosy and peaceful environment. The project's cutting-edge design, gorgeous furnishings, and range of community services are meant to accommodate modern families' wants and tastes. This building is ideal for anyone looking for a cosy and practical place to live due to its central location in Dubai and distance from the city's major attractions.
Key Highlights of Discovery Gardens, Dubai
What's Great Here!
Garden-themed residential clusters

Strategic location and affordable neighbourhood

It is one of Dubai's best places for walking

Home to Discovery Gardens Metro Station on Route 2020

Family-friendly community

Essential amenities are nearby
What Needs Attention!
A bit noisy

Not a pet-friendly area

Traffic Congestion

No high Rise buildings
Properties in Discovery Gardens, Dubai
Discovery Gardens, an affluent residential community in Dubai, offers a selection of apartments for sale and rental. At Discovery Gardens, nearly 300 low-rise buildings house over 26,000 apartments. Due to the demand for the available residential units, which are extremely popular in Dubai's real estate market and have a high occupancy rate, the community is a sought-after residential address.
Buildings at Discovery Gardens Dubai have attractive architecture and are constructed using a variety of colour schemes. There are six distinct districts where you can find apartments. 
Additionally, more than 30% of the area comprises open space. There are no skyscrapers in the neighbourhood of Discovery Gardens. Locals can live quiet lives as a result.
Discovery Gardens has six "garden living" themed clusters of buildings: Contemporary, Cactus, Zen, Mediterranean, Mogul, and Mesoamerican. There are almost 300 buildings in the area housing more than 26,000 affordable studio, one, and two-bedroom apartments. Residents can also access a metro station, three medical centres, 200 shops, and a complete community retail centre. Large open spaces and exquisitely landscaped gardens with various activities are outside the buildings.
The sense of community is one of the key benefits of living in Discovery Gardens. The neighbourhood is very popular with expats, young families, bachelors, and students who want to live close to their places of employment and education. Keep in mind that pets may not be permitted in the housing complexes. Tenants must speak with their landlord before introducing any dogs into the neighbourhood.
Dubai, a rapidly growing city with a superb combination of residential, commercial, and recreational potential, is the ideal location for the project.
Off-Plan Trends in Discovery Gardens
Discovery Gardens is one of the many off-plan developments in Dubai that have drawn buyers and investors. At Dubai's Discovery Gardens, prospective homeowners can find ready-to-move-in homes made to accommodate the requirements of modern families.
Due to its adaptable design, off-the-plan homes at Discovery Gardens are in high demand. Due to this development, customers can access a large selection of high-quality flooring, tiles, kitchen cabinets, and worktops.
With various payment plans, investors and homeowners can purchase pre-construction properties from Discovery Gardens. Buyers can make payments through post-delivery plans after the unit has been delivered but before the last mortgage payment. This development makes buying luxury real estate easier and gives purchasers more financial flexibility.
Rental Trends in Discovery Gardens, Dubai
The rental market at Dubai's Discovery Gardens is evolving rapidly. Discovery Gardens is a modern residential subdivision surrounded by lush vegetation. Along the 6-kilometre residential area, there are more than 26,000 apartments. Due to its popularity among expat families for offering a large selection of rental homes at affordable prices, Discovery Gardens has grown to be a sought-after address in Dubai. For a single person or a couple, renting a studio flat in Discovery Garden is straightforward.
It may be easier for residents to manage their money if rent at Discovery Gardens is spread out over several months. Renters benefit from more convenient and flexible payment options that can be tailored to their specific requirements.
Discovery Gardens offers studio, one, and two-bedroom apartments ranging in size from 500 to 1,500 square metres for rent. Most single people and married people choose Discovery Gardens. There are also 3-bedroom apartments. However, these are hard to come by compared to the other common layouts. If you're looking for the greatest places in Dubai to purchase reasonably priced studio apartments, go to Discovery Gardens.
The fierce competition in the Discovery Gardens rental market results from the area's high demand for luxury residences. Nevertheless, rentals may offer discounts and special offers, particularly during sluggish market activity.
Sale Trends in Discovery Gardens, Dubai
The elegant and comfortable Discovery Gardens is a well-liked option for city dwellers. One of the main factors influencing the current sales trend at Discovery Gardens is the desire for luxurious and spacious living rooms. 
With spacious living areas, fully equipped kitchens, cutting-edge furnishings, and luxurious finishes, the apartments at Discovery Gardens are made to provide residents with the maximum amount of comfort and convenience. Investors prefer Discovery Gardens in Dubai as a result. One may purchase a 975-square-foot or 1,796-square-foot one or two-bedroom flat.
Given the growing demand for luxury homes in the area, Discovery Gardens is a wise investment now and in the future. The community's ideal location near busy roads, airports, and commercial areas increases its appeal as a financial investment.
Interested investors may consider buying properties at Discovery Gardens to generate high returns. Apartments with a studio or one-bedroom have a high rental yield. The increasing demand for apartments in the area is also a result of this. Discovery Gardens is currently one of Dubai's most coveted residential areas.
Mediterranean Cluster is among the nicest areas in Discovery Gardens to buy apartments. A Mediterranean apartment tower is one of the best sites in Dubai to buy or rent an apartment. Zen Cluster and Mogul, the next two popular neighbourhoods, provide studio and one-bedroom flats with Asian-inspired architecture.
By Budget
By Property Type
By Beds
Public Transport
You can utilise the bus service if you reside at Discovery Gardens. Getting around is straightforward with a solid bus system. The suburb has excellent access to all of Dubai's public transit options, including Dubai Metro. The Discovery Gardens Metro Station is a part of the neighbourhood and is situated towards the eastern edge. It is a part of Route 2020, the most recent Dubai Metro expansion. 
The following bus lines pass through Discovery Gardens:
| Bus Line Number | Destination |
| --- | --- |
| F43 | Discovery Garden 5 to Ibn Battuta Station 6 |
| F42 | Discovery Garden Al Sayeel Street to Ibn Battuta Bus stop |
| 85 | Internet City to Ibn Battuta Bus Stop - 02 |
Amenities
Nurseries/ Educational Institute

Supermarkets

Healthcare Facilities

Places of Worship
Residents of Discovery Gardens have access to a large number of schools and nurseries where their kids can receive an education of an international calibre. The following are a few of the educational institutions in and near Discovery Gardens:
GEMS Winchester School

Chubby Cheeks Nursery

Jebel Ali Village Nursery

University of Bradford

Middlesex University

American University
Nearby Discovery Gardens in Dubai are several grocery stores and shopping malls. To meet the needs of the locals, these supermarkets and shopping malls offer a variety of necessities and basics. Several of the grocery stores in and around the region are –
Carrefour Market

Spinneys

Choithrams

Mini Mart
Numerous medical facilities in the neighbourhood may meet both general and specialised needs. Treatment options include general medicine, physiotherapy, plastic surgery, dermatology, paediatrics, and other disciplines. In and around the region are the hospitals and clinics listed below.
Aster Clinic

Mediclinic Parkview Hospital

Medcare Medical Centre

Health Hub Clinic
Many places of worship are nearby, including churches, temples, and mosques. Some of the most notable places of worship near Discovery Gardens include the ones listed below:
Masjid Abdullah Ali Al-Chaafar

Omar Bin Abdulaziz Mosque 

Christ Church

Guru Nanak Darbar
Best Hotels in Discovery Gardens
Numerous hotels, eateries, and nightlife venues are located in the Discovery Gardens, Dubai. The following are a few of the top hotels in Discovery Gardens:
Parkside Hotel Apartment

ZiQoo Hotel Apartment

Chelsea Gardens Hotel Apartments

Premier Inn Dubai
A Japanese hotel called ZiQoo offers traditional Japanese lodging in Discovery Gardens. It contains a sizable parlour and independent rooms with balconies. There are nearby eateries, a gym, and a traditional Zen spa. ZiQoo Hotel Apartment's ideal location is adjacent to a shopping centre and a metro stop. The Ibn Battuta Mall and the Discovery Garden Metro Station are close to the hotel.
Lifestyle
Shopping Centres/ Malls

Restaurants/ Dining

Beaches Nearby

Leisure Activities Nearby
Whether a local or an out-of-town tourist, Discovery Gardens can help you prepare for retail therapy by pointing out wonderful nearby malls and stores; the shopping centres in and around the area are listed below.
Discovery Gardens Pavilion

Ibn Battuta Mall

Cedre Shopping Centre
The greatest local fare and distinctive cuisine are served at Discovery Gardens, drawing tourists and potential new inhabitants. The list of typical dining establishments, including cafés and restaurants, is below.
Mami's Illam 

Spice Story 

Occasions

Nando's

PizzaExpress

India Palace 

Verdura
Few beaches are located close to Discovery Gardens; residents may not need to travel far to get to the coast because the beaches are only accessible on foot. The following beaches are closest to Discovery Gardens:
JBR Beach

Al Mamzar Beach Park

La Mer Beach
For a pleasant day in the sun and sand, drive a short distance to the stunning JBR white beach. There are many enjoyable activities at The Beach JBR, including water sports, splash pad activities, beachside dining, and fitness clubs.
Discovery Gardens offers amusement parks, water parks, outdoor activities, gyms, beauty salons, spas, and more to entertain visitors and residents. Below are a few of them:
Emirates Golf Club 

Els Club

Fun City

Jebel Ali Park

Ibn Battuta Mall
Like the beaches, Dubai's golf courses are recognised worldwide for their magnificent green scenery and lavish amenities. Access to Emirates Golf Club is one perk of living in Discovery Gardens. Another popular golfing destination is The Els Club, which can be reached in approximately 20 minutes.
Ibn Battuta Mall offers a range of activities, such as dining and spa pampering and shopping. Movie lovers can see the newest films at Novo Cinemas. Kids may go right to Fun City, while adults can enjoy various activities at the mall, such as Switch Bowling. The trampoline park Sky Zone Dubai is another feature of the Ibn Battuta Mall.
Discovery Gardens - Location Map and Landmarks
Schools Near by Discovery Gardens Dubai
Distance and Commute Time
Jebel Ali Village and The Gardens are nearby and are easily accessible within 15 minutes as the distance is only 3.2 kilometres. 

The distance to Discovery Gardens is 3.8 kilometres, and It can take 18 minutes to get from Emirates Road and Sheikh Zayed Road. 

The journey to Dubai International Airport takes 40 minutes as the distance from there is 8.7 Kilometres.

Eleven minutes will get you to Dubai Marina as the distance is 2.3 Kilometres. 

Only a short distance by foot separates Dubai Media City from Dubai Internet City as the distance is just 1 kilometre.
Discovery Gardens, Dubai
Ratings and Reviews
Illeana Roz
The location of Discovery Gardens denotes the height of splendour. Luxury villas are expertly planned and built to the greatest standards, maximising their ample space. The area has expansive lawns, playgrounds, swimming pools, and other wonderful attractions.
Faizal Ali
Safe and secure community
The fact that CCTV cameras are being watched and the highest security precautions have been taken to keep the neighbourhood secure for kids is what I enjoy best about it. That's excellent because I was concerned about this busy city with so many guests, but now I can send my kids out to play with their friends on the playgrounds without worrying. 
Ivica Horwah
Not so high cost of living
In addition to residents' outstanding quality of life, Discovery Gardens also features a reasonable cost of living. Unlike other areas of Dubai, rent, utilities, food, and other necessities are significantly less expensive here. However, given the amenities and facilities in the area, it seems worthwhile.
Harjot Singh
Perfect for couples and families
Due to the availability of apartments with 1 or 2 bedrooms for couples or small families at an affordable range, Discovery Gardens' apartments in Dubai are ideal for both singles and small families. Every six months, my family visits, so I don't have to reserve hotels for their stay because a two-bedroom flat can accommodate 4-5 people.
Arsalan Khan
The main highway linking Jebel Ali and Dubai City is close to the community of Discovery Gardens. Consequently, the road is constantly congested, making it unpleasant to go shopping or run errands outside the neighbourhood. 
Top Articles on Real Estate in Dubai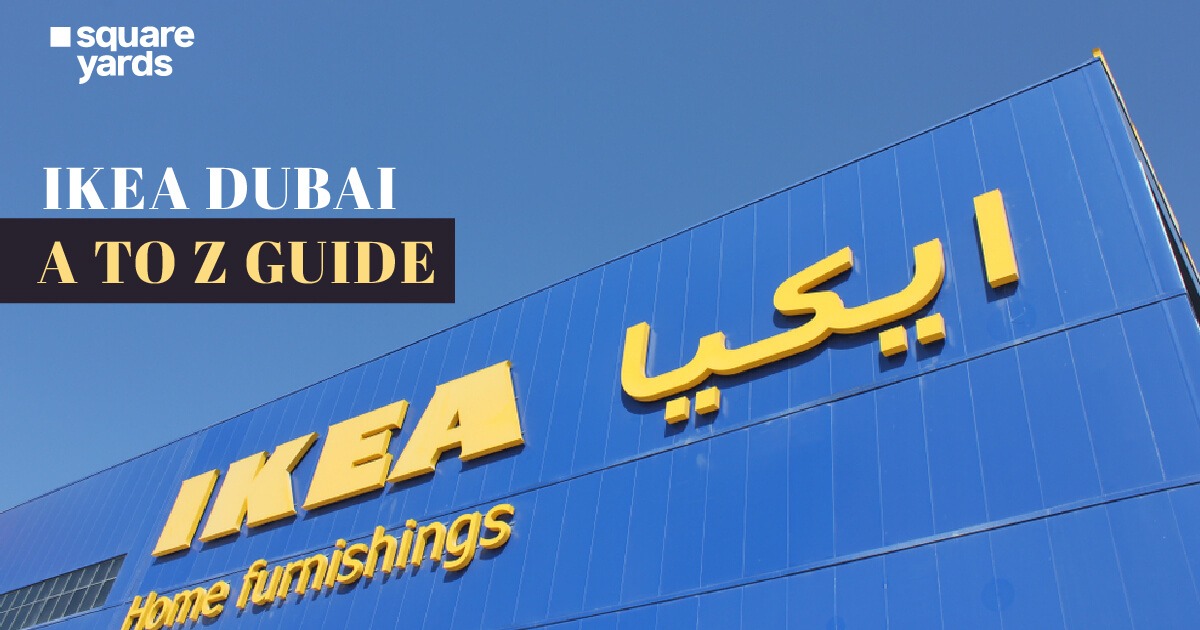 IKEA, one of the best furniture retailers in Dubai, just launched a second location in Jebel Ali. Today, December 18,…...
Frequently Asked Questions (FAQs)
Is Discovery Gardens Freehold?
Yes, Discovery Gardens in Dubai is a freehold community.
What are the top attractions in Discovery Gardens, Dubai?
Discovery Gardens in Dubai is a residential community and does not have specific tourist attractions within its boundaries. However, nearby attractions include Ibn Battuta Mall, Emirates Golf Club and Jebel Ali Park.
How to get to Discovery Gardens in Dubai by bus and metro? And which is the nearest metro station?
Bus routes 85, F43 and F42 pass through Discovery Gardens, Dubai. The nearest metro station is the Discovery Garden Metro Station. 
Which communities are best in Discovery Gardens, Dubai?
The nearby communities are Dubai Media City, Internet City and Al Furjan.
What are the best hotels and restaurants in Discovery Gardens?
Discovery Garden is home to Numerous hotels, eateries, and nightlife venues, including India Palace Restaurant, Parkside Hotel Apartment, and ZiQoo Hotel Apartment. These are some of Discovery Gardens' top hotels.
Which are the famous malls and supermarkets in Discovery Gardens?
Although Discovery Gardens is a residential community with few malls and supermarkets, several options include Ibn Battuta Mall, Mini Mart and Discovery Garden Pavilion.
What are the best schools in Discovery Gardens, Dubai?
Some of the best schools in the Discovery Gardens area of Dubai include GEMS Wellington Academy, Chubby Cheeks Nursery and the International School of Arts and Sciences. 
Which are the best hospitals and clinics in Discovery Gardens, Dubai?
Some of the best hospitals and clinics in the Discovery Gardens area of Dubai include Zulekha Hospital, Mediclinic Parkview Hospital, and Aster Clinic. 
Which are the famous places of worship in Discovery Gardens, Dubai?
The area's most famous places of worship include Masjid Abdullah Ali Al-Chaafar, Omar Bin Abdulaziz Mosque, Christ Church and Guru Nanak Darbar. 
What are the pros and cons of living in Discovery Gardens, Dubai?
Discovery Gardens is one of the best neighbourhoods in the city. If you're considering moving to this neighbourhood, there are a few things to consider. The lack of adequate public transport has long been a complaint of the populace. However, frequent travellers now find it convenient to live in Discovery Gardens because it has two metro stations and numerous bus routes.