About Business Village, Dubai Overview
Business Village is a 1 million square foot government-owned office park that is advantageously located in the heart of Dubai's Central Business and Financial District, opposite the all-city landmark Clock Tower. The location is just a few minutes from Dubai International Airport and adjacent to the Deira City Centre shopping complex, the DNATA headquarters, and several government buildings and banks.
The premises house the headquarters of several public and private entities, including the Department of Economic Development (DED), the Ministry of Foreign Trade (MOFT), and the Foreign Direct Investment Office (FDI).
Business Village is one of the most stunning commercial centres in the United Arab Emirates. It offers various high-quality services, such as fully-serviced offices, executive suites, conference spaces, and virtual offices. A large selection of office solutions is available, ranging from a single workstation to a multi-site organisation. This commercial centre is a bustling hub of commercial activity, offering an array of amenities and attractions spanning small businesses to big corporate giants.
Additionally, it provides a unique blend of modernity and tradition, with the majority of shops and dining outlets in the area. Offering various services, from banks to gyms and cafes, Business Village Port Saeed has become renowned for its targeted business openings that offer maximum convenience and comfort to its frequent customers.
The office spaces cater to different tastes and requirements with modern and classic design schemes and different area requirements. It is also an ideal destination for high-end offices, offering an unbeatable level of luxury, comfort, and convenience.
Key Highlights of Business Village
What's Great Here!
Prime Location

Numerous rental properties available

World-class Amenities

Known Business centres

Easy access to Dubai's metro stations
What Needs Attention!
Only Commercial Spaces Available

Congested roads during peak hours
Properties in Business Village, Dubai
The office space in the Business village centre includes fully serviced offices, executive suites, meeting rooms, virtual offices, and office solutions spanning a single workstation to an unlimited number of offices.
Business Village Centre is the perfect destination for businesses of all sizes, with its comprehensive range of solutions designed to meet any need. The fully equipped facilities are tailored to the needs of companies, from large corporations to small businesses, providing them with the tools necessary for success. Business Village offers office space ranging in size from 250 to 10,000 square feet, as well as shell and core and ready offices. From its world-class infrastructure to its comprehensive amenities and services, Business Village Centre provides an ideal environment for any business to grow and succeed.
Rental Trends in Business Village
Business Village in Port Saeed has several business premises for rent that offer tenants access to the latest infrastructure and amenities, ensuring businesses can keep up with the latest technology and trends. This includes emerging new start-ups and innovative business ideas and expanding existing businesses into more specialised areas. 
Companies considering taking up space in Business Village should also consider the potential of shared office spaces, which can reduce overhead costs and provide flexibility for businesses as their needs evolve. The office spaces range from 200 square feet area to 10,000 square feet.
Sales Trends in Business Village
Properties in Business Village Port Saeed are rent-only properties for the most part, making it an ideal option for businesses looking to take a longer-term approach. With mid- to long-term contract rents, Business Village companies can enjoy the benefits of a flexible and modern workspace. In addition, with the rapid technological changes, Business Village Port Saeed also offers a unique opportunity for companies to tap into the local knowledge and available resources. 
Types of offices available at Business Village include fully serviced offices, executive suites, conference rooms, and virtual offices, with a wide range of options ranging from a single desk to large multi-office suites with a single workstation to an endless number of offices.
Public Transportion
Buses and taxis are the primary forms of transportation in Business Village. There are several bus stops located across the neighbourhood. 
The following public transportation lines run in or near Business Village.
| | |
| --- | --- |
| Bus / Metro | Destination |
| Bus 27 | The Dubai Mall / Gold Souq Bus Station |
| Bus 88 | Dubai Internet City Seaside Metro Bus Stop - 01 / Deira City Center Bus Station - 03 |
| C-15 | Hamriya Port, Control Tower Terminus - 1 / Wasl Park Terminus - 1 |
| C-26 | Wasl Park Terminus - 1 / Qusais Industrial Area, Terminus - 01 |
| X-28 | Dubai Internet City Seaside Metro Bus Stop - 01 / Lulu Village - 01 |
| M1 | Jabel Ali Metro Station / Rashidiya Metro Station |
Amenities
Educational Institutions

Supermarkets

Healthcare Facilities

Places of Worship
While there are no schools in the immediate vicinity, plenty are nearby in the Port Saeed area. The professionals in need of higher education for themselves or their children can explore options at these schools and receive a quality education. The nearby areas provide an opportunity for residence and education, and the professionals can conveniently commute to and from work and school. 
Here is a list of schools that are conveniently located in and around Business Village Port Saeed:
Tappy Toes Nursery

Chubby Cheeks Nursery

Canadian Oaks Kindergarten

 Dubai Gem Private School

English Language School

Zabeel High School
Business Village has many supermarkets, ranging from small, family-owned stores to larger chain outlets. Some of the city's best shopping complexes are also nearby. A few supermarkets in the area include:
Shurooq Plaza for Abayas

Farook Plaza

Lakki Al Marwat SuperMarket

Talal Supermarket
Business Village also has numerous healthcare facilities nearby, such as medical centres and hospitals that provide comprehensive healthcare services to the public. These include
Hessa Medical Clinic in Al Rawda 2

Family Medical Centre in Port Saeed Industrial 1

Saudi German Hospital in Al Tallah

Al Zahra Medical Centre 

Port Saeed Specialty Hospital
Business Village is located in Port Saeed, where numerous mosques and other places of worship are present. The famous mosques include:
Khalifa Altajir Mosque

Yaqub Mosque

Riggat Al Butteen Mosque 

Masjid Mona Bint Sultan Al-Otaiba
 The Business Village neighbourhood has other places of worship as well. A few of  the churches nearby include: 
St. Mary's Catholic Church

St. Thomas Orthodox Cathedral

Coptic Church

St. Martin's Chapel

Grace Covenant Church Dubai

Holy Trinity Church

Christian Fellowship Church, Dubai and

 St. Matthew's Chapel 
Hindus have access to temples in Bur Dubai, including
 Shiva Temple

Shree Krishna Haveli

ShrinathJi Temple

Shirdi Sai Baba Mandir.
Best Hotels in Business Village
Various hotels can be found near the Business Village. Since it is a commercial centre, it attracts many business professionals looking for quality accommodation. The hotels range from budget to luxury and provide a wide range of facilities and services that cater to the needs of business professionals. These hotels also offer tourists a choice between leisure and business travel. Popular hotels include
The Leela Hotel

Royal Continental Dubai

Versallis By Raviz

Saffron Hotel Dubai

Dubai International

Hyatt Regency Diera
Lifestyle
Shopping Centres / Mall

Best Restaurants in Business Village

Beaches Nearby

Leisure activities
There is never a shortage of possibilities for humdrum shopping sprees. In the Business Village, many retail facilities, including old souks and markets, regularly draw many people. Major malls in the Al Rawda area are only 11 minutes apart. Shopping centres and malls around the Business Village include: 
City Centre Deira 

Al Ghurair Centre

Reef Mall
Business Village is home to a wide selection of restaurants that offer various cuisines from around the world. This wide selection of restaurants can help cater to different religious denominations, offering traditional dishes from the respective religions and dishes from other countries and cultures. From famous Italian, Chinese, and Indian food to traditional Middle Eastern cuisine, there is something for everyone in the Business Village. Popular eateries include:
Cha Cha Chai Café

Gloria Jeans Café

Fresh Concept Foods

Adams Restaurant LLC
Dubai's Business Village is home to some of the greatest beaches for a relaxed day out or an exciting holiday. The nearest beach is Umm Hurrair Beach Pavilion, a 7-minute drive away. A 14-minute drive away is Al Mamzar Beach, another popular beach destination. The other best beaches near Business Village, from peaceful and serene to those packed with exciting activities, including
Dubai Creek Park

Zabeel park

Maritime City Park
Business Village Port Saeed has plenty of excellent restaurants, cafés, and bars offering top-notch culinary experiences. The area also hosts a variety of malls, retail outlets, and shops with the latest fashion trends and some classic, timeless pieces. Additionally, Business Village Port Saeed is home to many trendy events venues and luxurious spas—just the perfect spot to let yourself go and relax. For exercise lovers, there are jogging and cycling paths, food alternatives, and an outdoor gym.
Some significant neighbouring recreation areas include:
Heritage House

Deira Clock Tower

The Deira City Centre Magic Planet

Wharfage on Dhows

Magic Planet Dubai 

Astro Blasters game
Distance and Commute Time from Business Village to Other Popular Places
Dubai Airport (DXB) is

2.8 km

kilometres from Business Village.

Business Village and Jebel Ali Free Zone 1 are at a distance of 51.4 km via Sheikh Zayed Rd/E11

Business Village to Central Business district is 17.2 km away via Rebat St/D83

Business Village to Dubai Metro Station is 17.4 km via Sheikh Zayed Rd/E11
Business Village, Dubai
Ratings and Reviews
Zoya Ansari
I recently took the journey from Business Village to the central business district via Sheikh Zayed Rd/E11 and found the commute to be quite pleasant. It was a smooth ride, and I did not experience any traffic delays on the highway.
Mustafa
This location is a new addition to the town. It is not just any commercial centre but a signature destination. I feel proud of owning an office here. Business Village is more than just a commercial centre; it's a destination.
Atif
Lack of in-premise Accommodation Options
Though Business Village is unique, I feel accommodations should have been available within the premises. As a business traveller, it would have eased the inconvenience.
Adeel Khan
The Business Village is a luxurious office space in the city's heart. All the amenities, including free Wi-Fi, private cabins, and a reception desk, make the office space an ideal working environment for small business owners.
James
Great for Foreign business travellers like me!
I often travel to Dubai for business and need accommodation near the airport and downtown. I decided to have a space here as it was close enough to the airport and public transportation to get around but far enough away from the hustle and bustle of downtown.
Top Articles on Real Estate in Dubai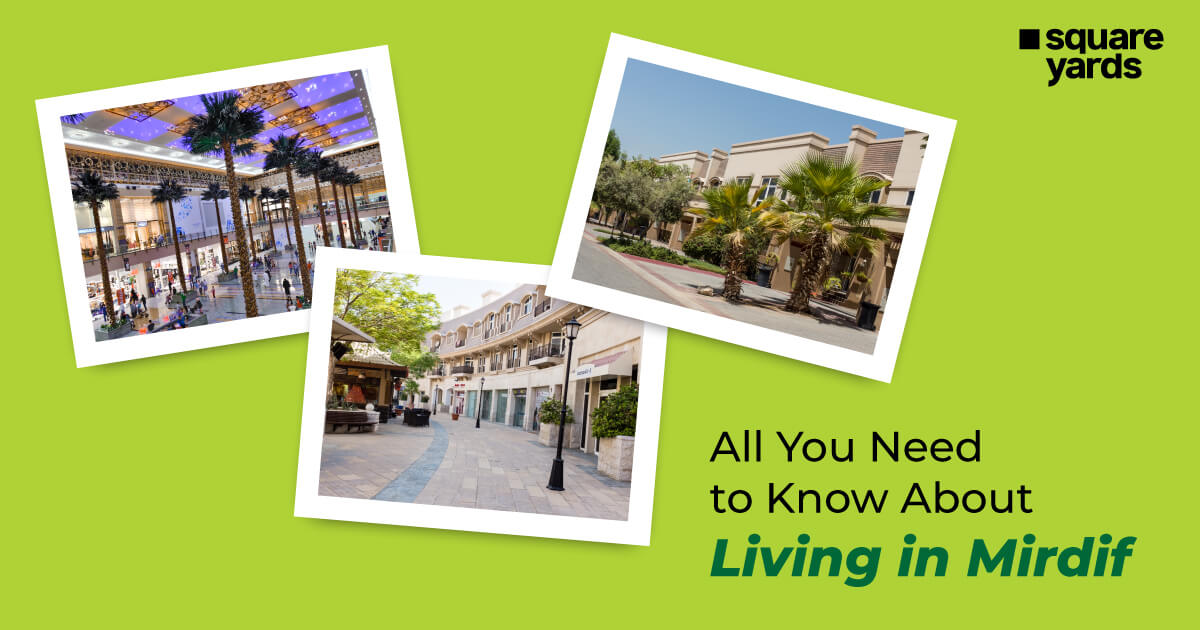 It won't be an understatement to say that Mirdif, situated in Dubai, is where elegance meets the comfort of serene…...
Frequently Asked Questions (FAQs)
Is Business Village a freehold area?
Business Village is a rent-only area, and you can invest here.
What are the top attractions in Business Village?
The  Business Village neighbourhood is bustling with life—many malls, restaurants, and malls. One can find gyms, sports clubs, and gyms.
How do I get to Business Village by bus and metro? And which is the nearest metro station?
Business Village is easily accessible by bus or metro.  Daily RTA buses and metro 1 are approachable from near Business village
Which are the best communities to live in in the Business Village?
Business Village is a commercial centre, but many residential complexes are present in the adjoining localities of Port Saeed and Diera.
What are the best hotels and restaurants in Business Village?
A few of the premium hotels in the vicinity include the Leela Hotel, and Royal Continental Dubai, to name a few.
Which are the famous malls and supermarkets in Business Village?
Business Village is close to City Centre Diera, Al Ghurair Dubai, and Reef Mall.
What are the best schools in Business Village?
One can find many reputed schools in the neighbourhood  including Port Saeed Zabeel High School and Tiny Tots Nursery.
Which are the best hospitals and clinics in Business Village?
Some of the best hospitals and clinics in the region can be found in Port Saeed, including Hessa Hessa Medical Clinic and Al Zahra Medical Centre.
Which are the famous places of worship in Business Village?
Khalifa Altajir Mosque and Yaqyub Mosque are famous places of worship near Business Village.
What are the pros and cons of owning a space in Business Village?
Business Village is a well-connected city  offering excellent amenities and public transportation links. The offices are luxurious and intact with all excellent facilities. The only con associated with living here is the comparatively high rent rates.