About Al Danah, Abu Dhabi
Al Danah is a master-planned town in Abu Dhabi with a range of residential and commercial options. It is located in the middle of Abu Dhabi, the capital of the United Arab Emirates. Both natives and foreigners find the neighbourhood's wealthy homes and posh conveniences to be appealing selling points.
Al Danah is one of Abu Dhabi's most desirable communities due to the good quality of life and the easy access to other parts of the city it provides. Its northern and southern borders are Corniche and Al Muroor Street, while its eastern and western borders are Zayed the, First Street and Al Falah Street.
Al Danah has a variety of mix-use properties. Investors can invest in residential and commercial spaces in the rising suburb of Abu Dhabi. The locality features low to mid-rise apartment buildings and office spaces. 
In addition to its high-end real estate, Al Danah provides its residents with abundant convenient services and facilities. The locality has two renowned international schools, malls, and hospital facilities. There are several options for getting about the city from this location, including quick access to major roads and public transit.
Apart from all the facilities, the locality is close to famous landmarks and popular destinations in Abu Dhabi. The Abu Dhabi Corniche is an 8-kilometre-long beachfront promenade that runs along the Arabian Gulf and is one of the primary attractions of Al Danah. The Corniche is a popular place for people to go for a stroll, exercise, or play a sport like beach volleyball, and it also features several restaurants and bars. It's no wonder that Al Danah is regarded as one of the city's top neighbourhoods because of the high quality of life it offers its residents.
Key Highlights of AAl Danah, Abu Dhabi
What's Great Here!
Luxurious residential and commercial properties

Convenient location

Easy access to the best healthcare facilities

Proximity to the Abu Dhabi Corniche

World-renowned shopping malls

International schools
What Needs Attention!
High cost of living

Traffic congestion

Limited green spaces

Noise pollution
Properties in Al Danah, Abu Dhabi
Al Danah is a renowned residential neighbourhood in Abu Dhabi's central business sector. Locals and expatriates alike find the area's magnificent residences, upmarket facilities, and accessible location attractive.
At Al Danah, a range of properties are available, from residential to commercial. Apartments have different room configurations and layouts, and office spaces, retail areas, and shops are available. Several of the residential units in the region provide access to world-class facilities and services and breathtaking views of the Abu Dhabi skyline.
The apartment buildings in Al Danah provide tenants with various facilities and services, including private pools, fitness centres, and 24-hour security. It is a great spot for families because many units can access community facilities like gardens and playgrounds.
The price of properties in Al Danah might vary based on their size, location, and number of included facilities. Although the cost of living in Al Danah might be exorbitant, many believe the luxurious lifestyle and accessible location justify the expense.
Al Danah is very attractive for people searching for wealthy real estate and access to world-class amenities and services. This desirable area offers a range of available properties, so there is something for everyone.
Off-Plan Trends in Al Danah, Abu Dhabi
Although investing in off-plan houses can be a wise financial move, one of the key advantages of investing in off-plan properties in Al Danah is the possibility of financial appreciation. As the area continues to grow and develop, the value of homes is anticipated to improve, allowing investors to earn a profit on their investments.
Most off-plan properties in Al Danah are ready to move. Investors can invest in properties in the Al Danah locality to add a luxurious property to their portfolio and earn higher returns as the real estate in Abu Dhabi grows and develops.
Rental Trends in Al Danah, Abu Dhabi
As Al Danah is such a popular area in Abu Dhabi, competition is high in the rental market. The Al Danah rental market is affected by a variety of factors, including but not limited to location, amenities, and property size.
Several types of residences in Al Danah have varying average square footage. Apartments with one bedroom are generally 700 to 900 square feet, while those with two bedrooms might be 1,100 to 1,400 square feet. Three-bedroom apartments might have a floor plan size between 1,800 and 2,500 square feet. Office spaces are available in the locality, and the floor size starts from 750 square feet.
With its wealthy lifestyle and convenient location, tenants in Al Danah may expect to pay a premium on the rental market. The rents for three-bedroom apartments have increased by 2.63%, and there is a decrease in the rents for one and two-bedroom apartments.
The proximity of nearby services like schools, hospitals, and restaurants affects the cost of apartments in Al Danah. Although average apartment sizes in the area change depending on building type, renters should be prepared to spend extra for larger units with more coveted amenities.
By Budget
By Property Type
By Beds
Sale Trends in Al Danah, Abu Dhabi
Due to its high concentration of high-end homes, prime location, and access to first-rate services, Al Danah has quickly become one of Abu Dhabi's most popular residential areas. Localities nearby Corniche Road have a highly competitive selling trend, with property prices in the region reflecting strong demand.
However, real estate sales in Al Danah rise and fall depending on location, convenience, and maintenance. With other developing neighbourhoods, the sales trends in Al Danah are steady. The scenario will change with the upcoming off-plan projects, and the sell trends will significantly increase.
Public Transport
Al Danah is well connected with the rest of Abu Dhabi via buses and other major roads and highways it is convenient for tourists.
The major bus lines traversing via Al Danah, Abu Dhabi, are as follows:-
| | |
| --- | --- |
| Bus Line Number | Destination |
| 63 | Al Reem Mall, Al Ghazal Street to Marina Mall |
| 5 | Al Zahiyah, Al Falah Street to Marina Mall |
| 40 | Al Muntazah South to Al Maryah |
| 33 | ADNEC to Commercial International Bank |
| 65 | Al Reem City of Lights to Marina Mall |
| 102 | Capital Park to MBZ City Bus Station. |
Amenities
Nurseries/ Educational Institutes

Supermarkets

Healthcare Facilities

Places of Worship
Al Danah offers many educational institutes and nurseries. These institutes are of international standards and provide the best education to their students. Some of them are given below.
Emirates College for Advanced Education

Al Bateen Academy

INSEAD Business School

British Orchard Nursery

Noah's Ark Nursery

Al Ittihad National Private School

Tiny Home Nursery
Many supermarkets in Al Danah offer its residents and tourists things for everyday use, and that too at daily discounts and offers. Some of the supermarkets in the area are:
Carrefour Market

Lulu Express

Spinneys

Choithrams

Zoom
Several medical institutions cater to general and specialised requirements in Al Danah. Some medical services include general medicine, physiotherapy, plastic surgery, dermatology, paediatric care, etc. Hospitals and medical facilities are listed below:
Sheikh Khalifa Medical City

Corniche Hospital

Cleveland Clinic Abu Dhabi

Ahalia Hospital

Al Rahba Hospital

HealthPlus Family Clinic
Al Danah, Abu Dhabi, is home to various places of worship, reflecting its residents' diverse religious and cultural backgrounds. Here are some of the names of places of worship in the area:
St. Joseph's Cathedral

Abu Dhabi Evangelical Church

Abu Dhabi Hindu temple

Abu Dhabi Islamic Centre

Gurudwara Sahib Abu Dhabi

St. George Orthodox Cathedral
Best Hotels in Al Danah
Al Danah, Abu Dhabi, is a vibrant neighbourhood home to various hotels catering to different needs and budgets. Here are some of the names of hotels in the area:
Sofitel Hotel 

Marriott Hotel Downtown Abu Dhabi

Holiday Inn Abu Dhabi Downtown

Millennium Capital Gate Abu Dhabi

Dusit Thani Abu Dhabi

Al Diar Capital Hotel

Le Meridien Abu Dhabi
Lifestyle
Shopping Centres/ Malls

Restaurants/ Dining

Beaches Nearby

Leisure Activities Nearby
Al Danah is a popular location for residents and visitors due to its contemporary amenities and retail malls. Each mall offers a distinctive shopping experience, with a diverse selection of retailers, restaurants, and entertainment venues. Al Danah's retail complexes contain something for everyone, from high-end luxury to local brands. Below is a list of some of Al Danah's malls
Abu Dhabi Mall

Marina Mall

The Galleria Al Maryah Island

World Trade Center Mall

Al Wahda Mall

Al Jimi Mall

Khalidiyah Mall

Dalma Mall
Al Danah boasts a diverse culinary scene. Several restaurants and dining options offer a variety of cuisines. Here is a list of some of the most popular restaurants in Al Danah:
Sambusek Lebanese restaurant

Mirjana Lebanese restaurant

The Cheesecake Factory

P.F. Chang's

Sushi Central

Zuma Restaurant

BOA Steakhouse

Benjarong Thai Restaurant
Whether looking for a peaceful day in the sun or an adventure-filled day of water sports, Al Danah has something to offer. Each beach offers a unique experience, with crystal clear waters, soft sands, and stunning views of the Arabian Gulf. Whether you're a local or a tourist, Al Danah's nearby beaches are a must-visit destination. Here is a list of some of the nearby beaches in Al Danah:
Corniche Beach

Saadiyat Beach

Yas Beach

Al Bateen Beach

Al Maya Island Beach Club
There is a wide variety of fun things to do in Al Danah, both for tourists and locals. Several exciting water sports, as well as cultural pursuits, are available. Each excursion provides a special chance to learn about and enjoy the arts and culture of the area. There is something for everyone in Al Danah, from the culture vulture to the excitement seeker. A few of the surrounding entertainment options in Al Danah are as follows:
Ferrari World Abu Dhabi

Yas Waterworld Abu Dhabi

Sheikh Zayed Grand Mosque

Emirates Palace Hotel
Al Danah - Location Map and Landmarks
Distance and Commute Time
Abu Dhabi Mall is 2.3 km away and takes 6 minutes to reach there. 

Burjeel Hospital is 3.2 km away and takes 7 minutes to reach there. 

Abu Dhabi Beach is 4.3 km away and takes 8 minutes to reach there. 

Abu Dhabi International Airport is 34.3 km away and takes 31 minutes. 

Louvre Abu Dhabi is 7.5 km away and takes 16 minutes to reach. 

Ferrari World Abu Dhabi is 36.8 km away and takes 28 minutes to reach. 

Emirates Palace Marina is 10.6 km away and takes 20 minutes to reach there.
Al Danah, Abu Dhabi
Ratings and Reviews
Mahima Al Fazal
Al Danah is one of the most affluent neighbourhoods in Abu Dhabi and is home to some of the city's most impressive residential buildings. Due to its convenient position, the area is near several of Abu Dhabi's finest restaurants, cafes, and nightclubs. The houses themselves are ultramodern and provide spectacular views of the city. While Living is expensive in Al Danah, those who can afford to do so will enjoy a good standard of living with all the modern comforts and amenities they could want.
Suhani Sharma
Access to world-class healthcare facilities
Access to quality medical care is not an issue with some of the greatest hospitals and clinics near Al Danah, Abu Dhabi. Abu Dhabi has several first-rate medical facilities, including the Cleveland Clinic Abu Dhabi, Sheikh Khalifa Medical City, and Burjeel Hospital. Those paying a premium for easy access to high-quality medical treatment may find Al Danah a perfect destination.
Samantha Dune
It can be costly to maintain a standard of living in Al Danah, Abu Dhabi, due to the high cost of accommodation, food, and entertainment. However, the neighbourhood is convenient and attractive due to its central position and proximity to facilities. Living in Abu Dhabi is a great experience for those who can afford it, with access to world-class medical care, educational opportunities, and leisure activities. However, the high expense of living in Al Danah is compensated by the advantages of its desirable location and high-end conveniences.
Charles Smith
Traffic Congestion and noise pollution
Al Danah, Abu Dhabi residents may experience traffic jams and increased noise levels during rush hours. Heavy traffic and nearby development contribute to the area's high decibel levels. Yet, many locals say that the area's accessibility and convenience more than make up for these drawbacks. A more tranquil setting may be found in other Abu Dhabi districts, but those who value comfort and proximity to the city's attractions will find Al Danah an attractive choice.
Rahman Bin Abdullah
One major negative of living in Al Danah, Abu Dhabi, is the need for surrounding parks. The area's lack of parks and other natural areas is a drawback, despite the area's appeal owing to modern structures and easy accessibility. Parks and the ocean are more accessible to residents of Al Reem Island and the nearby settlements, and so is the Corniche. Although Al Danah lacks green places like parks, the neighbourhood's convenience and low crime rate may make up for this shortcoming in the eyes of some residents.
Top Articles on Real Estate in Abu Dhabi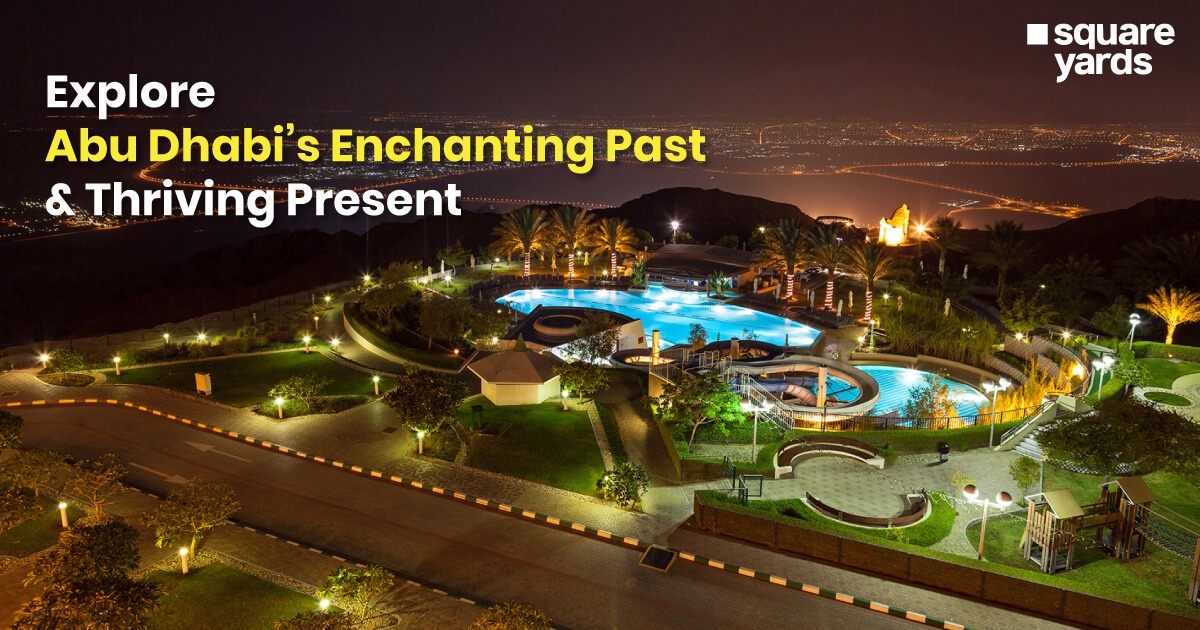 Marhaba! Welcome to the land where Legends come to life, To the Birth of a Dream, Abu Dhabi! Nestled on…...
Frequently Asked Questions (FAQs)
Is Al Danah Freehold?
Al Danah is not classified as a freehold area. Properties in Al Danah are available on a leasehold basis, meaning that ownership of the land remains with the government.
What are the top attractions in Al Danah, Abu Dhabi?
Al Danah has many attractions, including the Emirates Palace Hotel, Abu Dhabi Falcon Hospital, the Abu Dhabi Corniche, Sheikh Zayed Grand Mosque, and the World Trade Center Mall.
How to get to Al Danah in Abu Dhabi by bus and metro? And which is the nearest metro station?
Al Danah can be accessed by bus. Visitors can take a bus or taxi to reach their desired destination within the neighbourhood. A few buses traverse via Al Danah are 63, 5, 40, 33, 65, and 102.
What are the best communities in Al Danah, Abu Dhabi?
Al Danah has mix-use properties. Al Wahda Residential Tower, Golden Falcon Tower, and Al Badi Tower are some of the best communities to rent apartments. For commercial spaces and offices, Madinat Zayed Tower has some best opportunities.
What are the best hotels and restaurants in Al Danah?
Some of the best hotels in Al Danah include the Rosewood Abu Dhabi and Grand Millennium Al Wahda. As for restaurants, popular options include Li Beirut, Finz Seafood Restaurant, and Mirjana.
Which are the famous malls and supermarkets in Al Danah?
Al Danah has several popular malls and supermarkets in the surrounding areas. The most notable mall in the vicinity is the World Trade Center Mall. At the same time, supermarkets like Carrefour, Lulu Hypermarket, and Choithrams are also located nearby, providing convenient shopping options for residents and visitors.
What are the best schools in Al Danah, Abu Dhabi?
Al Danah has several reputable schools in and around the area, including Al Ittihad Private School, GEMS World Academy, and Abu Dhabi International School, offering quality education to students in the region.
Which are the best hospitals and clinics in Al Danah, Abu Dhabi?
Al Danah is located close to some of the best hospitals and clinics in Abu Dhabi. These include the Cleveland Clinic Abu Dhabi, Sheikh Khalifa Medical City, and Burjeel Hospital, known for their excellent healthcare services, state-of-the-art facilities, and experienced medical professionals.
Which are the famous places of worship in Al Danah, Abu Dhabi?
Al Danah is home to several places of worship, including the Al Markaziyah Mosque and the St. Joseph's Cathedral. Additionally, the nearby Sheikh Zayed Grand Mosque is a popular destination for visitors and residents alike, known for its stunning architecture and beautiful Islamic art.
What are the pros and cons of living in Al Danah, Abu Dhabi?
Al Danah is a posh neighbourhood in Abu Dhabi offering luxurious and high-end apartments in low to mid-rise buildings. The neighbourhood has local streets and ample amenities, which makes living easier and more comfortable. It is near some famous landmarks in Abu Dhabi, and the well-connected public transport system makes it easier to travel. However, the apartment rents are expensive, and it is a noisy neighbourhood.