About Al Wahda Street, Sharjah
An expansive commercial, residential and business area in Sharjah, Al Wahda Street is one of the key highways across UAE. As a double-deck expressway, the highway has four interchanges, namely, the Cultural Square, the Shaikh Humaid Bin Saqr Al Qasimi Square (Flying Saucer Roundabout), the Yarmook junction, and the Abu Shagara. The street is an important networking medium known by different names in the neighbouring cities. It connects major urban landscapes through flyovers, bridges and tunnels, making traffic flow easier. The street is referred to as Sheikh Zayed Road in Dubai and Al Ittihad Street in Ajman. 
The western side of the street is lined with residential properties that are strategically located so that they stay close to some of the city's most notable landmarks. Beside the Al Majah Waterfront, the street has many options for families and friends to enjoy recreational activities and entertainment. The Sharjah City Centre and Al Noor Mosque are close to the street. 
From a real estate perspective, a range of properties can be found by the street, especially for small families and single occupants, at attractive, reasonable prices. Usually, studio apartments and flats can be found easily in ample low-rise and high-rise developments in the region. Some popular residential areas near the street are Al Taawun, Al Nahda and Abu Shagara. 
Street life is vibrant and active in the region, with all lifestyle amenities and everyday utilities easily accessible from the street. This includes shopping malls, supermarkets, mosques and clinics. The Al Majaz Park is a popular hang-out spot for families. Al Wahda Street is Sjatjah's key highway, joining Maleha Street, forming the major road network across the city and providing easy access to the Dubai International Airport, among other landmarks.
Key Highlights of Al Wahda Street, Sharjah
What's Great Here!
The Carrefour hypermarket is close to the region.

Free Parking spaces in malls for residents.

One of the most important highways across Sharjah.

Brimming with various amenities.
What Needs Attention!
A Crowded locality makes parking harder.

Noisy locality with constant traffic.
Properties in Al Wahda Street, Sharjah
As a commercial and residential locality, Al Wahda Street has many 1, 2 and 3-bedroom apartments and studios. Numerous residential communities close to the street, like Alfa Centre, Al Taawun, Al Nahda and Abu Shagara, with clear views of the Khaled Lake. Al Wahda Street has various properties with low-rise and high-rise developments offering beautiful panoramic views of the Dubai skyline. Ideal for buyers on a budget, the apartments are ideal, and rent depends on the area of property selected. Sizes range from approximately 800 sq. ft. to 2,000 sq. ft. 
Off-Plan Trends in Al Wahda Street, Sharjah
Past years have witnessed an increase in new off-plan regional projects as attractive investment opportunities. The UAE real estate market will rise further with growing locality development.
Rental Trends in Al Wahda Street, Sharjah
As a popular locality, one can find various rental properties in the region for multiple budget ranges. The average rental budget stands at around AED 17,000. Renting a 1-bedroom apartment on Al Wahda Street typically falls within the annual range of AED 21,500 to AED 27,000, while 2-BHK apartments are available for lease between approximately AED 30,000 and AED 40,000 annually. Larger 3-bedroom apartments command rents of around AED 47,000 per annum. The rental trends differ based on the kind of property chosen. 
Considering the bustling nature of the streets, renting a shop on Al Wahda Street can be a strategic move to enhance your business. Shop rental prices vary depending on unit size and amenities, ranging from AED 75,000 to AED 425,000 annually."
Sale Trends in Al Wahda Street, Sharjah
The real estate value of Al Wahda Street in Sharjah has gradually increased with higher regional commercial investments. Many new businesses are opening in the region due to its strategic position and high return on investment trends. 
Public Transportation
As a double-deck expressway across the UAE, the street has four interchanges. One of the interchanges, the Yarmook Junction Houses, has many flyovers, bridges and tunnels that add to the brilliant connectivity across the city. daily commuters can find easy commute options with many bus lines running by the region. The closest bus routes are the Buses E306, E307 and E400 that pass through this area by the City Centre. Taxis are also easily available in the region.
The Al Nahda Metro Station, Stadium Metro Station and Al Qusais are the closest metro stations to the street. With a range of budget-friendly commute facilities close to the region, the following is a detailed look at the bus route:
| | |
| --- | --- |
| Bus Line Number | Destination |
| 306 | Sharjah, Al Jubail Bus Station - 01 to Al Ghubaiba Bus Station - 01 |
| 307 | Sharjah, Al Jubail Bus Station - 02 to Deira City Center Bus Station - 02 |
| 400 | Union Square Bus Station - 01 to Ajman - 01 |
Amenities
Nurseries/ Educational Institutes

Supermarkets

Healthcare Facilities

Places of Worship
Some of the closest nurseries and educational institutions to the region are listed below. 
There are many reputable education options near Al Wahda Street. Maharat Al Khaleej Nursery, Five Kids Nursery and Creative Home Nursery are the closest options.
Creative Home Nursery

Maharat All Khaleej Nursery

Five Kids Nursery

Magic Kids Nursery

Smart Kids Nursery

Al Biat Al Sagheer Nursery
Victoria International School of Sharjah (VISS) in Al Taawun is just a 10-minute drive from the locality that offers Pre-KG to Grade 12 education. Al Durrah International School in the Industrial Area is also a 10-minute drive, offering an American curriculum with a strong focus on STEM programs. Happy Home English School is a popular pick for parents who prefer a British school.
Some of the best schools in and around Al Wahda Street, Sharjah, are:

Geneva Business School

Albatha Learning Academy

Exceed School of Business Finance

Eaton Business School

Victoria International School

Pristine Private School.
The Exceed School of Business and Finance and Lincoln University of Business and Management are popular picks for higher education. They even lie conveniently beside the Alfa Centre residential building.
In addition to the well-known Carrefour Hypermarkets, the region also houses the Lulu Hypermarkets. Lulu Hypermarkets is a very popular hypermarket in Sharjah, and Al Wahda Street hosts about two branches in the region alone. Carrefour is by Abu Shagara, a 10-minute drive via Jamal Abdul Naser Street, and Lulu Hypermarket is by the Chronicle Al Buhaira area next to Al Majaz 2. 
For those who enjoy indulging in fresh, dried fruits and grocery shopping, Al Douri Mart Supermarket and Roastery will come forth on your needs and is just a 6-minute drive from the residential areas. 
Other supermarkets available within a 15-minute drive distance are: 
Dar Al  Tawfee Supermarket

Al Simi Supermarket 

Al Fayes Supermarket

Metro Manila Supermarket

VIVA Supermarket – Al Majaz 1
A range of healthcare facilities, hospitals and pharmacies are close to the street. Multispeciality hospitals with the latest equipment and quality on-call diagnosing specialists are available. The hospitals feature some of the best medical laboratories for checkups as well. 
The following clinics and hospitals are located near Al Wahda Street:

Al Kuwait Hospital

Genova Medical Centre

Healers Medical Centre

Right Medical Centre

NMC Medical Centre.
One of the best hospitals in Sharjah is the Oriana Hospital in Al Taawun. The Al Sarraf Medical Centre on Jamal Abdul Nasser Street features cardiology, dental and gynaecology treatments. Al Kuwait Hospital, Dubai London Clinic, Speciality Hospital, and Al Sarraf Medical Centre are near the street.
There are plenty of mosques, temples and churches close to the area that can be conveniently accessed from the area. Among the Muslims, the Al Ansar Masjid is the most popular mosque, along with the Abdullah Ibn Abbas Mosque on King Faisal Street. 
Many churches are available near the street, all within 15 minutes of each other. Russian Orthodox Church and the St. Michael's Catholic Church are some churches. 
Mosques Nearby:
Abdullah Ibn Abbas Mosque

Suhail Bin Amr

Al Noor Mosque

Al Taqwa Mosque

Al Ansar Mosque

Al Salam Mosque

Al Akhyar Mosque

Al Qasba Mosque
Churches Nearby:
Covenant Faith Ministries Church

First Bethany Baptist Church

Sharjah City Assembly of God Church

Christian Fellowship Church (CFC) Dubai
Gurudwara Nearby:
Sri Gurudwara sahib, Al Fahidi

Gurdwara Sahib – Ajman Sanaya
Buddhist Temple Nearby:
Lankaramaya Buddhist Temple Dubai, Garhoud

Damdiya Maha Viharaya Dubai, Al Rashidiya
Hindu Temples Nearby: 
Shiva Temple, Al Fahidi

Shirdi Sai Baba Mandir, Al Fahidi

Shree Krishna Haveli
Best Hotels in Al Wahda Street, Sharjah
Some of the most reputed hotels can be found close to the region with a range of top-notch amenities in the rooms. These include LEDs, high-speed internet access, swimming pools, complimentary restaurant services and much more. 
The best hotels around Al Wahda Street, Sharjah are:
DoubleTree by Hilton Sharjah Waterfront Hotel & Residences

Golden Tulip Sharjah

Al Maha Regency Hotel Suites

Corniche Hotel Sharjah

Aryana Hotel
Lifestyle
Shopping Centres/ Shopping Malls

Restaurants/ Dining

Beaches Nearby

Leisure Activities Nearby
Plenty of shopping centres and malls map the region offering a haven for shopping lovers. In addition to quality, well-known brands across continents, there are plenty of local shops and markets for an authentic look at the landscape. With a wide range of options, the malls are extensive and popular spots among tourists looking to buy gifts and souvenirs for family and friends back home. 
Some malls closest to the region are: 
City Centre Sharjah

Mega Mall

Sahara Centre

Safeer Mall Sharjah

Century Mall 

Al Majaz Mall

VOX Cinemas.
The City Centre Mall is one of the most popular choices among shoppers where they can enjoy a whole day of exploring the extensive variety on offer. As a hypermarket, the market has something for everyone. 
Some popular local markets close to the region are Safeer Market, Al Fardam Centre, and Matajer Al Khan, which lies at a short 5-minute distance and are great picks for everyday utilities.
Whether you're in the mood for an upscale dining experience or a cosy eatery, Al Wahda Street has it all. Shakespeare and Co. is a very prominent restaurant joint famous throughout Sharjah. For Indian cuisine lovers, options like Al Fadhil Restaurant, Bikanervala, and Highland Palace Restaurant are excellent.
The branches of leading Lebanese restaurant chains in Sharjah, including Al Mallah, Zaroob, and Jabal Lebanan Al Jadeed Restaurant, are conveniently situated close to the region.
Some popular restaurants nearby are

Take Home Restaurants

Al Thandoor Restaurant

Shatee Al Madeena Restaurant

Al Haseelah Restaurant

Diners Choice Restaurant

Silver Fork Restaurant.
Popular food joints are also numerous in the area, Like
KFC

McDonald's

Hardee's

Gazebo

Nando's
Many beaches are close to the street lying within a 15-minute distance, like Al Mamzar Beach. One can enjoy various activities once on the beach across the three pools, picnic and barbecue spots. There are children's play areas for families and parents to relax alike. Al Khan Beach is another vibrant destination where visitors can indulge in water sports and water slides for added excitement.
The City Centre Sharjah is an important community centre for various community gatherings and events. Residents also love visiting the Al Majaz Waterfront and making a day out of the journey. For additional entertainment, the Sharjah Musical Fountain hosts an hourly musical show in the evenings, excluding Sundays. Moreover, you can plan an outing to the restaurants and VOX Cinemas in the City Centre. 
The Al Majaz Park boasts the Traditional Arabian Dhow Monument, a significant historical landmark. In the vicinity of Al Khan Beach, you'll discover a wealth of historical monuments and landmarks, including the Al Khan Historical Tower and the Yacht Monument.
Various parks and fitness centres are also close to the region. The Al Majaz Park is the most visited place in the area, with lush greenery and a playground for kids.
Leisure activities for fitness freaks and health enthusiasts are also conveniently close. 
Al Reem Body Fitness Hall and Sky 24 Sports & Leisure Club are some of the closest options.
Al Wahda Street - Location Map and Landmarks
Distance and commute
Famous for the Khali Lagoon and many other important city sites close to the street. As the street is a double-deck expressway, it is very well-connected. Here are some examples: 
The Dubai International Airport is a 30-minute drive from the locality at just 13.6 kilometres. 

Taking the E11 route, Downtown Dubai and Business Bay are just over 25 kilometres from the locality.
Al Wahda Street, Sharjah
Rating and Reviews
Lyba Sheikh
From renowned brands and chains to some of the best carefully chosen offerings worldwide, an extensive shopper's market dots the area. The clothes are high quality, and various shops offer easy return and store credits for buyers. The area is always bustling with excited shoppers and many eateries for snacking while on a shopping spree.
Zivan Ahmed
A well-connected community for sure, but as an important highway, a lot of traffic passes through here. It can get a little noisy during peak office hours, making it harder for four-wheelers to find parking spaces.
Hamid Farouk
Ample leisure activities close to the community
A warm neighbourhood with a respectable crowd, the community hosts many events that help build connections across families. Many parks and beaches are also close to the homes, so it is easy to plan a good weekend. 
Fariha Kusum
Panoramic beautiful dwellings and affordable housing
With various residential societies and developments closely located, the region has a good, warm, welcoming community. A range of studios and apartment homes are available in the locality, offering some of the city's best views across the windows. The spacious apartments feature quality infrastructure and interior designs, perfect for families.
Jaamez Azur
Comfortable and easy connectivity.
It is easy to travel across the city through the highway with the numerous bridges, flyovers and tunnels well-connected. Business Bay and the airport are also close at just an approximately 25-30 minute drive. It depends on how fast you are. 
Top Articles on Real Estate in Sharjah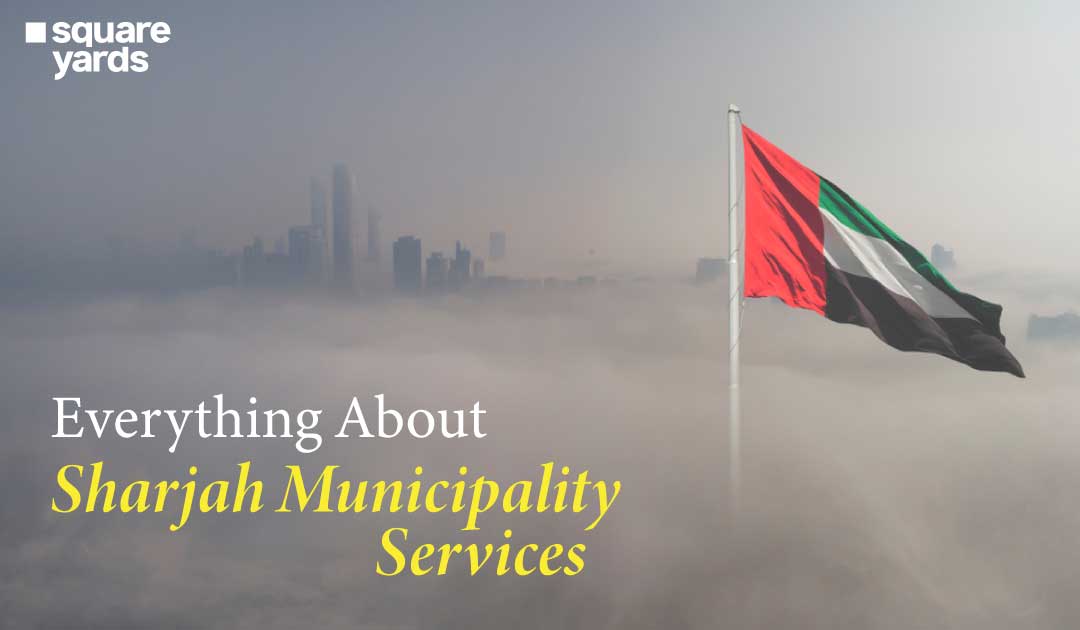 In a global context, a municipality in the UAE represents a local governing body responsible for managing and regulating various…...
Frequently Asked Questions (FAQs)
Is Al Wahda Street Freehold?
Al Wahda Street, Sharjah, is a freehold area permitting foreigners to purchase, sell, and own properties without any limitations or restrictions.
What are the top attractions on Al Wahda Street?
Residents and tourists love visiting the Khali Lagoon and the City Centre of Sharjah. The Al Majaz Waterfront is another popular attraction offering various leisure activities for visitors.
How to get to Al Wahda Street in Dubai by bus and metro? And which is the nearest metro station?
Bus numbers E 306, 307 and 400 run through the route. The closest metro station is Al Nahda Metro Station and Stadium Metro Station.
What are the best communities on Al Wahda Street?
Alfa Centre, Al Taawun, Al Nahda and Abu Shagara are some of the best residential communities in the region.
What are the best hotels and restaurants on Al Wahda Street?
From elegant dining experiences to cosy eateries, Al Wahda Street offers many culinary options. Shakespeare and Co. stands out as a renowned restaurant celebrated across Sharjah. For enthusiasts of Indian cuisine, Al Fadhil Restaurant, Bikanervala, and Highland Palace Restaurant are exceptional choices.
Which are the famous malls and supermarkets on Al Wahda Street?
City Centre Mall is a top choice for shoppers, offering a diverse range of options for a full day of exploration. Popular local markets such as Safeer Market, Al Fardam Centre, and Matajer Al Khan are excellent destinations for everyday necessities.
What are the best schools in Al Wahda Street?
Victoria International School of Sharjah, Al Durrah International School and Happy Home English School are well-regarded educational institutions close to the region for higher studies. Other options include Geneva Business School, Albatha Learning Academy, and Exceed School of Business Finance. 
Which are the best hospitals and clinics in Al Wahda Street?
The best hospitals and clinics in Al Wahda Street include Oriana Hospital, Al Sarraf Medical Centre, Al Kuwait Hospital and Dubai London Clinic and Speciality Hospital, the closest hospitals. 
Which are the famous places of worship on Al Wahda Street?
Places of worship for all religions can be found in the area, from Christian churches and Indian temples to Mulsim mosques, gurudwaras and Buddhist shrines. The Al Ansar Masjid and the Abdullah Ibn Abbas Mosque are well-regarded mosques.
What are the pros and cons of living on Al Wahda Street?
Affordable and high-end residential properties are easily available in the region. 
Residing on Al Wahda Street offers numerous advantages, including access to affordable and roomy apartments near supermarkets, healthcare facilities, and international schools.