About Al Bahia, Abu Dhabi
The peaceful residential neighbourhood of Al Bahia is on the fringes of Abu Dhabi. The low-profile community, sometimes known as New Bahia or Lower Bahia, is close to the suburbs of Al Shahama. The neighbourhood houses large apartments and villas in a coastal location with mangrove plants along the coastal strip. The Abu Dhabi International Airport is a 20-minute drive along the Abu Dhabi - Al Shahama Road. 
Residents of Al Bahia benefit from several pros of the serene neighbourhood, such as a welcoming community lifestyle, beautiful scenery, mosques, and a collection of retail establishments. The area features long lanes lined with villas and apartments and stretches of sand and greenery that add to the town's charm.
Al Bahia is next to various significant city locations in Abu Dhabi. One of them entails the construction of the lovely residential neighbourhood of Al Raha. Moreover, it features a Carrefour shop and a few medical facilities. The vibrant neighbourhood is bordered by Al Raha Beach, a notorious Abu Dhabi coastal area, bringing it closer to the Gulf. This tranquil area draws both locals and visitors with its tiny lake.
The neighbourhood is a wonderful choice for people who commute to the neighbouring emirate as it is closer to Dubai. Al Shahama and Al Rahba are nearby residential areas next to the E10, E11, and E12 highways.
The quiet neighbourhood houses magnificently designed huge villas, perfect for those seeking a luxurious lifestyle. Al Bahia offers a variety of mosques, parks, hospitals, schools, and eateries. Locals may have fun in the neighbourhood because it is close to some of the main entertainment hubs in the emirate, such as Yas Island and Al Raha Beach.
Key Highlights of Al Bahia, Abu Dhabi
What's Great Here!
Emerging residential neighbourhoods of Abu Dhabi

Roomy villas and apartments reflecting Arabic culture

Close to numerous community parks, schools, and hospitals

Ample parking facilities

Excellent connectivity
What Needs Attention!
Limited public transport options

Several phases are under construction

Dusty surroundings due to construction

Secluded area

High noise levels
Properties in Al Bahia, Abu Dhabi
Luxurious and spacious apartments and villas are the most common real estate types in Al Bahia. Most of these residential properties are available for rent. Every home has a front yard, a designated garden area, a parking space, and Emirati architectural design included in the infrastructural layout. The apartments are also roomy and feature contemporary conveniences to provide a suburban lifestyle to the residents. The new apartments include white flooring, semi-furnished kitchens, and spacious hallways. Apartments come in four different bed configurations: studios, one-bedroom, two-bedroom, three-bedroom, and four-bedroom units. Also, the neighbourhood houses many bed-type configurations for villas, ranging from 2-bedroom to 6-bedroom ones.
Moreover, the apartment complexes feature an elevator, a parking spot, a fire alarm for safety, and top-notch security. Overall, villas in Al Bahia can have up to six bedrooms, and most apartments have two or three bedrooms. The homes in the neighbourhood, notably on the west of the area, have lovely front yards, enough parking space, and spacious, light-filled interiors.
Off-Plan Trends in Al Bahia, Abu Dhabi
Independent villas and mid-rise residential units make up the neighbourhood of Al Bahia. However, most real estate in Al Bahia and its surrounding areas are solely for rental purposes as they are not freehold properties. The newer project of WAHAT Yas and a few private real estate businesses provide roomy options for sale and offer top-notch amenities, including balconies, double-hung windows, maid's rooms, and private yards. The villas by independent developers in Al Bahia are available for rent in several layouts and master plans, including studios and three-bedroom homes. They range from 1,800 square feet to 4,400 square feet.
Popular residential communities like Hydra Village, Al Rahda, and Al Reef surround the neighbourhood and have several active projects perfect for those seeking solace in luxuriously designed avenues. Moreover, investors can find several projects in Yas Island and Al Raha Beach, two of Abu Dhabi's most well-known attractions within a 20-minute drive of Al Bahia.
Rental Trends in Al Bahia, Abu Dhabi
The smallest studio apartment for rent in Al Bahia is constructed on a 550-square-foot floor area. The rent is quite reasonable and ideal for singles and couples. Apartments with one bedroom have an 850-square-foot carpet area and draw several tenants throughout the year. 
Similarly, two-bedroom rental apartments in Al Bahia with 1,850 square feet of covered space are perfect for a small family with children. The size and furnishings of the properties for rent in Al Bahia account for the price variation. Larger apartments with three bedrooms typically cost higher in Al Bahia. But those interested in renting four-bedroom apartments can plan to spend a chunk of money on rent per year. These apartments include large bed bedrooms, a hall, bathrooms, a built-in wardrobe bedroom, and a large kitchen.
Several carpet sizes of rental villas are also available in Al Bahia, ranging from 1500 square feet to 8,500 square feet. The two-bedroom villa rents suit people with a tight budget, while three-bedroom villas are best suited for big families. Similarly, renting a four- or five-bedroom villa might cost the potential tenants more. The villas feature huge bedrooms, majlis, maid room, hall, kitchen,  bathrooms, a washing area, a terrace, and parking space.
Sale Trends in Al Bahia, Abu Dhabi
Due to the neighbourhood's quickly expanding infrastructure, access to convenient transportation options, and proximity to significant metropolitan areas, there has recently been a considerable influx of real estate investors. There are limited possibilities for selling properties in Al Bahia, and most local homes can be rented. However, the luxurious homes and apartments available for sale in the neighbourhood are limited. Additionally, since Al Bahia has greater residential development than Old Al Shahama, it offers a superior opportunity. The property prices at Al Bahia also vary based on carpet sizes, customisations, and annual ROI.
Public Transport
Bus transportation is the least expensive and most suggested way for you to get from Al Bahia to other regions of the UAE. Bus routes are simpler to follow but require some travel time; nevertheless, you may board a Dubai RTA bus on Al Shahama Road and arrive in Dubai in about 40 minutes. The suggested means of public transportation is an online cab, or you can use your private vehicle if you only need to travel locally in Abu Dhabi. Al Bahia's public transportation options include Bus 222. Al Rahba Hospital is home to the closest bus stop.
The major bus lines traversing via Al Bahia in Abu Dhabi are as follows:
| | |
| --- | --- |
| Bus Line Number | Destination |
| 218 | Channel Street/ Al Raha Mall to Street 10/ Abattoir |
| 240 | Lifecare Hospital to Al Rahba Hospital |
| 420 | Lifecare Hospital to Street 1/ Al Rahba Hospital |
| 222 | Adnoc to Street 3/ Terminus |
Amenities
Nurseries/ Educational Institutes

Supermarkets

Healthcare Facilities

Places of Worship
Al Bahia is home to numerous schools with various curricula. Aspen Heights British School is the most well-known school in the neighbourhood and uses the British curriculum. Amity International School provides a high standard of education and a wide range of extracurricular activities. Other options for the best educational facilities in the nearby areas include:
Alamal Kindergarten 

French doll Nursery

Al Dana Nursery 

Al Reef Girls School

Abdul Qader Jazeri High School 

Ajban School

Al Shahama School

Al Basma British School

Al Reef Girls School 
Top institutions for higher education and universities in Abu Dhabi that are close to Al Bahia include:
Khawarizmi International College
The neighbourhood shops and small grocery stores are the preferred places to shop for groceries. Residents can shop for large quantities of groceries in well-known stores close to Al Bahia, such as Baniyas Green Grocery and SPAR Express. All your groceries, home décor, electronics, and beauty needs can be satisfied at the Carrefour Hypermarket, which is also in Old Al Bahia. The nearest choices for quick shopping sprees are –
Easy Way Supermarket LLC

Rose Oasis Grocery

Badar Al Shahama 

Rameez Hypermarket
Al Bahia has many clinics and hospitals to cover the healthcare needs of the residents. The Tabarak Medical Polyclinic in Shahama is a well-known clinic. SEHA Al Bahia Healthcare Center is another renowned centre offering medical diagnosis and treatment services. Al Bahia is roughly ten minutes from Al Rahba Hospital, one of the best public hospitals in Abu Dhabi. Some more institutions in Al Bahia are – 
Boulevard Medical Center,

Tabarak Medical Poly Clinic

Al Sabah Medical Clinic
Al Bahia is home to numerous neighbourhood mosques and churches. Sheikh Khalifa bin Zayed Mosque is 13 minutes away, whereas Al Bahia Mosque is seven minutes away by car. You can also go to the well-known ADNOC Mosque in Al Rahba. Other places of worship near the neighbourhood include: 
New Life Church

Souk Mosque

Golmoud Jomaa Al Shamsi Masjid

Mohammed Shakhboot Bin Sultan

Abu Dhabi Swaminarayan Temple
Best Hotels Near Al Bahia, Abu Dhabi
With its flourishing metropolis and several nearby tourist attractions, Abu Dhabi is a popular vacation spot. Therefore, there are numerous hotels in the vicinity of Al Bahia. Here are a few of the best ways for residents and visitors to explore Abu Dhabi's cultural history and way of life.
Radisson Blu Abu Dhabi, Yas Island

Premier Inn Abu Dhabi

Emirate Park Resort

Marriot Hotel Al Forsen
Lifestyle
Shopping Centres/ Malls

Restaurants/ Dining

Beaches Nearby

Leisure Activities Nearby
Al Bahia is 16 minutes away by car from Deerfields Mall, a comprehensive shopping and entertainment complex. There are several retail and dining alternatives there to suit your preferences. The shopping centre is a well-liked shopping centre close to Al Bahia. It is a traditional market; therefore, it may not be as large as typical malls, but it sells many unusual goods. Other options for shopping malls include:
Al Bahia is close to many eateries if you enjoy eating out. Al Bahia is a 15-minute drive from renowned restaurant brands like The Cheesecake Factory, Texas Roadhouse, Shakespeare and Co. Shawarma, Aldar Restaurant, and Qasr Al Torath Restaurant are a few informal dining establishments. There is also a neighbouring restaurant called Al Shahama that has a variety of breakfast and fast food alternatives. Other nearby options include:
Mallah

Ranan Mandi 

Madhbi

Asmak Al Sultan 

Al Arees Grills

Freez

Nine Star

Kabab Alshaif Restaurant

Mister Healthy Restaurant
Magnificent beaches are adjacent to Al Bahia since it is close to Abu Dhabi's coastal regions. The closest public beach to Al Bahia is Yas Beach, one of Abu Dhabi's top beaches. Yas Beach is renowned for having white sands and crystal-clear blue sea. Other water activities, including jet skiing, surfing, and paddleboarding, are available here. Other options include:
Al Raha Beach

Al Bahia Open Beach

Al Zeina Beach
Make a trip to the Emirates Park Zoo part of your family's unforgettable outing. Children will find a trip to this zoo an interesting experience as it is home to over 1,400 animals. It contains a gaming area, playgrounds, and an indoor marine zone with 26 saltwater tanks, making it the ideal family attraction. Al Bahia's nightlife is exciting because of Yas Island's proximity—only it is an 18-minute drive away. Options for leisure activities near Al Bahia include:
Al Bahia Beach

Bahia Park Library
Al Bahia - Location Map and Landmarks
Distance and Commute Time
The Yas Island in Abu Dhabi is 19.7 kilometres, and it takes 20 minutes to reach there. 

Abu Dhabi International Airport is 23.1 kilometres, taking 22 minutes to reach the airport. 

Al Raha Beach is 10.3 kilometres and takes 8 minutes to reach the centre. 

Ajman is 144.6 kilometres and takes 2 hours and 16 minutes to reach. 

Corniche Road is 128.6 kilometres. It takes 1 hour and 48 minutes to reach the location. 

The emirate of Dubai is 106.5 kilometres, and it takes 1 hour and 14 minutes to reach there. 
Al Bahia, Abu Dhabi
Ratings and Reviews
Himesh Thakur
Easy accessibility to several amenities.
As a proud resident of Al Bahia, residing at such a premium location was a dream. The area offers quick access to public amenities like hospitals, supermarkets, and neighbourhood parks. Due to its economic real estate, the region is quite popular, and we often enjoy several community events with our neighbours from diverse cultural backgrounds. However, the lack of houses for sale disappointed us initially, but we decided to rent the villa considering the amenities the area offered.
Azgar Ali
The area is quite secluded.
Our house at Al Bahia perfectly exemplifies Arabic and contemporary architecture. The small nooks and corners of the house suggest the attention to detail given by the builder. However, the area is secluded and dull at night due to limited nightlife options. The shops nearby also close around 9:30 pm.
Rita Ratan
A peaceful neighbourhood with fantastic facilities.
Although Al Bahia is a peaceful neighbourhood, its popularity and the services it offers inhabitants are growing every day. We have been living here for a year and believe it is an ideal spot since it is close to many foreign schools, hospitals, well-known restaurants, and supermarkets. Al Bahia is perfect if you value tranquillity and desire a seaside location.
Tasnim Ali
I love the wide streets and parking lots of the neighbourhood.
We have lived at Al Bahia for two years and have never experienced any parking issues. The area is still developing, but Al Bahia builders ensure each resident gets a separate parking space. The apartment owners have covered parking inside their buildings, while villa owners like us have parking spaces outside their homes. The wide streets allow the guests to park their vehicles on the road without congesting the area.
Zameer Faisal
Harmonious community lifestyle but lack of transportation.
We often participate in many community events happening in the neighbourhood. Additionally, one of the top public libraries in Abu Dhabi, Bahia Park Library, hosts a few events each year, including a summer program for youngsters. However, commuting to the main city for work is a hassle as few buses travel through the area. I must walk ten minutes to the nearest Al Rahda bus stop to catch a bus to Yas Island.
Top Articles on Real Estate in Abu Dhabi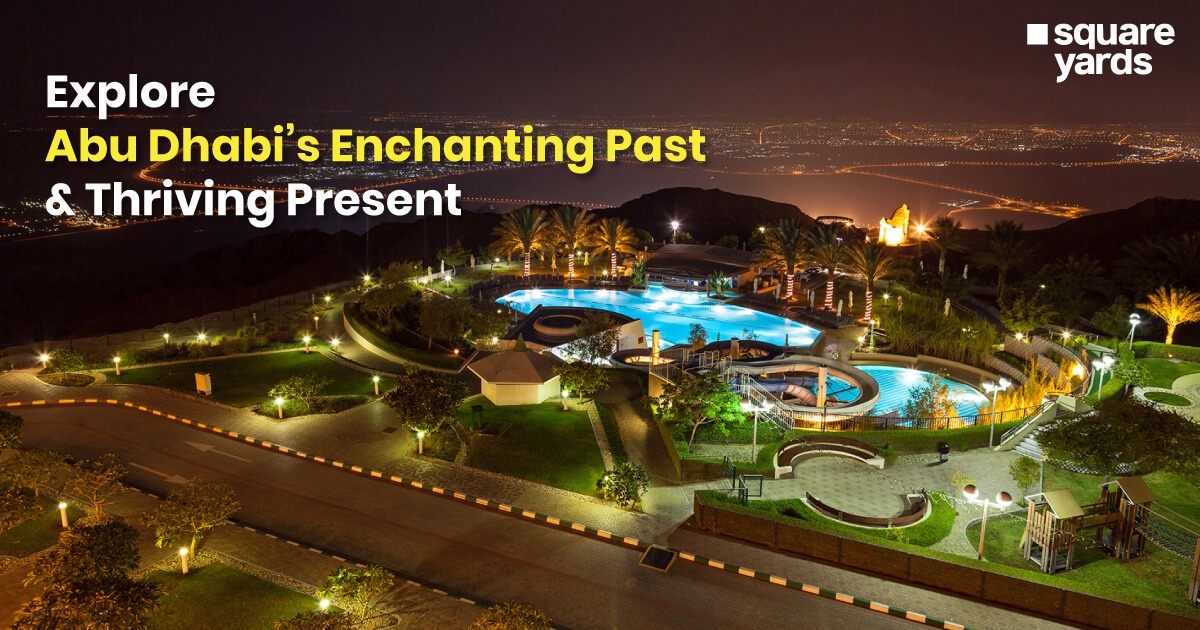 Marhaba! Welcome to the land where Legends come to life, To the Birth of a Dream, Abu Dhabi! Nestled on…...
Frequently Asked Questions (FAQs)
Is Al Bahia in Abu Dhabi freehold?
No. However, the neighbourhood is one of the most popular rental areas of Abu Dhabi, offering luxurious villas and apartments with breathtaking Arabic architecture reflecting the spirit of the emirate of Abu Dhabi to potential tenants and buyers.
What are the top attractions in Al Bahia in Abu Dhabi?
Al Bahia has several attractions for locals and tourists, such as Bahia Park Library, Al Bhaiya Beach, Yas Island, and Emirate Park Zoo.
How to get to Al Bahia in Abu Dhabi by bus and metro? And which is the nearest metro station?
Residents can commute to Al Bahia via bus lines 222, 218, 240, and 420. There is no metro station near Al Bahia in Abu Dhabi.
Which communities are best to live in at Al Bahia in Abu Dhabi?
For tenants and buyers, many off-plan constructions are available at Al Bahia in Abu Dhabi. It offers affordable houses for rent and purchase at Al Rahda, Hydra Village, and Al Reef.
What are the best hotels and restaurants in Al Bahia in Abu Dhabi?
The top eateries at Al Bahia include The Cheesecake Factory, Texas Roadhouse, Aldar Restaurant, Shakespeare and Co. Shawarma, and Qasr Al Torath Restaurant. The area also houses several hotels, such as Abu Dhabi Radisson Blu Resort, Premier Inn International Airport Hotel, Al Riyadh Hotel Apartments, Ibis Abu Dhabi Gate, and Novotel Abu Dhabi Gate.
Which are the famous malls and supermarkets in Al Bahia in Abu Dhabi?
The community offers residents several shopping spree options, such as Bawabat Al Sharq Mall, Mazyad Mall, and Dalma Mall. The neighbourhood also houses supermarkets nearby, such as Baniyas Green Grocery, SPAR Express, Rameez Hypermarket, Easy Way Supermarket LLC, Rose Oasis Grocery, and Badar Al Shahama.
What are the best schools in Al Bahia in Abu Dhabi?
The leading educational institutions at Al Bahia include Alamal Kindergarten, Frenchdoll Nursery, Al Dana Nursery, Abdul Qader Jazeri High School, Ajban SchoolAl Reef Girls School, Al Basma British School, and Aspen Heights.
Which are the best hospitals and clinics in Al Bahia in Abu Dhabi?
Al Bahia has several leading medical facilities nearby, such as Al Sabah Medical Clinic, Tabarak Medical Poly Clinic, SEHA Al Bahia Healthcare Center, Tabarak Medical Poly Clinic, and Boulevard Medical Center.
Which are the famous places of worship in Al Bahia in Abu Dhabi?
The neighbourhood has several famous places of worship nearby, such as Sheikh Khalifa bin Zayed Mosque, ADNOC Mosque, New Life Church, Souk Mosque, Golmoud Jomaa Al Shamsi Masjid, Mohammed Shakhboot Bin Sultan, and Abu Dhabi Swaminarayan Temple.
What are the pros and cons of living at Al Bahia in Abu Dhabi?
Al Bahia is a quiet residential neighbourhood where you can easily access many establishments, such as parks, hospitals, and supermarkets. Due to its affordability and convenient access to major roadways, residents favour this neighbourhood. However, individuals looking to purchase real estate in the neighbourhood will be a little let down because Al Bahia has limited options for freehold properties.