About Nurai Island, Abu Dhabi Overview
Nurai Island is a private island in the United Arab Emirates that has become one of the region's hottest real estate markets. The development's breathtaking vistas of the Arabian Gulf make it the ideal place for those searching for solitude. Nurai Island is an artificial hideaway, far from any major population centres. It is only a 10 minutes boat ride from the Abu Dhabi coast. Therefore, it is easily accessible by ferry.
Nurai Island is one of Abu Dhabi's most popular tourist spots due to its luxurious boutique resort, spa, holiday villas, beach club, and an assortment of upscale dining and drinking establishments.
In addition to its eleven hectares of pristine white sand beaches, the island also features luxurious holiday villas, making it ideal for a couple's getaway or a family vacation. The island is home to the five-star Zaya Nurai Resort & Spa, which offers facilities and activities for people of all ages. Pristine waters, white sand beaches, and lush vegetation characterise the setting of this luxurious island resort.
Key Highlights of Nurai Island
What's Great Here!
Island living of its kind

Saadiyat Beach and the airport are conveniently close.

A favourite vacation spot for families and couples.

It has a spa, a five-star resort, and club
What Needs Attention!
Housing costs is higher than normal.

Lack of healthcare and other necessities.

Need for better transportation.
Properties in Nurai Island, Abu Dhabi
The small, natural Nurai island is now home to a beautiful new community of homes and hotels. You may cover all of the areas on foot in a leisurely hour. With the island's high quality of life and because of the thriving local economy, visitors and residents can enjoy various outdoor pursuits, beach water sports, and resort-hosted events.
Communities on Nurai Island feature modern architecture. This area has several apartment complexes, townhouses, and luxurious mansions. Villas and compounds on Nurai Island get stellar online reviews. Expect at least three bedrooms if you're looking for a villa. You may find 3, 4, and 5 bedrooms if you are looking for a villa.
Nurai has a wide range of housing options, from multimillion-dollar homes with six bedrooms to smaller beach villas with one or two rooms. Just by taking a trip down the street, one can see that several lavish houses on Nurai Island are currently up for sale. These are typically highly pricey, but they're the best option for anyone looking to buy vacation rental or guest home properties with the potential for a profit.
Off-Plan Trends on Nurai Island
Increasing home demand in the area and a plethora of new development projects have fueled Nurai Island's off-plan real estate market. Nurai Island's vast selection of villas, flats/apartments, and townhomes allow residents to find housing that works for them regardless of their preferences or budget. Many hotels, restaurants and entertainment venues can be found in this neighbourhood, making it fully developed. The heart of this town is where many great properties are about to spread their wings. 
This developing region is great for families and singles alike because of the broad selection of stores, restaurants, and cafes. To expand its network of hotels, Aldar Properties purchased Nurai Island Resort in Abu Dhabi for residential development.
Nurai Island Resort will receive an overhaul and expand its hospitality and food and drink options. High-end, magnificent beachfront villas are planned for the Nurai islands in Abu Dhabi.
Rental trends in Nurai Island
On Nurai Island, you can choose from rental proprietors. Villas of 3, 4, 5, and even 6 bedrooms may be found in this area. Vacation homeowners who are looking to maximise their income may consider it.
Even though there are no longer any vacation rentals on Nurai Island, there are options for people thinking about a quick visit to the 5-star resort. Further villas are available in this city, with prices varying according to the facilities provided.
Sales trends in Nurai Island
Nurai Island's proximity to the city's famous landmarks and thriving commercial district make it desirable for purchasers. On Nurai Island, prospective homebuyers can choose from several different properties.
Guests staying in one of Nurai Island's four-bedroom villas will have access to various high-end amenities, such as a gourmet minibar, an outside living area, an outdoor dining area, an outdoor bathroom, and a pool. Giant water villas with four bedrooms are a popular choice nowadays.
If you're looking for a peaceful retreat, you can think of the properties as part of the Zaya Nurai Island Resort. The resort features a variety of villa sizes, including one-bedroom beach villas, two-bedroom beach houses, two-bedroom sea view houses, four-bedroom water villas, and five-bedroom estate villas.
There are two distinct groups of buildings: the Water Villas and the Beachfront Residences. Water villas are the most sought-after real estate, and it's easy to see why. These homes are luxurious and are being sold at a discount.
If you consider all the perks you get, the pricing is fair. One distinguishing feature of the cluster is the abundance of space and beautiful scenery provided by its dwellings. They are roughly 10,000 square feet and feature a private pathway to the water's edge in the backyard. Water Villas include expansive layouts incorporating a kitchen, rooftop grill, infinity pool, and terrace.
By Budget
By Property Type
By Beds
Public Transportion
Guests on Nurai Island frequently just go on a walking tour of the island. Vehicles are frowned upon on the island. Nurai Island Abu Dhabi makes the dream of spending days lazing on the beach in the waters. A beautiful 15-minute boat journey from Abu Dhabi or a 60-minute drive from Downtown Dubai will bring you to this paradise.
To begin, guests drive or take a taxi to the Nurai Welcome Center. Let's meet near the water's edge on Nurai Island. A boat leaves that dock once every hour to transport passengers to the main island. This island requires registration for 15 minutes by boat after leaving the island. There is no direct transit accessible. Thus, your only choice for going from Nurai Island to other popular destinations is to take a boat or a taxi.
Amenities
Educational Institutes

Supermarkets

Healthcare Facilities

Place of Worship
There aren't many options for nurseries for young children and schoolchildren. However, a few schools and nurseries are not close to Nurai Island but are situated elsewhere.
Turnip Education

Brillianz Education

Cranleigh Abu Dhabi

NYU
Life's necessities are conveniently distributed inside Nurai Island's limits. Nurai Island's locals can shop at several supermarkets around the area. Here are a few of the area's most frequented grocery stores:
Waitrose 

Lulu Express

Prime Mart

City Corner Grocery
A good medical centre is essential for the subgoal community of Nurai Island to offer its citizens a high standard of living in the suburbs. Here are some of the local hospitals and clinics that can help you feel better:
Burjeel Homecare

All Care Medical Center

Wellness Care Medical Center

Healthpoint
The people of Nurai Island lack access to necessities. Seeing as how the closest mosque is quite a ways away, the closest church or temple is still even more away. These include several examples: 
Yas Acres Ja'mee Mosque

Al Aziz Mosque

The Evangelical Church

St. Francis Church, 

Shiva Temple.
Best Hotels on Nurai Island
One of Abu Dhabi's most luxurious hotels, Zaya Nurai Island, can be found on the island of Nurai. It's a 5-star boutique resort with 32 villas on a secluded island. Visitors travel from all over the world to relax and unwind on their vacations. It's got everything you need for a relaxing staycation: five restaurants and bars, a spa, and plenty of fun things to do. In order of quality, here are Nurai Island's best five-star hotels:
Nurai Island Welcome Center

Zaya Nurai Island Resort

Giant Water Villa

Villa Tievoli

Villaggio Hotel
Lifestyle
Shopping Mall

Restaurants / Dining

Nearby beaches

Leisure Activities Nearby
However, there are some popular ones about 15 minutes away by boat, including a retail mall that caters specifically to Nurai Island's people:
Yas Mall

The Collection Saadiyat

Reem Mall
Nurai Island is home to numerous high-end dining and drinking establishments. Here are some of the area's most popular eateries:
Frangipani

Dusk

Hooked

Ginger Mermaid

Dine
Frangipani is home to a warm and welcoming community. All three meals are prepared with organic seasonal produce from nearby farms. Stop by Dusk if you're craving some authentic Mexican food. Smokin' Pineapple serves fresh-from-the-oven pizza, Hooked offers casual dining in the courtyard, and the poolside club Ginger Mermaid serves Asian cuisine.
On Nurai Island; the beach is frequently the site of festivals and other gatherings. From calmer activities like kayaking and paddle boarding to more thrilling ones like snorkelling, jet skiing, banana rides, and windsurfing, Zaya Nurai Island caters to a wide variety of visitors.
You can even go fishing and bring your catch to Hooked to be grilled alive. Many families also choose to explore the island by water. A select few luxurious homes on Nurai Island boast their private beaches. Our nearest beaches are
Yas Beach

Saadiyat Beach,

Nurai Beach.
Petit Z is a kid-only club on the island that offers supervised play and a variety of other activities. There are scheduled enjoyable activities for kids of all ages throughout the day. Games, books, arts and crafts, and educational and recreational events are always big hits. Nurai Island is conveniently close to the following locations:
Zaya Nurai Welcome Center

Yas Links Golf

Yas Mall
Nurai Island - Location Map and Landmarks
Distance and Commute Time from Nurai Island to Other Popular Places
It is in the Persian Gulf, not far from Abu Dhabi's coast.

The trip from Saadiyat Island takes about 15 to 20 minutes by boat.

Ras Al Ghurab Island is immediately adjacent.

The Abu Dhabi International Airport is a 25- to 30-minute cab journey away.
Nurai Island, Abu Dhabi
Ratings and Reviews
Gurkeerat Singh
Vibrant, cohesive neighbourhoods
UAE residents and long-term expats are diverse. Wealthy business entrepreneurs and professionals raise large, multigenerational homes that may include great-grandparents in the neighbourhood. You may get help from the neighbourhood.
Priyanka Chahar
Nurai Island is a quiet, suburban area with a low crime rate. It is a residential area. Therefore, kids are welcome to roam the streets and Safa Park unsupervised.
Alisha Rehmani
The place where I lived on Nurai Island was pet friendly. So, if you own a pet, you don't have to worry about that.
Javed Khan
A highly desirable neighbourhood
The atmosphere of Nurai Island is fairly tranquil. A muscle vehicle revving down the street or a neighbour having a huge party to commemorate milestone birthdays, weddings, etc., are the loudest sounds you're likely to encounter in this peaceful residential neighbourhood.
Parinaaz Ali
As residents, we like the ample distance between our homes and the fact that the villas and townhomes are well-built to keep outside noise to a minimum.
Top Articles on Real Estate in Abu Dhabi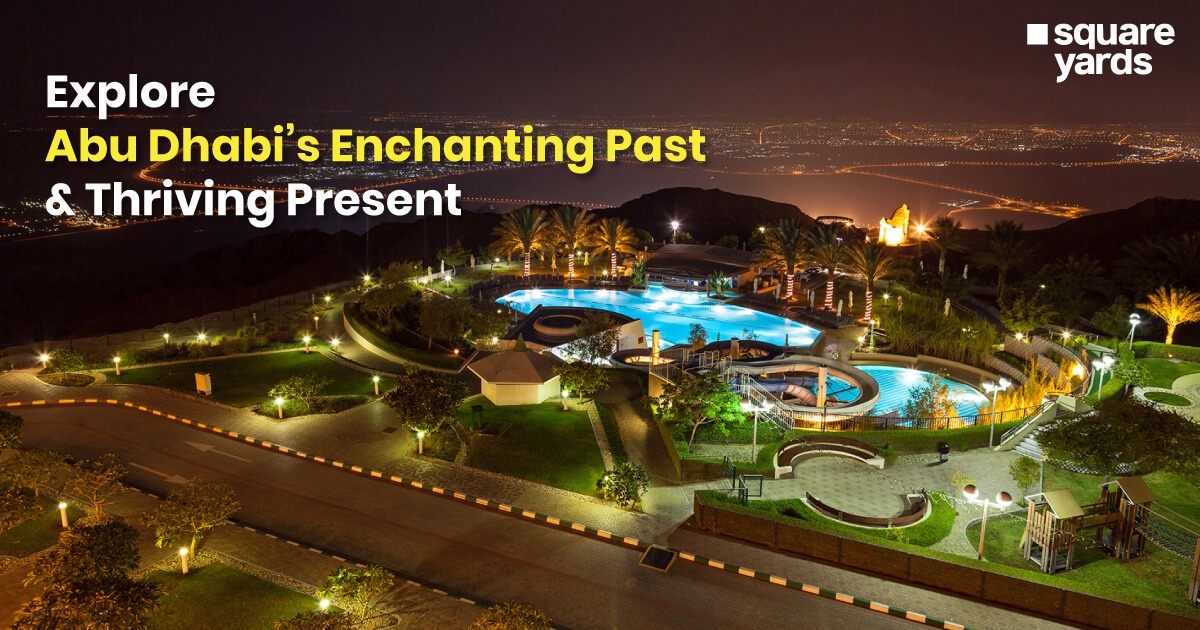 Marhaba! Welcome to the land where Legends come to life, To the Birth of a Dream, Abu Dhabi! Nestled on…...
Frequently Asked Questions (FAQs)
Is Nurai Island Freeholder?
No, Nurai Island is not a freehold area.
What are some of the best things to do on Nurai Island?
The Main attractions at Nurai Island are the Zaya Nurai Welcome centre and Yas Mall.
How can you go to Nurai Island, and which buses and subway lines should I use to get there?
To reach Nurai Island, take bus 170 from Abu Dhabi.
Where in Nurai Island are the best areas to settle down?
Nurai Island is a popular residential area populated by natives and immigrants. Depending on their preferences and financial capabilities, people have several different neighbourhoods to pick from.
Where can you find the best hotels and restaurants on Nurai Island?
Nurai Island Welcome Center, Zaya Nurai Island Resort, and Dusk and Ginger Mermaid Restaurant are some of the best hotels and restaurants on Nurai Island.
Where are the best places to shop on Nurai Island?
Some malls around the area are Yas Mall and Reem Mall. However, several grocery stores in the neighbourhood, such as Waitrose and Prime Mart.
Which schools in Nurai Island in Dubai are considered to be among the best?
Some of the most prestigious schools around Nurai Island are Turnip Educational School and Cranleigh Abu Dhabi.
What are the top-notch medical centres like on Nurai Island?
The best general hospitals and clinics in Nurai Island are Burjeel Healthcare, Healthpoint and All Care Medical Center.
What are the most well-known places of worship on Nurai Island?
The three most well-known places of worship around Nurai Island are Yas Acres Ja'mee Mosque, St. Francis Church and Shiva Temple.
Do you know the pros and cons of living on Nurai Island?
Nurai island is the most luxurious and expensive island, which is the main highlight of this area. But it needs to provide the basic amenities to the locals.