About Al Shahama, Abu Dhabi
Al Shahama is a beautiful and culturally rich neighbourhood in the east of Abu Dhabi. It is one of the perfect places for those who seek a peaceful and tranquil living experience, surrounded by excellent amenities and modern convenience. 
There are mosques, parks, hospitals, schools, and restaurants in Al Shahama. The neighbourhood is close to some of the leading entertainment hotspots in the emirate, including Yas Island and Al Raha Beach, where locals can have fun.
When talking about Al Shahama in general, it encompasses both old Al Shahama and new Al Shahama. Old Shahama is one of Abu Dhabi's oldest residential areas. It is beside the emirate's significant motorways; it is mostly a villa community that borders the coastal region of Al Bahia. 
New Shahama is a significant residential sub-community of Al Shahama, located on the eastern edge of Abu Dhabi. It is immediately adjacent to the Dubai border and at the crossroads of significant motorways such as the E10 and E11.
Al Shahama genuinely offers something for everyone, from its verdant parks and beaches to its bustling marketplaces and cultural attractions. There is a wide range of residential properties, and they offer an attractive return on investment due to their outstanding location. Therefore, Al Shahama, Abu Dhabi, is a great site to invest in real estate.
Key Highlights of Al Shahama
What's Great Here!
Only Rented Accommodation

Elegant Villas and Apartments

Well interconnected to Abu Dhabi and neighbouring areas

Abundant schools and educational centres

Offers basic amenities and luxuries

Spacious parking in villas

Peaceful and family-friendly Neighbourhoods
What Needs Attention!
Houses usually rented in portions

Lack of metro connectivity
Properties in Al Shahama, Abu Dhabi
Al Shahama has an excellent assortment of various real estate holdings suitable for short-term and long-term investors. There is something for everyone in this developing location, from high-rise residential and commercial buildings to exquisite villas and even beachfront property. Industrial projects like warehouses, as well as hotels and retail spaces, are also available.
Apartments typically have two or three bedrooms, but villas can have up to six. The villas in the neighbourhood, particularly in Old Shahama, have a lovely front yard, ample parking space, and spacious, light-filled rooms.
One can find 3 bedrooms on 3,600 square feet with portions with a hall and private yard to complete villas on rent. The region has large premium properties, with 5-bedroom villas ranging from 3000 square feet to 7-bedroom villas of 6,570 square feet. There are 2 and 3-bedroom villas ranging from 1,200 to 3,600 square feet for those looking for something smaller.
Off-Plan Trends in Al Shahama
Al Shahama is expanding in size and developing, offering a variety of options for both entrepreneurs and investors. The property values in the area are rising due to developing projects, and it promises favourable greater rental returns. 
Many upcoming commercial and residential projects are testimony to Al Shahama's potential for continued growth. Al Farida Investments Corporation is developing the Al Shahama Residential development in the Al Shahama area in Abu Dhabi. The project has a total area of 96,200 m2 and consists of mid-rise residential buildings with utmost three-bedroom apartments; communal buildings with a gym, laundromat, barbershop, Internet café, pharmacy, and other amenities; and 44 five-bedroom townhouses.
Rental Trends in Al Shahama
Al Shahama's rental patterns reflect the city's rising attractiveness as an investment destination. Al Shahama has had constant growth in rental prices year on year due to its closeness to several major cities, the availability of employment, and good rental yields.
The area has apartments and villas for rent, with a balcony and shared parking spots, with security services in Al Shahama, Abu Dhabi. The region has fitted and equipped offices ranging in size from 617 square feet to 36,000 square feet.
Sales trends in Al Shahama
The neighbourhood has recently witnessed a significant influx of property investors because of the rapidly increasing infrastructure, transportation amenities, and easy access to key metropolitan destinations. The options for purchase are limited, and most of the properties in the area can be rented. 
One can find high-finish villas and apartments for sale in Al Shahama, Abu Dhabi. New Al Shahama presents a better opportunity as it is more residentially developed than Old Al Shahama.
By Budget
By Property Type
By Beds
Public Transportion
Al Shahama is not directly connected to the metro; therefore, buses and cars are the only means of transportation available. The cheapest and most recommended mode of transportation from Al Shahama to other parts of Abu Dhabi is via bus. An online taxi or your private automobile is the best way to travel if you wish to explore the Al Shahama neighbourhood.
| | |
| --- | --- |
| Bus Number | Destination |
| Bus 210 | St 17 / Emirates Driving School / St 1 / Al Rahba Hospital |
| Bus 222 | St 17 / Adnoc / St 3 / Terminus |
| Bus (Route number: F26) | Lifecare Hospital / St 1 / Al Rahba Hospital |
Amenities
Educational institutions

Supermarkets

Healthcare Facilities

Places of Worship
As a residential area, Al Shahama has several schools nearby, making it a good location for people with young children. These schools offer various educational services, from nursery to secondary-level education, so you do not have to travel far to look for reputed schools. 
Here is a list of schools that provide quality basic education:
Alamal Kindergarten

French doll Nursery

Al Dana Nursery

Al Reef Girls School
For secondary education, here is the list of schools in Al Shahama:
Abdul Qader Jazeri High School

Ajban School
Al Basma British School and Aspen Heights schools are popular schools following the British curriculum in the locality. Khawarizmi International College, one of the top universities in Abu Dhabi, is a few minutes away from Al Shahama in Deerfields Mall.
Apart from the thriving rental market, Al Shahama is home to various local supermarkets providing residents with necessary services and essential items. Carrefour and Rameez Hypermarket in Deerfields Mall and Al Bahia are a few minutes from Al Shahama if you want bulk grocery shopping. 
A few supermarkets in Al Shahama that will help you will with your daily need: 
1004 MART LLC.

7 Eleven Mart

7 Emirates Supermarket

Abbas Al Ramazan Supermarket

Abdul Gani Esmail Mohd Abdulla Supermarket
You will not have issues finding healthcare facilities, as Al Shahama offers great healthcare facilities. Optimum healthcare is essential for everyone who wishes to relocate to the neighbourhood;  that's why several modern hospitals and clinics here provide various excellent healthcare services to the residents.
The hospitals and clinics in and around the area include:
Shahama Disease Prevention and Screening Center

Boulevard Medical Center

Al Rahba Hospital

Ahalia Hospital

Al Khaleej Specialized Hospital
Al Shahama also has several places of worship for individuals of all religious backgrounds. It makes the neighbourhood an excellent alternative for adults and families of all origins seeking a welcoming atmosphere. A few of the mosques in and around the region include
Jabi bin Samura Masjid

Souk Mosque

Golmoud Jomaa Al Shamsi Masjid

Mohammed Shakhboot Bin Sultan

Al Emam Al Shafi masjid 
New Life Church is seven minutes away in the Heritage Hall of Emirates Park Zoo in the Al Bahia neighbourhood. The Abu Dhabi Swaminarayan Temple, Dubai's Hindu temple, is 9 minutes away in the Al Sharia neighbourhood.
Best Hotels in Al Shahama
Al Shahama is close to popular tourist destinations like Yas Mall, Ferrari World, Sheikh Zayed Grand Mosque, and the Louvre Abu Dhabi. Therefore, you can find ample comfortable and luxurious hotel and accommodation options. 
Here is the list of highly-rated hotels in Al Shahama:
Crowne Plaza Abu Dhabi Yas Island

The WB Abu Dhabi

Park Inn by Radisson 

Doubletree By Hilton

Sheraton Khalidiya Hotel

Novotel Abu Dhabi Al Bustan
Lifestyle
Shopping Centres / Mall

Restaurants / Dining

Beaches Nearby

Leisure Activities
Al Shahama offers a variety of cultural and artistic activities that are unique to the area. From the busy Shusha souk market, you get trinkets and souvenirs. 
Shopping centres and malls in the vicinity of Al Shahama include
Deerfields Mall

Green Mart

Yas Mall, Yas Island

Al Raha Mall, Al Raha Beach

Mazyad Mall, Mohammed Bin Zayed City
When it comes to enjoying authentic Arabian cuisine or a more contemporary interpretation, Al Shahama's is a great destination for food lovers. Al Shahama's dining scene includes both regional and foreign cuisine. There are several high-end restaurants to select from, such as Mr Healthy and Fresh and Light, if you want a western cuisine experience. 
If you want something more informal, dozens of delightful cafés spread across town provide pastries, sweets, coffee, and tea. A few restaurants in Al Shahama include –
Mallah, Ranan Mandi and Madhbi

Asmak Al Sultan and Al Arees Grills

Nine Star and New Moon Light 

Sea Shell

Grafitti Burgers

KFC

The Hide
Al Shahama has more than just the popular public beaches nearby. Al Raha Beach is about 18 minutes away from New Shahama. Many sights, beachfront activities, and stylish eating alternatives are available here. Popular beaches near Al Shahama include –
Yas Public Beach

Al Zeina Beach

Al Bahia Open Beach
Al Shahama offers a variety of cultural and artistic activities that are unique to the area and help to explore the classic Emirati culture. You can participate in festivals, shows, music, and interactive exhibitions by local and international artists, like at the nearby Abu Dhabi Arts Centre. Al Shahama is well worth a visit because there is so much to see and do in this area. 
Apart from witnessing Emirati culture, if you are adventurous, you can visit CLYMB, the world's biggest indoor skydiving flight chamber, to quench your adrenaline thirst.  A few of the recreational destinations adjacent to Al Shahama include –
Ferrari World

Softair Battlezone

Tasleeh Shooting

Warner Bros. World Abu Dhabi

Yas Waterworld

Yas Links golf course
Al Shahama - Location Map and Landmarks
Distance And Commute Time
Dubai Airport is 102 kilometres from Al Shahama and takes around 2 hours and 11 minutes from Al Shahama.

From Al Shahama Industrial Area 4 to Abu Dhabi Airport is around 19.3 km. It takes 2 hours and 6 minutes to reach there.

Sharjah Airport is 120 kilometres from Al Shahama and takes about 2 hours and 32 minutes.

Ferrari World Abu Dhabi is 11 kilometres from Al Shahama. Bus line 216 runs from Al Shahama to Ferrari World every three hours and takes 36 minutes, including transfers.
Al Shahama, Abu Dhabi
Ratings and Reviews
Aabina Khan
Beautiful luxurious homes
When looking for a rented apartment, I never imagined staying in a luxurious place. However, my experience at Al Shahama was beyond my expectations. The apartments here are spacious and well-designed, with all the modern facilities and amenities one could ever wish for. The surrounding areas are beautifully landscaped, and the community has a great vibe.
Yosuf
Highly Secured Apartments
The apartments here are highly secure, with 24-hour security guards, CCTV cameras, and key card access. The apartments are also designed in a modern and sophisticated style, making them aesthetically pleasing.
Aadhil
No Connectivity with Metro
The only downside of living at Al Shahama is that no metro station can be a hassle for public transportation users. I have to travel for work daily. The Metro station would have made my life much easier. Nevertheless, the apartments are pretty attractive and splendid.
Jordan Will
I've lived in the area for two years and can honestly say the place is enchanting. Al Shahama provides a variety of amenities that makes the stay comfortable. Living here gives you a royal experience. I am mesmerised by the architecture and natural beauty of the area. Moreover, Yass Islands are 12 minutes away, and visiting there makes my weekends more enjoyable.
Gaurav Sharma
Centrally Located and well connected
The city is centrally located and well-connected to neighbouring areas, making it simple for me to travel and explore. I've never had a problem going from one area to another. I usually travel from Al Shahama to Dubai for work, and it roughly takes me less than an hour- thanks to the motorway connectivity that makes travelling easy.
Top Articles on Real Estate in Abu Dhabi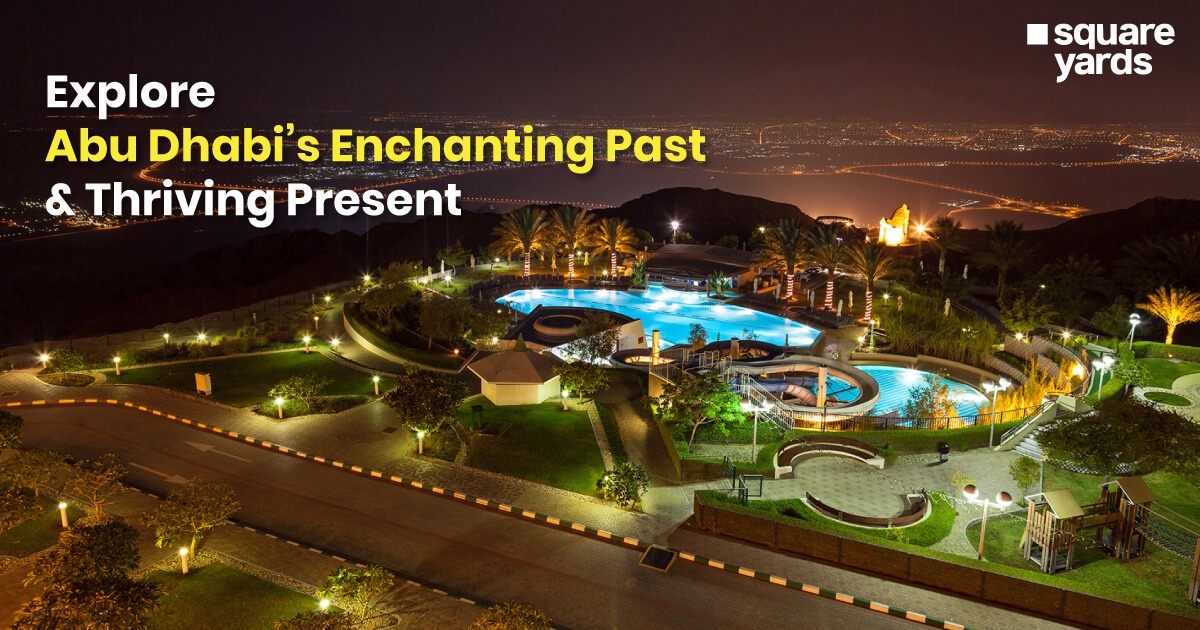 Marhaba! Welcome to the land where Legends come to life, To the Birth of a Dream, Abu Dhabi! Nestled on…...
Frequently Asked Questions (FAQ's)
Is Al Shahama a free-hold area?
Al Shahama is predominantly a rent-only residential area. However, you might find some properties for sale.
What are the top attractions in Al Shahama?
Al Shahama offers several opportunities for recreational pursuits, like Ferrari World, Softair Battlezone, Yas Island, and many more.
How to get to by bus and metro? And which is the nearest metro station?
Al Shahama is not directly connected to the metro, so one can travel only by bus and private transport.
What are the best hotels and restaurants in Al Shahama?
Some of the best hotels in Al Shahama include the Park Inn by Radisson, Doubletree by Hilton, and Sheraton Khalidiya Hotel. High-class restaurants like Asmak Al Sultan and Al Arees Grills, Nine Star and New Moon Light, and Sea ShelShell serve traditional authentic cuisines.
Which are the best communities in Al Shahama?
A few of the best communities in the Al Shahama include the Mr Abdul Hassan Building/Appartments, Building C-138/18, and Aminah's Castle.
Which are the famous malls and supermarkets in Al Shahama?
Deerfields Mall and Green Mart are a few of the malls one can find nearby Al Shahama. There are local supermarkets for day-to-day essentials, like 1004 MART LLC, 7 Emirates Supermarket, and many more.
Are there any good schools in Al Shahama Industrial Area 4?
Several excellent schools in Al Shahama, like Al Basma British School, Al Reefs Girls School, Abdul Qader Jazeri High School, and many more.
Which are the best hospitals and clinics in Al Shahama?
Al Shahama is home to some of the best hospitals and clinics in the region, including Shahama Disease Prevention and Screening Center and Boulevard Medical Center.
Which are the famous places of worship in Al Shahama?
Souk Mosque and Golmoud Jomaa Al Shamsi Masjid are a few famous places of worship in Al Shahama.
What are the pros and cons of living in Al Shahama, Abu Dhabi?
The pros of living at Al Shahama are that it is well connected to the rest of the neighbourhood and has many premium properties. The only major con of living in the area is the lack of metro connectivity, so people rely either on buses or private transport.