About Al Shawamekh, Abu Dhabi
Al Shawamekh is a growing town in the middle of Abu Dhabi that provides a beautiful balance between cutting-edge conveniences and an informal vibe. Al Shawamekh has quickly become a popular choice for families and singles in search of a high standard of living due to its attractive housing options, plenty of services, and cohesive community atmosphere.
The wide variety of homes available in Al Shawamekh is a notable aspect of the area. Villas, townhomes, and apartments are all available in the region, so there's something for every taste and budget. You can find a wide range of possibilities, from large houses suitable for raising a family to small, intimate apartments. Al Shawamekh homes are elegant and functional thanks to their thoughtful layouts, cutting-edge construction, and high-grade materials.
Al Shawamekh spares no expense to provide its guests with comfort. The neighbourhood's supermarkets, shops, and malls are fully stocked to give inhabitants everything they need. Everything one would need, from daily necessities to a little retail therapy, can be found quickly and easily in the area. In addition, the region is kid-friendly because of the abundance of nearby educational facilities.
Al Shawamekh is home to a wide variety of fun things to do in your spare time. Residents might unwind with a stroll in one of the many parks or other green areas. Basketball and tennis courts are only two examples of the community's commitment to promoting healthy lives and physical activity. In addition, Yas Island and the Abu Dhabi Golf Club are both within driving distance of Al Shawamekh, making them convenient locations for residents' free time.
A sense of community is something to be proud of in Al Shawamekh. The community encourages a sense of belonging and community through its warm and inviting atmosphere. Community activities, festivals, and gatherings provide residents with opportunities to mingle and make new friends. The community's attentive administration prioritises cleanliness, security, and residents' general well-being.
Al Shawamekh is dedicated to environmental sustainability and green practices. Green spaces and effective waste management systems are only two examples of the eco-friendly features and methods used to make this neighbourhood a better place to live for its inhabitants. The village of Al Shawamekh is appealing because of its commitment to environmental sustainability.
Key Highlights of Al Shawamekh, Abu Dhabi
What's Great Here!
Properties catering to different preferences

Well-maintained parks and green spaces

Equipped with modern amenities

Opportunities for leisure activities

Strong connections among neighbours
What Needs Attention!
Development of infrastructure

Need more dining and retail options
Properties in Al Shawamekh, Abu Dhabi
Many different types of homes are available for rent in Al Shawmekha, including apartments, townhouses, and villas that are located on their own. Two or three levels are included within the residential buildings of this low-rise type. Apartments can include everything from a studio to a four-bedroom layout. The community of Al Shawamekh offers a selection of villas that are both roomy and well-furnished. Villas like these typically have several bedrooms, a substantial living space, private gardens, and parking amenities. 
The number of bedrooms in these villas ranges from two to eleven. A large kitchen, a maid's room, a laundry room, a living room with a bathroom, a vast Majlis with a dining room and a bathroom, a wide garden, and a shaded automobile parking area are some of the main property characteristics. These amenities are based on the available bed kinds. The quantity of bathrooms and master bedrooms corresponds to the different types of beds available.
Off-Plan Trends in Al Shawamekh
Al Shawamekh is one of Abu Dhabi's more affordable neighbourhoods, making it appealing to homebuyers and investors. Many new off-plan projects are now under construction in Al Shawamekh, increasing demand for property in the neighbourhood. 
Off-plan property demand in Al Shawamekh is expanding due to a variety of factors, including the area's accessibility to key services and transit linkages, as well as its growing reputation as a residential destination. In the last year, the average price of off-plan property in Al Shawamekh has risen. This is due to various causes, including increased demand for real estate in the area and a limited quantity of available units.
Rental trends in Al Shawamekh
Studio units are one of the apartments offered for rent in Al Shawamekha. The coverage area of these apartments ranges from 300 square feet to 500 square feet. The annual rent for these apartments is also not out of reach for most people's budgets. However, one- to three-bedroom apartments are common for those living alone or in pairs. On average, they are between 600 and 1800 square feet. 
In addition, Al Shawamekh has roomy villas available for rent, with layouts ranging from three bedrooms to larger configurations. These villas frequently have luxuries, such as private gardens, parking spaces, and perhaps even access to common community facilities like swimming pools and fitness centres. Villas offer a generous amount of room and seclusion, making them an appealing option for families and individuals looking for a larger living area.
By Budget
By Property Type
By Beds
Sale Trends in Al Shawamekh
Properties in Al Shawamekh are sold at more affordable rates than those in other parts of Abu Dhabi and have contributed to the neighbourhood's rise in desirability among purchasers. Because of the low prices, a diverse group of buyers, including first-time homeowners, investors, and individuals looking for properties within their price range, have been drawn to the area.
There are huge villas available for purchase that range in size from 3248 square feet up to 5702 square feet and may accommodate anywhere from one to three bedrooms. If, on the other hand, you and your family require more room, you may choose among villas with five to six bedrooms that range in size from 5396 square feet to 8100 square feet.
By Budget
By Property Type
By Beds
Public Transport
The Abu Dhabi Department of Transportation (DoT) runs the city's large bus system. Al Shawamekh is connected to the rest of the city via many bus lines. Residents and tourists alike can take advantage of the bus system's low prices and high level of service.
| | |
| --- | --- |
| Bus Line Number | Destination |
| 240 | St 1 / Al Rahba Hospital To Lifecare Hospital |
| 406 | Sultan Bin Zayed St / Khalifa St To St 57 / Masjid Al Miqdad Al Kindy |
Amenities
Supermarkets

Nurseries/ Educational Institute

Healthcare Facilities

Places of Worship
There are several popular supermarkets and baqalas (small grocery stores) located inside the town; residents have a wide variety of alternatives when it comes to grocery shopping. Here are some of the supermarkets that are commonly found in Al Shawamekh:
Lulu Xpress Freshmarket

SPAR

Carrefour Market

Al Maya Supermarket

Noor Al Izdihar Supermarket

Heely City Baaqla
Residents of Al Shawamekh have access to a wide variety of educational options thanks to the city's high concentration of educational institutions. Barney Home Nursery and Small Stars Nursery are the only two nurseries that are currently operating in the city of Al Shamkha. Other significant educational institutes located in or close to Al Shawamekh include the following:
Al Shawamekh School

Al Ruwais Model School

Institute of Applied Technology (IAT)

Al Reef International School

Abu Dhabi University
In the city of Abu Dhabi, Al Shawamekh's neighbourhood is well-served by various healthcare facilities, ensuring that inhabitants have access to medical services and support for their healthcare needs. If a medical emergency arises, Al Shawamekh residents can access various clinics.  The following is a list of important medical facilities located in or close to Al Shawamekh:
NMC Royal Hospital, Khalifa City

Amana Healthcare Medical and Rehabilitation Hospital

Al Mafraq Hospital

Burjeel Medical City

Aster Clinic
The Al Shawamekh community in Abu Dhabi welcomes people of many different religious views and offers several different places of worship to accommodate their beliefs. Al Shawamekh is home to a large number of well-known mosques. The mosque in the neighbourhood known as the Habeeb Bin Zaid Mosque has stunning architectural architecture. It is situated in a location easily accessible on foot from the heart of Al Shamkha. The following is a list of significant places of worship that may be found in or close to Al Shawamekh:
Sheikh Zayed Grand Mosque

Al Shawamekh Mosque

St. Joseph's Cathedral

St. Paul's Church

Mar Thoma Church Abu Dhabi

Gurudwara Sahib Abu Dhabi
Best Hotels in Al Shawamekh
Al Shawamekh is mostly a residential area; the region might not have a wide selection of hotels. However, several hotels in the surrounding locations provide quick and easy access to Al Shawamekh. Some of the finest accommodations surrounding Al Shawamekh are listed below.
The Ritz-Carlton, Abu Dhabi, Grand Canal

Shangri-La Hotel, Abu Dhabi

Fairmont Bab Al Bahr

Hyatt Regency Abu Dhabi
Lifestyle
Shopping Malls

Restaurants/Dining

Beaches Nearby

Leisure Activities Nearby
The compact shopping centre serves the surrounding neighbourhood's needs by providing a large selection of fashion, jewellery, household, and electronic goods. The Al Shawamekh Mall is now undergoing construction, and once it is finished, it is anticipated that it will serve as a well-liked place for retail therapy. The following are some of the more well-known shopping centres in the area surrounding Al Shawamekh:
Deerfields Mall

Al Raha Mall

Bawabat Al Sharq Mall
This location is ideal for foodies who enjoy trying new restaurants and fast food companies. Al Shawamekh residents can explore adjacent areas for a range of food options. Here are some prominent restaurants and eating options in the Al Shawamekh area:
Gazebo Restaurant

Maroosh Restaurant

Nabras al Shaebi Restaurant

Tea Time Cafeteria

Street Bites

21 Emarati Cafe

Kbhz & Karak 

Ybala Karak
Although Al Shawamekh is not immediately on the shore, inhabitants of the community have access to many beaches in the vicinity of Abu Dhabi, where they may unwind and participate in various leisure pursuits. The following are examples of well-known beaches in the area of Al Shawamekh:
Yas Beach

Al Bateen Beach

Corniche Beach

Saadiyat Beach
In Abu Dhabi, residents of Al Shawamekh and its surroundings have access to various recreational opportunities. The following is a list of popular recreational options that locals can choose from:
Water Sports

Golfing

World Abu Dhabi

CLYMB Abu Dhabi

Khalifa Park

Umm Al Emarat Park

Cultural Foundation

The Galleria Al Maryah Island
Al Shawamekh - Location Map and Landmarks
Distance and Commute Time
Here are the estimated distances and commute times you have to travel from Al Shawamekh to other popular places in the UAE:
Sheikh Zayed Grand Mosque is about 25 kilometres away from Al Shawamekh. It would take 30-35 minutes to an hour.

Abu Dhabi Corniche and Al Shawamekh have a distance of 35 km, and reaching there would take 30-40 minutes by car.

The distance between Yas Island and Al Shawamekh is about 40 kilometres and takes about 35 - 40 minutes.

Louvre Abu Dhabi is about 35 kilometres away from Al Shawamekha. You could reach there in just 35-40 minutes by car.

Al Reem Island is approximately 45 km from Al Shawamekh. Reaching there would typically take around 45-50 minutes by car.

Abu Dhabi International Airport is about 20 kilometres from Al Shawamekh. You would have to travel a lot because reaching there would take around 20-25 minutes.
Al Shawamekh, Abu Dhabi
Ratings and Reviews
Omar Khalid
Comfortable and Stylish Properties
I recently visited Al Shawamekh's broad choice of villas, and I must say that I was highly impressed. This Abu Dhabi residential area offers a diverse range of properties that cater to all tastes, offering a luxurious retreat for people seeking comfort, style, and refinement. The diversity of property options in Al Shawamekh is simply astounding. There is something to suit every taste and lifestyle, from contemporary flats with elegant designs to large villas radiating grandeur. Whether you want a tiny apartment or a stately villa, Al Shawamekh residences are built to exacting standards, displaying superb craftsmanship and attention to detail.
Abdullah Sheikh
Ample Parks and Green Areas
The exquisite upkeep of Al Shawamekh's parks and green areas is one of their most distinctive qualities. When I entered these lush environs, I was welcomed by carefully kept lawns, colourful flower beds, and neatly groomed trees. I was genuinely pleased by the level of care and attention to detail used to maintain these areas spotless. It's also important to note Al Shawamekh's green places' varied. There is something for everyone, whether you like a peaceful stroll along winding paths, a picnic in a shady spot, or a playdate with your kids on a playground with all the necessary equipment.
Sarah Jane
Variety of Amenities Available in Community
The variety of contemporary amenities available at the properties in Al Shawamekh is one of its distinguishing qualities. These facilities meet the demands of people in terms of their health and wellness, offering everything from cutting-edge fitness centres with the newest training equipment to cool swimming pools ideal for a leisurely dip. The residences also feature well-kept gardens and manicured spaces that offer a relaxing setting for outdoor leisure.
Mariam Joe
Need Improvement in Infrastructure
Although there have been noticeable changes, I think Al Shawamekh's infrastructure still has space to grow. Some improvements to the road network have reduced traffic congestion to some extent. However, there are still some areas where the state of the roads can be improved, including the condition of some portions and the need for more lanes in some congested regions.
Nigar Khan
Improvement in Dining Options
For locals looking for various gastronomic experiences, eateries serve Middle Eastern, Asian, and Western cuisine. There is a need for more variety and speciality selections because there aren't as many restaurants overall and because people have varied tastes. Al Shawamekh's retail environment is still evolving, and there aren't many bigger shopping malls or a variety of stores to choose from. Local shopping experience would be considerably improved by extending the variety of retail establishments, including clothing, electronics, and other speciality retailers.
Top Articles on Real Estate in Abu Dhabi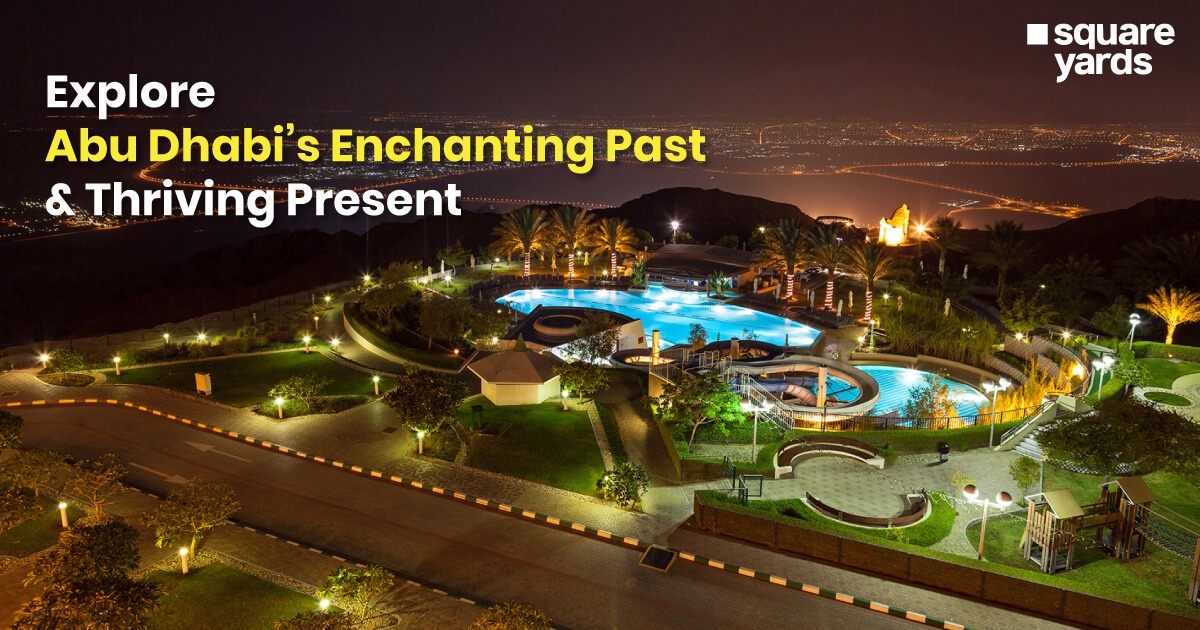 Marhaba! Welcome to the land where Legends come to life, To the Birth of a Dream, Abu Dhabi! Nestled on…...
Frequently Asked Questions (FAQs)
Is Al Shawamekh a freehold?
Al Shawamekh in Abu Dhabi is mostly a residential neighbourhood governed by the Abu Dhabi government. It's vital to keep in mind that not all locations, including Al Shawamekh, may have freehold properties accessible, even if Abu Dhabi has established a variety of freehold ownership systems there.
What are the top attractions in Al Shawamekh?
Al Shawamekh is largely a residential area; hence there might not be any unique tourist attractions nearby. Al Shawamekh locals can visit several close-by Abu Dhabi sites and places, including the Sheikh Zayed Grand Mosque, the Abu Dhabi Corniche, the Louvre Abu Dhabi, Yas Island, Qasr Al Watan, and Mangrove National Park.
How to get to Al Shawamekh by bus and metro? And which is the nearest metro station?
Although a metro network is being built in Abu Dhabi, it is not yet up and running. However, the Abu Dhabi Department of Transport (DoT) manages a sizable bus network in the city. Al Shawamekh is served by many bus lines connecting it to other city areas.
Which are the best communities in Al Shawamekh?
Al Shawamekh is a residential neighbourhood comprising several villages offering various types of accommodation. Al Shawamekh's popular neighbourhoods include Al Shawamekh 2, Al Shawamekh 20, and Al Shawamekh 33.
What are the best hotels and restaurants in Al Shawamekh?
Al Shawamekh in Abu Dhabi is mostly a residential neighbourhood; thus, there might not be many hotels and eateries nearby.  The Premier Inn Abu Dhabi International Airport, Aloft Abu Dhabi, and other dining places serving international cuisines are a few of the well-liked hotels and eateries close to Al Shawamekh.
Which are the famous malls and supermarkets in Al Shawamekh?
Al Shawamekh is close to many famous shopping centres and supermarkets, such as Safeer Mall in Al Shahama, Al Raha Mall in Al Raha, and Bawabat Al Sharq Mall in Baniyas. These shopping centres serve the requirements of locals by providing a wide range of retail stores, dining establishments, and entertainment venues.
What are the best schools in Al Shawamekh?
Al Shawamekh School and Al Ruwais Model School are two well-known public schools in or close to Al Shawamekh that provide instruction from kindergarten to grade 12. Residents of Al Shawamekh can also look into private schools in the neighbourhood that provide foreign curricula, such as Brighton College Abu Dhabi and Al Reef Foreign School.
Which are the best hospitals and clinics in Al Shawamekh?
Al Mafraq Hospital and NMC Royal Hospital in Khalifa City, as well as Al Mafraq Hospital in Al Mafraq, are a few important hospitals and clinics that are close to Al Shawamekh. To safeguard the well-being of inhabitants, these facilities provide various medical services, speciality treatments, and emergency care.
Which are the famous places of worship in Al Shawamekh?
In Abu Dhabi, famous religious places are accessible to locals. One of the most well-known and stunning mosques in the world is the Sheikh Zayed Grand Mosque, which is situated in Abu Dhabi. It accepts guests from all religious traditions. Other places of worship include Gurudwara Sahib Abu Dhabi for the Sikh community and St. Joseph's Cathedral for the Catholic community.
What are the pros and cons of living in Al Shawamekh?
Various housing alternatives are available in Al Shawamekh, which is ideal for anyone looking for a calm, suburban living. The community is also family-friendly and tranquil. Al Shawamekh is located outside the city centre, which could mean longer commuting times for people who work or attend school there.