About Al Sufouh, Dubai
Al Sufouh is a luxurious neighbourhood in Dubai, United Arab Emirates, on the Persian Gulf coast. Al Sufouh is a residential and business zone that comprises several institutions, colleges, enterprises, agencies, flats, and villas. It is also home to various new real estate complexes and free economic hubs such as Dubai Knowledge Village and Dubai Internet City. 
It stretches 7 square kilometres northwest of Dubai Marina, another prominent neighbourhood in the region. The magnificent Palm Jumeirah is perpendicular to the growing neighbourhood, linked by two bridges. It also includes an important historical site with massive ruins from the ancient Arab civilisation.
It is a planned district that has become a vital economic zone for the city. There are two sub-communities: Al Sufouh 1, located at the heart of Dubai and Al Sufouh 2, in front of the magnificent Palm Jumeriah. 
All the major leading international organisations have offices in Al Sufouh. Furnished flats and apartments to studios and villas are available in the area with exceptionally high costs. Before settings eyes on the properties in Al Sufouh, it is better to learn more about the neighbourhood.
Key Highlights of Al Sufouh, Dubai
What's Great Here!
Freehold zone

Well-connected with neighbouring areas through metro

Contemporary villas and apartments

High economic opportunities

World-class educational institutions & Universities

Safe and security environment

Surrounded by prominent Dubai landmarks and beaches
What Needs Attention!
Densly populated

Limited apartments and villas

Traffic during peak hours

Noise pollution and crowded
Properties in Al Sufouh, Dubai
Al Sufouh is marked by the variety of real estate in the area, rated as one of the most significant and sought-after areas in Dubai. It contains distinctive villas and luxury residential units for rental or sale. The types of property options include studios, one, two, and three-room apartments, and two, three, four, or five rooms villas.
Each sub-architectural region's real estate designs differ strategically, and costs vary depending on the type of apartments and whether they are for sale or rent.
Al Sufouh area has something to offer everyone. If you want to own a smaller space, you can rent or invest in properties ranging from 774 to 980 square feet.  It is essential to note that a limited number of properties are available. If you are a foreigner, freehold properties are available in the Acacia Avenues community.
Off-Plan Trends in Al Sufouh
Al Sufouh offers a variety of property types, including off-plan units. Investors can explore a range of off-plan properties in Al Sufouh that best fit their needs and budget. Off-plan property developments in Al Sufouh include both residential and commercial properties. 
Emaar Sunrise Bay at Al Sufouh 1, Jumeirah, Dubai, is one such project offering one to four-bedroom apartments from 808 to 2728 Square feet. Similarly, the Two Seasons Hotel & Apartments project offers four-bed apartments starting from 5100 square feet.
Rental Trends in Al Sufouh
In Al Sufouh, apartments are the most common type of rental property. Amalia Residences is a fusion of reasonably priced luxury and the cosiness of an urban neighbourhood. Situated in Al Furjan, these flats provide 1, 2, and 3 bedrooms. The flats range from 195 square feet for one-bedroom apartments to 2875 square feet for three bedrooms.
It's crucial to understand the advantages and disadvantages of renting in Al Sufouh before signing any rental contracts. On the plus side, Al Sufouh apartments are conveniently located near all services and public transportation. So, with all the advantages and being in a prime location, the rents are extremely high. From an investment point of view, you can get a high return on investment, especially on studios and one-bedroom apartments, with ROI being 8.7% and 6.6%.
By Budget
By Property Type
By Beds
Sale Trends in Al Sufouh
Like rental trends, the sales trends are not behind in the line. The properties in Al Sofouh, Dubai, are highly in demand due to the luxurious amenities and benefits the neighbourhood offers.  
The skyscrapers are in high demand because of their closeness to the bustling city centre. Investors may purchase studios or apartments in Al Sufouh, Dubai, that range in size from 774 to 980 square feet and include one or more rooms. Exorbitant sea-facing villas in enormous 22,000 square feet areas are also available for sale. 
Overall, the properties are limited, and the rates of real estate properties in Al Sufouh are soaring. The rates might increase in future, doubling your investment, so Al Sofouh has a bright potential from an investment point of view.
Public Transportion
Al Sufouh is easily accessible by metro, bus and car. There are three metro stations: Mall of the Emirates, Sharaf DG, and Dubai Internet City 2. 
Al Sufouh is home to the first modern tram project in the Gulf, and several public tram stops exist in places like Palm Jumeirah, Media City, Knowledge Village 2, and Al Sufouh 2.
Several RTA bus stops can be found throughout the neighbourhood, and some feeder buses offer direct metro connections to the close-by RTA train stations. As RTA cabs may be seen driving around the streets, anybody can readily hail one. Uber and Careem cab services are available in the neighbourhood. Some bus routes are -
| Bus Number | Destination |
| --- | --- |
| B8 | Ibn Battuta Metro Bus Stop - 1 / Sufouh Road -1 - 02 |
| F55A | Umm Suqeim, Dubai Municipality Center - 02 / Sufouh Road -3 - 02 |
Amenities
Educational Institutions

Supermarkets

Healthcare Facilities

Places of Worship
Al Sofouh, Dubai, has several world-class and best schools and educational institutions. Families with young children will not have any issues in finding a perfect school that imparts high-quality education with luxurious amenities. 
Premier Genie, Knowledge Village

The International School of Choueifat 

GEMS Wellington International School

Dubai National School 

Kings' School Dubai

GEMS Dubai American Academy
A list of universities in Al Sufouh, Dubai are –
American University

the University of Wollongong

Middlesex University 

Hult International Business School
The neighbourhood has several supermarket delivery alternatives. Prominent stores are located in both Al Sufouh 1 and Al Sufouh 2. Some neighbourhood supermarkets are:
Lifco Supermarket

Choithrams

Unique Tower Supermarket

Soyamy Mini Mart

Organic Foods & Café
Al Sufouh is well-equipped in terms of health care. UOWD Medical Centre, Philips Healthcare Middle East, and Turkey are best for routine check-ups and medical emergencies. A few of the clinics in the neighbourhood include:
DNA Health Medical Center

iCare Multi Speciality Clinic

Marina Medical Center

Mediclinic
Al Sufouh 2 is home to several mosques, much like every other area of Dubai. Al Sofouh is an inclusive community with places of worship to meet the population's needs. 
The places of worship in and around Al Sufouh are: 
Masjid Al Sheik Khalifa Bin Saeed Al Maktoum Mosque

Tecom Masjid 

Fellowship Church, Dubai Internet City

Seventh-Day Adventist Church

Shiridi Sai Baba Mandir

Shiva Temple 

Shri Krishna Temple
The closest Sikh temple is Gurunanak Darbar is 12 minutes away from Al Sufouh 2.
Best Hotels in Al Sufouh, Dubai
Al Sufouh offers lodging options for every price range, from luxurious high-end resorts to moderately priced mid-range lodging. These hotels are well-liked by residents and tourists because they offer first-rate amenities and guest support while conveniently located close to important attractions. Visitors to these hotels have the option of travelling for vacation or business.
Some of the popular hotels are:
Grand Plaza Media City 

Radisson Blu Hotel

La Suite Dubai Hotel & Apartments

Avani Palm View Dubai Hotel & Suites

TRYP by Wyndham Dubai
Lifestyle
Shopping Centres / Shopping Malls

Restaurants / Dining

Beaches Nearby

Leisure Activities Nearby
Al Sufouh, one of Dubai's most exclusive neighbourhoods, is close to a distinctive collection of commercial locations and recreational ideas that draw visitors around Dubai and the United Arab Emirates. Have a look at a few of the famous malls in the adjoining areas:
Al Barsha Mall 

Dubai Marina Mall 

Mall Of the Emirates 

Nakheel Mall

Marina Mall
Also, Souk Madinat Jumeirah is nearby, a Middle Eastern-styled bazaar with several shops and restaurants. It is a contemporary take on the traditional marketplace.
There are several restaurants in the region, including major chains and independent eateries, and exciting nightlife venues where you can dance the night away!
Hardee's

Puranmal Sweets and Restaurant

Dabbawala Restaurant

Skyler's Place – Funky Fusion

Chuno Diner

Gazania Arabic Restaurant

Paratha King Restaurant
Al Sufouh Beach, or 'the secret beach' or the 'Black Palace Beach', is one of the treasures of Dubai. The beach is more than 150 metres broad and approximately 2.5 kilometres long, making it ideal for lengthy strolls. After passing through King Salman Bin Abdul-Aziz Al Saud Street, one may reach the seashore by following the narrow route between the two palaces.
Al Sufouh 2 and the surrounding areas have some beautiful beaches, and they are: 
Al Sufouh Beach, Al Sufouh 1

Barasti Beach in Dubai Marina
From green areas and parks to shops and malls, Al Sufouh offers a variety of attractions and pastime options. Many well-known attractions, like:
Wild Wadi Waterpark 

The Dubai Aquarium & Underwater Zoo

The Beach Mall

Umm Suqeim Park

 A helicopter sightseeing trip
Al Sufouh - Location Map and Landmarks
Distance and Commute Time
The distance between Al Sufouh and Dubai International Airport is 32.5 km, and it takes around 34 minutes to reach there. 

The distance between Al Sufouh and Sharjah Internation Airport is 68.9 km, and it takes around 56 minutes to reach there. 

The distance between Al Sofouh and Palm Jumeirah is 7.5 km, and reaching there take 11 minutes. 

The distance between Al Sufouh and Sufouh Beach is 4.7 km, which takes around 7 minutes. 

The time to reach Sheikh Zayed Road is 8 min, 9.8 km away.
Al Sufouh, Dubai
Ratings and Reviews
Maria Jacob
Education and Accommodations at The Same Spot
I study at the University of Wollongong. I was a little nervous before moving here, but after my stay, I must say that the University of Wollongong provides an excellent academic environment. Finding an apartment nearby was easy, so I didn't have to worry about travelling far for classes—thanks to the locality's ample apartment options.
Mona Agrawal
Highly Secured Apartments
I rented an apartment recently at Hilliana Towers. Knowing that my well-secured accommodation made me feel relieved and comfortable after discovering the ideal place. I was very happy that the building has a cutting-edge security system with round-the-clock monitoring and access control to guarantee the inhabitants' safety. I could run the errands without worries, but traffic is a problem here.
Anant Shera
Densely Populated and Noisy Neighborhoods
Al Sufouh may be extremely noisy because it is a bustling region with many business and residential buildings. Due to the area's sophisticated security system, I discovered it to be safe and secure despite the noise and high population density.
Joey Sanders
Very Close to Dubai Landmarks
Al Sufouh is very close to some of the most iconic landmarks in Dubai, such as the Burj Al Arab, Jumeirah Beach Hotel, and Palm Jumeirah. Since I like spending my weekend sightseeing and exploring new places, having easy access to some of Dubai's most popular tourist attractions was great. I was relieved to find a safe apartment here.
Harrison Bailey
Centrally located and well-connected
I visited Dubai last year, and Al Sufouh was the perfect place for me to stay as it is centrally located and well-connected. The metro station is within walking distance, so I could easily get around the city.
Top Articles on Real Estate in Dubai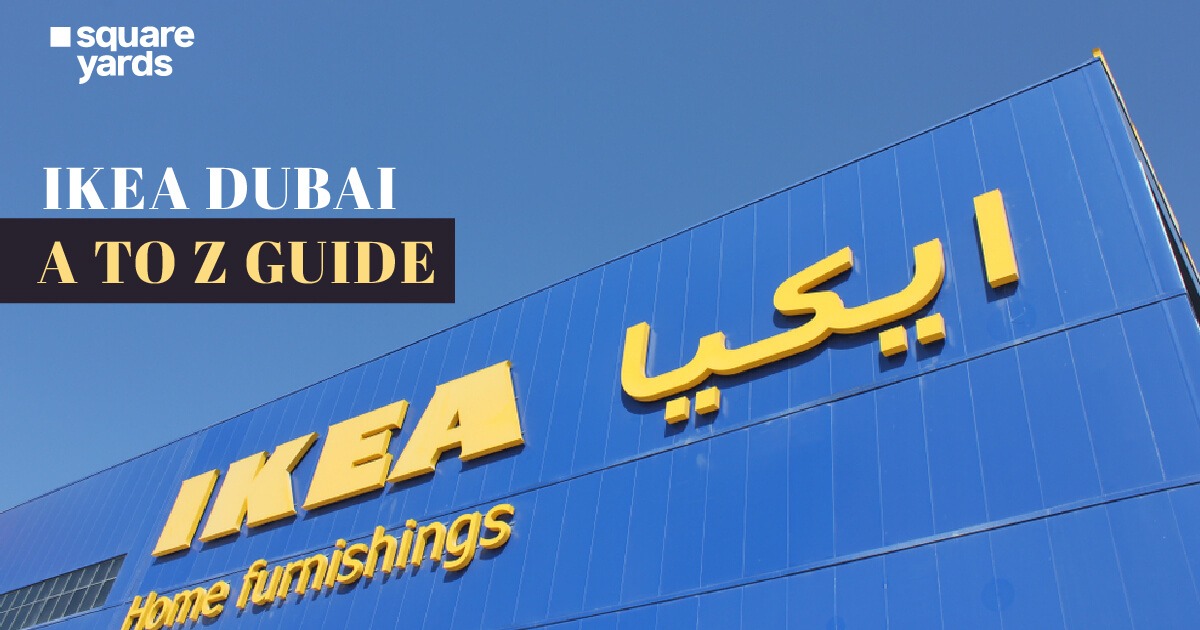 IKEA, one of the best furniture retailers in Dubai, just launched a second location in Jebel Ali. Today, December 18,…...
Frequently Asked Questions (FAQ's)
Is Al Sufouh a freehold area?
Al Sufouh is a freehold area.
What are the top attractions in Al Sufouh?
Al Sufouh is a breezy retreat because it is tucked along the coast and close to famous sights like the Burj Khalifa. Several malls and souks are just a walking distance from the region.
How to get to Al Sufouh by bus and metro? And which is the nearest metro station?
Al Sufouh is easily accessible by bus or metro. The nearest metro station is Sharaf Dg Metro Station station.
Which are the best communities to live in Al Sufouh, Dubai?
A few of the best communities in Al Sufouh include the Acacia Avenues, Decora Villas, Hilton Towers and Al Furzan.
What are the best hotels and restaurants in Al Sufouh?
The area's premium hotels include the Grand Plaza Media City, Radisson Blu Hotel and La Suite Dubai Hotel & Apartments.
Which are the famous malls and supermarkets in Al Sufouh, Dubai?
Mazaya Shopping Center and Dubai Marina Mall are a few of the malls in the Al Rawda vicinity.
What are the best schools in Al Sufouh, Dubai?
Many reputed schools in the neighbourhood, like Premier Genie in Knowledge Village, The International School of Choueifat and GEMS Wellington International School
Which are the best hospitals and clinics in Al Sufouh, Dubai?
Some of the best hospitals and clinics in the region can be found in Al Sufouh, including UOWD Medical Centre and Philips Healthcare Middle East and Turkey.
Which are the famous places of worship in Al Sufouh, Dubai?
Masjid Al Sheik Khalifa Bin Saeed Al Maktoum and Tecom Masjid are a few famous places of worship in Al Sufouh.
What are the pros and cons of living in Al Sufouh, Dubai?
Al Sufouh is a conveniently located city with great amenities and public transportation. The only disadvantage of living here is that it is a heavily populated area due to its centralised location.