A vibrant lifestyle with aesthetically pleasing living is what everyone loves. With convenience and opulence in mind, Dubai Marina was constructed for the people. This beautiful district in Dubai, UAE, has its charm. The radiant skylines, quirky dining spaces, and zigzag walkways make it the perfect spot for fun.
The district's Instagram-worthy photo spots will undoubtedly make their way into your social media feed. In 2018, this lively neighbourhood was one of the most Instagrammable locations.
Dubai Marina is more than simply a pretty place to visit. The district has established itself as one of the UAE's most important institutions.
Living in Dubai Marina is well worth it because it is a bustling and beautiful district. The enormous skylines seen from this region have long attracted visitors. We've covered all there is to know about the city's centre and why it's one of the country's most popular tourist destinations in this article.
What is it like Living in Dubai Marina?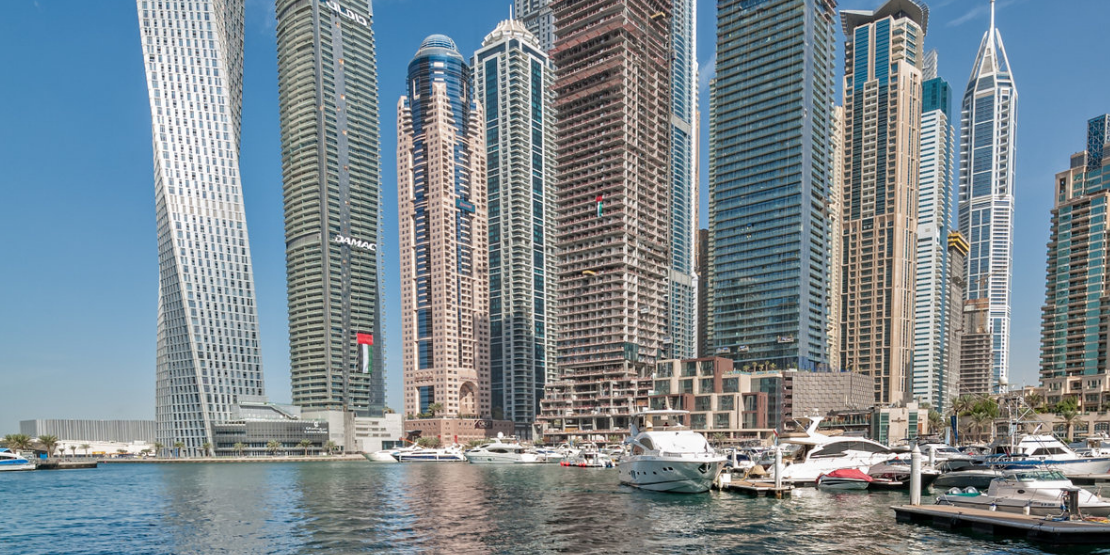 Dubai Marina is a beautiful and well-planned district in Dubai, UAE. The district is an artificial canal constructed space. The district is constructed on a stretch of 3 kilometres (1.86 mi miles) of the shoreline of the Persian Gulf. Till 2018, around 55,052 people used to live in the area. Since then, the population has been increasing, and there are more than 60,000 residents. The Concord Pacific Place development near False Creek in Vancouver, BC, Canada, inspired Dubai Marina. 
Boon of Dubai Marina
Living in the city's heart, Dubai Marina offers colourful activity ranges. But what makes this residential space captivating? Dubai Marina has much more than just mesmerising skyline or the river front-side.
Spellbinding Attraction in Dubai Marina
You will never get bored when living in the Marina space. The long list of attractions in Dubai Marina will give you something new to explore every day. Adding to the list, there is no astonishment that the space is appealing to visitors. 
Starting from paddle boarding and flyboarding activities, JBR boasts Jet skiing. There is something for everyone. The Marina is the ultimate space, whether walking on the beach barefoot or watching over the beautiful skyline. The exceptional view of the skyline is the main attraction in Dubai Marina.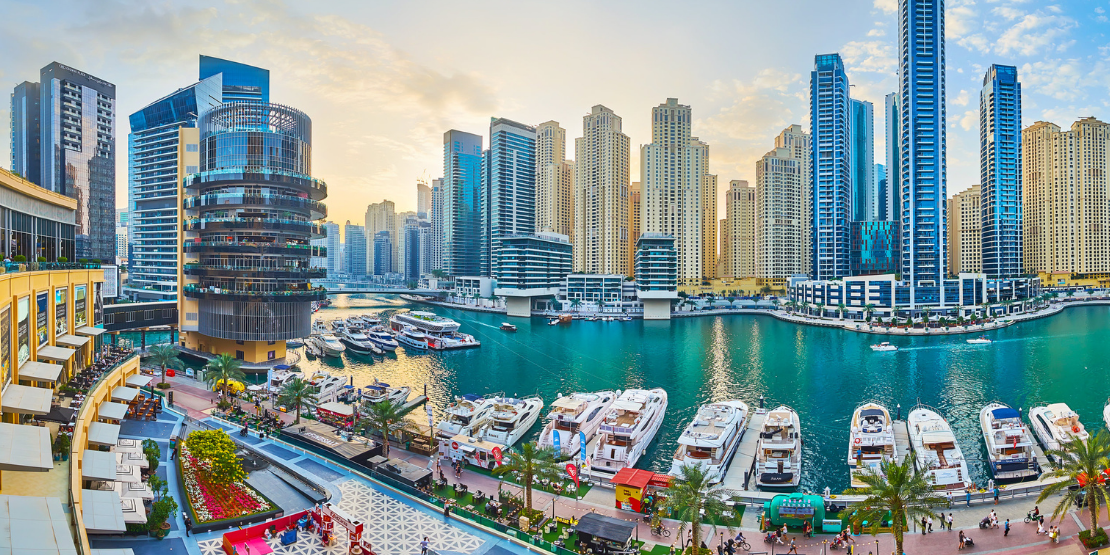 This place is not just for going out with friends. The space is also a perfect spot for family outings. With the range of family-friendly activities and venues, Marina is an ideal place. The Walk esplanade acts as the way to exquisite dining and leisure stations. 
The short oak drive surrounding the trendy blue waters and Palm Jumeirah will let you escape into the beauty of Dubai Marina. With many gripping things in Marina, one can never fall short of fun things.
Whole Range of Outlets and Eatables
The outlets in Dubai Marina are for everyone. No matter your budget, the numerous outlets in the area, will have something for you. From international resellers to locals, you will find everything there. 
Starting from casual eateries to modish cafés, it has all. The culinary experience will keep bringing you back to Dubai Marina. Adding to that, it is the most beautiful leisure space in the city.  
As the most sought after places in Dubai Marina, you can visit the nightclubs and beaches to spend your whole night dancing. The area also has several bars to spend time with friends.
Efficient Living Experience
Dubai Marina residential space has an accommodation option for everyone. Whether you are a professional or want to live with family, you can find the one from the massive residential portfolio. The luxurious area has more than 200 nesting towers. 
These palatial living zones come with children's play spaces, equipped gymnasiums, barbecues areas, swimming pools, sports fields, and saunas. You can find a residential space with up to 3 bedrooms. These residential accommodations have high-quality finishings and interiors. Living in Dubai Marina residences becomes worth it. Especially when you get to watch the skylines and Marina from your balconies. These houses have an airy space, balcony facing the Marina, and bright living. 
The latest market reports say that one can find a one-bed flat in Marina at AED 64K per year. A two-bedroom residence will cost an average of AED 98K per year. Also, a three-bedroom residence will be around AED 146K per year.
The asking cost of these residences is likely to be competitive for those who wish to buy them in the Marina area. Living in this gorgeous place is one of the best to live and buy luxurious homes in the city. 
The investors might need to invest an average AED 1.1M for a one-bedroom residence house in Dubai Marina.

For two-bedroom residences, an average amount of AED 1.74M is in this area.

Investing in a three-bedroom residence can cost an average of AED 2.9M.
Not only apartments but many towers in Dubai Marin also offers penthouses, lofts, and duplexes.  
Living close to the beach can make you feel refreshed and let you work up on your tan. Moreover, a home close to the beach will never let you get bored. The enfolding sound of waves and the softness of sand beneath your foot will be just a few steps away. Getting on an eco-adventure of camel ride. All of this can be found by living in Dubai Marina. 
The beach will be a taxi or car away when living in other segments of Dubai. But that's not in the case of Dubai Marina. The JBR marina beach is just a few minutes away from the residential space. 
Availability of Wide Array of Transportation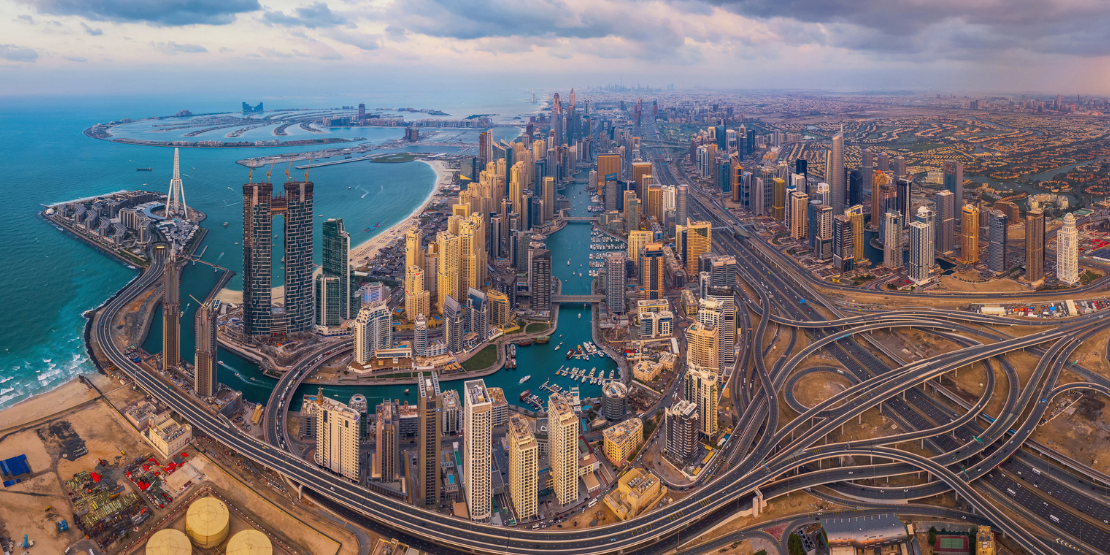 The neighbourhood of Dubai Marina is strategically located and designed. The area is close to the Sheikh Zayed Road. The road is the arterial highway of the city to the major hubs of Dubai. This makes the Marina a short driveway away from the Barsha Heights, Dubai Internet City, and JLT.  
Even if you do not own a vehicle, this area will still appeal to you. The availability of transportation, such as taxis, buses, and others, brings ease of commuting to Dubai Marina. 
Ease of Services at Your Doorstep
Living in Dubai Marina is a room full of convenience. No matter what you want, you will find it all here. The space has everything, from a small grocery store to the luxury brands' outlets. This is not the end of the list. Residents of Dubai Marina has access to banks, hospitals, pharmacies, gymnasiums, medical centres, salons, and many more.
Bane of Dubai Marina
There are numerous advantages of living in Dubai Marina, but at the same time, there are many disadvantages as well. This section will tell you the whatnots that make this one a disadvantageous place.
Bottleneck Traffic at Peak Hours
Congestion and traffic jams, don't we all hate it? If you want to live in an area with nearly no traffic, living in Dubai Marina is undoubtedly not for you. During peak hours, the bottleneck traffic jams will annoy you. Since this spot is a famous attraction for tourists and a beautiful leisure destination, there will be congestion in this area. Moreover, during vacations and weekends, you will need to set aside an extra set of time to get inside the location and get out of there.
Not an Animal-Friendly Option
If you want to stay in Dubai Marina with your hairy friend, this might not be the one for you. Because of the rules and regulations, many landlords do not allow pets in the space. Despite that, some towers still allow pets in Dubai Marina. Hence, it is important to check with the agent and landlords beforehand to avoid future hassles.  
Limited Parking Space for Public
Parking is a significant aspect of any residential space. But with the beauty and attractions in Dubai Marina comes the shortage of parking space. The residents will find a spot for parking in their towers. But the visitors might find it hard to find one. 
There are several paid parking spaces in Dubai Marina. However, these spaces fill up fast during weekends and holidays. This can turn out to be an issue for living in Dubai Marina. Especially when you want to have guests come over to your abode.
There are a few towers that offer dedicated public parking spaces. The tower management will give you confirmation if there is one in your tower.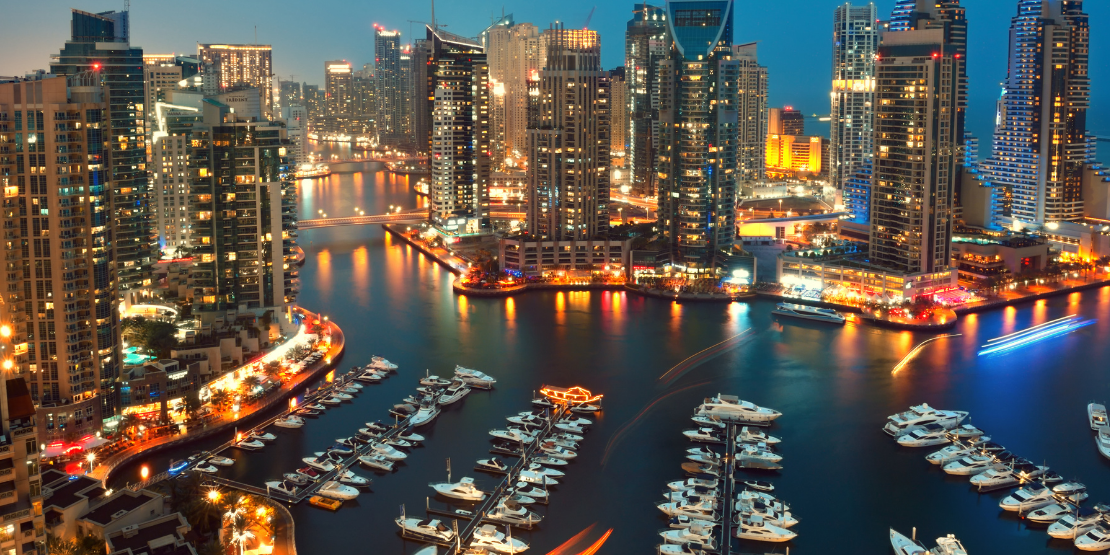 Shortage of Educational Institution
Living in Dubai Marina with children and students might be challenging. It is due to a scarcity of educational institutions in the area. Umm Suqeim, AI Sufuoh, and AI Barsha are just a few educational institutions. These institutions provide IB, American, Indian, and British education. The older children can use the metro to get to their schools and institutions.
Parents may be assured when it comes to small children. This is because there are several nurseries in this district and the surrounding areas.
Elevated noises can be a problem while living in the marina district. Residing in this district, the residents can hear some elevated noises of vehicles. The sports motoring vehicle and supercars always rush down the Sheikh Zayed road. The sound of the vehicles can be heard in Dubai Marina space. 
As traffic is already an issue, the honking sound of cornets can be heard during peak hours. Moreover, the residents also hear firecrackers and crowds during the holidays and celebrations.  
To Sum Up
Considering all the factors mentioned above, Dubai Marina is a better place to live in Dubai. Some disadvantages lie miles below the advantages that the district offers. Living in a place where you can watch the city's beauty every day can be a dream come true. The sprawling skylines, quirky cafés and beautiful attractions in Dubai Marina make the place more than just pretty interiors. The waterfront residential space is the perfect place to live in the city's heart. 
FAQ's (Frequently Asked Questions)
Is living in Dubai Marina a good option?
Dubai Marina has everything from a local shop to the outlet of luxury brands. The district offers luxury living with every convenience in your footsteps, making it one of Dubai's best places to live.
What is Dubai Marina famous for?
The wide array of attractions in Dubai Marina, such as the beautiful skyline, numerous water activities, living on the marina sides are some of the reasons that make this district famous among the visitors and residents.
Is living in Dubai Marina a convenient choice?
Since the district offers every convenience within a few walks away for the residents and visitors, it is the most convenient district to live in Dubai.
What are the best Dubai Marina places for visitors?
Marina walks, yellow boat rides, quirky cafés, luxurious dining spaces, Dubai Marina cruises ride, splash pad are some of the best places to visit in Dubai Marina for visitors.
What activities are available for kids in Dubai Marina?
Dubai Marina arts and museum, cruise ride, water activities, underwater zoo are fun places that the kids can visit.