The season of Formula 1 Grand Prix 2022 has already begun throughout the world, and F1 fans can't stop themselves from eyeing each of the races. The FIA (International Automobile Federation) is hosting all 22 races of the F1 race season in 2022. So get up to speed and quickly go through all the important details of the 2022 Formula 1 Abu Dhabi Grand Prix before it is too late. Scroll down to learn about everything; the F1 race calendar dates, venues,  teams,  drivers, cars, and tracks.
Dates for F1 Abu Dhabi Races in 2022
Below, we have listed the locations of particular venues for the races and their specified dates. 
| | | |
| --- | --- | --- |
| Race Date | Grand Prix Country | Circuit Venue |
| 20 March | Bahrain | Bahrain International Circuit, Sakhir |
| 27 March | Saudi Arabia | Jeddah Corniche Circuit, Jeddah |
| 10 April | Australia | Albert Park Circuit, Melbourne |
| 24 April | Italy | Autodromo Enzo e Dino Ferrari, Imola |
| 8 May | United States | Miami International Autodrome, Miami Gardens |
| 22 May | Spain | Circuit de Barcelona-Catalunya, Barcelona |
| 29 May | Monaco | Circuit de Monte Carlo, Monaco |
| 12 June | Azerbaijan | Baku City Circuit, Baku |
| 19 June | Canada | Circuit Gilles-Villeneuve, Montréal |
| 03 July | Great Britain | Silverstone Circuit, Towcester |
| 10 July | Austria | Red Bull Ring, Spielberg |
| 24 July | France | Circuit Paul Ricard, Le Castellet |
| 31 July | Hungary | Hungaroring, Budapest |
| 28 August | Belgium | Circuit Spa-Francorchamps, Stavelot |
| 04 September | Netherlands | Circuit Zandvoort, Zandvoort |
| 11 September | Italy | Autodromo Nazionale Monza, Monza |
| 02 October | Singapore | Marina Bay Circuit, Singapore |
| 09 October | Japan | Suzuka Circuit |
| 23 October | United States | Circuit of the Americas, Austin |
| 30 October | Mexico | Autódromo Hermanos Rodríguez, Mexico City |
| 13 November | Brazil | Autódromo José Carlos Pace, Interlagos |
| 20 November | UAE | Yas Marina Circuit, Abu Dhabi |
Teams and Drivers for the F1 Race 2022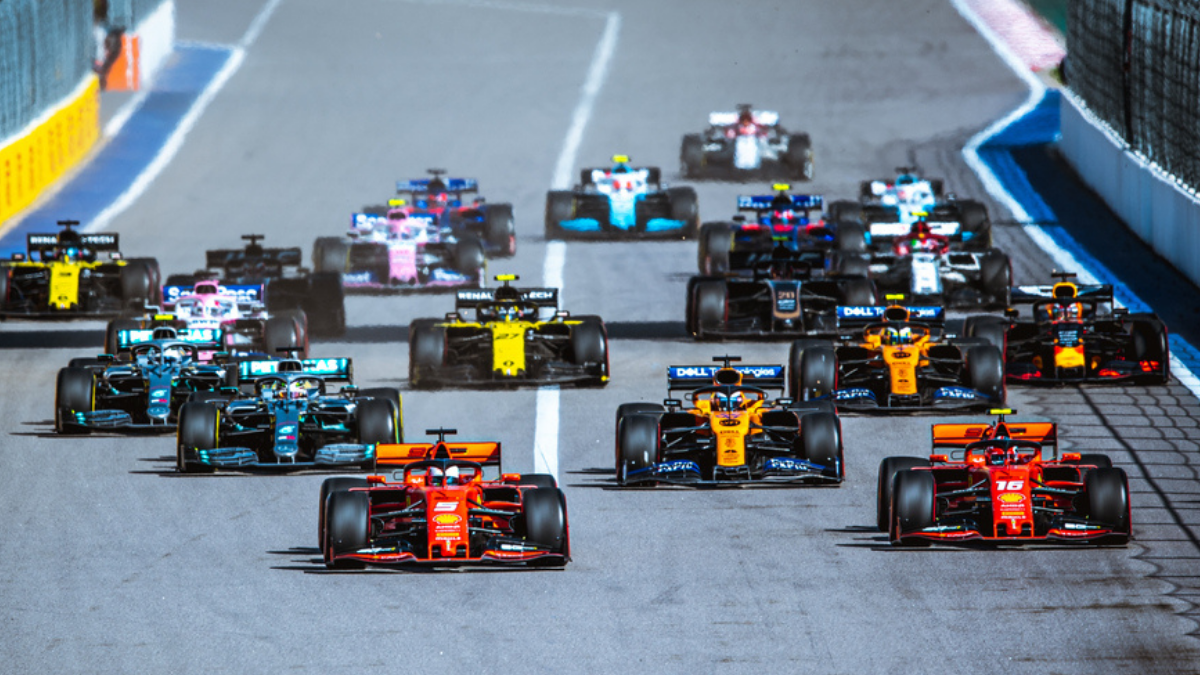 | | | |
| --- | --- | --- |
| Team  | Driver 1 | Driver 2 |
| Haas | Mick Schumacher | Kevin Magnussen |
| Alfa Romeo | Valtteri Bottas | Guanyu Zhou |
| Aston Martin | Sebastian Vettel | Lance Stroll |
| Williams | Nicholas Latifi | Alex Albon |
| Alpha Tauri | Pierre Gasly | Yuki Tsunoda |
| Alpine | Fernando Alonso | Esteban Ocon |
| McLaren | Lando Norris | Daniel Ricciardo |
| Ferrari | Charles Leclerc | Carlos Sainz |
| Red Bull | Max Verstappen | Sergio Perez |
| Mercedes | Lewis Hamilton | George Russell |
Formula 1 Abu Dhabi Rules and Regulations for 2022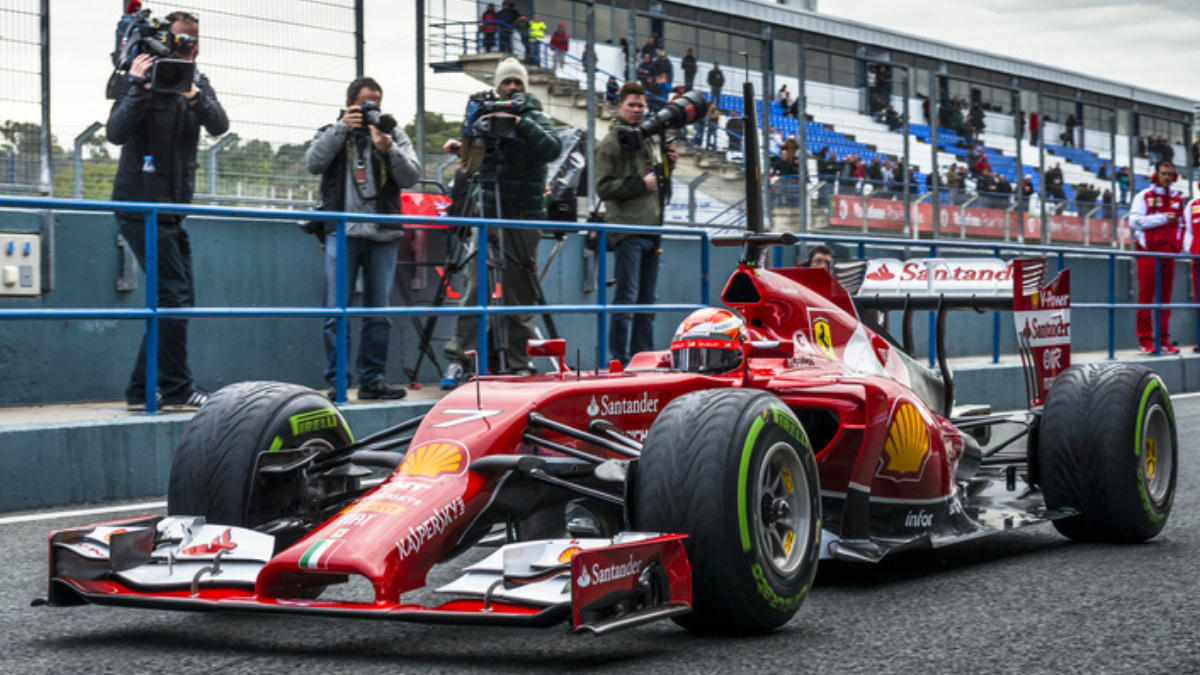 As Formula 1 is one of the greatest motorsports in the world, it is also quite specific in its rules and regulations to keep everything in check. The norms of the F1 race make the racing competition even more competitive. Hence, let's go through this important yet interesting list of technical rules introduced in 2022 to enjoy watching race matches with a better understanding.
New Car Design with Ground Effect
In previous F1 competition seasons, the lack of catastrophic downforce loss resulted due to the dirty air coming from the running car on the track. To address this issue, all 2022 F1 cars will be designed by the F1 motorsports team in collaboration with the FIA, with a strong emphasis on ground effect, an aerodynamic phenomenon.
Under the specified regulations, all the new F1 cars have an enhanced design with better tyres. The addition of wheel covers has been given to reduce the dirty air invasion from the leading car. 
Each F1 car has to follow the guide of cars' engineering rules. 
F1 has created a blueprint for motorsports teams to strictly adhere to.
The complete body of the car is designed simply with a large fraction of the downforce formed underneath the car with ground effects.
The ground effect feature will help create an aerodynamic grip on the track through which the leading cars can easily follow the other cars on the track. 
F1 Wheel Covers Have Returned
The wheel rim covers were last seen in F1 in the year 2009, which is now back on track in 2022. 
As a cost cap measure, the wheel covers are made necessary for all the participating teams. 
Also, wheel covers have been made mandatory as a part of the F1's most recent deal with BBS (official wheel rim supplier).

Over-wheel Winglets

The over-wheel winglets are to be seen in 2022 F1 cars for the first time in F1's history. 
This new feature of over-wheel winglets will help reduce the lift force nearing the front tyres, steering it away from the rear wings.
Fulfilling the purpose, these winglets will be more aerodynamically flexible while close-chasing.

18-inch Low Profile Tyres are Now Available

Pirelli, an Italian tyre manufacturing company, has decided to fit a

ll the newly designed 2022 F1 cars with 18-inch low profile wheels.
The main purpose behind  Pirelli's decision to feature 18-inch tyres is to control the overheating of the tyres while they slide.
Also, these low

–

profile 18-inch tyres will help in close racing on the track.

Redesigned Rear Wing and Front

The purpose of the rethought front wing is to produce consistent downforce while chasing the other closely on the track and ensure that the front tyre wake is well-controlled and manages the car in the least disruptive manner.
The edges of the front wheel are curved on both sides for tougher resistance. 
The rolled tips on the rear wing have made it higher and wider.
The higher scoop diffuser, along with the new design on the car's rear wing, ensures that the turbulent air is closely directed down the side of the car, resulting in cleaner air for the car leading behind.

Use of Sustainable Fuel in F1 Cars

The power unit of all 2022 F1 cars is the same as that of the 2021 season.
It is believed that the power units of F1 cars will soon be replaced with sustainable oil, E10, to control the carbon footprint. 
Currently, F1 cars run on fuel containing 5.75% bio components, but this will soon be replaced with E10, which contains 10% bio components.

F1 Car VAR System

The International Automobile Federation has introduced the new virtual race control feature to prevent race stewards on the track from dangerous incidents and penalties. 
Just like VAR (virtual assistant referee) in football, this feature will remotely assist stewards in making quicker yet smarter decisions on incidents. 
Because the FIA has prohibited team radio communications to the stewards, this feature will aid in keeping the stewards safe on the track.

New Race Directors at the Grand Prix

After the 2021 finale fallout at Abu Dhabi, Michael Masi was removed from his role as he had been serving as the race director for the Grand Prix for up to 2 years. 
The FIA has introduced two new race directors in charge: Eduardo Freitas and Neils Wittich. Both of them are well-experienced race directors as they have previously served in the same role at the World Endurance Championship. 

The Latest Car Safety Procedure

The method of restarting the race has been changed after the safety car procedure. In the previous seasons, the safety car was withdrawn after one lap of the last car unlapped by the captains themselves. 
As per the new rules, the safety car in 2022 will be withdrawn one lap after the instructions have been made.
There are some minor alterations introduced for shortened races as well. Short races will end at 50% or 70% of the full distance. 
Instead of 9 points, the fourth position will now get 10 points. Just like that the seventh position will now receive 4 points instead of 5. The new points allocation is 19-14-12-10-8-6-4-3-2-1

Financial Regulation Amendments
There is a new budget cap introduced by Formula 1 Abu Dhabi, which is $140 million. The budget cap for 2022 has gone down as compared to 2021, which was $145 million. 
2022 Abu Dhabi Grand Prix Venue
The Grand Prix 2022 has already started in different places in the world. Therefore, how can the UAE (one of the most featured places in the world) lose its grip on speed? If you live in UAE, there is no chance that you will miss the Abu Dhabi Grand Prix 2022 Formula 1 race. Below we have listed the venue of the UAE Grand Prix 2022, where you can enjoy your favourite F1 match live.
Formula 1 Abu Dhabi Grand Prix Venue – The upcoming season of Formula 1 is about to take place over 58 laps of 5.281 km at the Yas Marina Circuit on Sunday, November 20, 2022, on Yas Island. The venue has a capacity of 60,000 spectators, which is regularly sold out.
F1 Schedule, Timings and Ticket Prices for the Abu Dhabi Grand Prix F1 2022
Make the most of your year-end weekends and manage your dates as per the F1 schedule 
To not miss the Formula 1 race, which is going to take place from November 18th to November 20th, book your tickets today to get the view reserved in advance and enjoy watching the fastest drivers battle at the finale of the FIA F1 Championship at Yas Marina.
Below we have mentioned a complete list of Abu Dhabi Grand Prix tickets along with their prices, types, and days. Get your seats for Formula 1 Abu Dhabi reserved as soon as possible because they are quickly selling out.
| | | | |
| --- | --- | --- | --- |
| Pass Type | Ticket Type | Days | Ticket Price |
| General Admission | Oasis Roaming Pass0-Friday | 1 Day (Friday) | AED 300 |
| General Admission | Abu Dhabi Hill-2 Day | 2 days (Saturday and Sunday) | AED 699 |
| General Admission | Abu Dhabi Hill-3 Day | 3 days (Friday, Saturday, and Sunday) | AED 999 |
| Hospitality | Champions Club 3 Day | 3 days (Friday, Saturday and Sunday) | AED POA |
| Hospitality | Marina views Brunch- Friday | 1 Day (Friday) | AED 1,250 |
| Grandstand | South Grandstand-2 Day | 2 days (Saturday and Sunday) | AED 1380 |
| Grandstand | North Grandstand-2 Day | 2 days (Saturday and Sunday) | AED 1,380 |
| Hospitality | Friday Club Sunset Lounge | 1 Day (Friday) | AED 1,450 |
| Grandstand | North Grandstand-3 Day | 3 days (Friday, Saturday, and Sunday) | AED 1,455 |
| Grandstand | South Grandstand-3 Day | 3 days (Friday, Saturday, and Sunday) | AED 1,455 |
| Grandstand | North Grandstand Premium | 3 days (Friday, Saturday, and Sunday) | AED 1,615 |
| Grandstand | South Club- 3 Day | 3 days (Friday, Saturday, and Sunday) | AED 1,875 |
| General Admission | Abu Dhabi Hill Family 2 Day | 2 days (Saturday and Sunday) | AED 1,950 |
| Grandstand | MArina Grandstand- 3 Day | 3 days (Friday, Saturday, and Sunday) | AED 2,080 |
| Hospitality | North Lounge- 3 Day | 3 days (Friday, Saturday, and Sunday) | AED 2,095 |
In a Nutshell
Grab some popcorn and be ready to watch your favourite F1 racing season in 2022. The details about each race, the new rules, teams, and drivers will help you have an advanced understanding of the stewards' next move on the track so that you can enjoy the match with full understanding. If you somehow miss any race, then it's never too late to attend the last race at Yas Marina, Abu Dhabi. It would be great to reserve your tickets for the last F1 race in Abu Dhabi so that you do not need to wait for the next championship to watch one. 
Frequently Asked Questions (FAQs)
Do F1 drivers pee in their suits?
The straight answer is yes, F1 drivers pee in their suits to relieve themselves when they feel the urge to do so. The reason why they pee in their suits is the heat in the cockpit.
Can a woman be in Formula 1?
For many reasons, there haven't been any female drivers seen regularly in F1 GP for many seasons now. Although F1 is said to be gender-mixed, that is only on the papers.
How much does a Formula 1 car cost?
Formula One is an international single-seater open-wheeled racing car that costs between $12.20 to $14 million.
How much do F1 tickets cost in Abu Dhabi?
The F1 Grand Prix season 2022 Abu Dhabi ticket price ranges from AED 300 to AED 1950, depending on the group.
What happened at the 2021 Abu Dhabi Grand Prix?
On December 12th, 2021, the Abu Dhabi Grand Prix was held at Yas Marina in the UAE. Reportedly, Nicholas Latifi (Williams Racing) crashed his car into the barrier at the exit.
Where can I watch F1 in Abu Dhabi?
Formula 1 fans can enjoy watching this live race on the streaming platform www.shahid.net