Splish splashing in a pool of water has never worn out anybody, and probably it is here to stay as a significant source of fun on our planet Earth. Now, if this were to escalate in the form of a massive waterpark, people would not think twice about investing their time and money to forget about their meager lives to have a little bit of fun. Except, it is not exactly a bit of fun but like loads of fun. And that is precisely what the world's largest waterpark is all about. Dubai's Aquaventure Waterpark is a mammoth of a fun park that is situated in Jumeirah Palm, Dubai. 
Address – Atlantis The Palm – Crescent Rd – Dubai – United Arab Emirates
Functional Hours – 9:45 AM to 6:30 PM (Monday to Sunday) 
Contact Number – +971 4 426 0000
Unlimited Thrills at the World's Largest Waterpark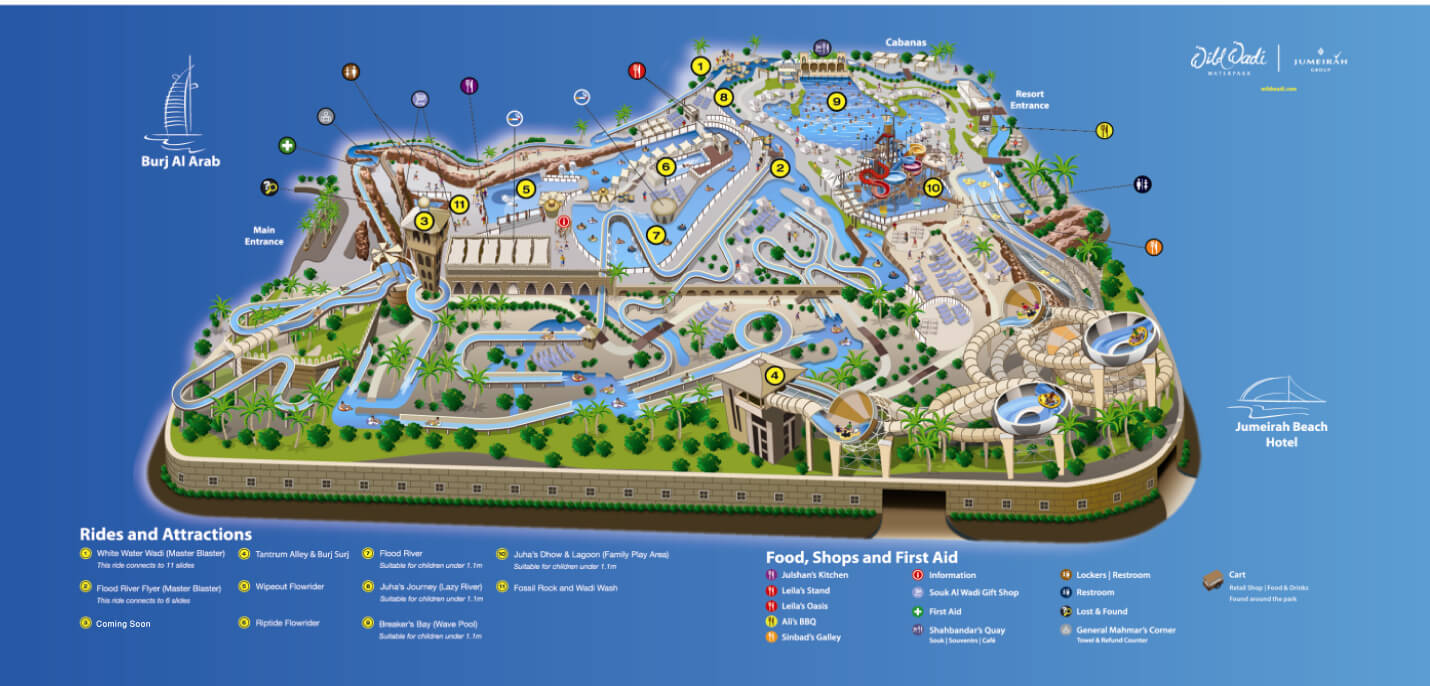 The above image showcases the map of the largest waterpark in the world – The Aquaventure Waterpark. Also known as Atlantis Waterpark, this holiday spot in Dubai has many fun activities to offer. From free-falling water slides to dipping through shark tanks, this fantastic spot can take more than a day for one to explore thoroughly. Three towers are on every guest's bucket list. These towers are Neptune Tower, Poseidon Tower, and Trident Tower. There is certainly no way to experience all the rides the water park offers in a single day. Tourists usually take a couple of days to embrace the ultimate Aquaventure Waterpark, Dubai. 
Starting from the main entrance on the east side of the map is where the tourist can book their stays in one of the grand hotels. Roam in towards the centre until you reach the "Tower of Neptune" where one of the most popular attractions in the waterpark known as "Leap of Faith" is waiting to be enjoyed. It is a ziggurat-styled structure where one climbs onto the top and slides their way down through a transparent tube which eventually takes one to a large pool. This nine-story tall massive vertical plexiglass tunnel gives its guests an extraordinary experience of an adrenaline rush when it takes them through a tank that houses Cownose Rays and sharks. 
Seep in further to discover one of the most frightening free fall experiences in the middle east. Known by its enigmatic name "Poseidon's Revenge", the ride takes you on a plummeting steep 60 km per hour fall from a 31-meter tube connecting to a 116-meter clothoid-shaped loop slide glass tunnel. It is suggested that the person on this slide needs to clear a certain weight standard because they simply might not propel themselves through the loops.
Furthermore, there are specific guidelines for positioning your body during the sliding course to avoid any severe injuries. You can also enjoy the view of a whole section of the waterpark from the top of the Poseidon Tower.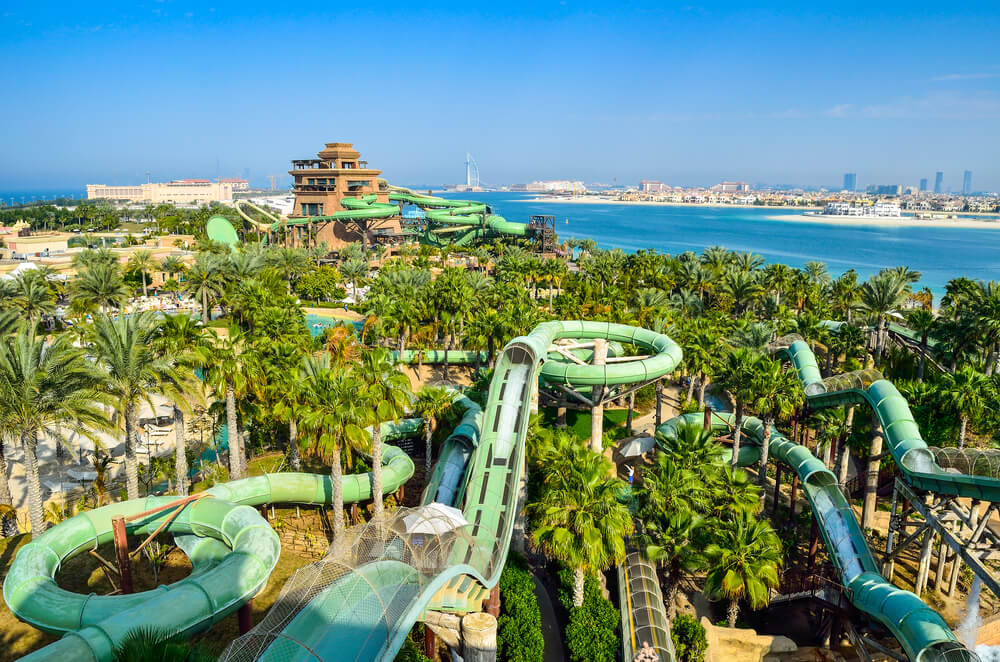 There is an array of choices for the guests, which include group slides, body slides, racer courses, hydra courses, water coasters, adventure rivers, kids' play area, free falls, surfing, and zip-lining. The Group Slides include the Oddessey of Terror, Shockwave, Aquaconda, and Zoomerango. These vary in thrill levels from moderate to high. Take your family and friends on these rides while plummetting through gigantic drops from zig-zag tubes and experience high-level electrifying weightlessness. Body slide rides include Vortex, Blackout, Poseidon's Revenge, Slitherine, and the Leap of Faith which vary from high-level thrills to moderate-level thrills. 
Can you endure the top-notch buzz from these invigorating rides at the Aquaventure Waterpark, Dubai? 
Aquaventure Waterpark Dubai Offers 
The tourists looking to spend quality time at the Aquaventure Waterpark Dubai can consider some exciting offers suitable to their needs and budgets. These offers allow visitors to get attractive discounts and lifetime membership platforms.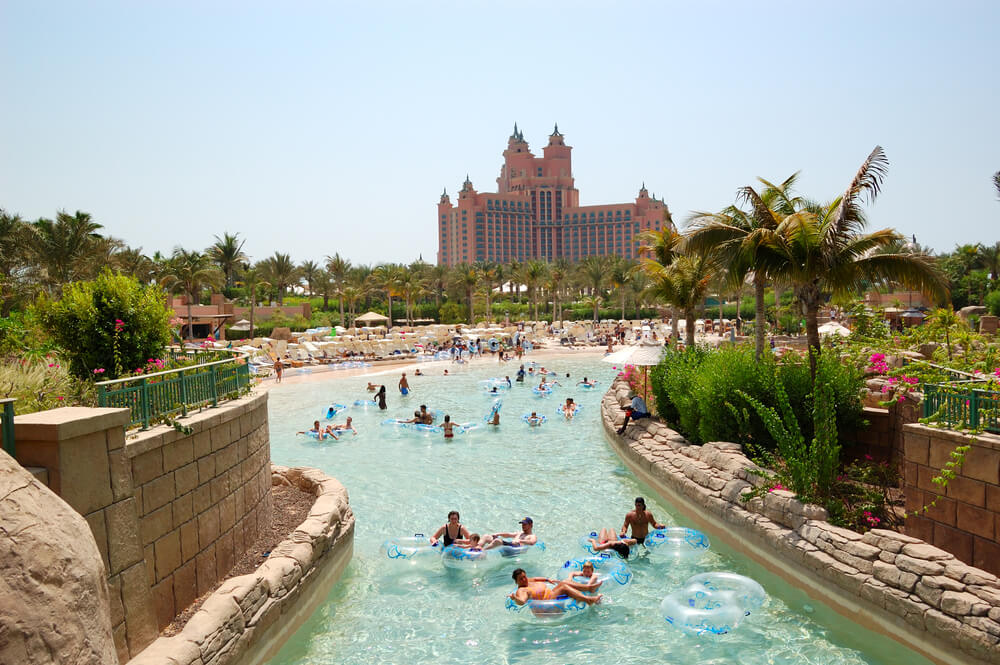 One can register as an Atlantis member from the official website of the Aquaventure Waterpark Dubai and access the perks and benefits available. Some choices include: 
Ultimate Summer Vacation Sale

– Enjoy your holiday with the optimum Summer Sale. One would be required to apply for 3 nights or more on these packages and bag some of the extraordinary benefits, including daily dining, complimentary watersports, aquarium experiences, and much more. Furthermore, kids get a free pass through the summer stay. The booking dates start from 13th June to 31st August, and the stay dates range from 13th June to 31st August. 

UAE Resident Offers

– There are myriad in-resort offers for UAE residents who want to engage in a thrilling experience at the Dubai Aquaventure Waterpark.

Extraordinary benefits

– If you decide to book a stay for at least 7 days, the authorities have offered to waive off 2-day charges from the total amount. The condition is to book an Imperial Club or Suites for 7 days between the dates 4th April to 31st August. The stay can be booked from 1st May to 31st September. Moreover, for the stay longer than 5 days, the authorities have offered sponsored and hassle-free Covid tests for the guests before they depart.  

American Express Extravagant Summer Escape

– If you stay 4 nights or more, you can save 25% off in the Imperial Club Rooms or Suites. Moreover, save 15% off the diners at the signature and celebrity chef restaurants. Lastly, save 35% off on dolphin experiences and 15% off at ShuiQi Spa and Fitness Center. 
Aquaventure Waterpark Stay Facility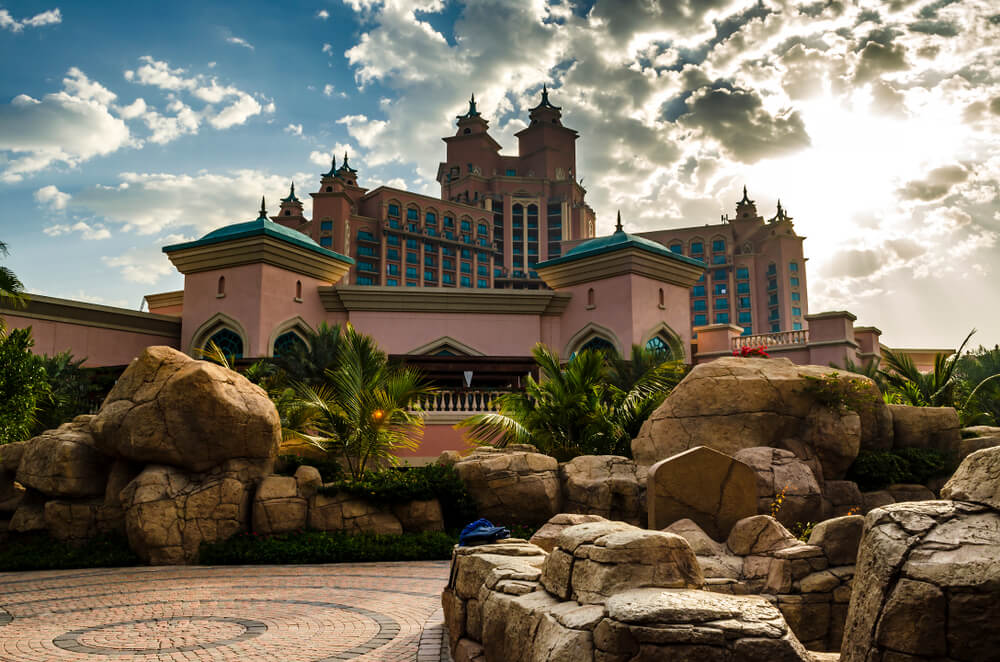 As established, the complete tour of the Aquaventure waterpark can only be done in at least 3 to 5 days. Its vastness can only be fathomed with enough time in one's hand. For that, the Atlantis authorities have arranged stunning and excellent hotel stays for the guests. There is an array of choices for the visitors, which range from guest rooms to signature suites. Take your pick as we go through them one by one. 
Guest Rooms

– The Dubai Atlantis Waterpark Hotel guest rooms offer various amenities and features enhanced with excellent hospitality services. The guest room features a bedroom, a bathroom, a minibar and a stunning view of the Dubai skyline and the Arabian sea. 

Palm View Rooms

– An ultra-modern living space owing to its contrasting mosaic floor rug design enhanced by a minimalist and comfy king-sized bed offering a fantastic view of the Dubai palm island. 

Imperial Club Rooms

– With added luxury, the Imperial Club rooms give their customers access to a luxurious and fancy lounge along with various other premium benefits and services. 

Suites

– Suites are a natural pick for the customers that come to the Atlantis. There are terrace view suites, skyline suites, and regal suites. Each type is well sprinkled with luxurious amenities and offers the ultimate comfort. Amenities include a balcony, breakfast, connecting rooms, hair dryer, separate bath, sitting area, minibar, and more. The terrace suites allow you to relax in the seamless view of the Arabian Sea and Palm Island.  

Signature Suites

– The Signature Suites are the jewels of the Atlantis. They have the power to invigorate you to transcend into a dimension of magnificence and splendour for your vacation. The world of luxury is waiting within the walls of these signature suites. The signature suites include presidential suites and grand Atlantis. 
Aquaventure Waterpark Dubai Tickets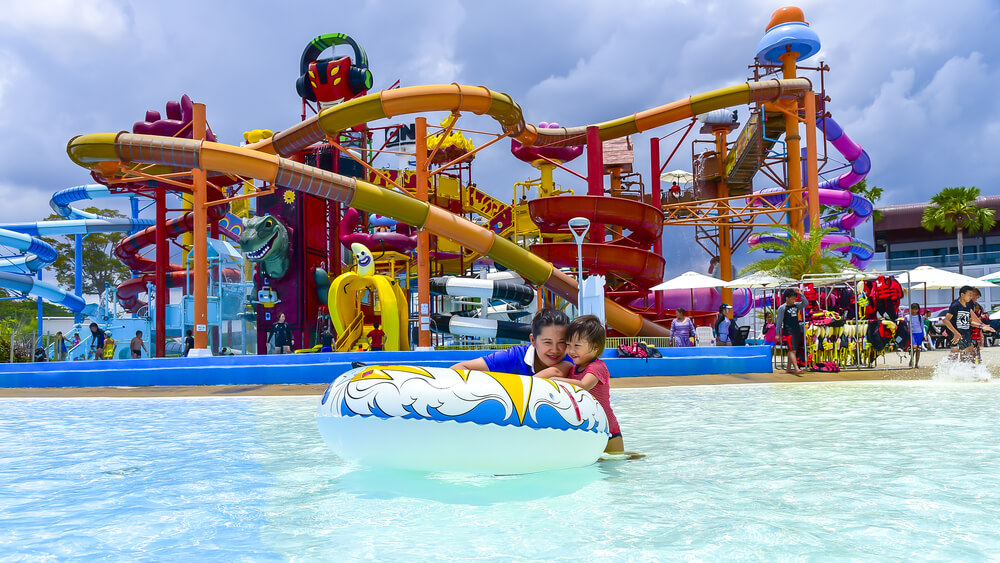 Prices of tickets at The Lost Chambers Aquarium counter vary depending on the season. The prices are divided into sections of the fun zone. The price listing is as follows: 
Aquaventure Waterpark Day Pass Rates

Day Pass for Adults 

AED 299

Day Pass for Kids 

AED 249

Super Pass for Adults 

AED 249

Super Pass for Kids 

AED 299

Lost Chambers Aquarium Pass Rates

Day Pass for Adults 

AED 135

Day Pass for Kids 

AED 95

UAE Residents Special Rates for Aquaventure Waterpark

Day Pass for Adults 

AED 199

Day Pass for Kids 

AED 179

Super Pass for Adults 

AED 239

Super Pass for Kids 

AED 219

Cabana Rental for Waterpark

Family Cabana 

AED 1095

Medium Cabana 

AED 1295

Large Cabana

AED 1595

Extra Large 

AED 1795

Activities Rate Card

Shark Safari 

Starts from AED 610 for Day Visitors

Mini Marine Biologist 

AED 275
*The pricing may change as per the Altantis Authorities guidelines.
Aquaventure Waterpark Dubai Timings 
The waterpark is open all day of the week. The gate opens at 9:45 AM and closes at 6 PM. Once entered, the visitors can make use of their pass to unlock other rides and features of the park. There are a few variants of tickets available offering different benefits. 
Aquaventure Waterpark Dubai Amenities 
Out of the various amenities available, the accommodation at the Aquaventure waterpark provides top-quality features and benefits for its guests. Among the available amenities include the ones shown below.

Free Aqua Socks

Free Wifi

Beach Access 

Play Area

Cabana Rental

Shower 

Locker Rental 

Breakfast

Balcony

Minibar

Stunning views of the Arabian Sea and the Plam 

Aquarium Pass with Aquaventure Adventure Super Pass 

Access to Splashers' Kids Play Area

Private Beach

Surfs' Up Wave Rider

Marine Animal Experience 

Food and Beverage 
Some Useful Articles for You :
Frequently Asked Questions (FAQs)
How much is Aquaventure Waterpark in Dubai?
The Aquaventure Waterpark exclusive rates for the day visitors include an Aquaventure Day Pass for Adults, which costs AED 299. Furthermore, the Aquaventure Pass for Kids can cost AED 249. Aquaventure super passes for adults start from AED 349* Aquaventure Super Pass for Kids AED 299* Children 2 years old and below Free.
How much does it cost to go to a water park in Dubai?
Many waterparks in Dubai can give one the time of their lives. The cost will generally range from about AED 120 to about AED 299 for adults for a day. Depending on the kind of access one requires, the prices will increase. For example, Aquaventure Waterpark's cost will range from AED 299 for a general day pass to AED 349 for a super pass.
Is Aquaventure free for hotel guests in Dubai?
The stay at the hotels for the Aquaventure guests are free of cost. Although they would still be required to pay for using facilities such as lockers, food and beverages, to name a few.
Is Atlantis water park worth the money?
The Atlantis water park is enormously entertaining for anyone coming in. From the rides to food to the hotel stay, it's all worth the money for the guests.