Dubai has a broad real estate market, and you will find varied areas in the city worthy of investing in. The areas of interest for real estate investment can include the quality of the neighbourhood, the availability of amenities within the vicinity and other essential factors that contribute to a property's appreciation. But since Dubai is a big city with several districts, we will zoom into six areas with incredible investment potential. Scroll down to get details on Best Areas for Real Estate Investment in Dubai .
10 Best Areas for Real Estate Investment in Dubai
Here are the six best areas in Dubai that offer you profitable real estate investments. 
1. Palm Jumeirah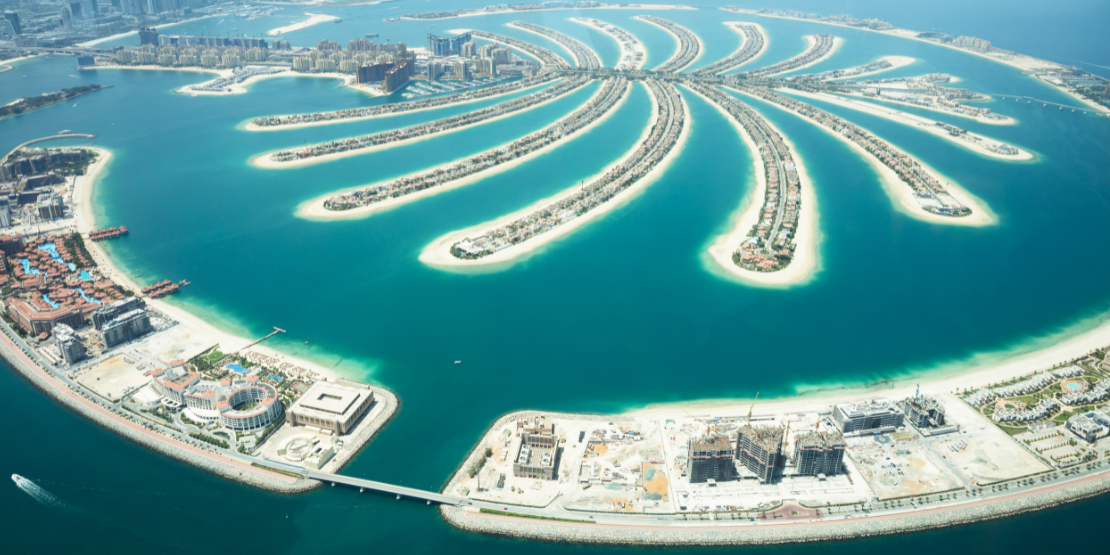 One of Dubai's most well-known areas is Palm Jumeirah. It is one of the best areas for real estate investment in Dubai and offers tons of independent houses, beach resorts, and villas to purchase. An artificial archipelago built in the shape of a palm tree holds a prestigious status in the real estate market. Not just local but even international investors dream of purchasing a high-end property here. Depending on your budget, you can opt for 4 or 5 bedroom villas for sale in Palm Jumeirah packed with top-notch amenities. From built-in wardrobes and centralised A/C, gym area to a swimming pool, kids play area and concierge, you get to live in luxury here.
| | |
| --- | --- |
| No. of Bedrooms | Price  |
| 3 Bedrooms | 6.2 Million AED |
| 4 Bedrooms | 9.2 Million AED |
| 5 Bedrooms | 15 Million AED and above |
2. Dubai Marina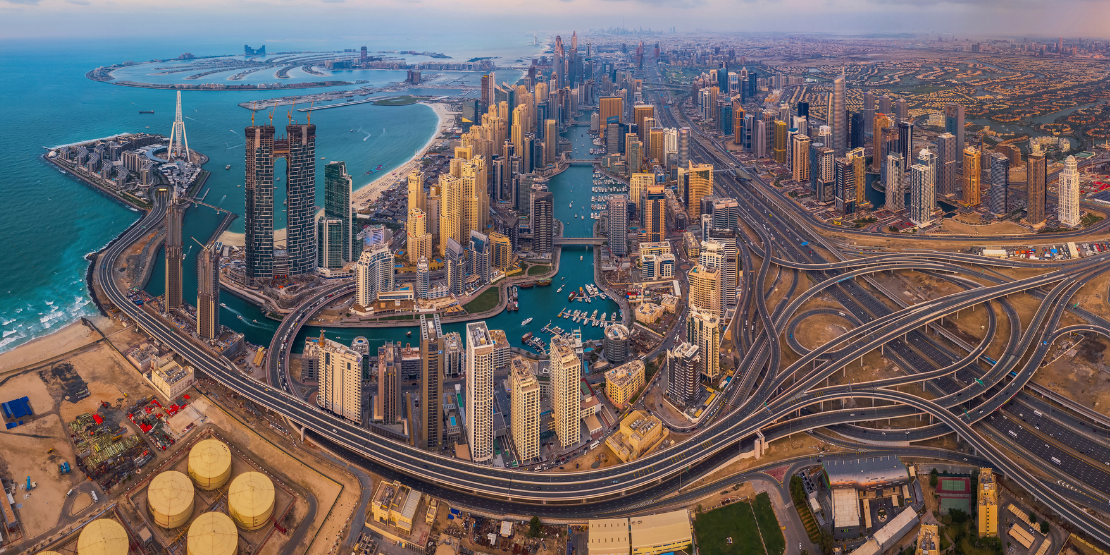 Dubai Marina is a desirable neighbourhood drawing significant attention from investors worldwide. It is termed New Dubai and is the first choice for anyone looking to lead an opulent lifestyle in the city. Its proximity to Dubai Internet City, Dubai Media City and top-ranked universities in Dubai are a major part of its appeal. The development is spectacular as the builders have used state-of-the-art technology to design the plots. And, it won't be too wrong to say that Dubai Marina is not far from challenging Palm Jumeirah as a premium residential district in the city of gold.
| | |
| --- | --- |
| No. of Bedrooms | Average Price  |
| Studio Apartment | 745K AED |
| 1 Bedroom | 1.2 Million AED |
| 2 Bedrooms | 1.8 Million ED |
| 3 Bedrooms | 3 Million AED and above |
3. Downtown Dubai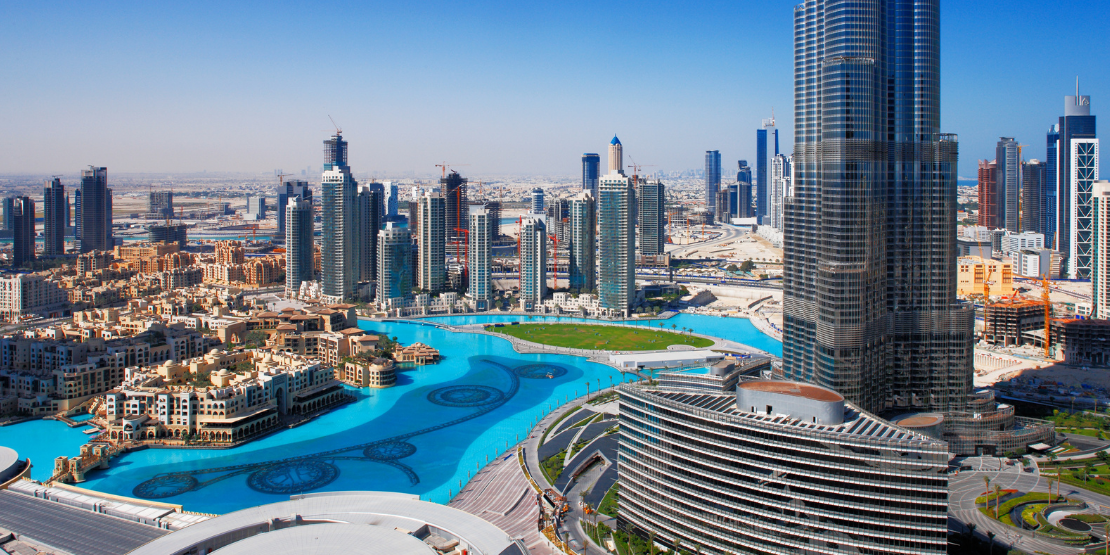 Home to the tallest building in the world, the Burj Khalifa, Downtown Dubai is in the northern zone of the city. It offers an urban community feel, making it a hot favourite amongst investors.
Its defining structures, pedestrian-friendly footpaths and gorgeous promenades also help it stand out from other neighbourhoods in the city. Amidst attractions like the Dubai Fountain and luxurious shopping malls, you can find a great range of high-end apartments, townhouses and villas for sale in Downtown Dubai.
| | |
| --- | --- |
| No. of Bedrooms | Average Price  |
| 1 Bedroom | 1.5 Million AED |
| 2 Bedrooms | 3 Million AED |
| 3 Bedrooms | 4.9 Million AED and above |
4. Arabian Ranches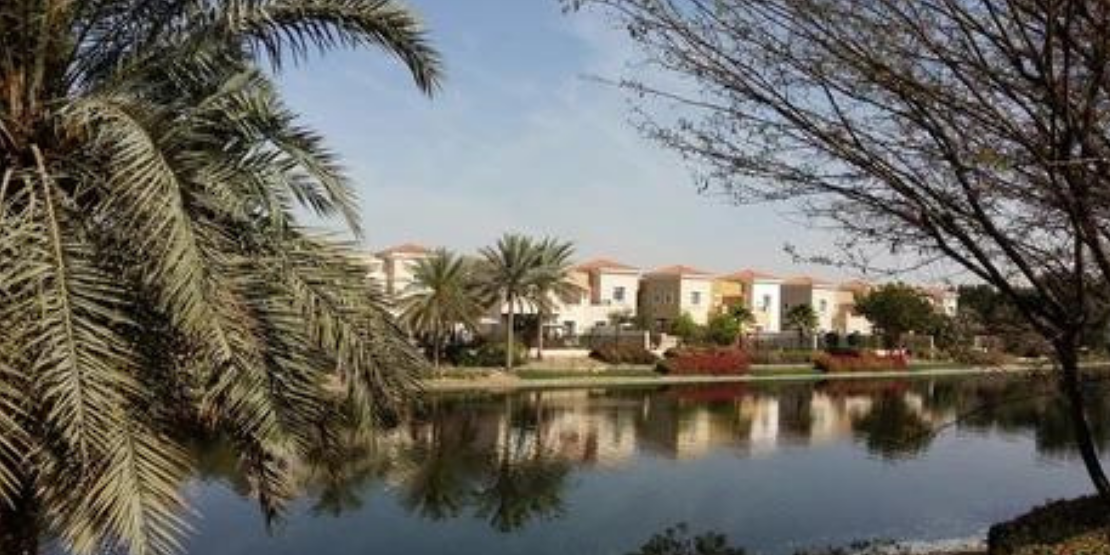 The swanky villa community of Dubai, Arabian Ranches, features extravagant buildings featuring modern lifestyle amenities. These include private landscaped gardens, covered parking, shared pool, barbeque space, professional security, etc. Its tranquil surroundings are one of the major reasons why investors, both local and international, should consider investing here. Easy access to schools and attractions such as the Dubai Autodrome and Dubai Miracle Garden also make it an ideal location for the best property investment in Dubai.
| | |
| --- | --- |
| No. of Bedrooms | Average Price  |
| 3 Bedrooms | 3 Million AED |
| 4 Bedrooms | 4.7 Million AED |
| 5 Bedrooms | 5.9 Million AED  |
| 6 Bedrooms  | 9.7 Million AED and above |
5. Damac Hills 2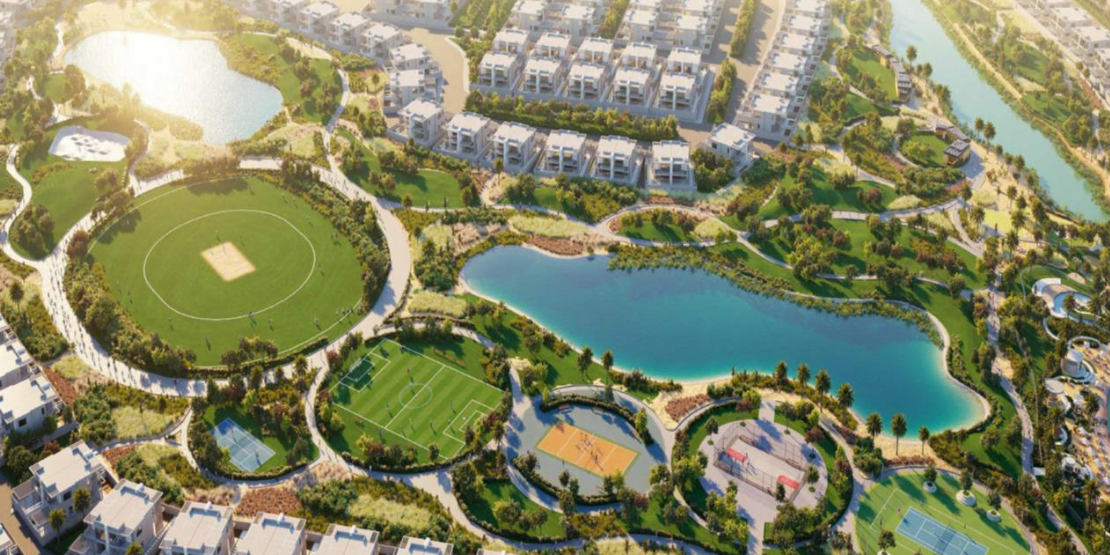 Another good neighbourhood for real estate investment in Dubai is Damac Hills 2. It is a well-planned, eco-friendly neighbourhood that is expected to grow even more in the coming years. Investing in this location is thus a profitable option. The incredible supermarkets, beaches, restaurants, along with some upcoming attractions, make it the perfect residential spot. Whether you're looking for lavish villas or apartments for sale in Damac Hills 2, you can find plenty of choices in this neighbourhood.
| | |
| --- | --- |
| No. of Bedrooms | Average Price  |
| 3 Bedrooms | 1.1 Million AED |
| 4 Bedrooms | 1.5 Million AED |
| 5 Bedrooms | 1.9 Million AED  |
| 6 Bedrooms  | 2.6 Million AED and above |
6. Dubai Hills Estate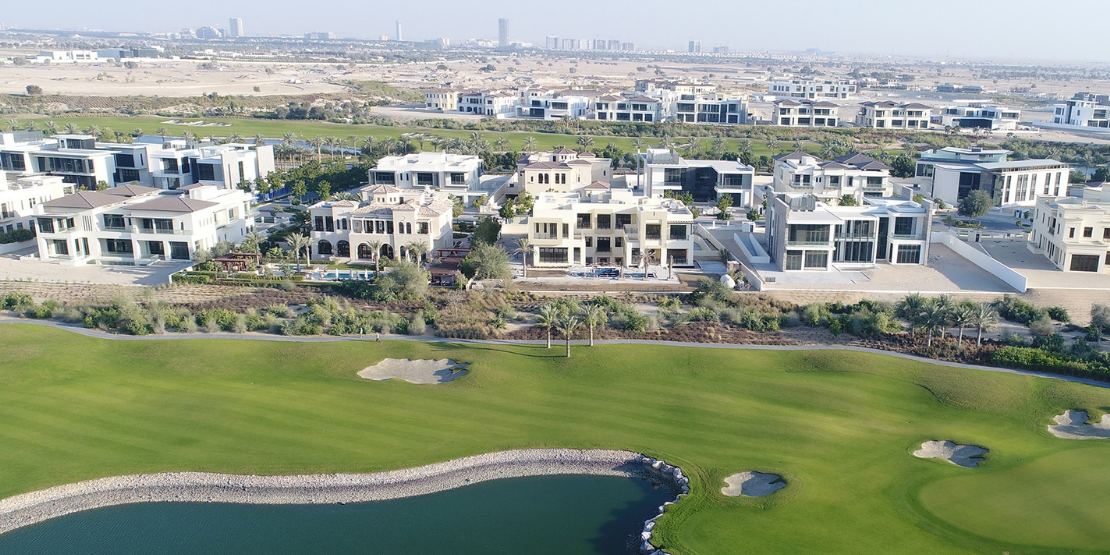 Last but not least on our list is Dubai Hills Estate. This is located in the central region of Dubai. known as one of the most family-friendly neighbourhoods, it comprises buildings that match international standards. Experts count this area as one of the fastest developing areas, perfect for real estate investment. The variety of properties includes high-end villas and apartments for sale in Dubai Hills Estate along with recreational facilities. In addition to the marvellous 18-hole championship golf course, the neighbourhood has some of the best supermarkets and malls.
| | |
| --- | --- |
| No. of Bedrooms | Average Price  |
| 3 Bedrooms | 3.9 Million AED |
| 4 Bedrooms | 4.5 Million AED |
| 5 Bedrooms | 6.2 Million AED  |
| 6 Bedrooms  | 18 Million AED and above |
7. Business Bay
Business Bay is one of the "classiest Dubai investment properties" in the globe, and because of its convenient spot and distinctive characteristics, it offers a promising resort profit potential. due to its prominent canal-side position, excellent transportation modes, and cutting-edge business and entertainment services, Business Bay has figuratively emerged from the shadow of neighbouring Downtown Dubai to become one of the city's most popular precincts.
Business Bay's reputation has expanded internationally due to accolades from organizations like Lonely Planet, a leading travel guidebook publisher. Lonely Planet consistently rated Business Bay fifth amongst some of the globe's ten "best-looking communities to visit," ranking it alongside well-known destinations like Sunset Park in New York City, Botafogo in Rio, and Seongsu-dong in Seoul.
8. International City
In International City, Flats and Villas can be obtained at cheaper rates. The main factor is that apartments in International City Dubai are reasonably priced and provide good value for money. It is the best property investment in Dubai.  in light of the renovation in International City, particularly close to Dragon Mart, constructing a Metro line will help drive up property values in the neighbourhood.
9. Dubai South
Dubai South is the city's future, offering a wealth of opportunities for property investors, homeowners, and businesses. His Highness Sheikh Mohammed bin Rashid Al Maktoum, who planned the Dubai Plan 2021, deserves all the praise. this special area, which spans 715 hectares and is located in the northern portion of Dubai South, offers superior residential facilities at a fair price (compared to other locations in Dubai). The design of Dubai South Residential City was driven primarily by three factors.
Residing adjacent to the place of employment.

Accommodate the housing needs of those working in other areas of Dubai South.

Provide a particular demographic cost and adaptability.
10. Dubai World Trade Centre
It can be wise to invest in Dubai World Trade Center (DWTC) for a number of good reasons. Consider the following advice:
Location: The DWTC is in the centre of Dubai's business district, making it a top choice for companies wishing to expand their presence there. Road, metro, and other transit modes make it simple to get to the core.
Robust economy: Dubai's economy is prospering due to its stable political climate. It also has a strong dedication to commercial expansion. Access this thriving economy and its numerous opportunities through investment in the DWTC. because of this diversity, several industry areas are represented by the DWTC, which holds various events and exhibitions in these fields as well as others like technology, finance, and healthcare.
5 Tips for Buying the Best Dubai Investment Properties
Before stepping into Dubai's real estate investment market, make sure you keep the following tips in mind: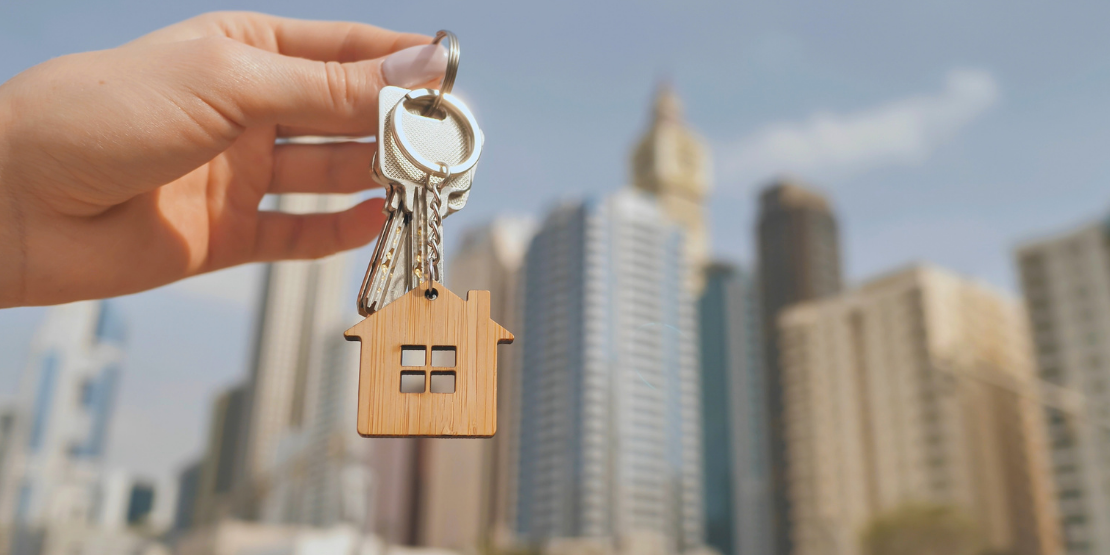 1. Pick the Best Time to Buy
Investment gurus suggest that the best time to invest in a property is when the interest rates are low. An oversupply means more room to negotiate. Thus, as a first-time investor, you should always stay updated with the latest market prices and conditions.
2. No Compromises with Location
The location you select plays a key role in how beneficial your investment turns out to be. Investors are advised to focus on areas that are more in demand and have high rents. If you're new to the city, spend some time in the area, gather information about it and make sure you are content with your decision.
3. Reach out to an Agent
Researching a little bit never disappoints. Look for a reliable agent or consultant if you are planning to buy a property in an established area. An expert's guidance can help you make the right investment decision. With their knowledge and experience, you will be able to analyse any location or property closely and weigh its pros and cons. The agent will also cover all the legal necessities for you, making the investment process even smoother.
4. Early Finance Arrangement
Once you have a clear idea of where and what sort of property you want to invest in, work towards arranging your finances. This will help you know whether you have that sort of amount ready or you'd have to make other arrangements for it. This is especially important for those investing in Dubai for the first time.
5. Don't Hesitate to Ask Questions
Those not sure about the real estate investment should ask as many questions as they can from the agent. You may as well get in touch with relatives or friends who have experience of the market and consider their suggestions before making the final decision. The more information you are equipped with, the less likely are your chances of getting scammed.
Summing Up
Higher rental yields, favourable tax conditions, low crime rates and solid infrastructure are a few reasons why Dubai is a prime choice for real estate investment. And while the 6 best areas for real estate investment in Dubai listed above make for the best options, there are many other locations to choose from. It all depends on your budget and the kind of property you're interested in.
In case of questions or concerns, get in touch with a reputable agent. You can also find answers to a few common questions in the FAQ section below.
Some More Useful Articles For you :
| | |
| --- | --- |
| Guide To Buying Property in Ajman | |
| All About Flats For Rent in Al Nahda | |
| Buying or Renting Property in Dubai | |
| Know About Dubai's most expensive property | |
| Understand Dubai Real Estate Facts | |
Frequently Asked Questions (FAQs)
Is Dubai good for real estate investment?
Yes, Dubai is one of the best cities for real estate investment. Known to be the most populated city in the UAE, it is considered a hub for both local and foreign investors.
Which is the best place to buy a luxurious property in Dubai
To buy a luxurious property in Dubai, Palm Jumeirah is the best location, followed by Downtown Dubai, Arabian Ranches and Dubai Marina.
Is real estate investment in Dubai profitable?
Yes, real estate investment in Dubai is profitable. The market is recognised for its stability and profitable returns. In the coming years, real estate in the city is expected to remain active with new residential and commercial units built and equipped with cutting edge technology.
Will property prices in Dubai rise in 2023?
As long as high-net-worth individuals flock to Dubai, the real estate market will dominate the world's price charts in 2023.
Where is the best ROI in Dubai?
One of the most preferred emirates in the UAE for renters is Dubai, with an average return on investment for real estate of 5-8%. Yet, this indicator has room for improvement; it just helps to be aware of the relevant indicators.
Which area is best for investment in Dubai?
A few well-liked areas in Dubai for real estate investment include Palm Jumeirah, Downtown Dubai, Dubai Marina, International City, Dubai Creek Harbour, and JBR.
Which sector is in demand in Dubai?
The sector of Dubai is diverse, and a number of industries are in high competition. Yet, some of the industries in Dubai that are now extremely popular include: Technology: As more startups and well-established IT organizations locate their headquarters in Dubai, the city quickly emerges as a centre for technological advancement and innovation. Healthcare: Dubai's healthcare industry is expanding quickly, with a rising need for increased healthcare services and infrastructure.
What are the fastest-growing areas in Dubai?
The four most well-known ones are Palm Jumeirah, DAMAC Hills 2, and Dubai Hills Estate.