With contemporary sightseeing attractions like Burj Khalifa, Dubai Marina Mall, and world-class restaurants, the United Arab Emirates doesn't need an introduction! Adding another feather to its beauty, Dubai has come up with an amazing spot for food lovers, i.e., Al Baik in Dubai Mall.
After satisfying hunger continuously for over 40 years, Al Baik restaurant is now ready to hit another milestone by opening a branch in the Dubai Mall. Yes, you read that right! Since June 2021, Al Baik in Dubai Mall is running its operations fantastically and is expected to do the same in the coming years. Al Baik in Dubai is a famous fast-food restaurant chain headquartered in Jeddah. The new 355-square-metre restaurant will offer a wide range of chicken, grilled dishes, seafood alongside vegetarian options.
If this excites you to know more about Al Baik in Dubai Mall in terms of its menu, prices, delivery, and much more, then kindly read through to the end!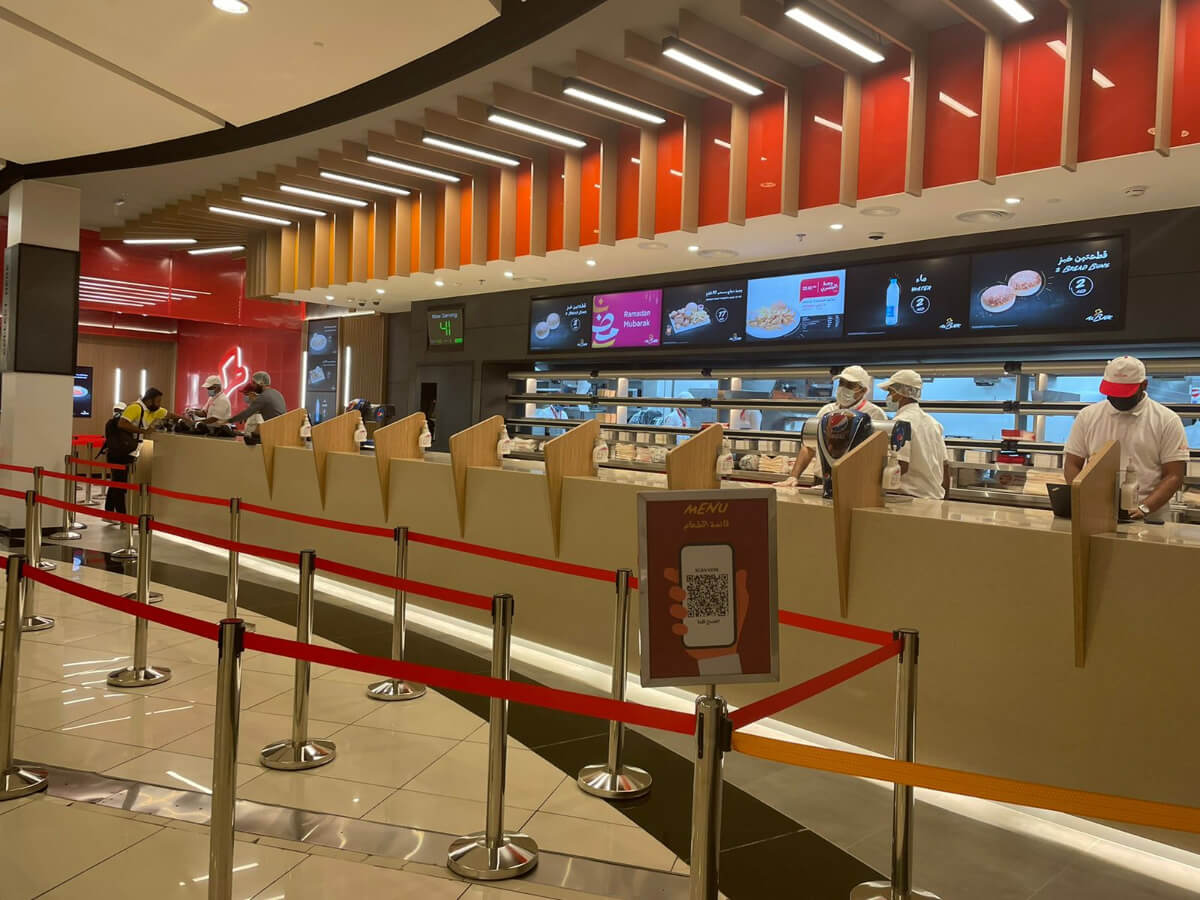 Overview of the New Al Baik in Dubai Mall
The Dubai Mall is an all-time favourite destination and a crucial part of Downtown Dubai. The mall has over 1200+ retail outlets, two anchor departmental stores, and 200+ food and beverage outlets. With plenty of food and beverage outlet options, any Dubai Mall visitor will surely get confused regarding what and where to eat. However, if you are a seafood or meat lover, then there's a piece of good news for you! You no longer have to worry about choosing your favourite restaurant in the Dubai Mall, as Al Baik recently opened a restaurant on the second floor. 
On day one, the restaurant enjoyed warm acceptance, and the long queues observed at the restaurant were mistaken as though Al Baik was offering meals for free. This shows how much the people of Dubai were excited about having Al Baik restaurant in the town. The much-hyped restaurant has always been praised for maintaining its basic yet high-quality spirit. While the founder, Shakour Abu Ghazalah, is no more, his sons are working hard to maintain the reputation of this famed fast-food brand.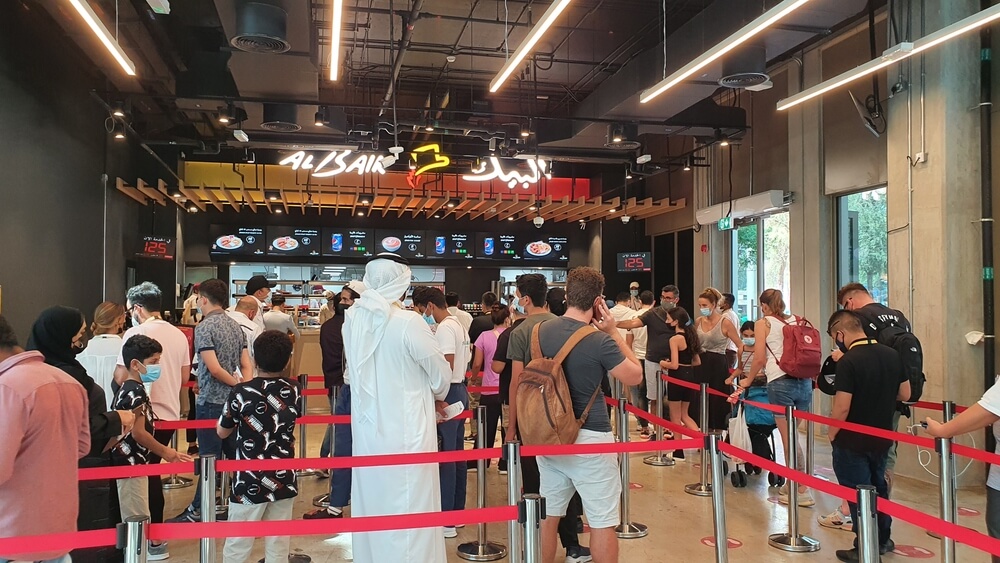 The total number of Al Baik restaurants has now increased to 120+ branches, confirming that foods that are excellent in quality can combine outstanding value and exceptional taste, to offer flavoursome dishes that everyone can enjoy.
In order to help you prepare for your visit to Al Baik, here's what you can expect to find on its menu.
Al Baik

Menu 

in Dubai Mall 
The Al Baik restaurant chain is well-known for offering delicious crispy broasted chicken meals. Previously, the Al Baik in Dubai Mall menu was limited to a few bestsellers only so that it could easily keep up with the increasing demand that came from the new location. But now, a handful of more items have been added to the menu that involves a wide array of side dishes, seafood, sandwiches, and desserts.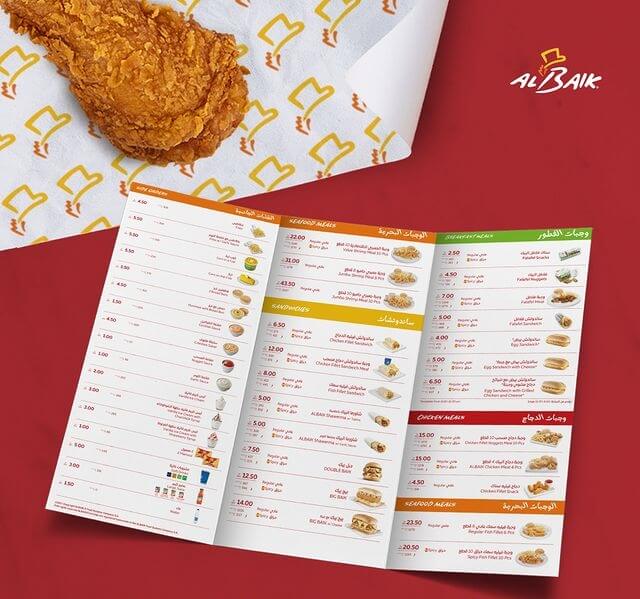 To get a complete idea of the offerings at Al Baik restaurant, refer to the list of highly-served food items below:
Fish meal / Fillet Nuggets Chicken

Al Baik Chicken Meal 4 Pcs 

Chicken Fillet Burger

Chicken Fillet Snack

Chicken Filler Sandwich

Fish Fillet Sandwich

Jumbo Shrimp Meal

Value Shrimp Meal

ALBAIK Shawerma 

Hummus with Bread Bun

Shrimp Sandwich

Coleslaw Salad

French Fries

Fries with Garlic Sauce

Ice cream with chocolate syrup

Smoothies

Soft drinks
In addition to these, the renowned Al Baik breakfast menu involves:
Falafel Meal

Falafel Nuggets

Falafel Snacks

Egg Sandwich

Egg Sandwich with Grilled Chicken and Cheese

Egg sandwich with Cheese
With plenty of dishes to offer, Al Baik is one of the best additions to the Dubai Mall food court for fans of chicken and broasted meals. 
 

 

View this post on Instagram

 
To keep it brief and simple, the prices of Al Baik Dubai mall menu are listed in the form of the table below:
Menu
Details
Price (AED)

Chicken Meals

Chicken Fillet Nuggets Meal
Regular 10 Pcs
18.00
Al Baik Chicken Meal
Regular 4 Pcs
18.00
Baikeez Chicken Thigh Meal
Regular, 5 Pcs with French Fries
13.00
Baikeez Chicken Breast Meal
Regular, 5 Pcs with French Fries
13.00
Chicken Fillet Snack
Regular
5.50

Seafood Meals

Regular Fish Fillet
Regular, 6 Pcs
23.50
Spicy Fish Fillet
Spicy, 10 Pcs
20.50
Value Shrimp Meal
Regular, Spicy, 10 Pcs
22.00
Jumbo Shrimp Meal
Regular, 10 Pcs
34.00
Jumbo Shrimp Meal
Regular, 12 Pcs
43.50

Sandwiches

Chicken Fillet Sandwich
Regular, 1-piece
7.50
Chicken Fillet Sandwich Meal
Regular
13.00
Shrimp Sandwich
Regular
11.50
Fish Fillet Sandwich
Regular
8.00
Al Baik Shawerma
Regular, with Tahina
5.50
Al Baik Shawerma
Regular, with Garlic Sauce
5.50
BBQ Baik
Regular
10.00
Double Baik
Regular
9.00
Big Baik
Regular
14.50
Big Baik
Regular, with Cheese
16.00

Breakfast Meals

Falafel Snacks
Regular, Spicy
3.00
Falafel Nuggets
Regular, Spicy
5.00
Falafel Meal
Regular, Spicy
7.50
Falafel Sandwich
Regular, Spicy
3.50
Egg Sandwich
Regular, Spicy
4.50
Egg Sandwich
Regular, Spicy, with Cheese
5.50
Egg Sandwich
Regular, Spicy, with Grilled Chicken and Cheese
8.00

Side Orders

Fries
Regular
5.00
Fries
With Garlic Sauce
6.00
Corn in a Cup
Regular
6.00
Corn on the Cob
Regular
6.00
2 Bread Buns
Regular
2.00
Hummus
With Bread Bun
5.00
Coleslaw Salad
Regular
5.00
Cocktail Sauce
Regular
2.00
Nugget Sauce
Regular
1.50
Garlic Sauce
Regular
1.50
Americano
Regular
5.00
Cafe Latte
Regular
7.00
Cappuccino
Regular
7.00
Espresso
Regular
4.00
Vanilla Ice Cream
Regular
3.00
Vanilla Ice Cream
With Chocolate Syrup
4.00
Vanilla Ice Cream
With Strawberry Syrup
4.00
NOTE : Not all dishes served at Al Baik in Dubai Mall are listed in the table above and prices are set as on 4th July 2022. For see complete Al Baik Dubai mall menu, please visit the official Al Baik website to know more. 
Delivery at Al Baik in Dubai Mall
Standing and waiting in a long queue is a harsh reality of ordering at Al Baik restaurant. But if you are willing to order your favourite dish without wasting time in long lines, then you are in luck. You can easily get your Al Baik favorites delivered right to your doorstep by using food delivery services like Talabat and Zomato. Both of them take orders for Al Baik in Dubai Mall delivery.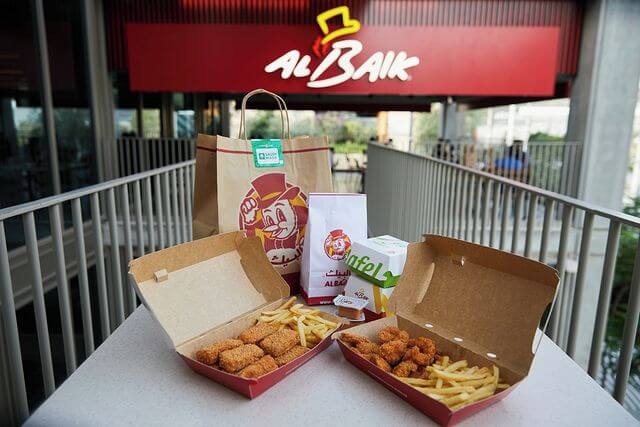 Initially, delivery was limited to areas near the Dubai Mall, but this Saudi fast-food brand later launched home delivery services with Talabat and Zomato. The wait time for the ordered meals ranges between 30-40 minutes, depending upon what you have ordered. 
So, if you are planning to order soon from Al Baik in Dubai, make sure to keep the home delivery service in mind. It's truly an excellent way to skip long queues and enjoy flavoursome food at home. 
The Bottom Line
With the huge success of Al Baik in Dubai Mall, this legendary restaurant will soon open in the Mall of the Emirates. Considering Al Baik's achievements, it comes as no surprise that expansion across Dubai is in the works, with upcoming plans to operate across the seven emirates. So, don't wait much longer and order your favourites from Al Baik restaurant in Dubai soon. No matter whether you get it delivered to your doorstep or enjoy eating in the restaurant, each item served by Al Baik is delicious. And trust us, waiting in the long queues for broasted chicken is definitely worth the wait.  
Recommended for you :
| | |
| --- | --- |
| Top 5 Most Expensive Restaurants in Dubai | |
| Best Vegetarian Restaurants in Dubai | |
| Top 10 Indian Restaurants in Dubai | |
| Top Restaurants in Dubai Marina Mall | |
| Must-Visit Restaurants in Downtown Dubai | |
| Best Seafood Restaurants In Dubai | |
Frequently Asked Questions (FAQs)
What is the meaning of Al Baik?
The word 'Al Baik' is an Arabic poetic word that means 'Pick, Choose or Select'.
Is Al Baik available in the UAE?
Yes, the famous Saudi Arabian fast-food chain is expanding significantly with another branch in the UAE. Al Baik restaurant has become a massive hit in the UAE since it opened its first outlet in the Dubai Mall in 2021.
What is famous about Al Baik?
Though the Al Baik menu in Dubai has a lot to offer its customers, but the food item that is highly popular here involves the crispy, salty skin of chicken and fries with a unique garlic sauce. Apart from that, some other best-selling dishes at Al Baik restaurant in Dubai are Al Baik Shawarma, Double BAIK Burger, Chicken Nuggets Meal, etc.
Who is the owner of Al Baik?
The owner of the Al Baik restaurant was the late Shakour Abu Ghazalah. He was a Saudi entrepreneur who started selling fried chicken in 1974. He started this restaurant when he found a gap in the food market for some high-quality, pocket-friendly food served quickly in an inviting and clean environment.
How much is it for the Al Baik meal?
There are varieties of meals at Al Baik in Dubai. Some of the top meals involve Chicken Fillet Nuggets Meal 10 pcs priced at AED 17.00, ALBAIK Chicken Meal 4 pcs priced at AED 17.00, Jumbo Shrimp Meal priced at AED 34.00, Chicken Fillet Sandwich Meal priced at AED 13.00, etc.
Where did Al Baik restaurant originate?
The story of the world-famous fast-food restaurant Al Baik started in 1974 in the city of Jeddah, located in the kingdom of Saudi Arabia.