If you have planned to visit Dubai, then you must be familiar with notable Dubai rules and regulations. There are some clothing-related guidelines for Dubai travellers that must be carefully maintained. This will help you have an enjoyable and hassle-free Dubai tour without worrying about any sudden consequences because of your clothing. Tolerance levels across Dubai and other parts of the UAE (United Arab Emirates) vary a bit. Although dress codes are still on the liberal side for the former as compared to several other Middle Eastern regions. There are legal guidelines about clothing regardless of gender. However, people can mostly wear what they wish to. Arab nationals hailing from GCC nations usually wear apparel that is similar to the clothing worn in the UAE and Dubai. 
Dubai Rules and Regulations for Women's Apparel
Female Dubai travellers should note that normal clothing will be tolerated, and it should not be overtly outrageous or offend sentiments. Women generally do not have to cover their faces, heads, and hair with a scarf in public, whereas the same has to be maintained by Muslim women, particularly Arab locals and others for religious and cultural reasons. However, while visiting any mosque, all women should cover their bodies, hair, and legs although covering the face is not mandatory. Women should stay covered to the knees from the shoulder at least. T-shirts may be fine although spaghetti tops may not be tolerated in public zones. Tight or low-cut apparel may be taken as offensive along with strappy tees and tops. Do not have your skirt length over the knees since it may lead to risks of male attention, fines, and arrests. 
While visiting government officials, including the driving license, visa, and other offices along with hospitals, women should dress conservatively. In traditional zones like markets, souks, and villages, short skirts are not permissible for women at all. Long skirts are preferred below the knees while deeper necklines are not allowed for Western tees or tops. Women should keep these particulars in mind for a happier Dubai tour. 
Dubai Rules and Regulations for Men's Clothing
Male Dubai travellers can wear their shorts although it may be perceived as odd or awkward in some cases. Cycling shorts or boxer shorts may lead to warnings and fines. Sports clothing is only allowed at specific sports venues and combinations of shorts and t-shirts will not pose a problem. Swimsuits are tolerated at beaches. Men should wear long trousers while visiting mosques. T-shirts that have any offensive images, slogans, language, or gestures that may lead to any cultural or religious offense are not allowed. 
Dubai Rules and Regulations for Official Wear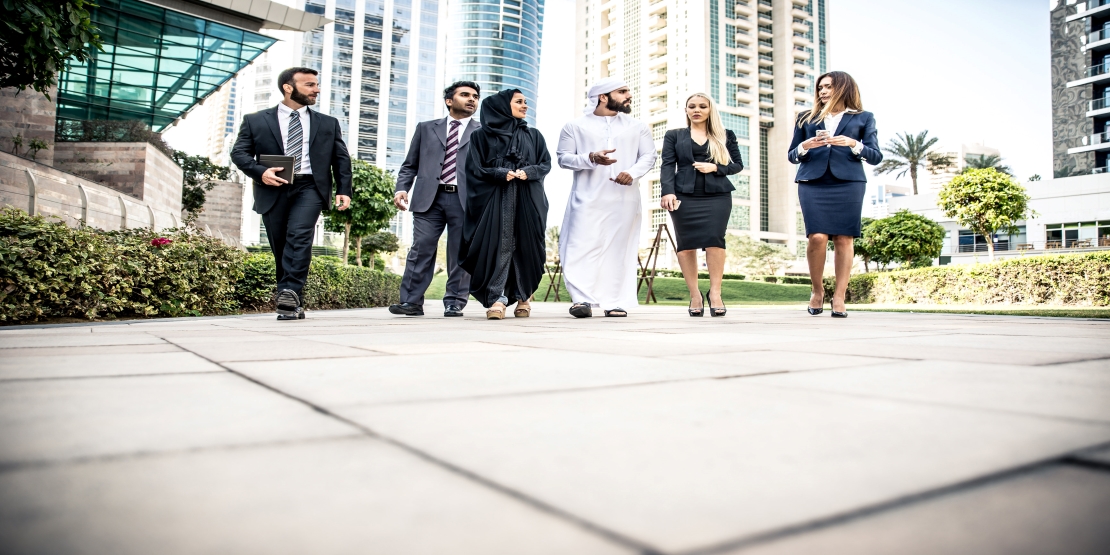 Dubai rules and regulations for official wear demarcate the guidelines for both women and men. 
Women
She may wear similar apparel while working in home countries although they should tone down anything that is a little extreme. Females should wear knee-length skirts, full-length trousers, or dresses with t-shirt sleeves that cover their upper arms. Check with your organization about the dress code and stay conservative when you first start working. 
Men
Men can go for smart casuals at work. They are expected to have long trousers. Shorts are permissible only during sports activities or individuals including coaches and trainers. A long or short-sleeved collared shirt is a standard item of clothing along with ties for many positions. Suits or jackets are rarely in demand. Check with the organization. Choose natural fabrics like linen, cotton, and wool, keeping Dubai's climate in mind. 
Remember that women may wear bathing suits or bikinis while at the beach or hotel pool. However, topless sunbathing and shorts are allow at pool or beach areas. Wearing jeans is allowed in Dubai and regular jeans may be worn anywhere. However, skinny jeans and ripped jeans may not always be fine, particularly in public places. The latter is not allowed at all. 
Essential Point To Remember While Travelling to Dubai
You can eventually pack any clothing which is modest, normal, and reasonable. First-time travellers should avoid bringing anything unusual that may land them in trouble. Stay away from miniskirts, revealing outfits, low-cut tops, or items with deep necklines. Shorts should be at least knee-length. Check with the hotel or villa carefully about their rules regarding bikinis. Pack kaftans to slip on over swimming clothes while venturing down to the hotel pool or the beach. Some hotels may not allow swimwear in public areas or in the lobby.
These rules also apply when you are visiting shopping malls in Dubai. This does not mean you have to cover yourself entirely but the conservative dressing is always recommendable. You can wear whatever you want at swimming pools, beaches, and water parks but remember that this will not be allow in any public areas, lobbies, and on the route towards the destination. Have a light dress with you at all times which you can wear while walking around here and there. Do not go for an overtly skimpy bikini. 
Most hospitality establishments will have cosmopolitan Dubai tourists and ex-pats along with some locals. However, while you can wear most clothing here, avoid anything that is revealing or skimpy. Super small and low-cut clothing is a strict no, even though you may wear skirts, shorts, vests, or dresses. When venturing into the city or the shopping malls, covering up is always endorse. Females should cover the chest and shoulders and wear something going at least till the knees. A t-shirt is okay. Not covering up is perceived as being disrespectful and you will get stared at. Religious sites necessitate loose clothing and being suitably covered up. You can consider a long skirt or loose trousers and a loose top which has sleeves. Take along a scarf for covering your head and draping over the shoulder. 
Dubai travellers going on a night out should wear their best outfits. Women may go for tight-fitting clothes although wearing a sleeveless top or short-sleeved top should be accompanied by a light jacket, scarf, or pashmina for covering the shoulders on the way. Dubai is mostly liberal and relaxed on apparel and dress codes. The population is diverse and cosmopolitan and you will find all sorts of outfits including sleeveless t-shirts to burqas as well.
Yet, remember that it is an Islamic country and you are a guest who should respect the cultural and legal norms in public places. If confronted or caught wearing any offensive dress, it is best to apologize publicly and fix the issue instead of arguing and compounding matters. Serious dress code violations may lead to imprisonment for a month and this may be followed by deportation as well. While the police do not always go around looking for dress code violations, they will act on complaints made by locals. Hence, keeping these guidelines in mind is a must before visiting Dubai.