Several tips will hold you in good stead if you are driving cars in Dubai at night. There can be uncertain situations where you can't take your own car and will have to hire a rental car in Dubai for night-time journeys. In such cases, you will have to follow the notary regulations that you should always follow. Reports state that vehicle-based accidents are more likely to take place at night in the UAE as compared to the daytime. Here is a rundown of essential regulations which will help in seamless and steer clear driving across Dubai. 
Inescapable Tips For Driving Cars in Dubai at Night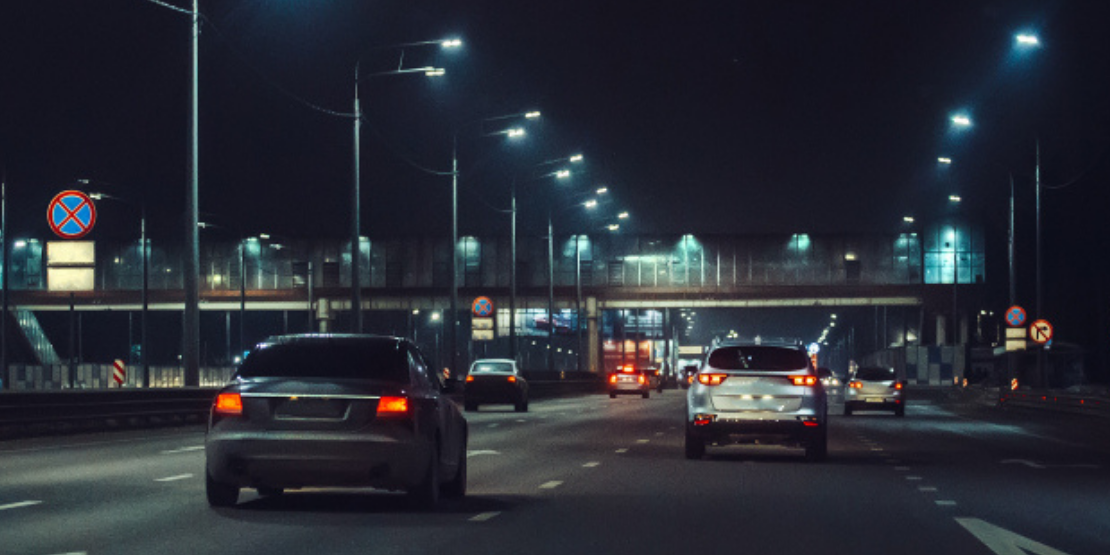 Maintain a Clean Windshield
You may be planning to buy new or used cars in Dubai anytime soon. Yet, the first thing you should endeavor is to maintain a clean windshield. Dirty windshields are a major issue at night, particularly with the absence of proper illumination.
Driving with a windscreen that is dirty will lead to disruptions in your line of sight. You may miss out on things while driving at night owing to an unclean windshield. Keep it cleaned at all times without an escape. 
Check Your Car Lights Carefully
Owners of new and used cars in Dubai should carefully check their headlamps and tail lights alike. Check the turn signals to ensure that they are functioning smoothly. These signals and night lights ensure that your vehicle is clearly visible to other drivers. Do not hesitate to switch on the lights well before dusk approaches as a precautionary measure. 
Do Not Directly Gaze at Headlights

 
While driving cars in Dubai at night, make sure that you do not stare straight into oncoming headlamps of vehicles. Do your best to look downwards or to another side while focusing on the white line. This will help you avoid getting temporarily blinded by the sharp headlight of another vehicle and lose your sense of balance and direction alike. 
Distance and Speed Aspects

 
Even if you are hurrying to your next destination at night, know that you should avoid following other vehicles closely. Make sure that you reduce your speed to lower the risks of any road mishaps. Use your headlamps for measuring the stopping time and distance from other vehicles. Contain speed likewise. 
Irrespective of whether you are driving your vehicle or a rental car in Dubai, avoid using your phone while driving. It can be highly dangerous and lead to road accidents. Taking your gaze off the roads will be dangerous and there are hefty fines payable for calling or texting while driving.
Put your phone in silent mode or simply turn it off to keep any distractions away while enhancing your overall focus and concentration. 
Driving on empty roads during the night may lead to speeding by other vehicles. Stay on the side of these cars, allowing other vehicles to easily go ahead at higher speeds. This will combat the risks of collisions with speeding cars following you from behind.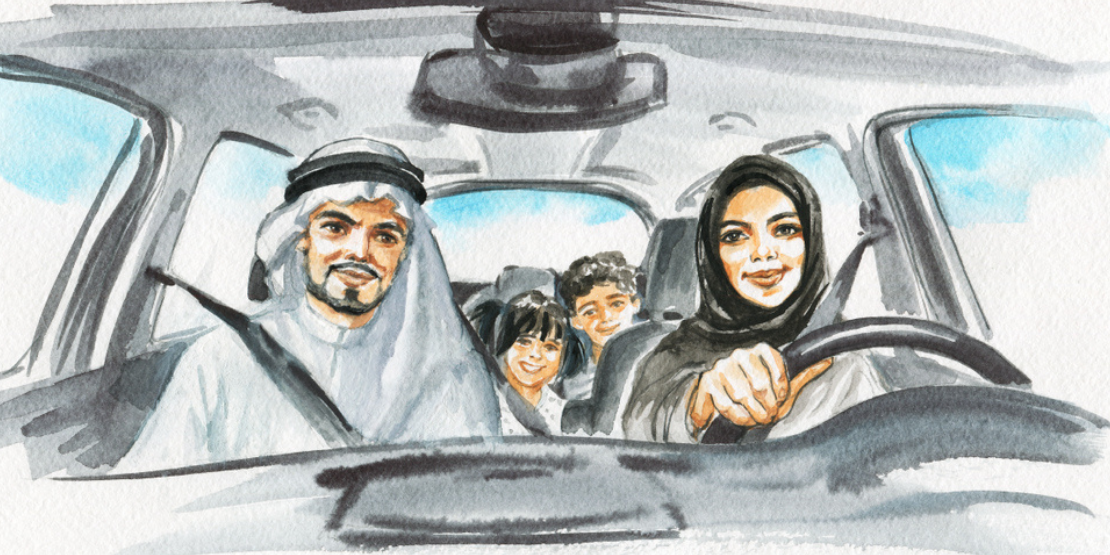 Know the Distance Accurately

 
Night driving often leads to an inability to suitably judge and measure distance. This may lead to tailgating. This is an offense in the UAE and you should always maintain a safe distance from other cars at night. This will also help you stay in control of situations like sudden braking, lane changes, animal crossing, and the like. 
Remain Fully Awake and Alert
Make sure that you do not fall asleep at the wheel by all means! You should be well-rested and fresh to drive the vehicle at this time. Let someone else drive if you feel sleepy. If you are driving alone, park the car away from the main highway and get a little rest. 
Do not overtly dazzle other motorists. Drive with your high beam turned on although if someone is coming at you, dim your light to avoid any mishap. If someone dazzles your car, do not directly view the headlamp. 
If you are a regular driver, especially at night, make sure that you get your eyes periodically checked. If you have a vision issue, get it fixed instantly. Use glasses/corrective lenses if needed. Those with problems like night blindness should avoid driving at night or remain extra alert. 
Driving Cars in Dubai Amidst Fog – Safety Tips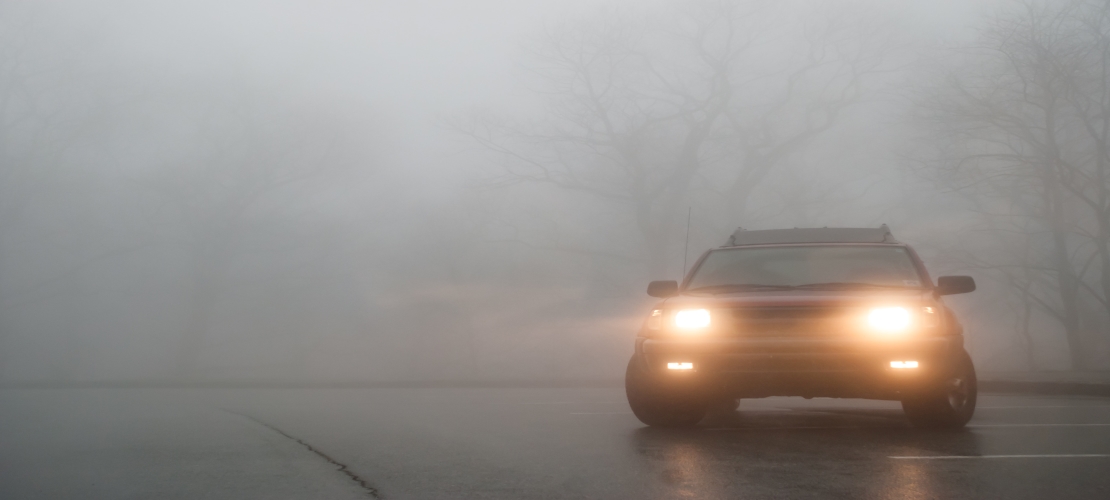 There are several vital safety tips that you should note while driving your vehicle or rental car in Dubai amidst the fog. Here's taking a look at some of them: 
Even if your car does not have a fog light in front, you will still have a rear fog light as per law. Turn these lights on until you clear a foggy area.


Turn off these lights immediately once you are out of the foggy zone since they will only confuse and dazzle other commuters. 

The switch is mostly positioned upon the headlight knob or the indicator stalk. Check the manual and find the switch for the fog light accordingly.

Avoid driving amidst thick fog and only venture out if it is absolutely urgent or necessary. Check out traffic and weather updates on the ratio.

Halting at a service station is also a good move if you encounter a lot of fog on the way. Pull into a service station, have a hot beverage, and let people at your destination know that you will be late.

Reduce your speed as much as possible. Driving at more than 120 kmph amidst fog will be completely dangerous. Lower your speed to a maximum of 50 kmph and remain within the inside lane. Come down to 40 kmph if there is a lot of fog to deal with.

If you are driving amidst fog, you should turn the headlights on immediately. Keep them normal or dipped. Driving with the main headlight beam turned on will be dangerous for oncoming cars. If the vehicle comes with automatic headlights, ensure that they remain on.

Do not keep your hazard lights on while driving in fog. It may only confuse other people and cause a mishap. These lights are made to signal to other commuters that your car is stationary. Someone spotting these lights may suddenly brake, thinking that you have already stopped, particularly when visibility levels are on the lower side.

Keep the heater on throughout. Fog will be accompanied by cold weather and this means that the car interiors will witness condensation build-up. This will impact visibility more. Hence, turn on the heater and keep your windows absolutely clear.

Listen carefully at times. Open the window and turn off the radio. Listen to the outside environment. Pick up sounds of vehicles that you may be unable to see or anyone warning you to immediately stop. Drive at a slower speed to keep wind noise at bay.

Maintain distance carefully while driving. Do not drive close to the vehicle in front of you. If that vehicle suddenly stops, then it may lead to a major mishap. Stay well clear of the vehicle in front.

Avoid sudden lane changes. Refrain from these lane changes unless it is a must. Stay within the right or inside lane and do not keep hurrying. Continual lane changes may lead to dangerous consequences and accidents, particularly amidst a thick layer of fog. Stay within the lane that you have chosen. 
These are some tips that will help you drive safely at night in Dubai and other parts of the UAE. 
More Useful Article for you :