When it comes to using cars in Dubai, residents should know all about Free Car Parking in Dubai and other modalities related to the same. There are several parking regulations and systems for cars in Dubai and UAE is no exception.
In several major cities, parking has always been an issue mostly because of limited parking spaces (especially in business and office hubs), traffic congestion and high parking costs. This usually poses major problems for residents.
But unlike other major metropolises worldwide, Dubai possesses numerous parking facilities open for all tourists and residents to avail. So, if you are new in the city or want to know about Free Car Parking in Dubai, here's the perfect guide for you.
Shopping/Retail Centers and Malls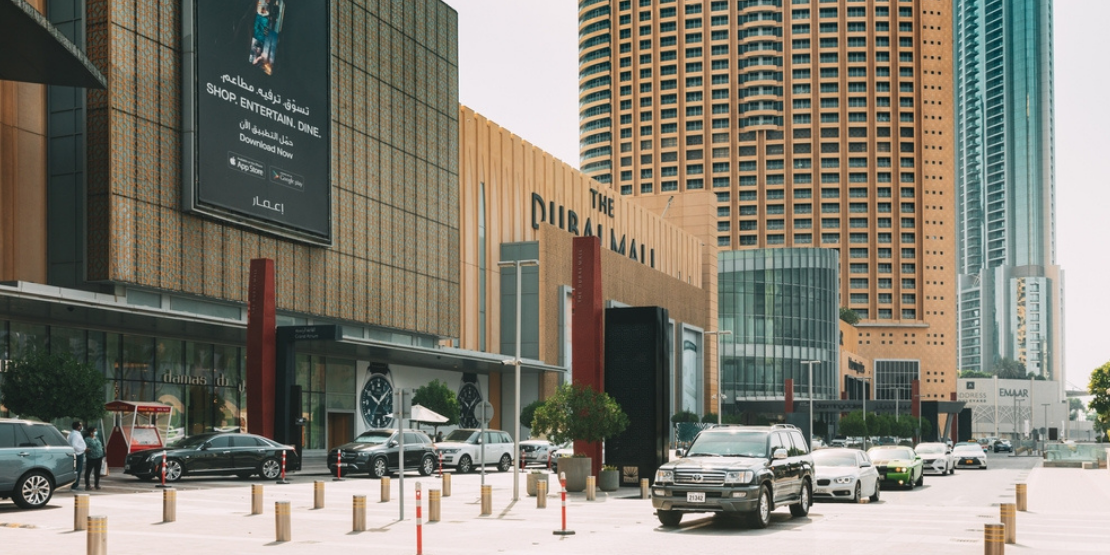 Shopping is a major attraction in the UAE, of which Dubai is the key hub. With multiple malls and retail centers, including the famous Dubai Mall, the largest shopping mall in the whole world, the city proves to be a shopping paradise. 
And, what makes these malls more attractive, making way for more footfalls, is the availability of ample parking. Free parking is offered by most leading shopping malls in Dubai for at least the initial 3-4 hours. 
For instance, parking remains free on weekends at the hugely popular Mall of the Emirates and up to 4 hours for weekdays. The first extra hour after this is chargeable at 20 AED. 
The Dubai Mall offers Free Car Parking to all its visitors for the entire day and contains 14,000 parking slots for cars in Dubai. 
Free Car Parking in Dubai – Public Parks and Leisure Hubs
Free Car Parking in Dubai at several acclaimed leisure hubs and entertainment destinations. These include the Dubai Parks & Resorts, Global Village, City Walk, IMG World, Downtown Dubai, Al Seef, Dubai Frame, and others.
Most restaurants and hotels in Dubai either have free parking facilities for visitors and guests or even stamped valet parking cards useful for people who wish to avoid the trouble of finding nearby parking areas.
Nature lovers visiting popular destinations like Zabeel Park, Safa Park, and Burj Park do not have to pay any charges for parking their cars. However, a nominal charge is applicable for the weekends.
Smaller parks in neighborhoods usually offer free parking services for the entire week.
Commercial Zones and Metro Stations in Dubai
Several Dubai businesses located in major areas of the city witness heavy traffic daily. Most commercial zones have parking areas that charge a standard rate of AED 4 each hour. Yet, you will find several empty zones which come with Free Car Parking facilities in these areas.
This facility is also available at the Dubai World Trade Centre, which greets thousands of visitors annually for its shows, exhibitions, and trade fairs. Dubai Design District is one of the few areas in the Emirate with free parking for all visitors and tenants alike.
Several Dubai metro stations like Nakheel Harbour, Rashidiya Station, Etisalat Station (Green Line), and Tower Station even have Park and Ride options for commuters. This enables both locals and tourists to get around the city without worrying about parking spots or fees.
General Guidelines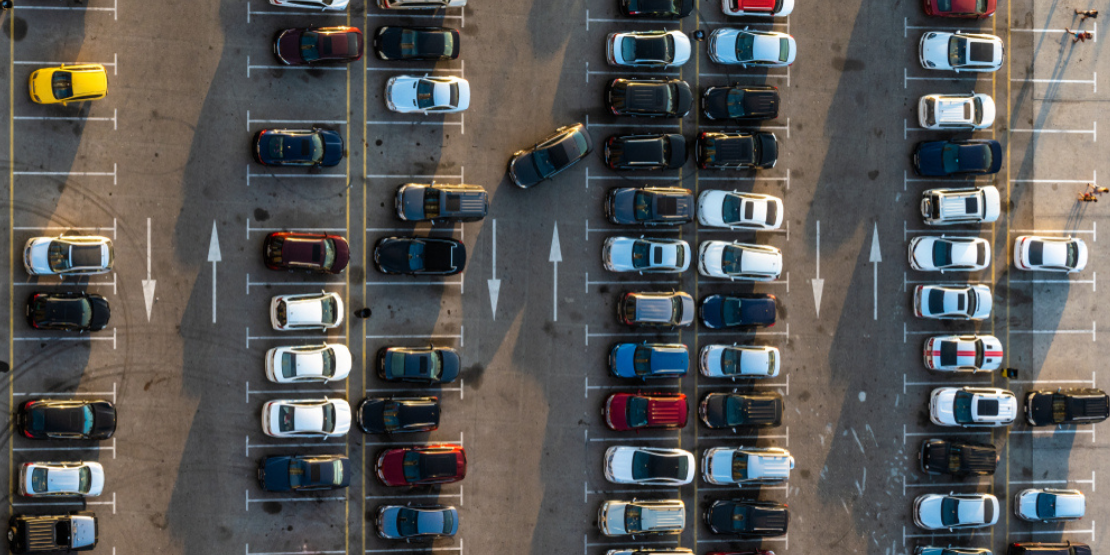 All Dubai residents should remember that there are metered parking zones that are supervised by the RTA (Roads and Transport Authority) in Dubai. These offer 24-hour Free Car Parking in Dubai, every Friday and on public holidays.
Smart parking systems across the city also help visitors find available parking lots. These systems offer real-time parking availability notifications enabling visitors to save more money and time in the process.
Paid Public Facilities in Dubai
When a parking area in any public space in Dubai becomes paid, they are demarcated from other areas with bright orange boards. The arrows show the direction to the nearest metered parking facility. Numbers appearing below this help in location identification.
Notes are not accepted in the parking slot machines. To make payments, you can directly deposit 1 AED coin into the machine. When driving to any place in Dubai, you should keep coins handy if you wish to pay with this method. Put the correct coin amount to retrieve your receipt and keep it on your car dashboard so that it is visible from the outside.
You may even use the NOL Card accepted across all public transportation in Dubai, including parking meters. Like the NOL cards, prepaid cards are also available at almost all grocery outlets and supermarkets which can be used for payments at parking machines.
The parking card is a good choice for people who park their vehicles in paid parking zones regularly. The cards may be bought for a tenure of 3-6 months or even up to a year, enabling indefinite parking in paid parking zones. However, ensure that the card matches the listed parking zone.
Parking in any wrong area will lead to fines and penalties. MParking enables parking payments via smartphones. This is only feasible for those who have sim cards (Etisalat or Du) from the UAE. Send an SMS with your number plate (space) area code-number of hours to 7275 to make your payments.  
You will receive automatic reminders via SMS once your time has been completed. Renew the parking tickets by paying 30 fils (per SMS) as the additional charge for the facility.
You may also use the Government smart app to make payments for parking. It will send you reminders whenever the parking has to be renewed. This is the most convenient method of paying for parking. You can find this app on both Google Play Store and App Store.
Paid Private Parking Details
You will occasionally come across parking that is paid and private. This denotes an independently operating parking facility, and it will usually charge anywhere between 5-10 AED. This may occasionally stand at 20 AED for every hour.
Fines for Parking in Dubai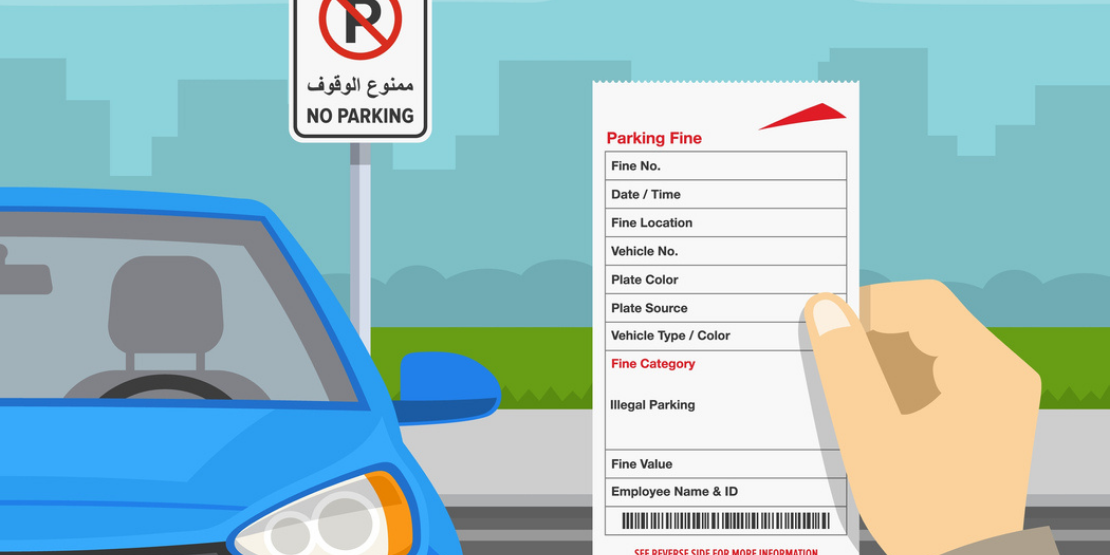 The fines are given as follows:
100 AED: exceeding maximum time limit.

100 AED: parking in a paid parking zone beyond the payment limit.

200 AED: illegal parking or double parking.

150 AED: parking without payment in a paid parking zone.

500 AED: showing

vehicle for sale

in any banned zone.

500 AED: using parking areas allotted for those with special needs, without permission.
Guide to Parking Zones in Dubai
There are different paid parking zones available across the city. Check the areas covered in each category, timings, and tariffs given below.
Covers roadside parking throughout commercial localities, and drivers with seasonal parking cards may keep using them until expiry.
The fees are Dh4 for every hour and Dh8 for two hours, along with Dh12 and Dh16 for three and four hours, respectively.
You can get half-hour parking for Dh2 as well. The timings are between 8 AM-10 PM without any breaks.
This covers several parking lots in commercial areas. Timings are 8 AM-10 PM. Tariffs include:
Dh3: every hour

Dh6: 2 hours

Dh8: 3 hours

Dh12: 4 hours

Dh15: 5 hours

Dh20: 24 hours

Non-Commercial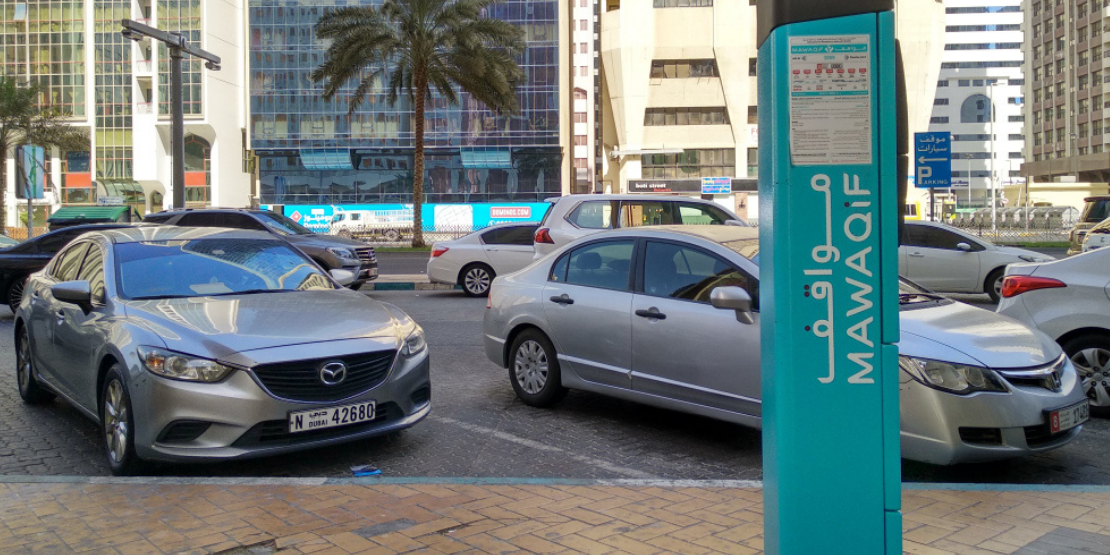 This covers roadside parking in non-commercial areas. Timings are the same between 8 AM and 10 PM. Tariffs are:
DH2: every hour

DH5: 2 hours

DH8: 3 hours

DH11: 4 hours
This zone has parking lots in several designated non-commercial zones. Timings are same as zone C. Tariffs include: The fares are
DH2: each hour

DH5: 2 hours

DH8: 3 hours

DH11: 4 hours

Special Zones
Previously, this was the parking code for the Deira Fish Market. However, it is now the parking code for Waterfront Market. Public parking is chargeable,  and for Free Car Parking in Dubai you go to underground parking.
This is the code for TECOM zones. Timings are 8 AM-6 PM without any breaks. Tariffs are:
DH2: 1 hour

DH5: 2 hours

DH8: 3 hours

DH11: 4 hours
This covers Downtown Dubai. It's a parking zone where you have to pay and is not get impact by changes in tariffs. The timings are 8 AM-10 PM without any breaks.
Category 1: It has several areas like Al Buteen, Al Baraha, and Abu Hail in Deira, along with the Deira Fish Market.
It also has areas like Al Souq Al Kabeer, Al Raff, Oud Metha, and others in Bur Dubai, along with the sector between Interchange One on the Shaikh Zayed Road and the Dubai World Trade Centre.
The category also covers JBR Walk, 308th Street, Jumeirah Beach Residence, and Al Saada Street.
Category 2: This includes all other areas in Dubai.
Tariffs have also gone up to Dh5 for every hour as compared to Dh3 for each hour earlier throughout the multi-story parking lots of the RTA in Dubai.
More Useful Articles for you : 
Wrapping Up
An extremely organized metropolis, in Dubai, you will never find yourself frantically searching for parking spaces. Both manual and smart parking facilities ensure that you get a space to park your cars in Dubai at any time in any place in the city.  
However, the different categories of parking areas and rates can be a bit confusing. Keep this guide handy to steer clear on the Free Car Parking in Dubai and different parking criteria across the city and never incur a fine.