There is no end to beauty and adventure in the UAE.  The region is home to numerous nature and adventure venues that draw visitors from different parts of the world. Talking about natural attractions in the UAE, Al Jubail Island Abu Dhabi is a new recreational destination that, with its incredible natural beauty and ample outdoor activities, appeals to people of all age groups.
Let's take a ride to Al Jubail Island Abu Dhabi and learn what all experiences this mangrove sanctuary has in store for you!
Al Jubail Island Abu Dhabi – A Mangrove Paradise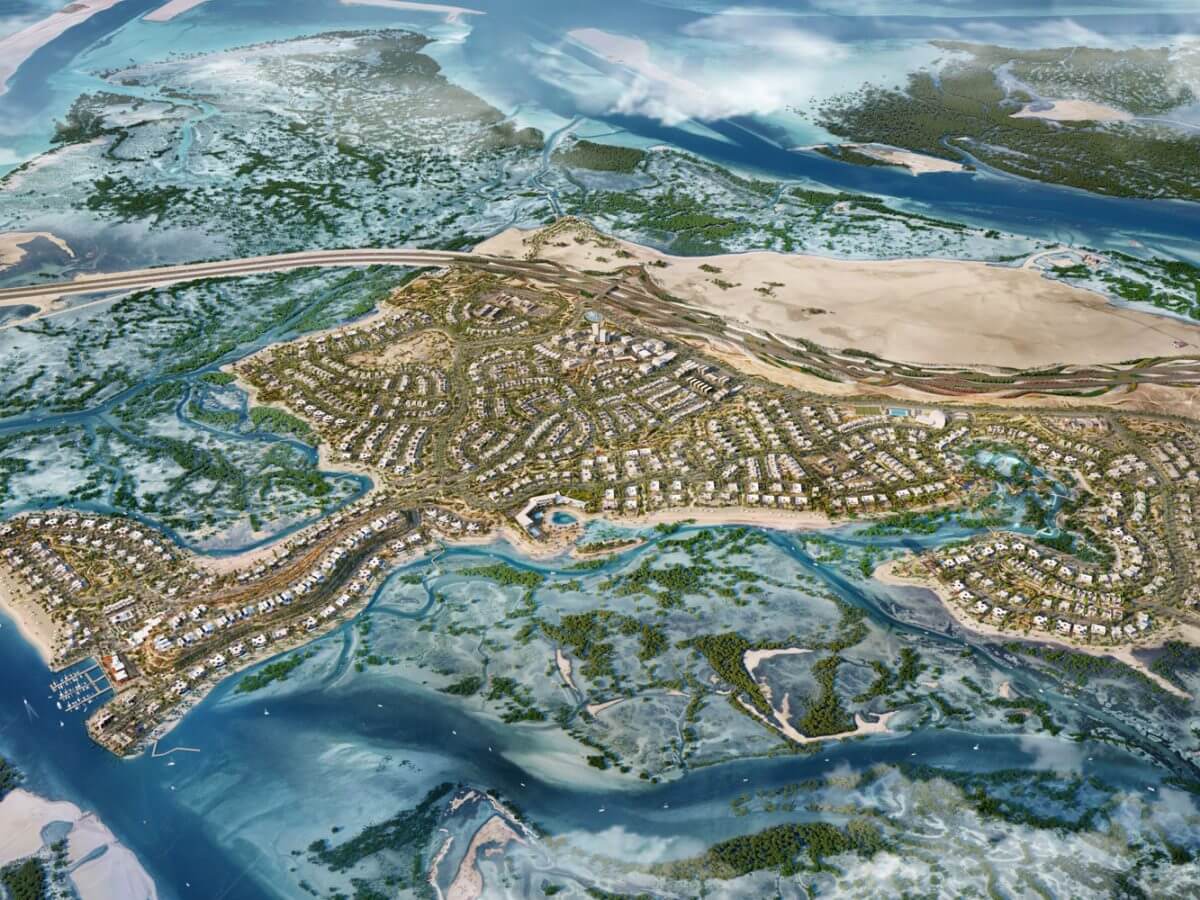 Al Jubail Island Mangrove Park is a wonderful nature, leisure and educational hub developed by the JIIC or Jubail Island Investment Company in Abu Dhabi. This waterfront development lies just a few minutes away from the bustling city centre and is scattered across 4,000 hectares of mangrove forests and coastal estuaries. Other than being a haven of nature and thrill, the island is also an ideal spot for home hunters in the Emirate.
Comprising AL Jubail Island Mangrove Park and Mangrove Walk, the island ensures that you have a day filled with endless thrills. Apart from serving you with an array of convenient facilities and amenities, Jubail Island also offers proximity to prominent cultural, business and entertainment destinations in the capital city. 
Al Jubail Island is also home to six distinct villages comprising residential areas that are beautifully tucked across natural landscapes and marine waterways. These places present a peaceful and relaxing environment away from the hustle and bustle of city life.
The development of Al Jubail Island isn't finished yet. The JIIC (Jubail Island Investment Company) has announced that 100 more villas would be constructed on the island.
If you're wondering what you can see and explore on Al Jubail Island Abu Dhabi, find out in the article below!  
Where is Jubail Island located?
Beautifully tucked between Saadiyat Island and Yas Island, Jubail Island enjoys a calm and composed location in the Emirate. Placed close to these most amazing islands of Abu Dhabi, the island offers easy access to the best entertainer hotspots of the city.
A Quick Look at Village Communities in Al Jubail Island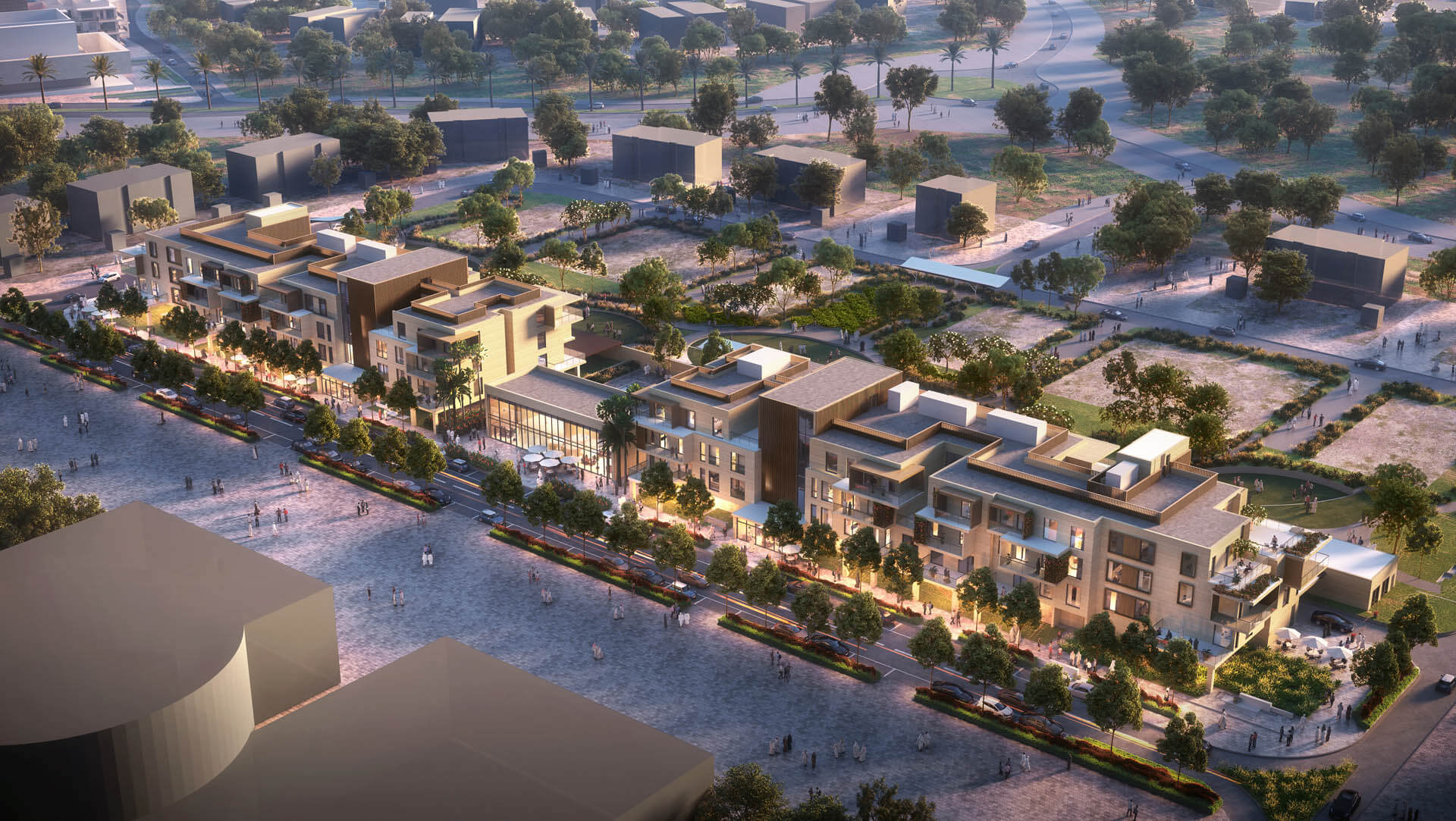 There are six village communities on Al Jubail Island Abu Dhabi. Each village comprises beautifully structured villas, townhouses and apartments. All these properties are known to offer maximum comfort and privacy. Learn about them below:
NAD Al Dhabi is a park-like community on Jubail Island. There are many residential enclaves within the community scattered along the coastline and presenting magnificent 360-degree views of the nature reserves in the surroundings.
Marfaa Al Jubail lies outside the city and ensures upscale living for one and all. It comprises awe-inspiring villas, a clubhouse, a marina, apartments, eateries and stores. The marine is renowned for cruise liners, boats and yachts.
Souk Al Juail is the town centre of the island surrounded by glistening waters of the Arabian Gulf. Connecting the other communities, it is home to gorgeous parks, boutiques, spacious plazas, residential clusters and shops.
Home to a beach, beach club and community parks, Seef Al Jubail is just a perfect option for families. It lies close to several high-end housing options on the island. While some villas are situated along the coastline, others lie in connecting clusters.
Bed'a Al Jubail is tucked in the lap of a pristine coastline and is a hub of countless spas, wellness centres and hotels on the island.
Ain Al Maha is a peaceful and calm residential area comprising a rich coastal landscape. The landscape is connected by the boardwalk through a lush mangrove forest.
Properties for Sale on Al Jubail Island
Al Jubail Island is the most desirable location in Abu Dhabi since it lies in proximity to natural mangroves. The island is home to properties for sale ranging from AED 5.6M to AED 9M. The residential projects on the island will soon be complete and will come up with several perks. Here is the list of perks:
Since the island features 30 km of coastline there will certainly be a beach in the vicinity.

A selection of restaurants and cafes upon completion.

There is] a lively retail district of Souk Al Jubail for shopping.

Nad Al Dhabi and Ain Al Maha communities comprise private schools, making this place ideal for families with kids.
A 360-Degree View of the Current Construction on the Island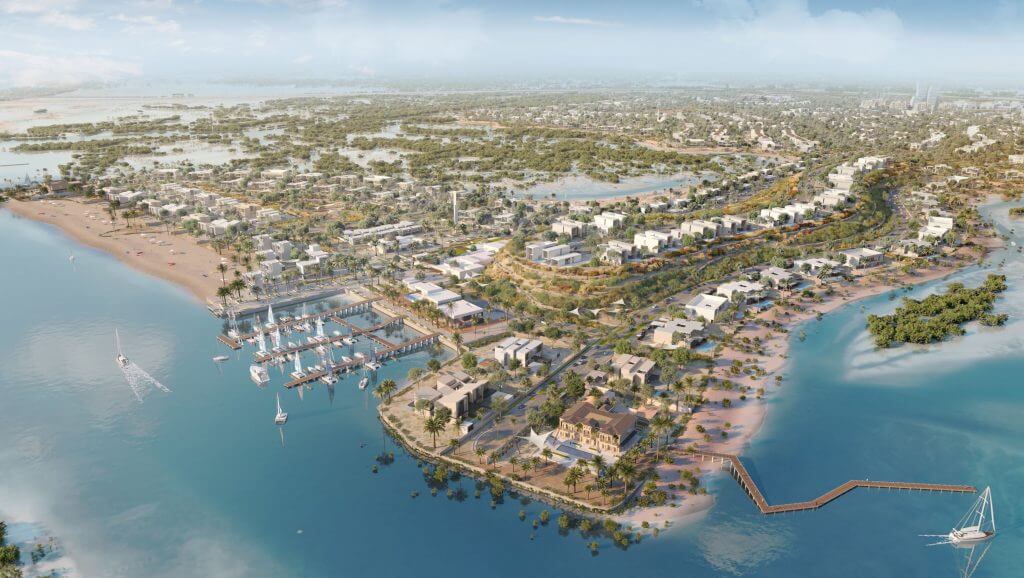 Jubail Island's newest attraction "The Jubail 350 Deck" is 9 metres tall and is located on the Marfa Al Jubail hill. It offers an amazing 360-degree view of the island and is just the perfect place to look at the construction progress of the mega project.
Things To Do on Al Jubail Island Abu Dhabi
Al Jubail Island Abu Dhabi has so much to offer. One can spend an ideal day here exploring natural reserves, public parks, walking tracks and wonderful kayaking opportunities.
Jubail Island Mangrove Park is called the first self-contained natural, leisure and educational destination in the capital city. It is a popular attraction on the island and an ideal retreat for local marine and avian species.
Learn below about the things to do on Jubail Island:
Discover Jubail Island Mangrove Walkway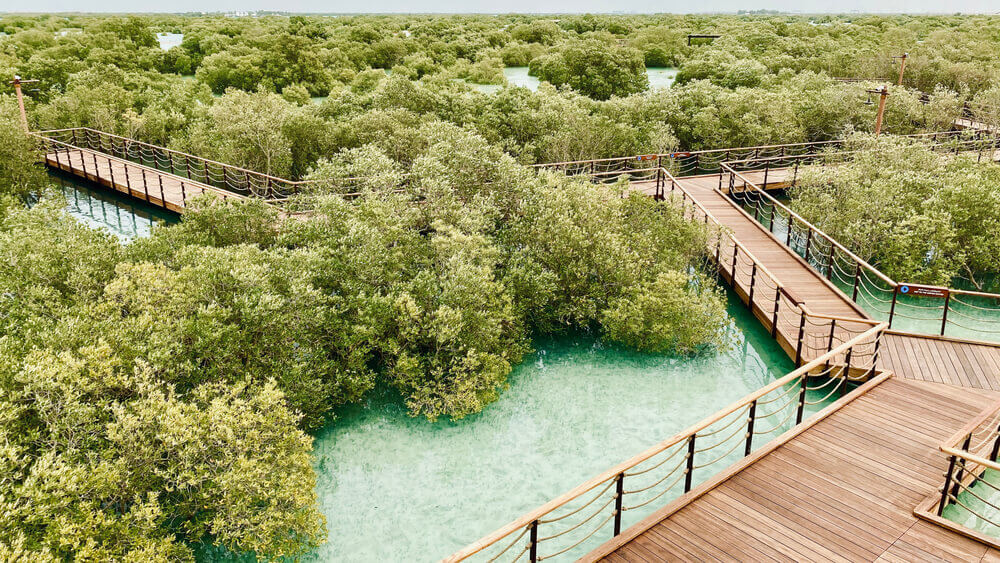 The Mangrove Walk or the Qurum Walkway is a remarkable feature of the park covering more than a million square feet. Tucked along the natural mangroves, it is an ideal spot for visitors to witness the natural habitats and animal species more closely. You will explore a range of exotic birds while walking through the park.
Other than the walkway, the park amazes a visitor with viewing terraces, kayaking tours and a kids' play area. You can make the bookings through the official website of the park or over a call.
   

Jubail Island Park's entry timings :

08:00am – 06:00am (the closing time is 07:30pm)

   Ramadan timings : 10:00am – 08:00pm (the closing time is 09:00pm)
   

Contact :

+971-56-303-2423

   

Email : [email protected]

   

Best time to visit :

During high tide

Relax and refresh at the beach club
Be it a brisk morning jog, a quick dip in the sea or a fun time making sandcastles, the beaches on the island are ideal to spend a refreshing day with family. . In addition, there is a beach club on the island that keeps visitors as well as residents entertained.
Enjoy kayaking on the island
The mangroves at Jubail Island Mangrove Park are home to a wonderful range of plant and animal species. You can indulge in thrilling kayaking tours at the park to witness these species more closely.
Have a relaxing stay at Pura Eco Retreat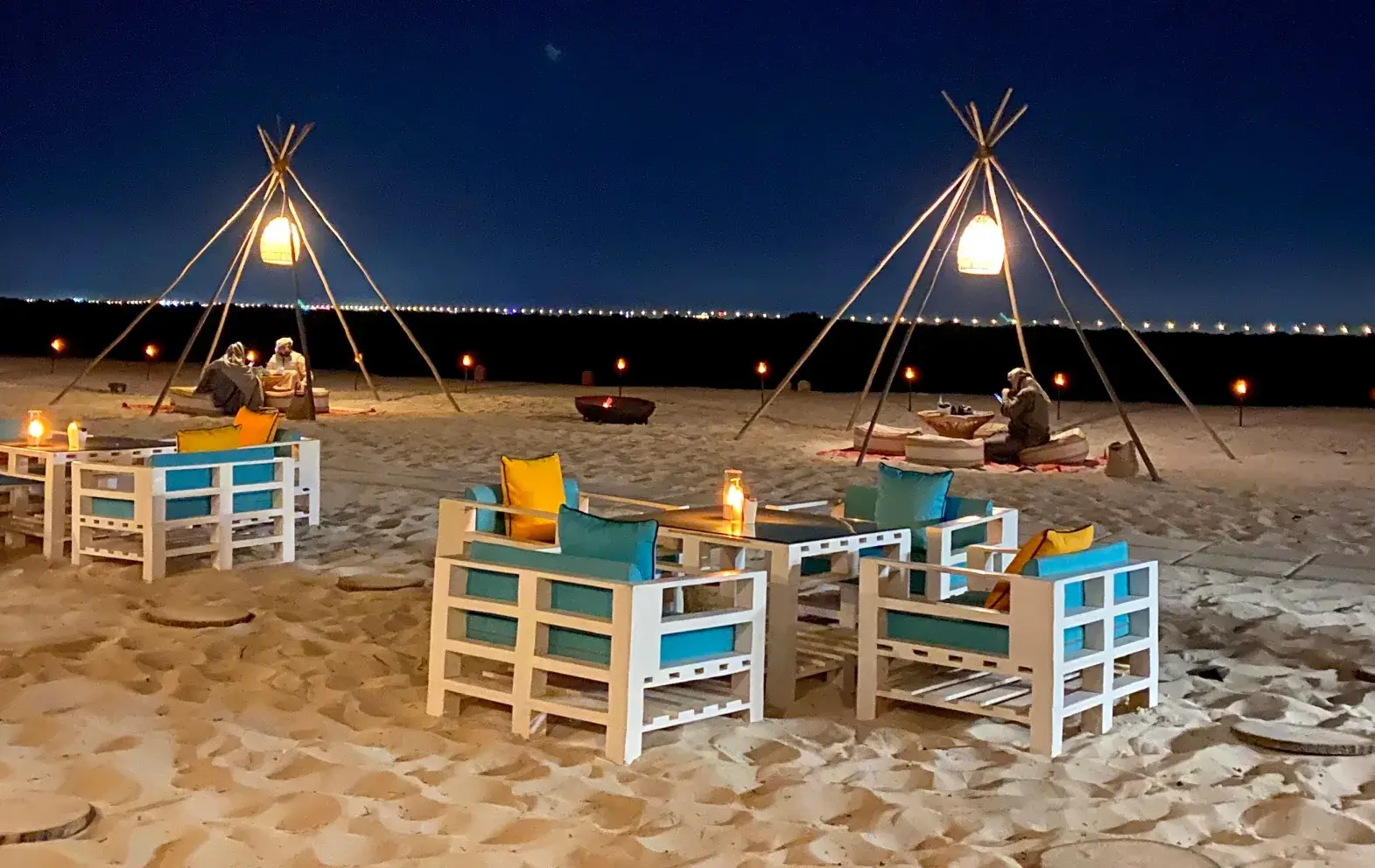 Al Jubail Island Abu Dhabi also makes for an ideal staycation spot. The Pura Eco Retreat at the park is a perfect spot for eco-friendly glamping. It is home to minimalist chic domes that offer a rejuvenating experience. The domes comprise beautiful alfresco dining restaurants and offer a wonderful dining experience under the stars. Indulge in wellness programs and discover the 4,000 hectares of natural mangroves. You can also revel in activities like kayaking and biking at this grand retreat.
You can choose to stay overnight or enjoy a staycation here. The luxury white glamping domes offer you a unique experience with a little environmental footprint. You can also choose to stay at the Native Tents to experience adventure.
   

Timings :

08:00am – 12:00am (Thursday and Friday – 08:00am – 01:00am)

   

Contact :

+971-50-383-7878

Explore the attractions of Yas Island in proximity
While Jubail Island delights with beaches, mangroves and kayaking, it also enjoys proximity to Yas Island, a renowned destination in the capital city. The island comprises the best amusement parks in the UAE such as Ferrari World, Warner Bros World and Yas Waterworld and offers endless thrilling experiences to visitors.
Bottom line
We hope you must have had a fair knowledge of what Al Jubail Island Abu Dhabi is all about by now. This place is just ideal for nature lovers and adventure seekers and offers a peaceful lifestyle. If you're planning a visit to the island, get prepared to revel in countless lifetime experiences in the Emirate.
More Useful Article for you :
Frequently Asked Questions (FAQs)
Who owns Jubail Island?
Al Jubail Island is owned by JIIC or Jubail Island Investment Company in Abu Dhabi.
How do we get to Jubail Island?
Jubail Island is easily accessible from Dubai or Yas island or the other direction for Saadiyat Island or downtown Abu Dhabi. You can look for Jubail Island on your GPS and when you arrive at the island, you can follow signs for Jubail Mangrove Park.
Where is Al Jubail Island?
Al Jubail Island is located in Abu Dhabi and is tucked between Yas Island and Saadiyat Island.
Is Mangrove National Park free?
Yes, the Mangrove National park is free to visit. You can take a walk through the mangroves, enjoy wildlife spotting and discover the natural landscape for free.
Is Jubail Island complete?
Jubail Island is not completely developed. While the Mangrove Walk is open to the public, several other facilities are yet to be completed.
When will the development of Jubail Island be complete?
The project will be completed by the end of 2022. The land plots will be handed over in June 2022 and the villas' hand-over has been announced to commence from October 2023.
Who is the developer of Jubail Island?
Jubail Island is a project developed by the Jubail Island Investment Company.
How to book tickets to Mangrove Park Jubail Island?
You can book tickets to Mangrove Park Jubail Island through the official website of the park.
Can I have a picnic in Mangrove Park?
No. Mangrove Park is an ecological site with a strict no-food policy to protect the natural ecosystem of the area.
Can we bring kids to the Mangrove Park on Jubail Island?
Children of all ages are allowed in the park. However, an adult has to supervise the kids below the age of 12.