Apparently, 7 days in Dubai may not seem enough to explore such a diverse and rich city. But, believe us, it can be done with proper planning. However, don't go for a Dubai trip for less than a week.  
Exhibiting the distinctive fusion of infrastructure and advanced technology, Dubai is best known for its dazzling attractions, epitomising the best examples of architecture and engineering.
Besides this ultra-modern framework, Dubai still preserves the core of its culture, which makes it more fascinating to visitors. Thus, any visitor would require at least one week in Dubai to explore the crux of the Emirate.
So, without any further ado, let's scroll down to check what all you can include in your Dubai itinerary for the 7days trip so that you enjoy your one week in Dubai through and through.
Dubai Itinerary – 7 Days in Dubai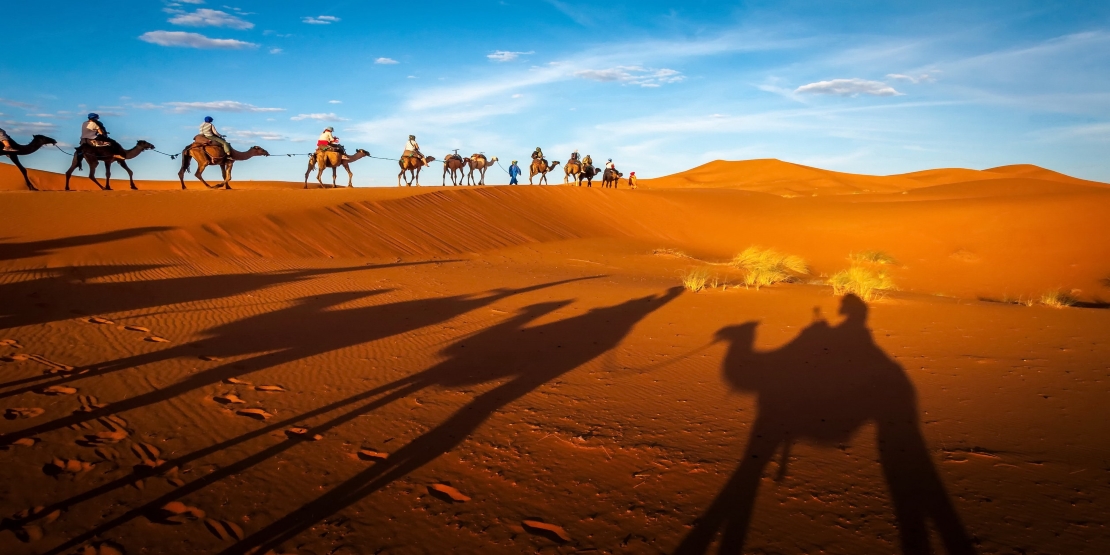 With just 7 days in Dubai, you have to be very careful and organised with your time management. It's worth it if you prefer advanced bookings, be it for your stay or adventure.
We have drafted a well-balanced itinerary for your 7 days in Dubai, following which you can explore all the major attractions, from shopping to safari!
DAY 1: Leisure at the Beach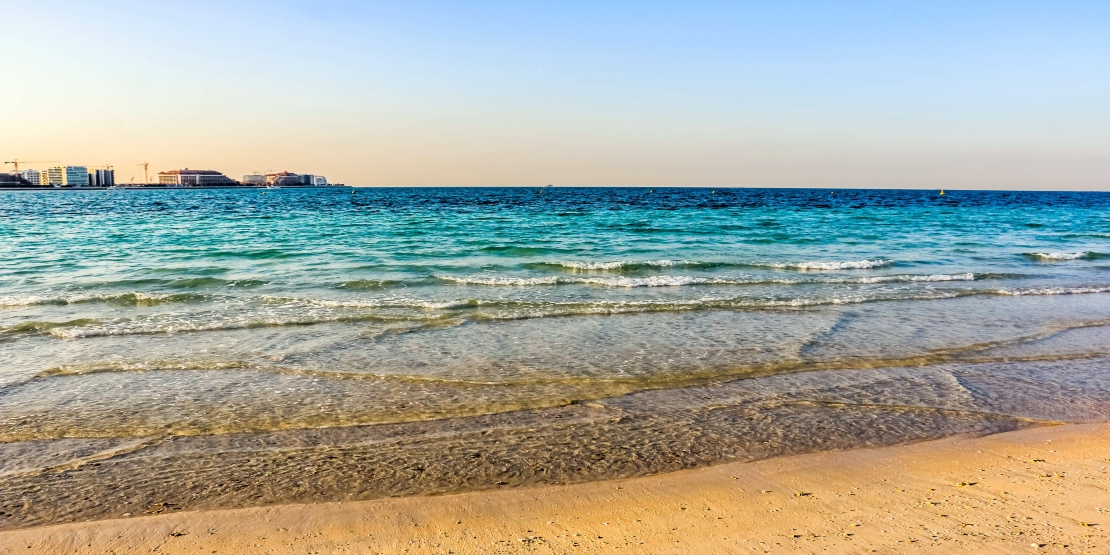 Do not rush to do sightseeing on your very first day in Dubai. Go slow, relax and unwind yourself on the beachfront at Dubai Marina, JBR. Familiarise yourself with Dubai, go for a walk on the beach, catch those sun rays, enjoy the waves, and shake off the jet lag.
You can also visit Bluewater's Island as it is perfect for those who choose leisure, shopping, or dining while admiring the skyline of Dubai. This man-made Bluewater's Island is a great addition to the Emirate. 
It has a natural beach with licensed hotels, shops, and beach clubs while boasting the world's tallest Ferris Wheel, Ain Dubai, which offers a picture-perfect experience to all visitors. Also, you can enjoy some exciting water sports like fly fishing, flyboarding, parasailing, and speed boating.
Lar Mer is another ultra-modern beachfront with a palm-tree-lined walkway and a stretch of restaurants, retail, and play opportunities, along with a mini water park. It also looks vibrant at night and has become a new addition to the itinerary lists of bachelors and families, where they can relish Dubai's modern vibes.
DAY 2: Architecture of the Yesteryears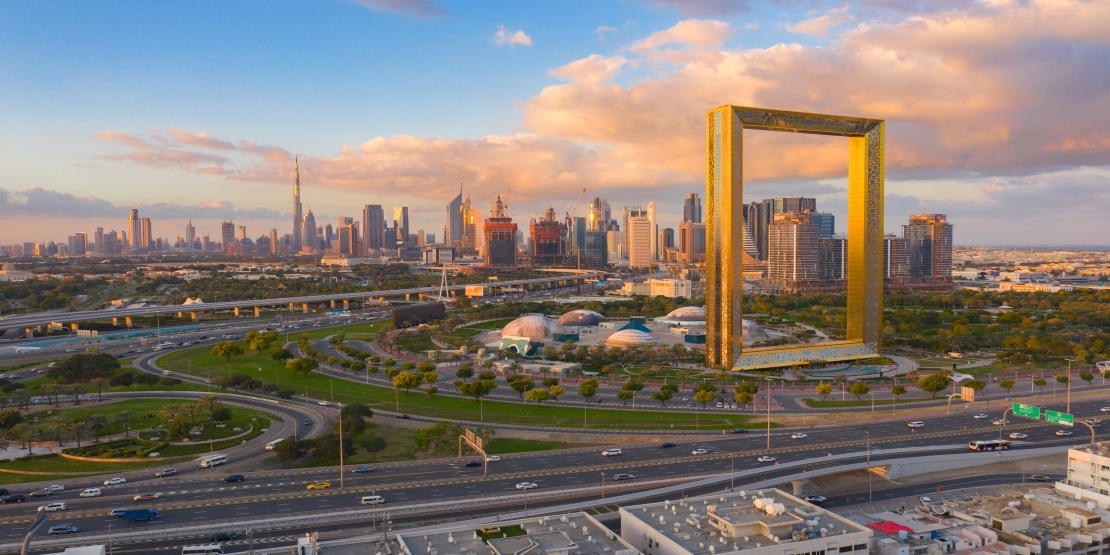 After relaxing and relishing at the beachfront, it's time to start exploring the city of gold.
The Dubai Frame:
Start your journey by visiting the giant Dubai Frame. This is one of the first tourist attractions you will see while coming from the airport to the city. It holds the record for the largest and tallest frame in the world at 150m in height. And there is a glass skywalk deck with a 93m stretch that connects Dubai Frame from both sides. It is an architectural landmark located in Dubai's Zabeel Park.
You can go inside the Dubai Frame and up to the bridge to enjoy a bird's-eye view of Dubai's popular and spectacular skyline. The frame offers a fabulous view of Old Dubai, Dubai Creek, Sharjah, and Downtown. This unique glass bridge is also known as Berwaz Dubai and offers a glimpse of Dubai's past, present, and future.
Wander Al Fahidi:
Al Fahidi is an amazing historical neighbourhood situated in the oldest part of Dubai City. It is a maze-like structure (labyrinth) on a narrow laneway built back in the 19th century. 
The area is still the same with sand-coloured low rise buildings and is protected by the government to ensure that Dubai's heritage is not lost amidst its sprawling skyscrapers. Take in the old-world atmosphere while sipping tea at the Arabian Tea House or XVA Cafe at Al Fahidi.
Most traditional buildings are now turned into Dubai museums, galleries, and cafes to retain the pre-oil era charm for visitors.
Lunch at Al Seef Waterfront:
After having thousands of selfies at both the attractions, it's time to head to Al Seef, one of the best restaurants in this waterfront development located in front of the Al Fahidi Marine Transport Station. Al Seef is a traditional souk where you both have your fill and shop around.
Cross Dubai Creek on Abra:
While there are several advanced methods to cross the city, if you want to experience the authenticity of old Dubai, you must try the traditional Abra at Dubai Creek.
Explore the Legendary Deira Souks:
The two most popular open-air Deira souk lanes to shop around in Dubai are the Gold Souk and the Spice Souk. The region also has two museums that you can visit, and the Al Ghurair centre offers an indoor, air-conditioned shopping option. In this mall, you can enjoy buying cheaper clothes and electronics.
Food Tour:
To make your evening more delicious, it's time to taste some local cuisine. As Dubai has cultural diversity, it is quite obvious to get different tastes on the street, along with some Bedouin and traditional Emirati dishes. One of the most recommended street food tours is the Frying Pan Adventure. It offers several authentic dishes for small groups.
Boat Cruise:
If you haven't tried water night on your first day in Dubai, try it with Dubai Marina before your second day ends. A Dubai cruise offers an amazing water view along with a delicious dinner to make your cruise trip joyful.
DAY 3: The Opulent City Life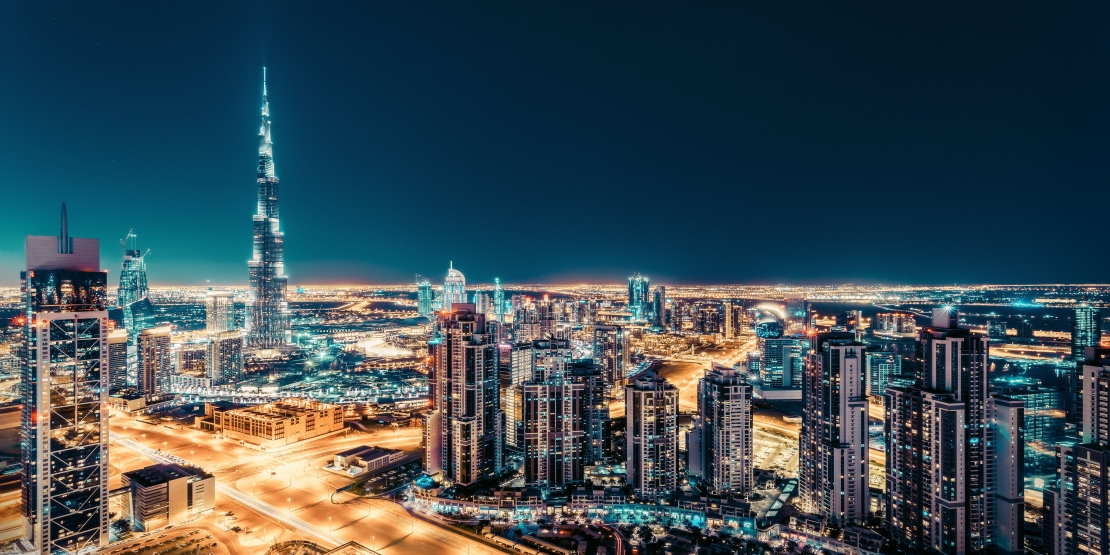 After roaming around the heritage sites of the city, it's time to explore its glimmering tall buildings, fountains, and everything in between.
Dubai Mall:
The Dubai Mall is the biggest shopping mall in the world. Apart from shopping, there are a plethora of indoor experiences that this mall has to offer you. It is quite easy to spend 2 days exploring everything in this mega mall. But with half a day left, you must at least try:
Kidzania:

It is an indoor replica of the real city with 40+ job roles.

VR Park:

This theme park is located in Dubai Mall, where you can enjoy various adventures like roller coasters, water slides, and drop tower rides with your loved ones.

Dubai Aquarium and Underwater Zoo: It houses 33,000 aquatic animals of over 140 species. Here you can experience the aquarium tunnel for about 15-30 minutes.
Burj Khalifa:
It is simply impossible to complete your Dubai itinerary without the world-famous Burj Khalifa. After enjoying the indoor fun, be ready to enjoy the mindboggling heights at the world's tallest building, Burj Khalifa. You can visit its observation deck on the 124th and 125th floors for some spectacular views of the city horizon. With some extra charges, you can also go to the 148th floor, which would obviously offer you a worthwhile view. Do not miss the opportunity to dine in heaven at Atmosphere restaurant on the 122nd floor.
Al-Bahar Souk:
It is the next and nearest spot to visit after Burj Khalifa. You can also access Al Bahar Souk via a pedestrian bridge from Dubai Mall. This modern market is designed like a traditional souk offering handicrafts, suitable dining options, and a marvellous view of the Burj Lake.
Sky Views:
Sky Views Dubai is located atop the Address Sky View hotel offering three distinct and enthralling experiences of the Sky Observatory, Glass Slide and Edge Walk. While the glass elevator takes you through a sensational experience of sightseeing from the ground to the 52nd floor, its spiral staircase further transports you to the most mind-bending Edge Walk. It is a 46-metre glass walk to the other building (219.5 metres above ground level). On the flip side, the Glass Slide allows you to take a fun ride through a transparent tunnel from the 53rd floor to the 52nd floor.
Downtown Evening in Dubai:
Although the whole of Dubai is famous for its nightlife, Downtown has its own charm and is, thus, called the hub of Dubai's nightlife. The Dubai Fountain is amongst the most famous here. It is located on the Burj Lake and displays a fabulously choreographed light and sound show every half hour starting at 6 pm. You can get a close-up view of the fountain shows with Abra rides.
DAY 4: Souks and Safari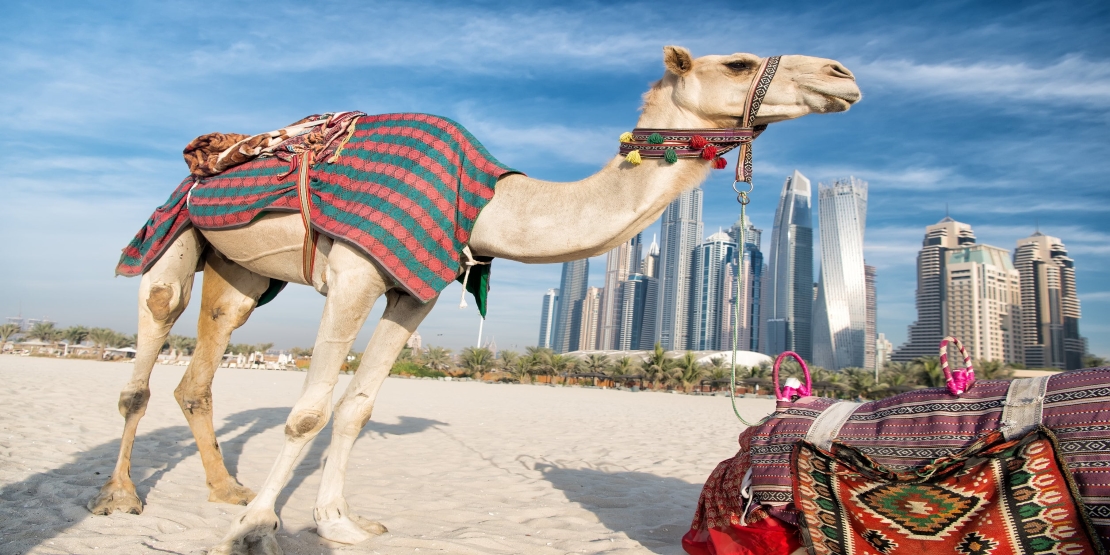 Spend your morning at Souk Madinat Jumeirah, which offers visitors real souvenirs and some high-class eateries. Apart from that, you can also visit Global Village for the ultimate shopping experience in a multicultural atmosphere. At Central Souk in Sharjah, you will not only get a variety of items to buy, like perfumes, jewellery, fabrics, carpet, etc., but you will get them at much lower prices than other marketplaces in the city. In the afternoon, you can enjoy the majestic views from Burj Al Arab and Arab rides before you get set for the Dubai desert safari.
A typical desert safari includes multiple exciting activities like camel rides, sandboarding, shisha, and henna painting. You can even end your evening desert safari with a communal BBQ dinner amidst the dunes. Explore the wildlife of the desert and indulge in exotic adrenaline-pumping adventure sports in a Dubai desert safari. You can also camp there overnight to have an end-to-end desert life experience.
DAY 5: Explore Abu Dhabi
A Dubai trip is almost incomplete without visiting the capital of the UAE, Abu Dhabi. It is just 90 minutes from Dubai and has some of the world's most iconic buildings. You can visit the Presidential Palace, the Louvre Museum, Waterworld, Ferrari World, and the Emirates Palace.
DAY 6: Theme Park Galore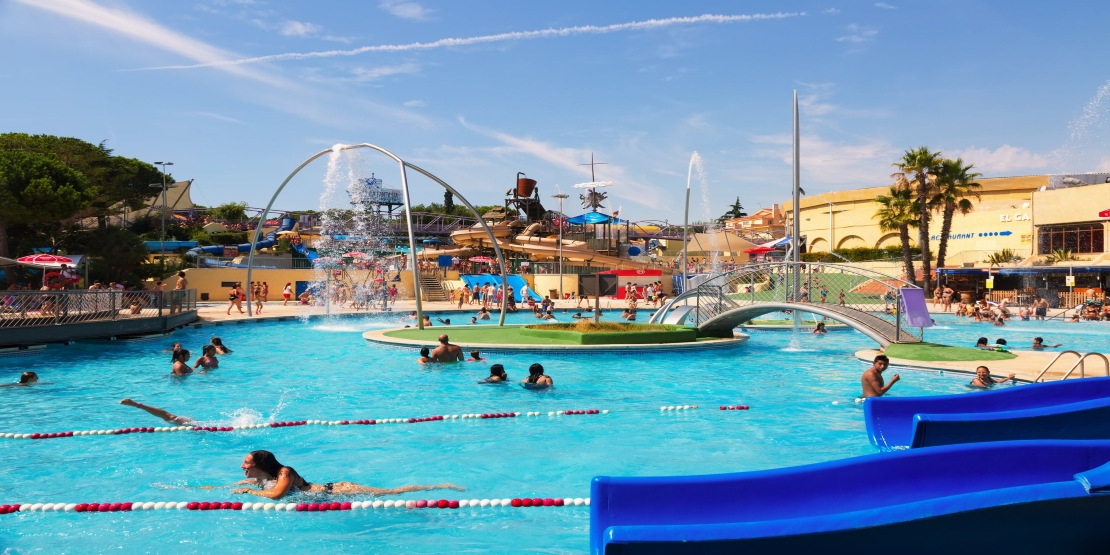 There are several theme parks in Dubai with numerous exciting and fun activities. You can choose any theme park to visit as per your preference. If you are planning a visit between October and November or March and May, we suggest you choose between Wild Wadi at Jumeirah, IMG Worlds of Adventure or Atlantis Aquaventure. You can visit Dubai Parks and Resorts during a winter trip to Dubai.
DAY 7: The Last Flicker of Adventure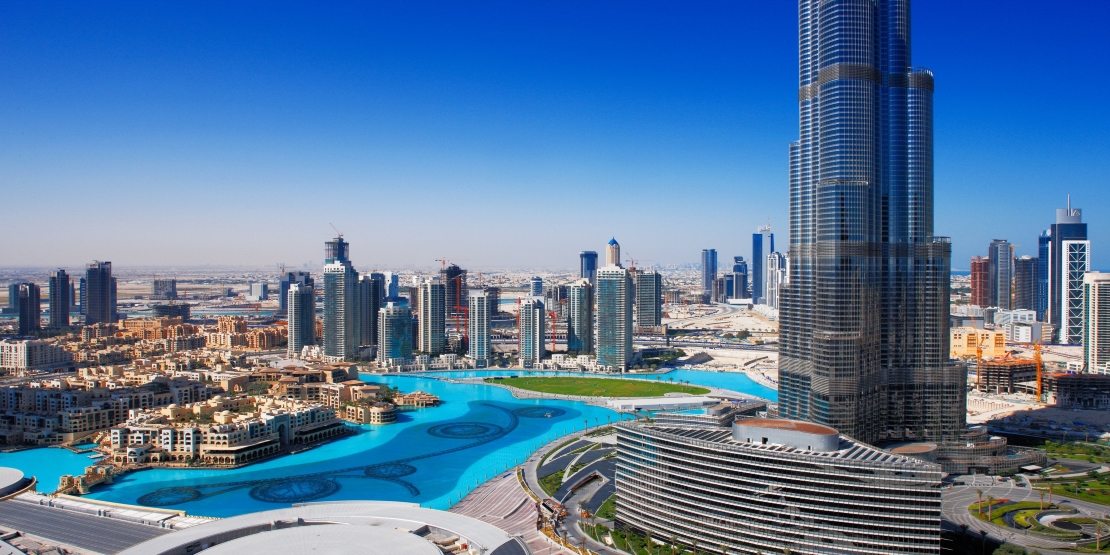 It's the last day. You can tick off anything from your itinerary that is yet to be marked. Or you can also go for the below-listed options:
Cross Dubai Marina via zipline.

Catch a bird's eye view of Dubai via its exciting helicopter ride.

Skydive over the Palm Jumeirah.

Experience luxury dining in the world's highest restaurant, Atmosphere Grill and Lounge, located on the 122nd floor of Burj Khalifa.

Enjoy an evening snack at the 7-star Burj Al Arab.

Have an awesome sunrise balloon ride over DDCR (Dubai Desert Conservation Reserve).
Bottom Line
Being one of the top tourist destinations worldwide, Dubai has a lot to offer tourists, so you need to mark your preferences as per your budget and timing. Do not worry, we have already set out a fair one-week itinerary plan to explore Dubai, along with a one-day Abu Dhabi visit. Following this plan for 7 days in Dubai will help you not miss out on any must-see places. Also, you can adjust the itinerary as per your preference.
FAQs
Are seven days enough for Dubai?
If you are visiting only Dubai, seven days might be enough. But, it also depends on your travel plans, and that's why forming a Dubai itinerary for 7 days is necessary before you board that flight. However, if you are planning to explore the entire country of the UAE, it would definitely take more than a week's trip.
What could be my Dubai itinerary for 7 days?
Here is a list of things you must cover in your Dubai itinerary for 7 days: Desert Safari, Old Dubai, Water Ferry, Jumeirah Mosque and Beach, Atlantis/Dubai Parks and Malls, Burj Khalifa/Downtown, The Miracle Garden in Dubai.
When is the cheapest time to visit Dubai?
April is the cheapest month to fly to Dubai. September to April are highly recommended months to visit Dubai because of the pleasant weather.
How many days do you need to visit Dubai?
At least a 5-day stay is recommended to cover Dubai's major attractions on your itinerary list.