Gold and diamonds are the most preferred form of jewellery in many countries like India, Pakistan and the UAE. People in these nations associate them with prosperity and wealth. Compared to India and Pakistan, buying gold jewellery and buying diamond jewellery in UAE is more affordable. So, if you're visiting the country and are keen to shop for jewellery, this is your go-to guide. 
Jewellery is something that will never go out of style. When it comes to gold and diamonds, there is a myriad of options. There's a new design or trend almost every day and with so much to choose from, it's natural to get confused. 
To clear your confusion, we've listed some tips and tricks to buy your favourite jewellery. These suggestions will help you purchase quality jewellery in UAE within your budget. 
Things to Remember While Buying Gold Jewellery in UAE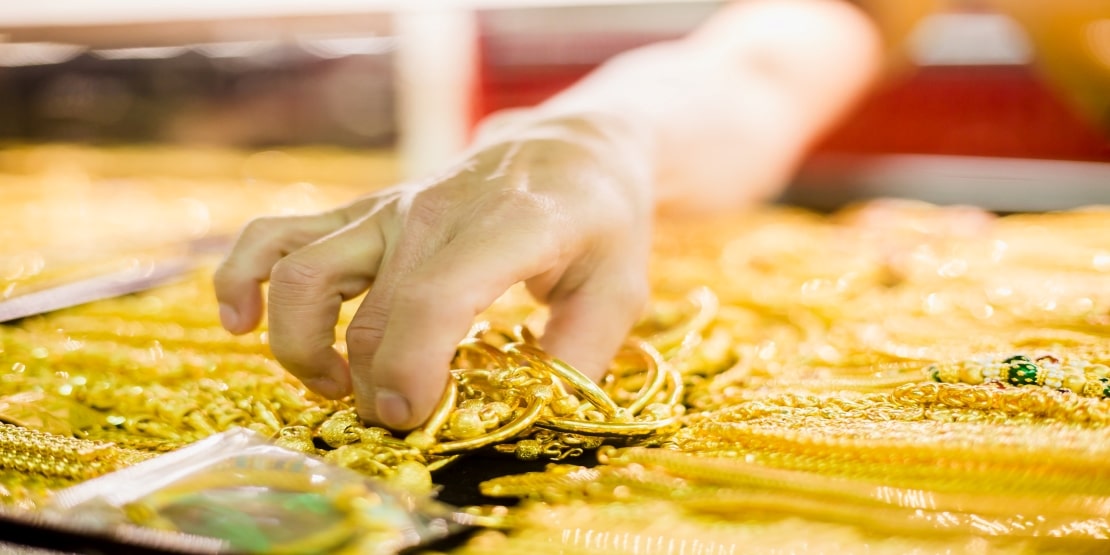 As of today, the price of 1 carat gold in the UAE is AED 65,000. While the rates have been consistent for some time, it's still less costly than in other countries. Here's what you need to bear in mind when buying gold jewellery in UAE or Dubai in particular:
Gold's purity is ascertained by karats. 24-karat gold is the highest carat of gold and it descends as you choose to 22, 18 ,14 and 10 karats respectively. 24-karat is considered 99% pure which makes it the most expensive. This doesn't mean that it's the only form you should invest in. If you're buying jewellery for daily wear purposes, you can choose any one of its descendants. It is in fact better that you go for the less expensive options as you wouldn't want to do your household chores while wearing 24k gold. However, if you are buying gold jewellery for a red carpet event or wedding, then the 24k variant is the way to go.
UAE is known for its exceptional variety of gold jewellery and they're all sold by weight. Higher the weight of the jewellery, the more expensive they get. The variety comprises gold jewellery studded with precious stones like emerald, diamonds and ruby. Choosing studded jewellery increases the chances of you paying for gold that they may actually not be a part of that piece of jewellery. Keep a close eye on what the jewellery looks like or visit the store with someone who has an eye for detail. 
The total cost of every piece of gold jewellery includes making charges. This charge is the cost of labour and effort involved in making the jewellery. They also reflect the present gold prices and when in Dubai, one could be cheated into paying more making expenses than required. So, always choose jewellers or stores that offer a making charge at a fixed rate. 
Gold jewellery is available in various colours. The change in colour occurs when pure gold is combined with other metals. Although yellow gold is the most preferred choice, you can also opt for rose gold, white gold, grey gold or green gold.
UAE's gold may be less pricey compared to other countries, but gold is an expensive metal. You will still have to spend a large amount of money to buy the gold jewellery you like. Thus, we recommend you choose hallmarked jewellery only. It signifies purity and is a safe form of investment. 
Buying Diamond Jewellery in UAE – What to Remember?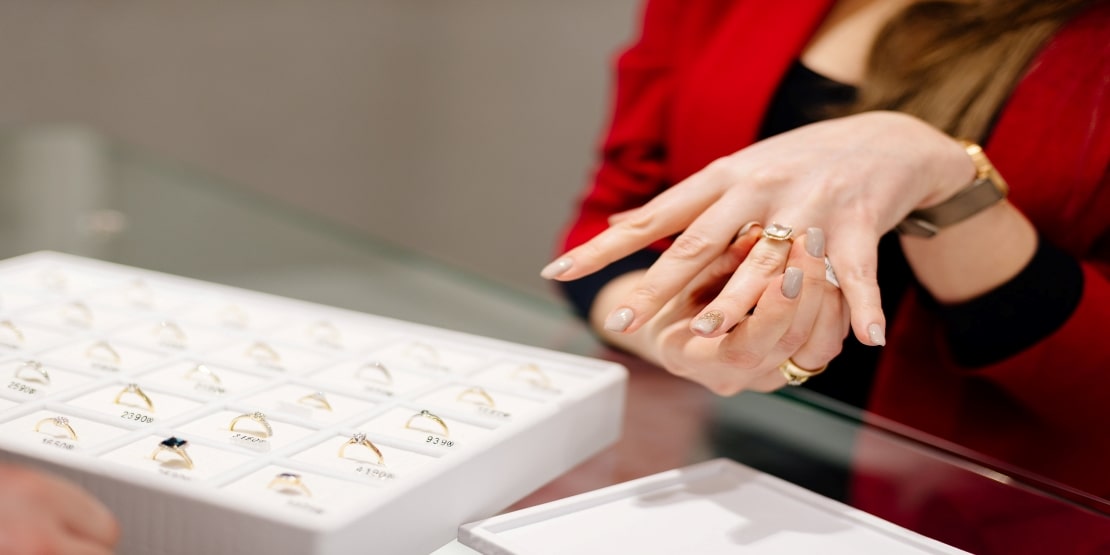 Bright, beautiful and valuable; diamonds are always in style. If you're buying them for the first time in UAE, keep the following points in mind: 
The 4Cs of diamond are clarity, cut, carat and colour. As a buyer, you shouldn't compromise on any of the Cs but make minor adjustments to suit your taste and budget. Those with a limited budget can easily re-evaluate these features. They can either opt for an option with less clarity or go for a colour that is less expensive. Even the cut quality can be adjusted from very good to good or fair. The key is to choose a reliable jeweller who sells certified diamonds and can assure their purity. 
Take the Diamond Shape into Consideration
Diamonds are generally round in shape. However, diamond jewellery is available in several shapes and sizes. Whether you're looking to buy a beautiful diamond ring or a pair of earrings, make sure you get it from a reputed store. Rings, in particular, can be bought in fancy cuts like princess, oval, heart, pear and cushion. Take help from the salesperson if you're confused about which one to choose. They can recommend the best shape and cut to suit different budgets, faces and tastes.
A diamond jewellery's cut quality can affect your buying decision drastically. The 'cut' is something that should look good on you or the one you're buying it for. Before going to the market and buying diamond jewellery in UAE, we suggest you read a little about cut quality. Compare different cuts and make up your mind for a specific option. Cut quality also affects your budget.  For example, Asscher and Emerald diamond cuts are two of the most affordable diamond cuts. Just because it's diamond, it doesn't mean you have to buy them by putting a hole in your pocket. Be a smart buyer. 
Appearances can be deceptive – this phrase fits perfectly for diamonds too. Not all diamonds that sparkle are real diamonds. Every day hundreds and thousands of new buyers come to Dubai and buying diamond jewellery in UAE. Some are fortunate enough to buy real diamond jewellery while others fall into the trap of fake ones. To prevent something like this, always request a certificate from well-known labs. A certificate includes all the diamond-related information such as its colour, clarity and cut. It is also signed by qualified gemologists. 
Diamond or Gold Investment UAE – What's Better?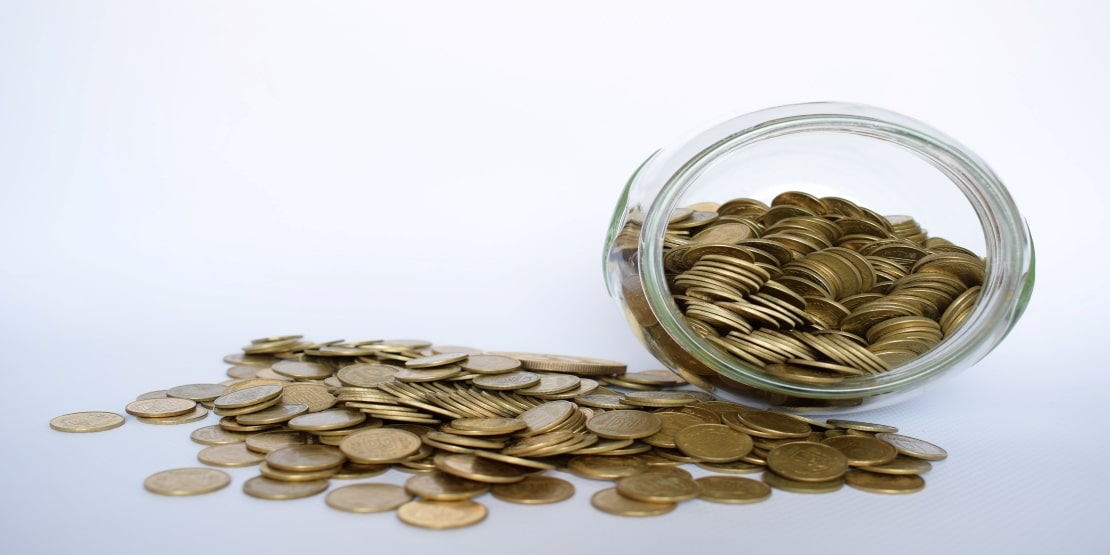 The price of diamonds and gold in the UAE depends on different factors. Keep in mind that the price of both these assets is never fixed, it is constantly changing. However, out of the two, gold is a better investment option. It is known for withstanding changing prices and offering reliable returns. There are many countries where gold is deemed as a form of currency, the same cannot be said about diamonds. Going by this logic, gold is worth more than diamonds. 
At the same time, diamonds have a higher resale value. However, that's only when you invest in quality diamonds by taking all 4Cs into account. 
We advise you to talk to an expert before making an investment decision. If not that, then check out the pros and cons we've mentioned below. Draw a comparison and then decide. 
Perks and Challenges of Gold Investment
One of the greatest advantages of this commodity is that it is secure from market risks like trade wars, political conflict, cyber-attacks or terrorism. As mentioned previously, it can withstand price fluctuations and holds great long-term value. This is a major reason why people in India and Pakistan invest in gold. They buy gold jewellery only to save it and sell it later, at a time of need. 
A con attached to UAE's gold is the tricky verification of rare or old gold. For example, if a shopkeeper sells you gold jewellery made of rare gold, there's a chance you will not be able to prove its rarity a few years later. 
Perks and Challenges of Diamond Investment
Storing diamonds is easy. Diamond jewellery can be stored in a jewellery box while diamonds can be stored in a safe. Moreover, they are highly durable. Unlike other stones, diamonds do not wear down or break easily. They are the hard naturally occurring commodity. 
Whether you buy them in the form of earrings, necklaces or rings, they're sure to make you stand apart in the crowd. Like gold, diamonds are also inflation-proof which makes them a good investment option.
A significant con of diamonds is the lack of cost transparency. Unlike gold which has a proper price index that you can keep an eye on, diamond does not have one. Yes, there are multiple websites that keep updating diamond prices, you cannot trust them because they aren't official indexes. The cost of diamonds in UAE or any other country completely depends on the market supply and demand.
In Conclusion
Both diamonds and gold have various pros and cons to consider. As a buyer, you need to consider all the factors before making the final decision. And while either of the choices is great, investing in both of them is a win-win situation. 
More useful articles for you :