London's renowned waxwork museum Madamme Tussauds opened its first outpost in the Arab world in Dubai at the BlueWaters Island. It has already become one of the most talked-about destinations in Dubai to visit with new statues in the pipe line.
In this blog, we've assembled all the details about the venue, tickets, timings and of course the lifelike wax figures of leaders and artists you can expect to see. 
History of Madame Tussauds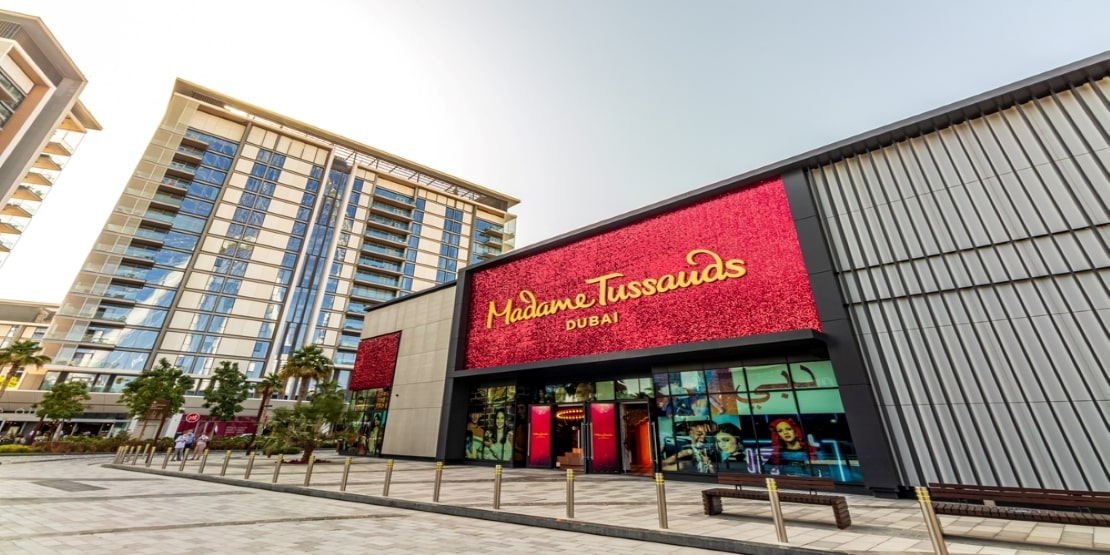 The first Madamme Tussauds opened in London in 1835. It was founded by Marie Tussauds, a talented sculptor born in Strasbourg, France. Over the years, millions of people have flocked through the doors of Madame Tussauds since they first opened and it remains just as popular as it ever was. There are 21 MT museums globally, including branches in New York, Amsterdam, Istanbul, Las Vegas, Hong Kong and Singapore.
What to Expect at Madamme Tussauds in Dubai?
Madamme Tussauds in Dubai features over 60 statues covering a list of popular historical figures, international athletes, movie stars and political leaders. Lebanese singers Maya Diab and Nancy Ajram are among the 15 wax figures that commemorate famous stars in the Middle East. The museum is divided into different zones to give visitors a memorable experience in their lives. Let's head up and explore the different zones.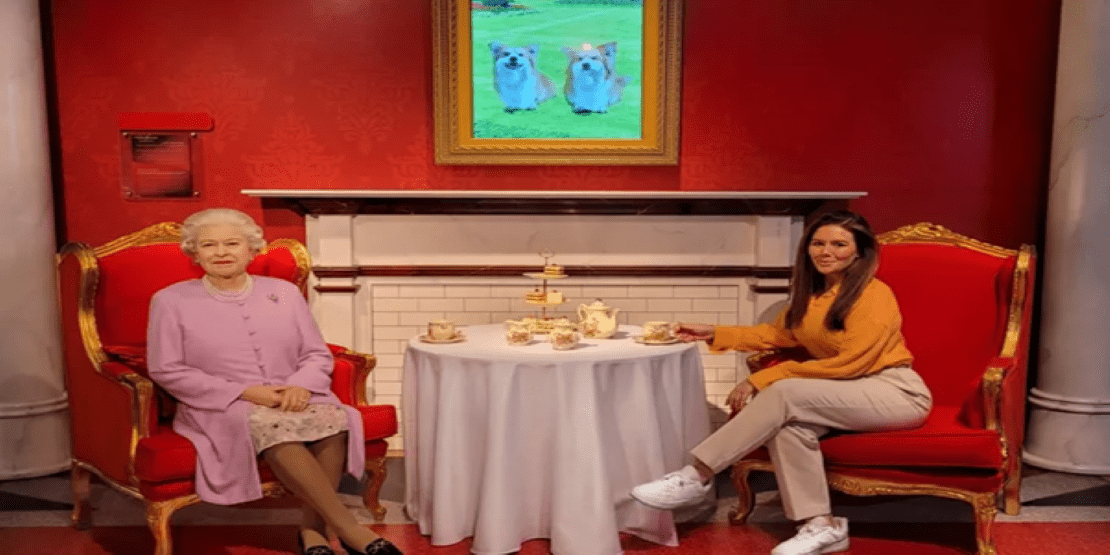 The first zone is the Leaders & Royals Room, which gives visitors the opportunity to encounter royalty, from esteemed world leaders, iconic public and political figures from both past and present. For instance, enjoying afternoon tea with British monarch Queen Elizabeth II pretending to be at Buckingham Palace and meeting India's Prime Minister Narendra Modi in the Taj Mahal are just two of the many highlights this area has to offer.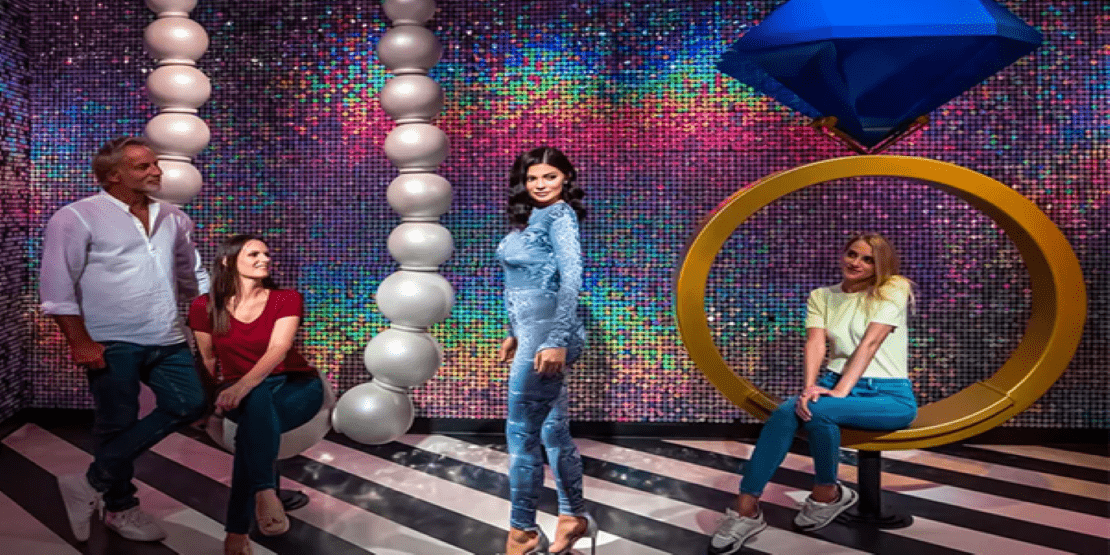 The fashion zone will leave you completely in awe. It portrays the fashion icons, the queen of British style, Victoria Beckham, Vogue icon Anna Wintour, Cara Delevingne, Kendall and Kylie Jenner, and Lebanese fashion designer Elie Saab. Take selfies with wax replicas of these celebrities and you will feel like a real supermodel!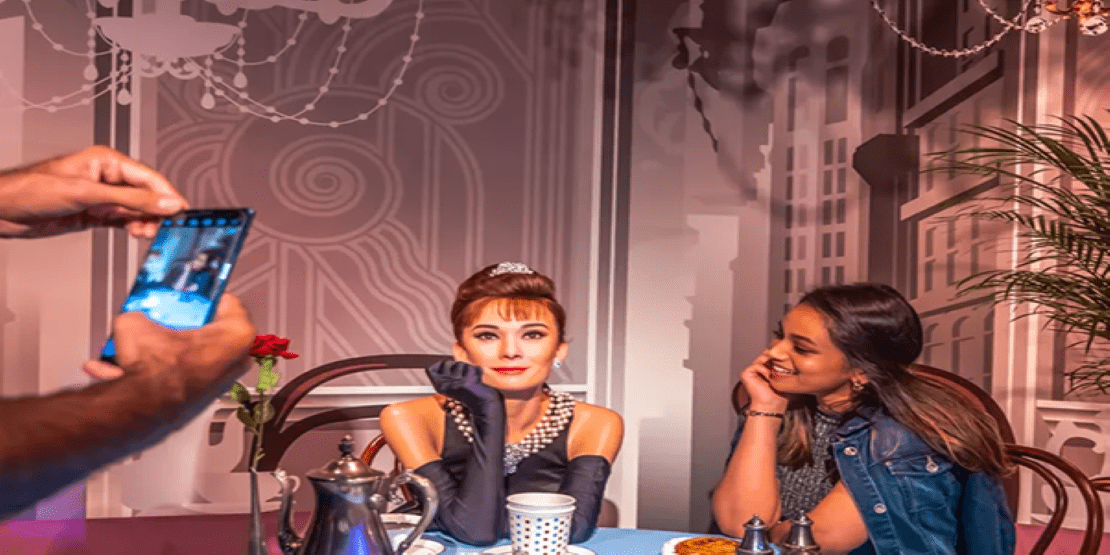 Meanwhile, the cinephiles can enter the fully immersive movie area. Visitors can pull up a chair next to stunner Audrey Hepburn for Breakfast at Tiffany's or experience an action-packed adventure with Tom Cruise, battle evil forces and save the city with Spider-Man or practice some martial arts with Jackie Chan.
Groovy Bollywood Zone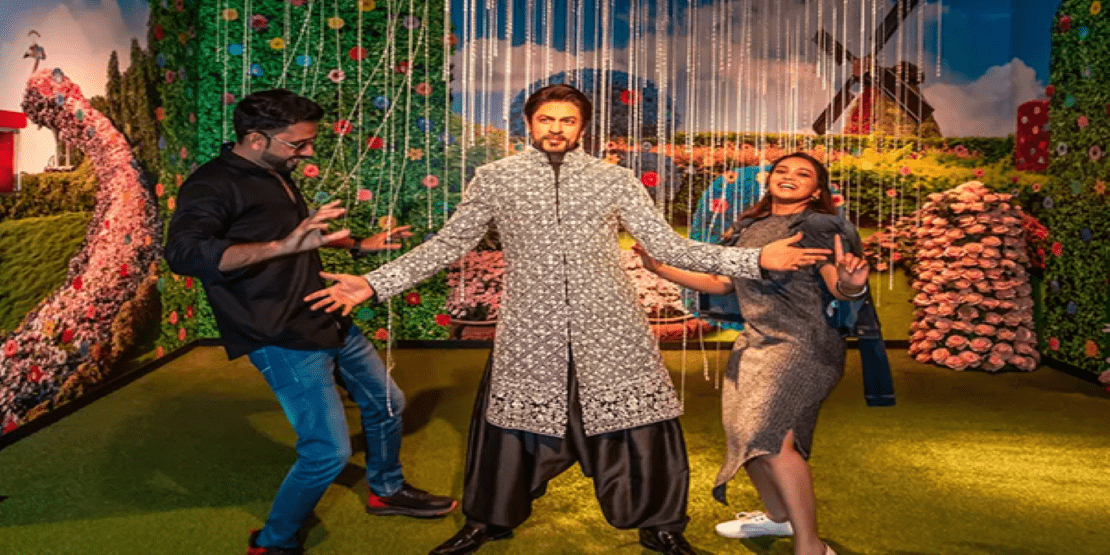 Bollywood lovers, are you listening? Madamme Tussauds in Dubai brings you the spitting image wax figures of your favourite celebs Amitabh Bachchan, Shah Rukh Khan, Salman Khan, Kareena Kapoor, Ranbir Kapoor, Katrina Kaif and Madhuri Dixit. Furthermore, it leads to a secret garden awash with plants and flowers, take part in a bespoke Bollywood music video and perform the best moves in front of an interactive digital screen.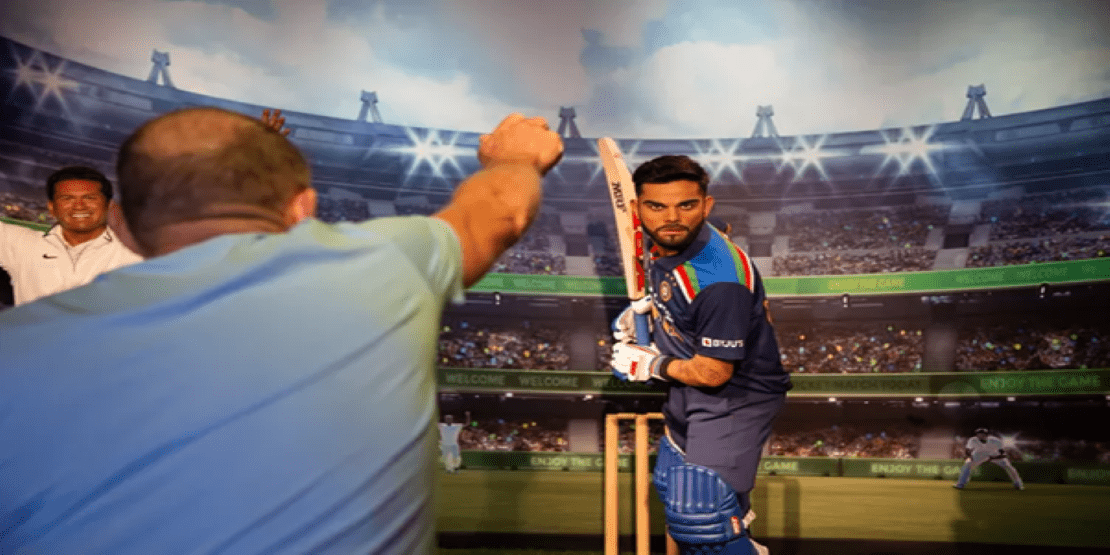 Sports enthusiasts can have a fantastic experience by taking a penalty kick alongside football stars Cristiano Ronaldo and Lionel Messi, knock-out legend Muhammad Ali or bowling to Virat Kohli. Visitors can also stop and admire the strength and tenacity of Emirati weightlifter Amna Al Haddad. Take pictures with these celebrities and feel as if you're standing next to their real-life counterparts.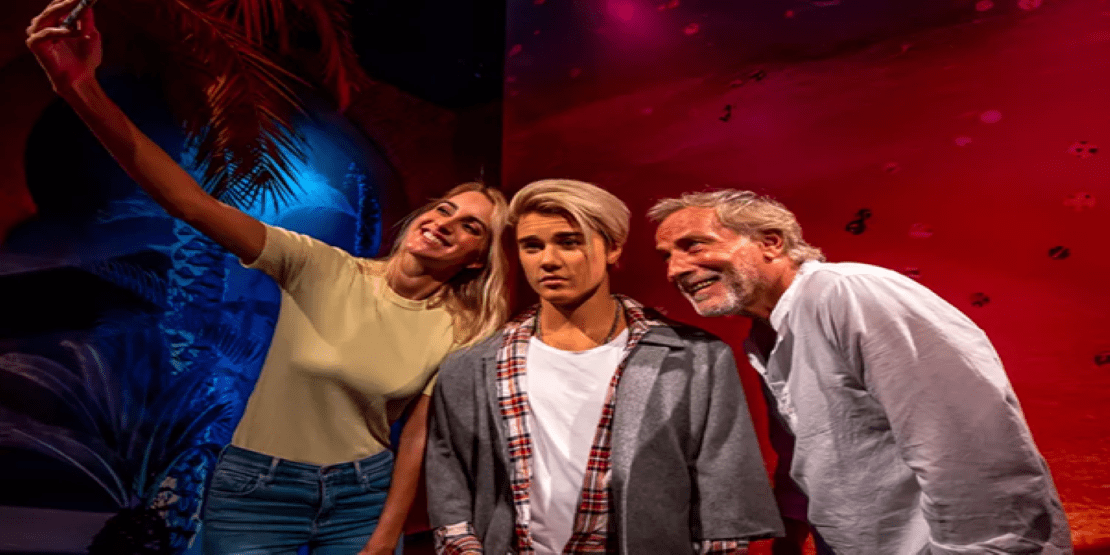 Madame Tussauds invites you to an A-list Music Party in a secret desert oasis with singing sensations. Make your way through a palm tree-fringed archway and dance away amongst a glittering array of regional and international stars, including Lebanese singer Nancy Ajram, and global superstars Will Smith, Rihanna, Justin Bieber and more.
Madame Tussauds Museum Dubai Location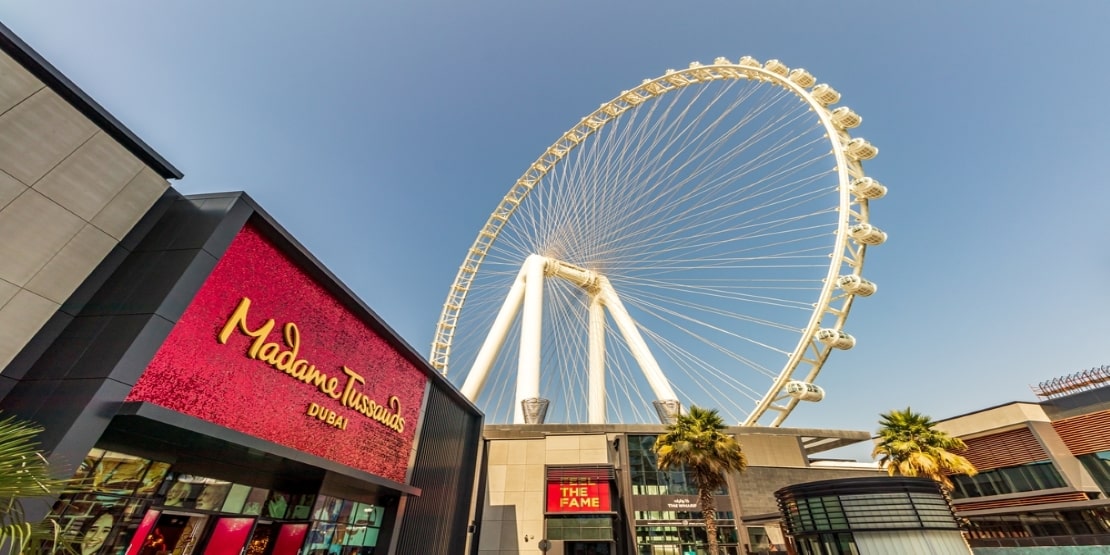 Madame Tussauds Dubai location is at Bluewaters Island. This immensely popular waterfront destination is also home to several luxury hotels, world-class restaurants and the iconic Ain Dubai.
Madame Tussauds Museum Dubai Tickets and Timings
Madame Tussauds Dubai is open every day throughout the week and on weekends from Sunday to Thursday 12:00 pm – 08:00 pm and Friday to Saturday 11:00 am – 09:00 pm. Madame Tussauds Dubai ticket price is categorised into three brackets- standard, exclusive fame and the London project combo. 
Standard Admission Ticket AED135 ( INR 2800 approx)
Exclusive Fame Experience AED 300 (INR 6400 approx)
Madame Tussauds & The London Project Combo AED 350 ( INR 7500)
Frequently Asked Questions (FAQs)
When did Madame Tussauds open in Dubai?
Madame Tussauds Dubai was opened on October 14, 2021.
When was the First Madame Tussauds Museum Opened?
The first Madame Tussauds Wax Museum opened in London in 1884.
Can I touch a wax figure in Madame Tussauds Museum?
Yes, visitors can get up close to take a selfie or photo with their favourite celebs at Madame Tussauds but with some restrictions to avoid damaging the statues.
Are there any other museums in Dubai?
Yes, Dubai is home to various interactive and educational museums that you can visit with friends and family. For instance, the Ethaid Musem showcases the origins of the UAE and the country's astoundingly quick progress. Some other popular museums are- the Coffee Museum, Museum of Illusion, and Saruq Al Hadid Archaeology Museum
What is the Museum of the Future UAE all about?
The Museum of the Future is another architectural marvel of Dubai. It is more an incubator of technologies and innovations that are going to shape the future world.
Is the Coffee Museum in Dubai worth visiting?
For caffeine lovers, it exhibits a huge variety of coffee from around the world and their brewing processes.