A place that attracts adventure-seekers, history buffs, shopaholics, business travelers, and sun-seekers all year round, the UAE has something for everyone. The UAE caters to all kinds of visitors with hundreds of excellent hotels to provide a luxurious stay for its guests. Therefore, plenty of options mean it is tough to stand out from the crowd in the country's competitive hospitality industry. And thankfully, the Danat Hotels in the UAE continue to rise time and again. They are famous for their world-class hospitality and residential services. So, if you're planning a visit to Dubai, here's everything you need to know about Danat hotels in the UAE, wherein the stay will make you feel at home. 
An Index of Danat Hotels in The UAE and Resorts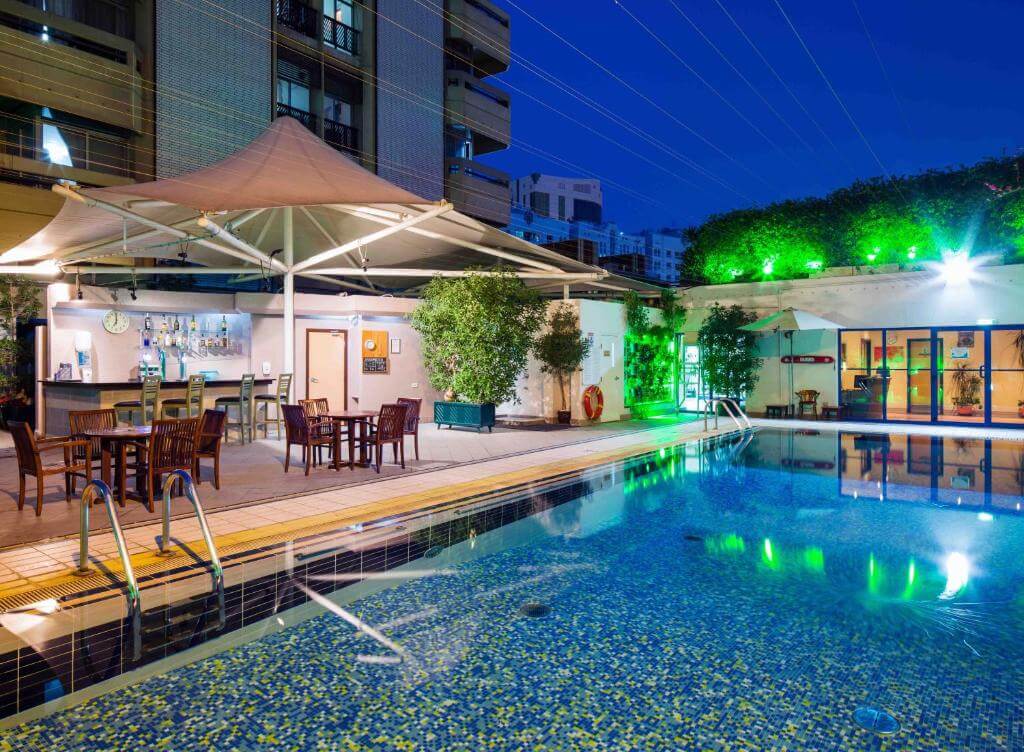 Novel Hotel is the most popular Danat hotel and resort because of its affordability, distinctive hospitality, and exceptional services. They hold a 4-star rating and consist of 207 suites and rooms, six restaurants, a meeting room, a gymnasium, and a ballroom. The guests are also offered some exceptional services like laundry, valet parking, an on-call doctor, and so forth. Unlike many other hotels in the city, Novel Hotel provides its guests with an add-on gift shop and a saloon facility. 
From French to Chinese, the Novel hotel provides a broad range of cuisines to comfort its guests. A sauna, steam, jacuzzi, and temperature-controlled outdoor swimming pool are some of the add-ons to cheer up the stay. This beautiful hotel is situated close to the lively commercial hub of Hamdan Street, from where guests get easy access to Gold Souq, Corniche, Madinat Zayed, and the World Trade Centre within a short walk. 
Novel Hotel Contact Details : +971-2-633-3555
Novel Hotel Location : Sheik Hamdan Street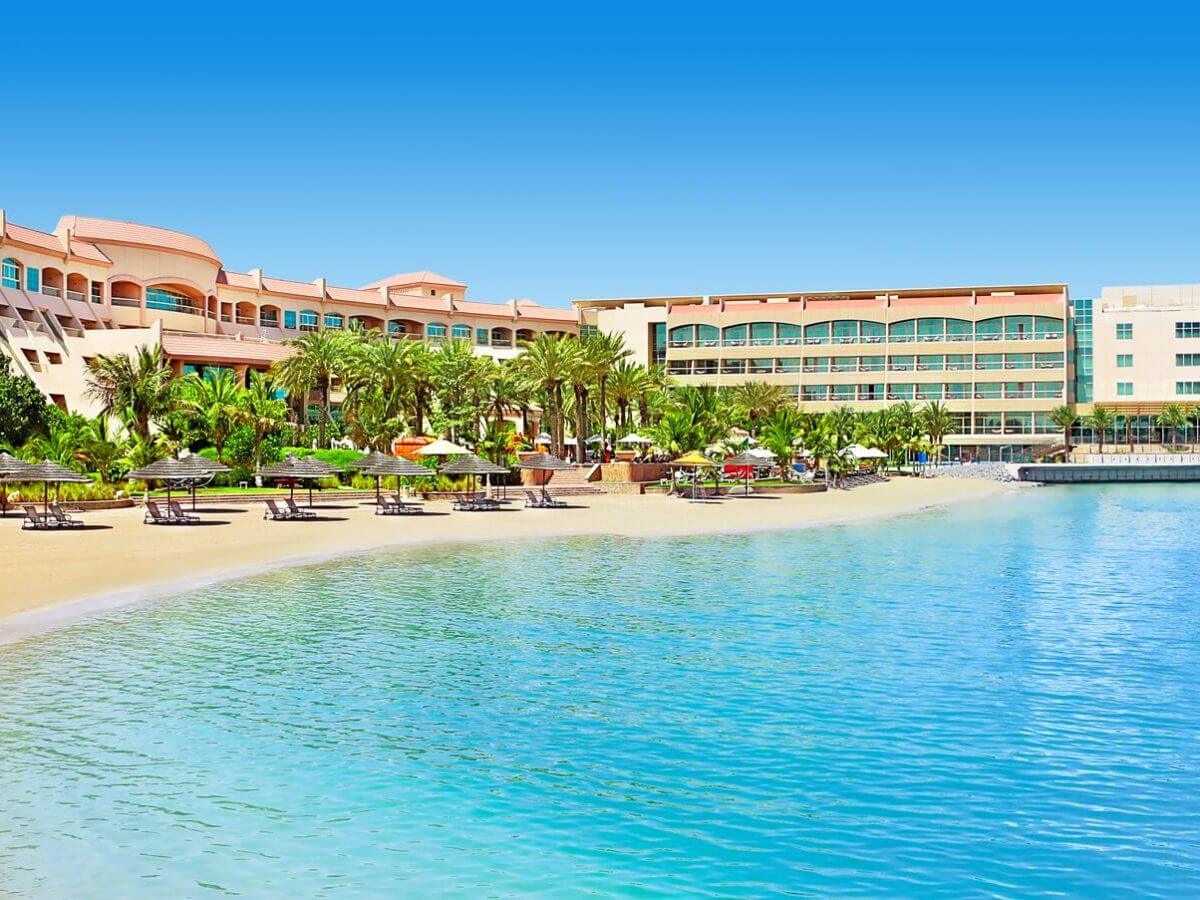 Al Raha Beach Hotel tops the list of Danat hotels and resorts. The hotel is situated near Dubai International Airport and provides easy access to the city centre. Located near the Al Raha beach region, this hotel combines the charm of traditional Arabian hospitality with modern Arabic decor to create a unique visitor experience.
The recreational facilities of the Al Raha Beach hotel include 278 dwellings, which include private villas, suites, and rooms. The other popular facilities of the hotel include a recreational club, valet parking, a body and soul spa, and commuter services; the hotel also includes eight restaurants, seven event ventures, and one ballroom. 
Al Raha Beach Hotel Contact Details : +971-2-508-0555
Al Raha Beach Hotel Location : Channel Street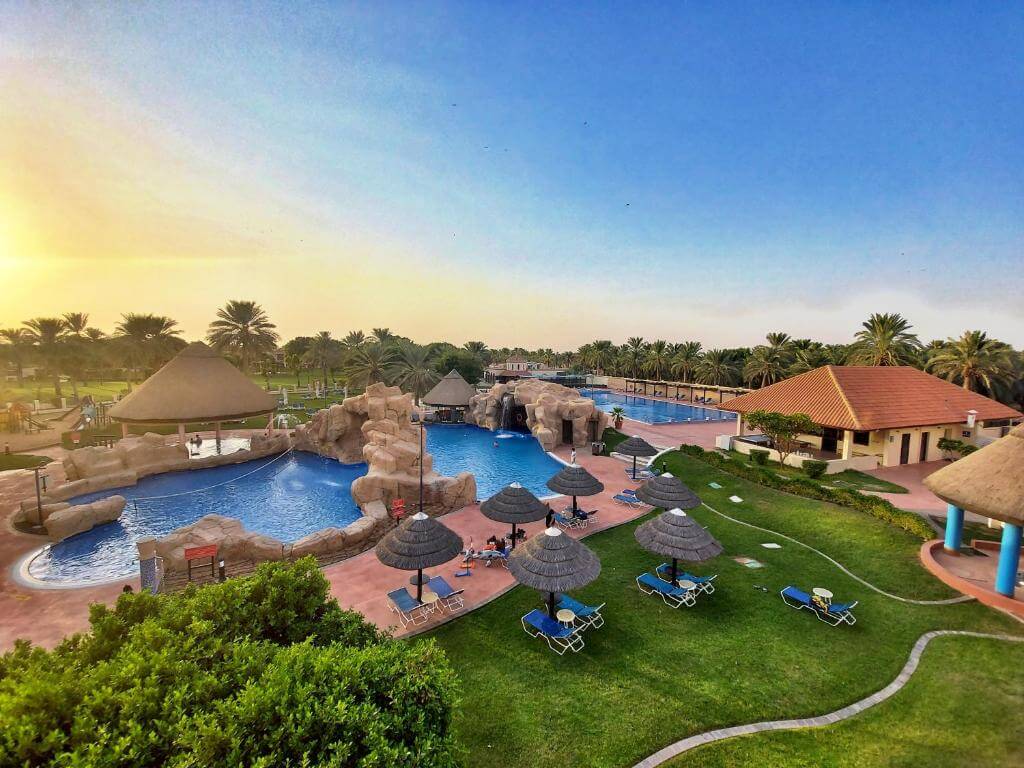 The Danat Al Ain Resort is a perfect place, with more than 150 large rooms, many of which present amazing views of the hotel's swimming pool and garden. There are 36 pleasant and spacious suites along with 19 Mediterranean-style villas to select from. 
This opulent property is edged with lush green gardens to keep the refreshing vibe intact. Danat Hotel Ain provides fascinating dining choices, fitness facilities, an excellent spa, football, cricket, tennis, volleyball, squash courts, basketball, and three temperature-controlled pools. 
Moreover, the Al Ain Golf Club, the Town Centre Shopping Malls, and the Al Ain Museums are close to the Danat Al Ain Resort, making it the perfect staycation for visitors. 
Danat Al Ain Resort Contact Details : +971-3-704-6000
Danat Al Ain Resort Location : Al Salam Street, Al Ain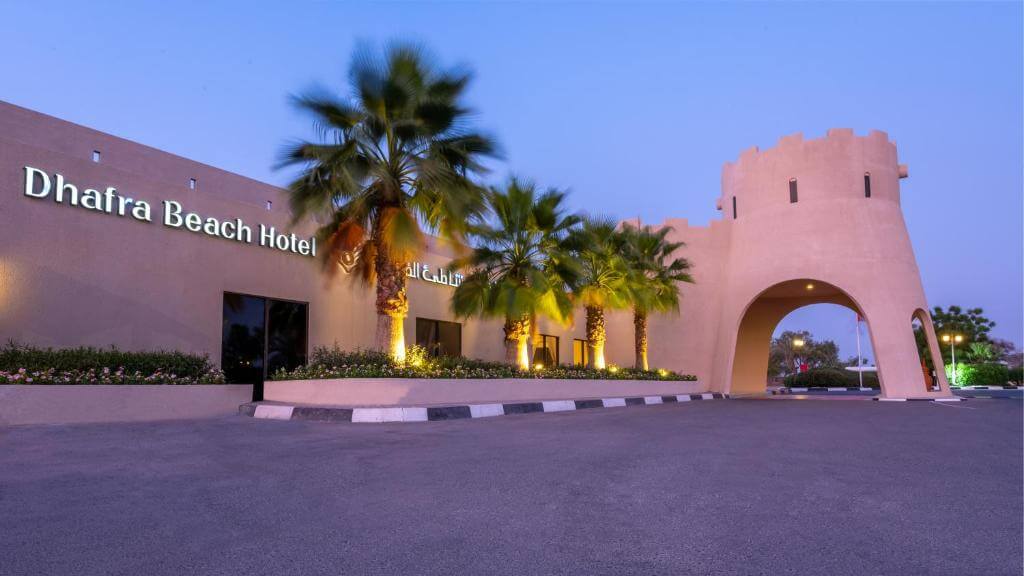 Dhafra Beach Hotel offers some unique facilities to enhance the comfort of its visitors. Yes, Dhafra Danat Hotel is a pet-friendly beach resort which is popular for being a perfect getaway from the hustle of city life.
The hotel consists of 183 rooms and suites, along with three restaurants. The Danat Hotel is nestled beautifully between the gardens of Sir Bani Yas Island. 
Dhafra Beach Hotel Contact Details: +971-2-801-2000
Dhafra Beach Hotel Location: Jebel Dhanna Ruwais
Danat Jebel Dhanna Resort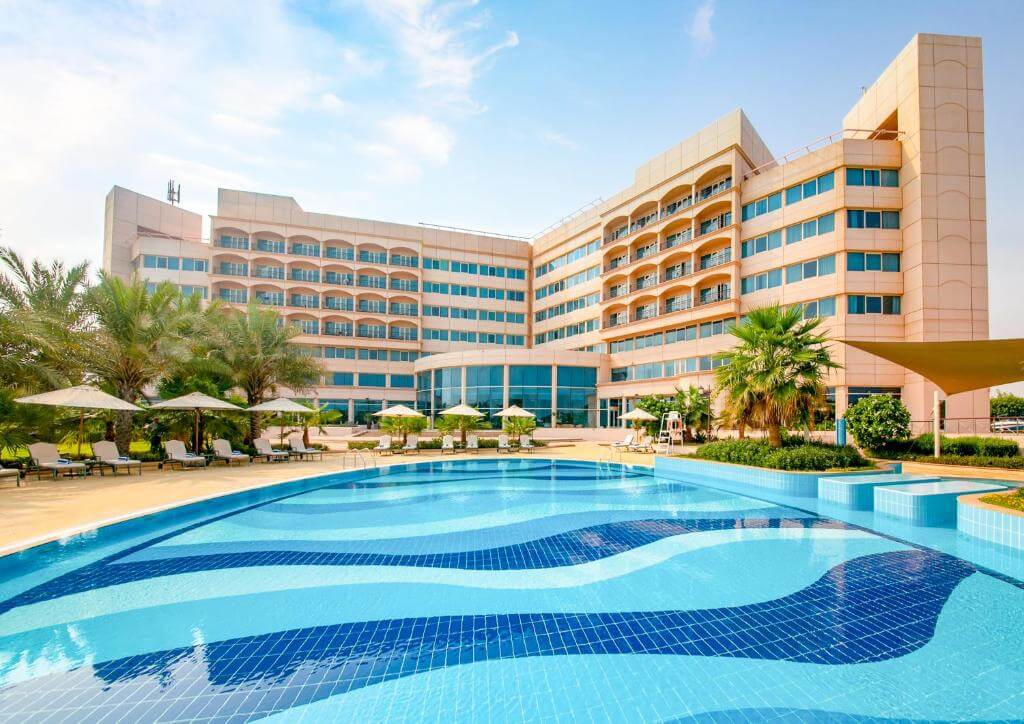 The Danat Jebel Dhanna Resort is a five-star luxury property close to Al Ruwais, on the west coast of Emirates Abu Dhabi. It's a perfect staycation for sports lovers as it offers a broad range of sports and leisure facilities, including 133 suites and rooms, beachside chalets, five superb restaurants, and private villas. This beachside hotel is located on Abu Dhabi's western shore, which provides a luxurious stay and a luxurious family vacation stay. 
Danat Jebel Dhanna Resort Contact Details : +971-2-801-2222
Danat Jebel Dhanna Resort Location : Jebel Dhanna Ruwais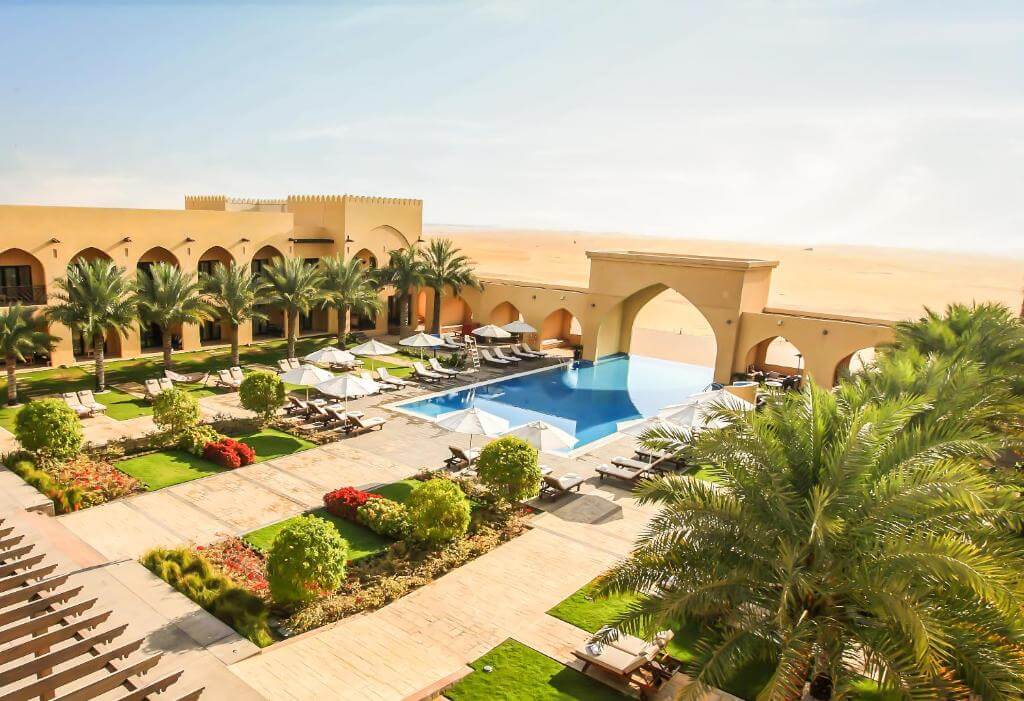 The Tilal Liwa of Danat hotel resorts pays homage to the Arabic tradition and culture. The hotel is located on the edge of the Rub Al Khali (the world's biggest continuous sand desert). It is a luxuriant refuge for people chasing a one-of-a-kind desert adventure along with the aesthetic essence of Arabia. The property is amongst the best hotels in the Liwa desert.
The hotel takes all the guests back to the old world ambience. The premises include 111 rooms and suites that offer sumptuous stays augmented by all types of cuisine and thrilling recreational activities. 
Tilal Liwa Hotel Contact Details : +971-2-894-6111
Tilal Liwa Hotel Location : Madinat Zayed, Zayed City
Other Popular Stays at Danat Hotels in the UAE
Besides the above-mentioned hotels, we have detailed some more luxuries you can consider during your visit to the UAE.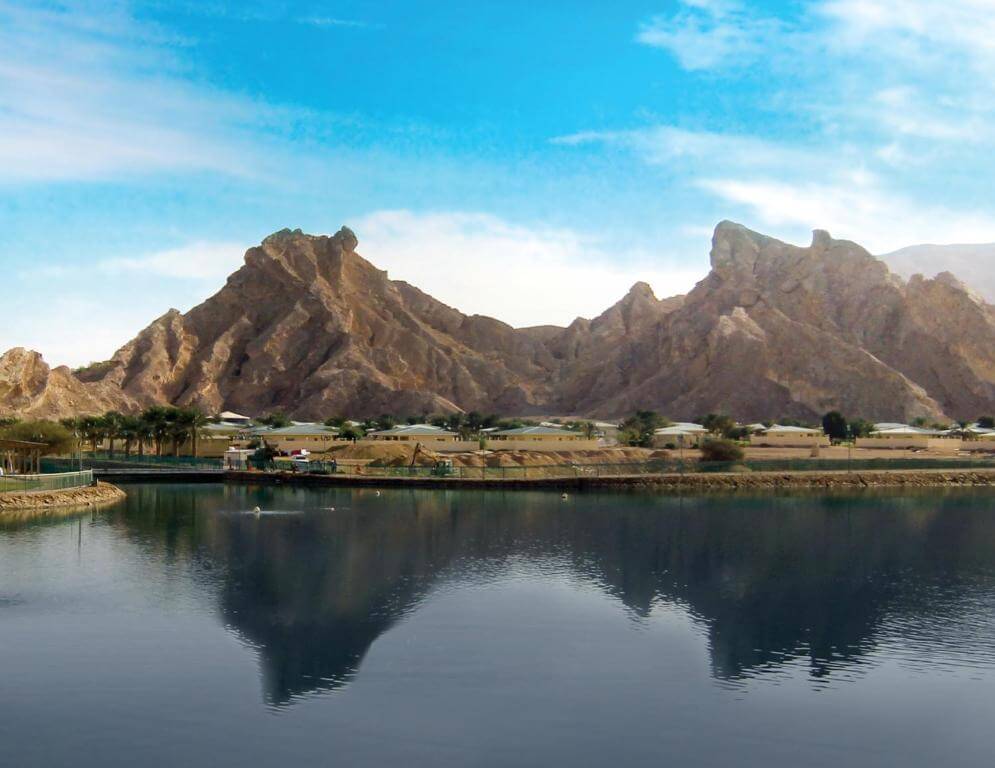 Tactically situated at the bottom of the Jebel Hafeet mountains, Green Mubazzarah Chalets give a break from the busy city life. The elegant chalets provide the breathtaking views of a long mountain range and the comfort of home with the convenience of access to hot springs and streams. 
Along with one and two-bedroom chalets, the hotel also facilitates a fully equipped kitchen, living room, dining area, hairdryer, WiFi, and much more. Additional amenities include a swimming pool and a children's play yard. Besides this, the guests can also enjoy amazing mountain views via mini train rides.
Green Mubazzarah Chalets Contact Details : +971 3 713 0300
Green Mubazzarah Chalets Location : Al Zahker Road, Al Ain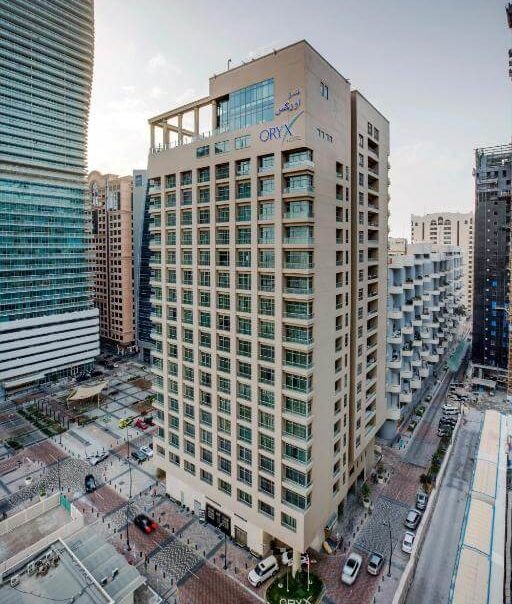 The Oryx hotel is amongst a few Danat hotels which are situated on the Abu Dhabi Corniche Road and features spacious suites, rooms, and a range of beverages with food outlets. Meeting rooms, wellness services, and recreation are some of the additional facilities that make this hotel a perfect stay. 
Featuring modern architecture, the Oryx hotel is perched amidst the lush green scenery of the landscape. It is favourably situated close to the city's commercial hub, shopping regions, and government buildings, which makes this hotel an appropriate choice for both pleasure voyagers and business travellers. 
Oryx Hotel Contact Details : +971-2-681-0001
Oryx Hotel Location : Zayed the First Street, Khalidiya
Over to You
The UAE is a place that defines living, working, travelling, and investing in a beautiful manner. This place has a lot for all sorts of people. When it comes to offering worldwide visitors a taste of the UAE's authentic contemporary charm, the country has a range of luxurious hotels to begin their journey in comfort. The Danat hotels in the UAE are amongst the elegant stays that define luxury with comfort. Although all the hotels detailed above serve their best, it's good to research a bit before reserving one, as each of them has their own elegance in terms of unique amenities, location, and the view they offer.
More Useful Articles for You :
Frequently Asked Questions (FAQs)
Do Danat hotels offer any facilities for wheelchair users?
Yes, the Danat Hotel is specifically designed to accommodate wheelchair users.
What are the best hotels in Al Ain?
There are some of the best hotels in Al Ain, such as; Mercure Grand Jebel Hafeet, Radisson Blu Hotel and Resort, Ayla Grand Hotel, City Seasons Hotel Al Ain, Ayla Bawadi Hotel, Al Bada Hotel and Resort, and many others.
How many hotels are there in the UAE?
As of 2020, there are 1.1 thousand hotel units listed, as compared to 538 units in the year 2008.
Who manages the biggest hotel in Dubai?
The biggest hotel in Dubai, the Burj Al Arab, is managed by Jumeirah and costs around US $1 billion.
Which is the most luxurious hotel in Dubai?
Without a doubt, the Burj Al Arab is the most luxurious and iconic hotel that Dubai has. Sitting on the small sleek island blowing with all the luxuries this sail-shaped hotel brings a new definition to extravagance.