Anantara hotels in the UAE are known for their fantastic service, outstanding amenities, and beautiful surroundings. If you're planning to visit the UAE or currently live there and want a break, the country's Anantara hotels must be at the top of your bucket list. Relaxing at such luxury resorts, either alone or with families, is a magnificent adventure, ideal for long holidays or weekend trips.
The first Anantara resort in Thailand opened its doors to tourists in 2001. In recent years, the firm has developed an international foothold and has evolved to be among the most respected names in luxury accommodation. The Anantara hotels are present in Indonesia, Malaysia, China, Maldives, Cambodia, Mauritius, Oman, Portugal, Mozambique, Qatar, Sri Lanka, Spain, Tunisia, Thailand, United Arab Emirates, Zambia, and Vietnam.
Anantara hotels are known for their distinctive surroundings, embracing the combination of luxury and nature. You can stay in a beautiful hotel in the mangroves, spend your holiday in the beauty of a desert, or visit a wildlife preserve. The personnel at Anantara hotels in the UAE are to safeguard customers' well-being. 
Hotels Operated By Anantara in the UAE
Now let's take a look at some of the hotels operated by the Anantara brand in the UAE.
Anantara World Islands Dubai Resort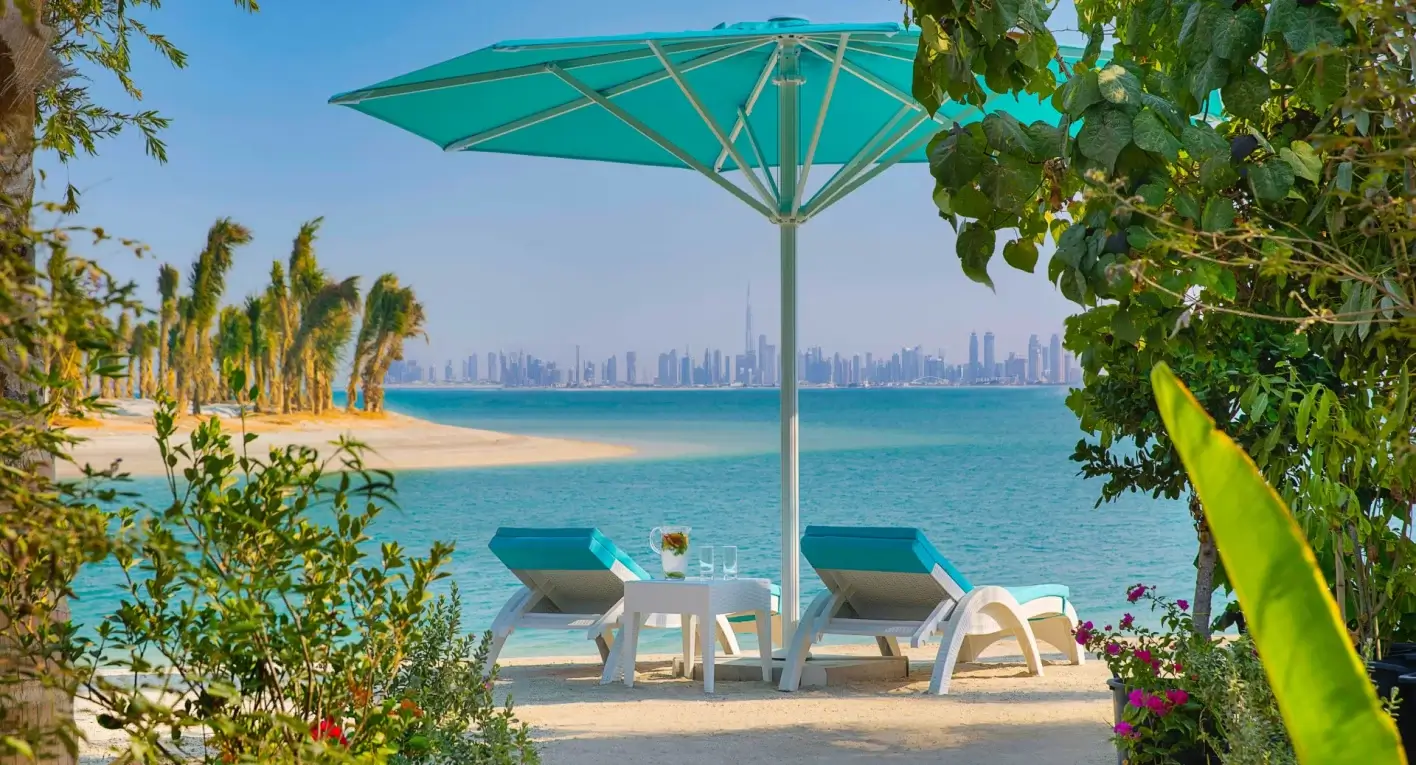 The incredible resort 'Anantara World Islands Dubai Resort present in Anantara Hotels in the UAE story'. Nestled among the famed Dubai World Islands, this site is gorgeous. It has 70 bedrooms, suites, and villas, with each private swimming pool only a few steps away.
At Hamacland, visitors can eat breakfast or lunch with a panoramic sea view on a custom hovering couch or savouring a meal between paradise and the sky. At the Anantara World Islands Dubai Resort, you'll create memories that will last a generation.
Contact and Address details:
Address : South America, The World Islands, Dubai
Contact : +971-4-567-8777
Anantara The Palm Dubai Resort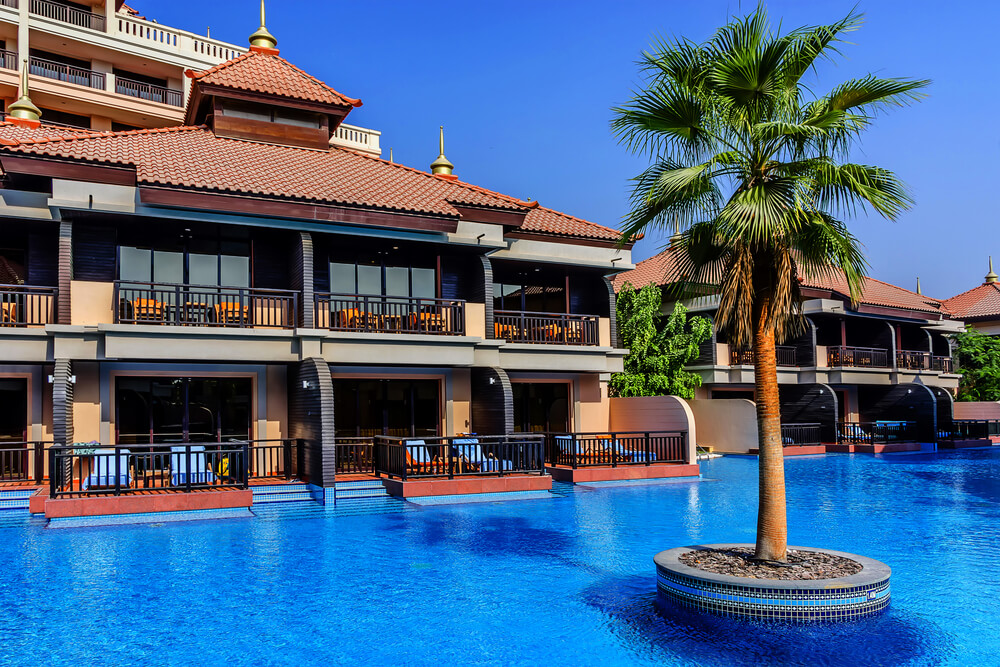 The Palm Dubai Resort is amongst the most well-known Anantara resorts in the United Arab Emirates. It houses the region's only overwatering villas situated on the famed Palm Jumeirah. You can enjoy the sights and sounds of this beautiful province before returning to rest on a 400-meter stretch of beach, a great way to power up the tan.
You can cool off by visiting one of the three swimming pools, participating in several water activities, or fishing. 
After a full day of adventure, relax at the hotel's spa or dine outside one of the hotel's famous restaurants, the Thai restaurant, Mekong.
They frequently have special coupon codes and offers, so visit the official website to know about current information.
How to reach: 
Abu Dhabi Intl. Airport (AUH) – 126 miles/202.8 km
Airport shuttle (surcharge)
Additional information about the resort:
Rooms Available : 30
Timing:

Arriving/departing 
          Check-in time 3 PM-3 AM
          Check-out time is noon
Contact and Address details:
          Address : East Crescent, Palm Jumeirah, Dubai
          Contact : +971-4-567-8999 | +971-4-567-8888
Anantara Sir Bani Yas Island Al Yamm Villa Resort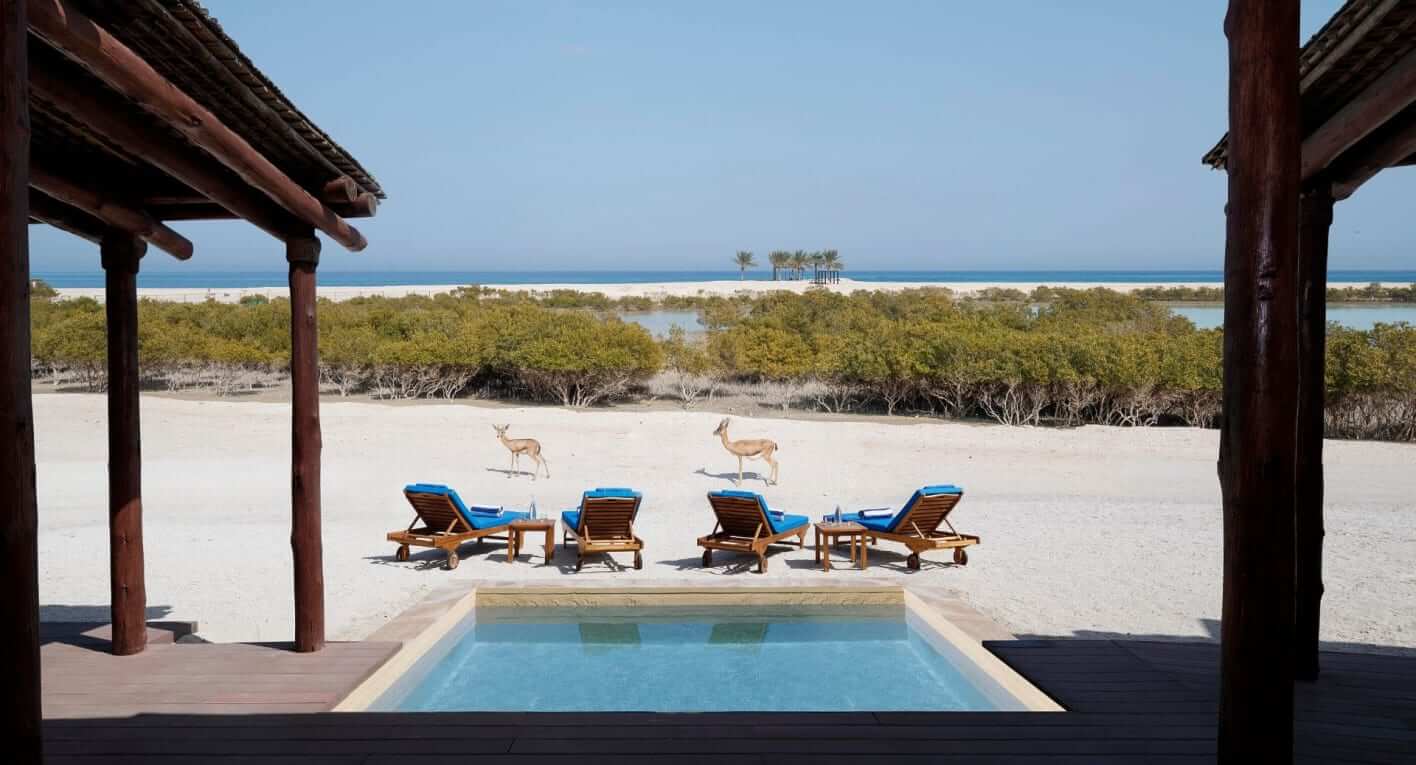 Do you want to spend a week in a warm place with your friends and relatives? Don't overthink it; Anantara's Al Yamm Villa Resort on Abu Dhabi's Sir Bani Yas Island is perfect. The property contains 30 diverse types of villas on Sir Bani Yas Island.
The resort is an old Emirati coastal village, complete with stunning wetlands and the Arabian Gulf. Fishing, diving, and horseback riding are popular outdoor pursuits at the resort. You can also love the scenery in this well-built resort by wandering the surroundings, taking in the splendour of the endless ocean, or resting at the Spa beach cabana. Each of these factors conspires to form one of the top Anantara resorts in the United Arab Emirates.
Majesty Sheikh Zayed bin Sultan Al Nahyan established Sir Bani Yas Island as a designated preserve. It is residence to a few of the world's most unusual native creatures and the endangered Arabian Oryx. So, keep an eye out for magnificent animals while riding your horse when you're out and about. The sibling resorts, Al Sahel and Desert Islands, are also open to visitors.
Contact and address details:
Location : Al Ruwais, Sir Bani Yas Island, Abu Dhabi
Contact : +971-2-801-4200
Anantara Sir Bani Yas Island Al Sahel Villa Resort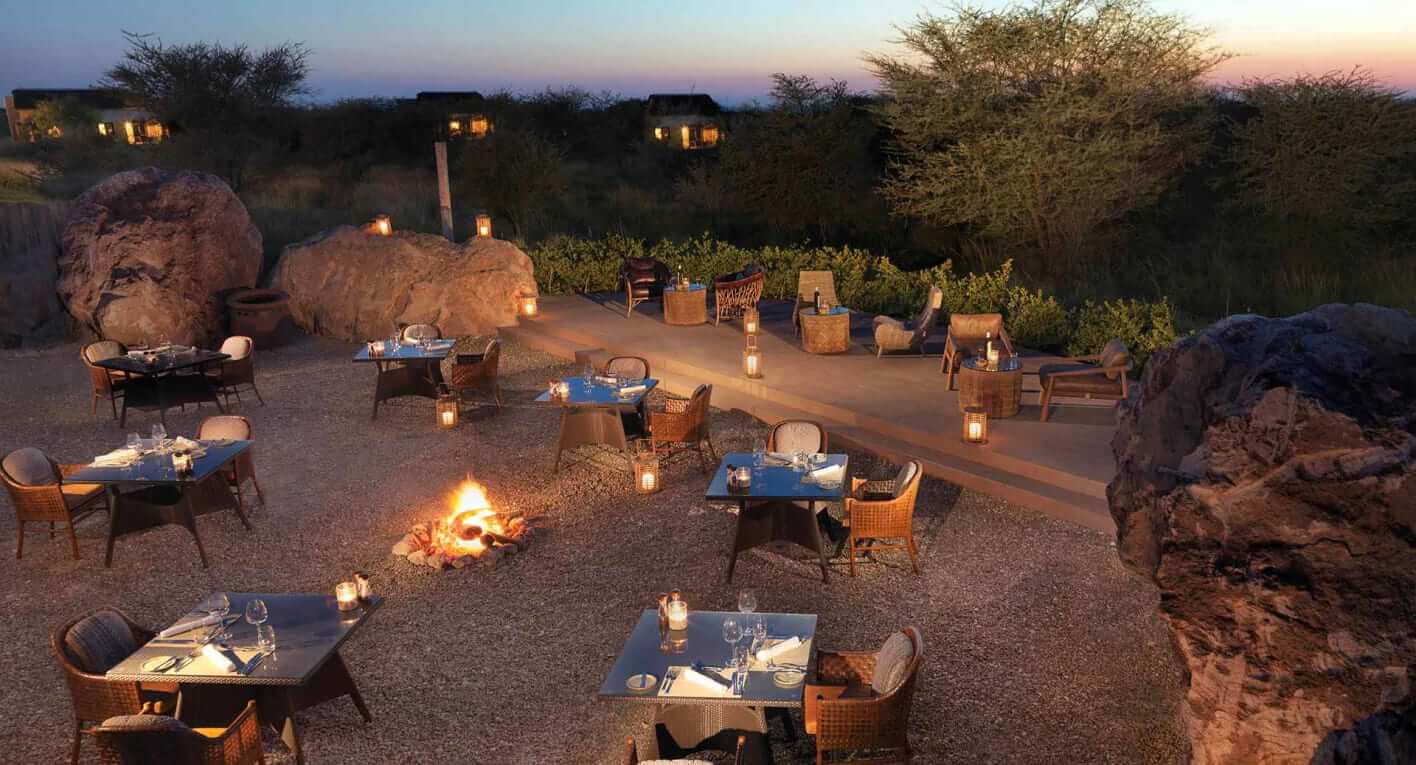 The 30-safari villas at this Anantara resort in the UAE will transport you from your busy life to a realm of luxury and elegance. The untamed savannah setting transports us from another world. Early in the morning, enjoy breath-taking sunrises, go for a walk, or marvel at wild wildebeest dancing.
Al Sahel provides a distinctive perspective on the desert landscape's native ecosystem. People staying at this property can enjoy campfires, animal tours, and tea in the bush, to name a few things. The desert Islands and Al Yamm are also accessible to Al Sahel tourists.
Contact and address details: 
Address : Al Ruwais, Sir Bani Yas Island, Abu Dhabi
Contact : +971-2-801-4300
Desert Islands Resort & Spa By Anantara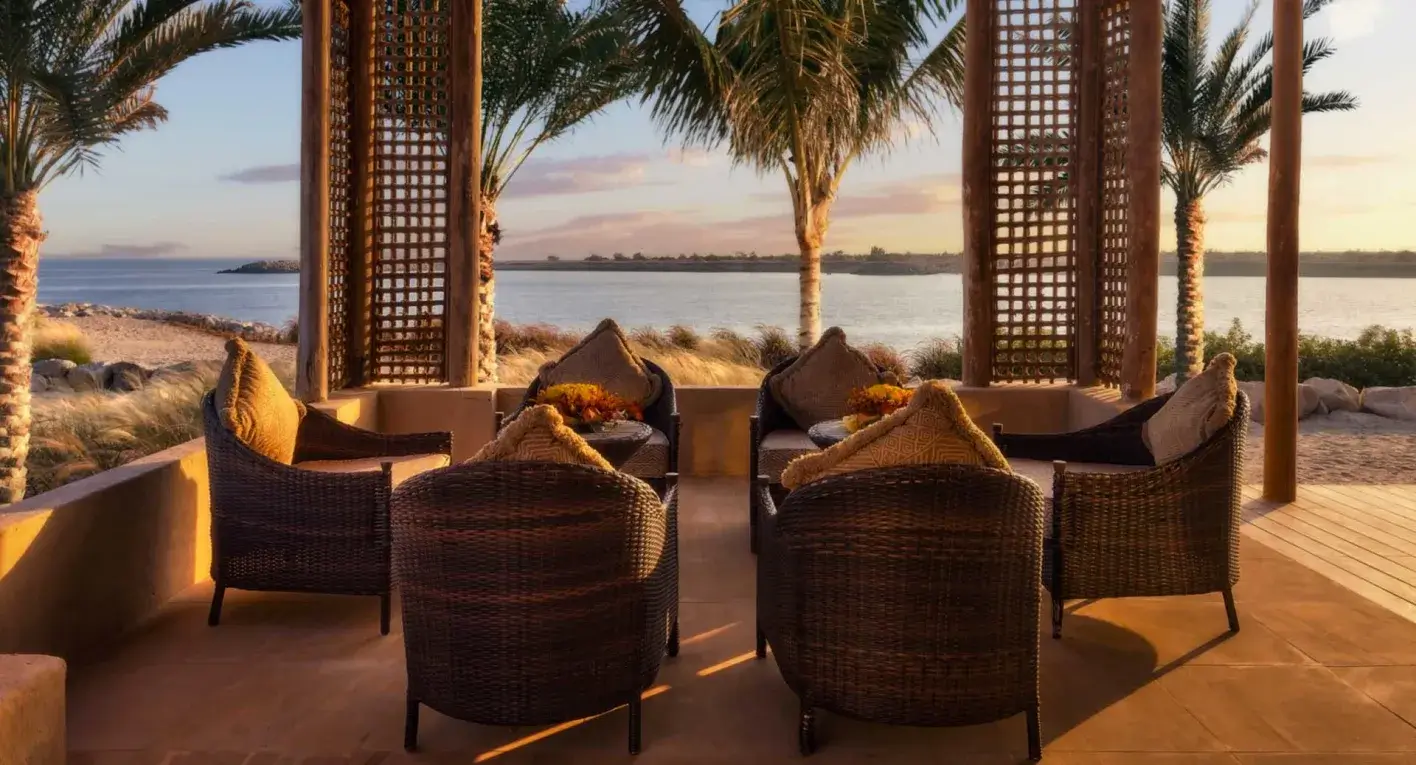 A vacation to the Desert Island Resort & Spa will be a thrilling excursion. Discover remarkable layered rock and historical monuments on horseback facing the oasis Arabian Gulf.
At this resort, various activities are offered, such as archery, land sailing, and the sighting of wild animals. Abu Dhabi is home to this resort situated on Sir Bani Yani Island. Moreover, visitors can access desert island resorts & spas and get clearance to Al Sahel and Al Yamm resorts. 
Contact and address details:
Address : Al Ruwais, Sir Bani Yas Island, Abu Dhabi
Contact : +971-2-801-5400
Qasr Al Sarab Desert Resort By Anantara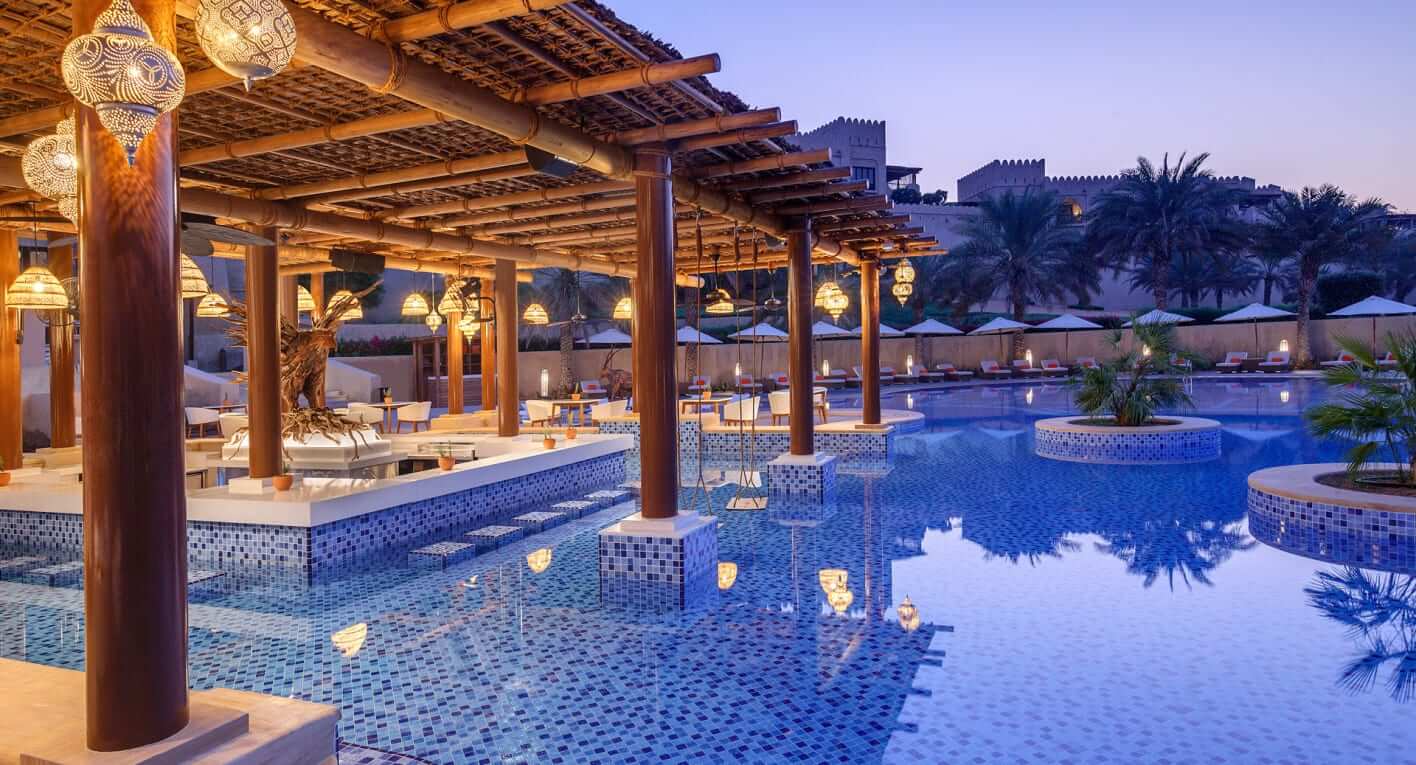 The Qasr Al Sarab Hotel by Anantara in Abu Dhabi's Liwa desert allows you to experience the peace and tranquillity of the desert. There are a few fantastic accommodations and villas to enjoy a holiday or leisure here, nestled in the middle of the world's greatest contiguous expanse of sand.
The Royal Pavillion Villas, consisting of ten stunning independent pool villas, is among the most sought-after adventures in this Abu Dhabi Anantara resort. Visiting the resort, visitors can partake in various eating and spa treatments. Your chef will prepare delicious local specialities as well as cosmopolitan fare.
All tourists to the Royal Pavilion can use the amenities of Anantara's Qasr Al Sarab Desert Hotel.
Contact and Address details:
Address : 1 Qasr Al Sarab Road, Abu Dhabi
Contact : +971-2-886-2088
Anantara Eastern Mangroves Abu Dhabi Hotel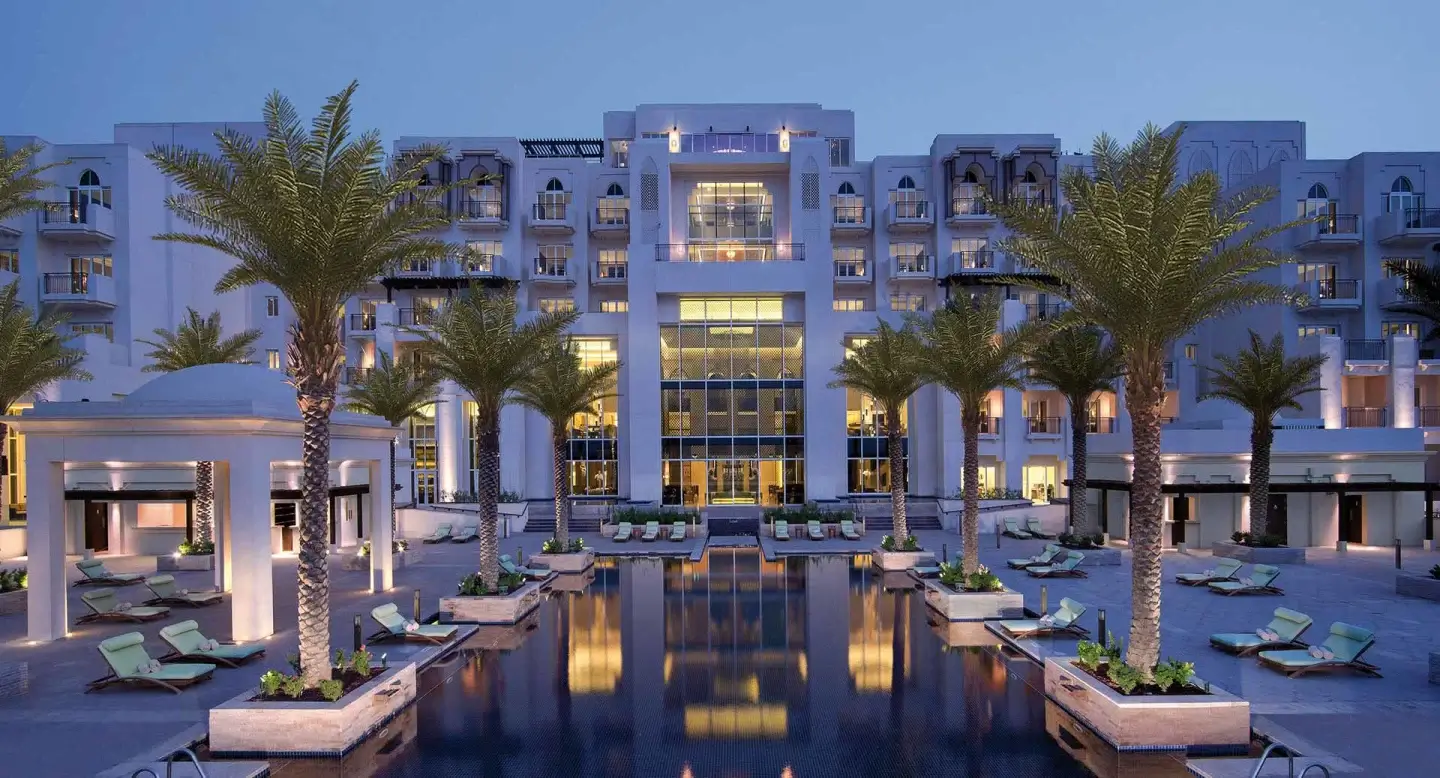 The urban waterfront hotel is a visitor attraction because it smoothly blends corporate and leisure. You may participate in several outdoor sports; kayaking opportunities in the mangroves and a fantastic desert starry night at this best Anantara hotels in the UAE. After that, unwind in the award-winning Spa with Turkish Hammam to rejuvenate your heart and brain.
Numerous elite corporations have meetings at the Eastern Mangroves Compound.
Contact and Address details: 
Location : Sheikh Zayed Street, Abu Dhabi
Contact : +971-2-656-1000
What's More
Anantara hotels in the UAE is an ever-expanding range of fabulous hotels, world-class spas, and boutique shopping experiences, the emirate of Abu Dhabi is ideally suited to dedicated luxury guests.
More Related Articles for You : 
Frequently Asked Questions (FAQs)
How many Anantara hotels are there in the world?
In 2001, Anantara was established in Thailand's seaside town of Hua Hin, known for the first luxury property. Today, the profile includes more than 40 properties present, namely in Cambodia, China, Indonesia, Malaysia, Maldives, Mauritius, Mozambique, Oman, Portugal, Qatar, Spain, Sri Lanka, Thailand, Tunisia, United Arab Emirates, Italy, Vietnam and Zambia.
Who is the owner of Anantara hotels?
Minor Hotels is the owner of Anantara hotels.
What is Anantara known for?
Anantara is known for its luxurious hotels and resorts deliberately constructed to reflect each terminal's authentic modern identity. Within and outside the resorts, travellers interact with sights and guests, enjoying the scenery.
Who owns Anantara Dubai?
Anantara Dubai, the Palm Resort and Spa, also known as Royal Amwaj and operated by Dubai-based seven seas Management, was set to debut in 2010 under the Moevenpick Hotels & Resorts label.