Your Dubai tour will naturally encompass some of the most luxurious and premium experiences in the Emirate. Did we fathom it right? Sometimes, Dubai tourist have to give in to the allure of these unrivalled and one-of-a-kind experiences and simply enjoy them for what they are worth. No amount of money is sometimes enough to cover the value of this lifetime memorable and cherish able moments. 
Best Luxury Dubai Tour Experiences
Here are some of the key Dubai tourism landmarks that will cost you a bomb of course but will leave you feeling indescribably happy!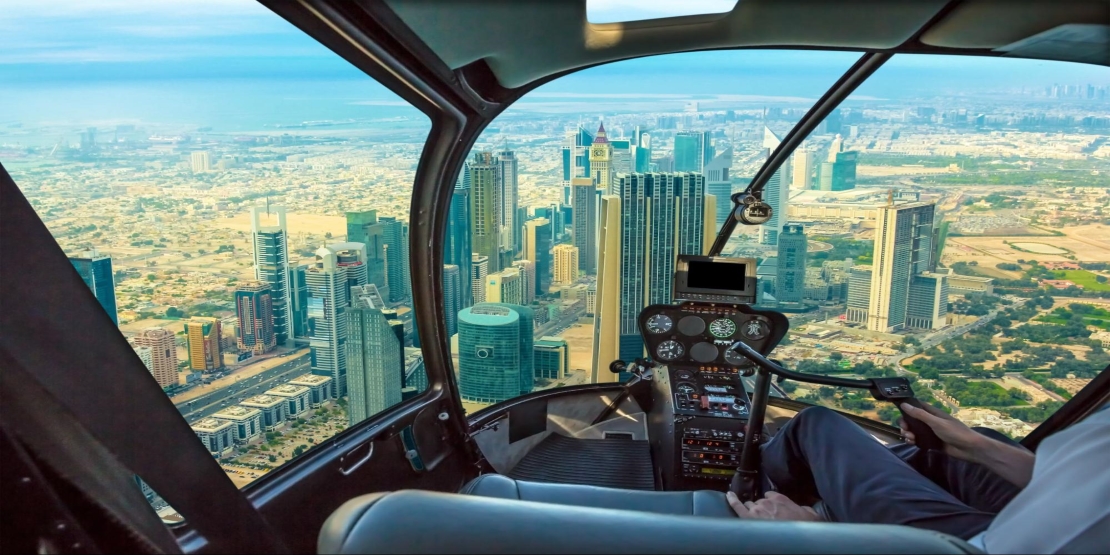 Personal Helicopter Journeys
Soar over the shimmering Emirate of Dubai with the ultimate luxury experience of all, i.e. a personal helicopter ride! You will view some of the best landmarks in the world from your perch above the sky, including the likes of the Burj Khalifa, Burj Al Arab and even the Palm Jumeirah, not to mention the wealth of spectacular photographic opportunities on offer. 
Flight times may vary between 12-40 minutes on average for Dubai tourist. Prices can be steep, hovering between AED 645-1838 (approximate estimates), depending upon the time spent on the journey. The experience may be booked via Heli Dubai. This is one fantastic ride that you should not miss!
Desert Safari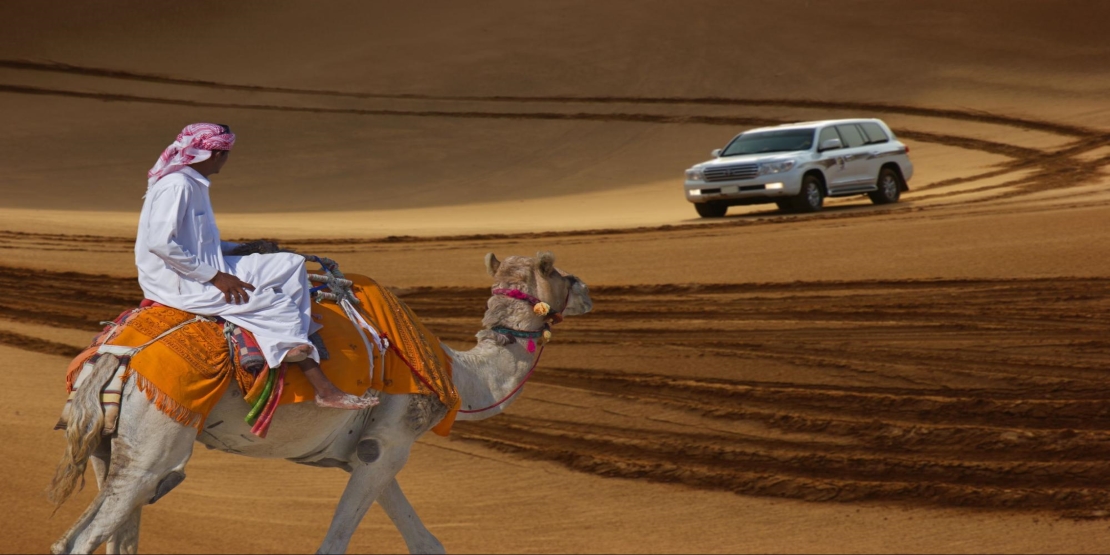 The biggest draw for Dubai tourism is the exotic desert safari experience on offer for Dubai tourist. There are several operators providing ultra-luxurious desert safaris where you can expect to go dune-bashing in a premier SUV while gazing at local wildlife and animals including the Arabian Oryx and others. Visit a sanctuary and after your thrilling safari ride, enjoy relaxing in the plush Majlis while feasting on canapés and date juice. 
View amazing falconry shows followed by enticing multi-course meals whipped up by private chefs while enjoying other attractions like Shisha and henna painting as well. A private car for two people will naturally cost a hefty amount, i.e. AED 5580 although it will be worth every penny spent once you're well ensconced in the glimmering Arabian Desert of your fairy tales!
VIP Shopping Services
All Dubai tourist know that the Emirate is the hub of luxury shopping in the entire region. It is home to the famous shopping festival as well. Yet, how about indulging in a luxury that few people usually opt for? You can check out the VIP Shopping Service at almost all premier shopping malls in Dubai. You can simply go shopping hands-free with this system while they also have plush wagons to transport you from one store to another.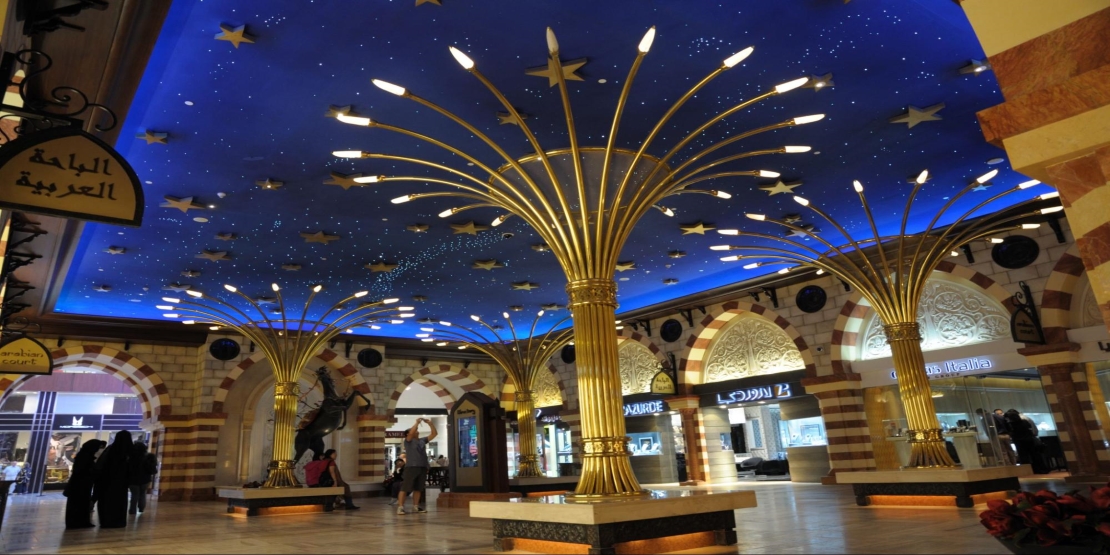 There are numerous personal shoppers on call for fastidious clients, particularly at the mega Dubai Mall and also the famous Mall of the Emirates. You will be styled immaculately by these personal shoppers at brands like Bloomingdales, Harvey Nichols and more. City Walk is another top choice for discovering the best global brands. 
Uber-Luxurious Hotel Stays
You will never discover what true luxury is until you have stayed at least a night at the world-famous Burj Al Arab with suites starting from AED 5,000 every night. You will naturally get several additional perks including exploring the city in Rolls Royces with private chauffeurs, taking helicopter rides from the famous helipad of the world's only 7-star hotel and also private access to the beach along with luxurious experiences on the terrace, complete with cabanas and swimming pools alike.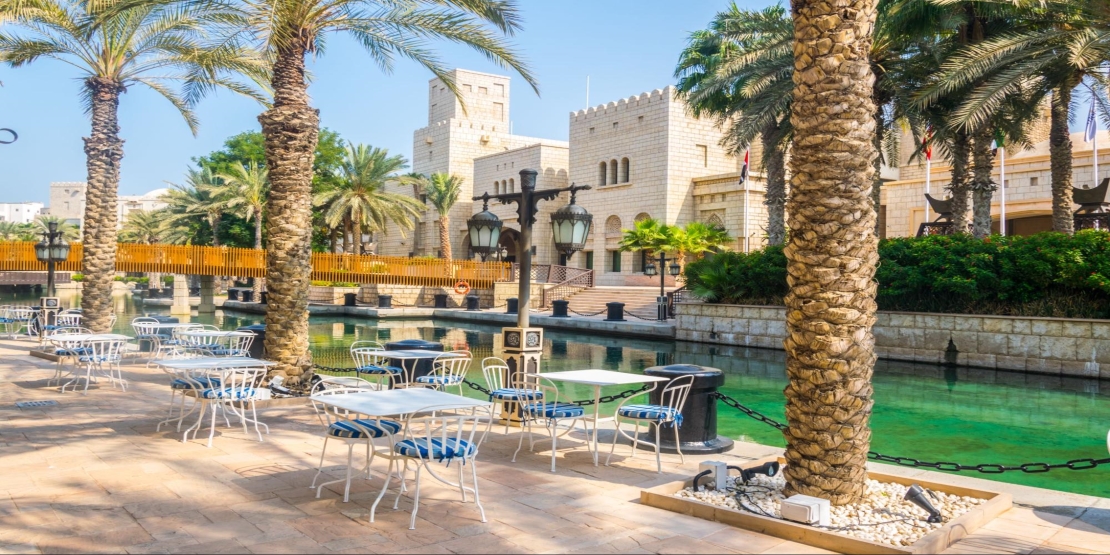 The hotel suites have several features including private check-ins and personal butlers alike. The opulence on offer will make for a lifetime experience indeed.
Premium Cruise Experiences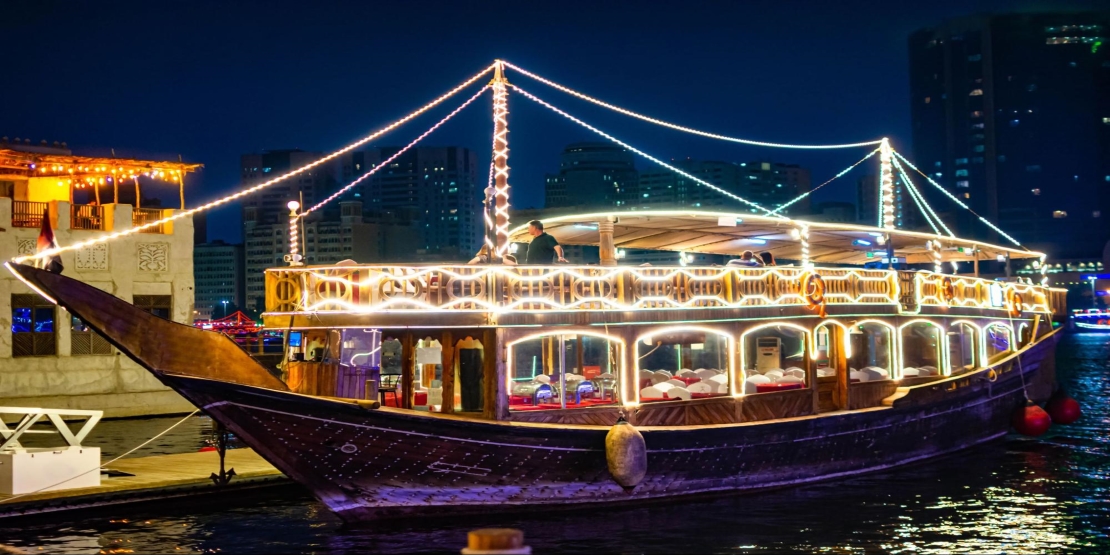 One of the best highlights of Dubai is it will pamper you like no other! Take this luxury cruise with your loved ones when the weather is good in Dubai.
Dubai World Cup
It is worth visiting at the time of the Dubai World Cup to truly be a part of the global swish set. The World Cup has a prize kitty going upwards of US$12 million and you can enjoy this in VIP-style, complete with the Nad Al Sheba suite offered at Meydan, providing stunning Parade Ring views and an afternoon tea package alike. You can enjoy fabulous in-house beverages and delicious meals for a princely sum exceeding AED 3,250.
Supercar City Tours
Another unique experience that any Dubai tourist will love – you get to ride in limited-edition supercars. Rentals are readily available at roughly AED 7,000 for each day. The cars on offer? Picture something like the Lamborghini Aventador LP 750-4 SV for instance. You can even choose luxury tours in a chauffeur-driven Rolls Royce. Trust us, the experience is unmatched! 
Regal Dining Experiences
Dubai is known globally for its plethora of acclaimed fine-dining restaurants. If you want a real taste of culinary luxury, then start with lunch at Ossiano (Atlantis The Palm), one of the world's most beautiful underground establishments. You can also try Tresind Studio, Zuma and even Kohantei which is near the Dubai Opera as well.
Luxury Golfing
Dubai is where you will find several golf tournaments held round the year, including the likes of the Omega Desert Classic, DP World Tournament and many more. The ultimate luxurious golfing experience will take place at the new club at Dubai Hills or the Greg Norman Fire and Earth Course within Jumeirah Golf Estates. 
Premium Spa Experiences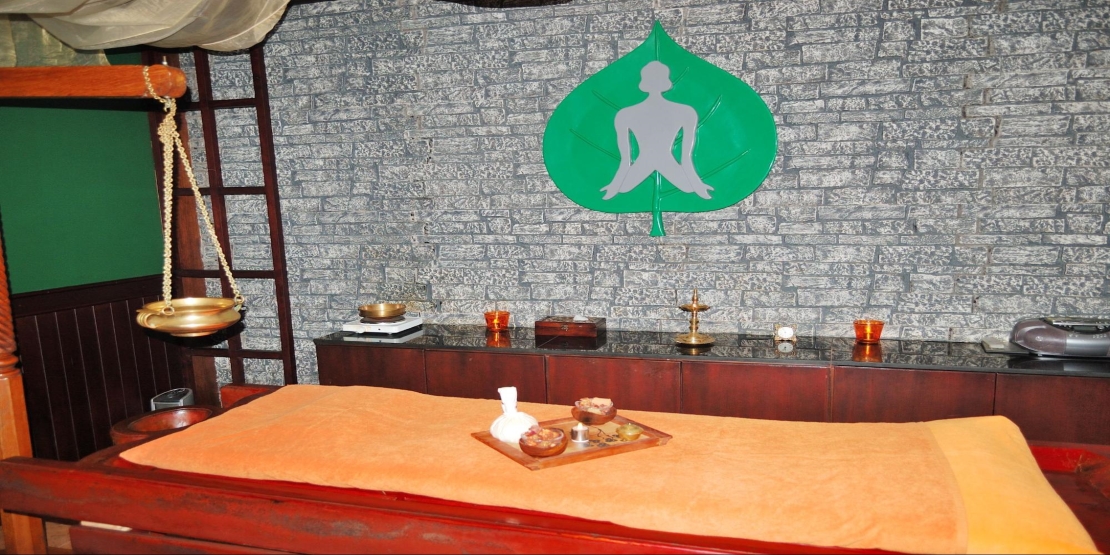 You can relax blissfully at some of the most luxurious and highly acclaimed Dubai spas. Dubai is known for the vast array of therapies offered at these spas including Moroccan Hammam treatments, Balinese massages and a lot more. Try the Talise Spa at the Madinat Jumeirah or even at the Burj Al Arab. They offer the finest therapies for total healing along with a lot more. 
You will definitely enjoy the complimentary steam room, swimming pool and sauna usage in turn as well. The amazing romantic moonlight swim is a lifetime experience for which the tab is a little steep of course. However, as mentioned before, it is always worth it! You may also try the Palazzo Versace and its VIP spa experience. Have a hearty breakfast prior to taking the massage and Hammam treatment. After your spa treatment, you can get a manicure, pedicure, facial and blowout with top-rated professionals at hand.
Seaplane Flight
Catching a flight between destinations is a common affair isn't it? Why not get a stunning aerial Dubai or Abu Dhabi landscape as your constant companion throughout a 45-minute journey? Soar high in the sky with a Cessna seaplane (shared). You will view everything important including the Viceroy Hotel, Burj Khalifa, Palm Jumeirah, the Yas Island-based Ferrari World and even the acclaimed Formula 1 Grand Prix circuit. 
Land on the pristine waters in Abu Dhabi and then hog on scrumptious food before enjoying some thrilling rides at Ferrari World.
Hot Air Balloon Ride
This is another wonderful experience that does not come cheap! You will love the sheer experience of viewing sunrise in the desert while soaring in a hot air balloon over the mystic dunes. The views are simply unforgettable. Yet, you have to get up early and come to the balloon launch site via minibus. The pilots are also extremely competent and capable of ensuring wonderful experiences while you float over the desert. 
Watch trained falcons fly neatly till 4,000 feet and you will then get the clear sunrise view as it comes up over the imposing Hajar Mountains. End with a desert tour in a classic Land Rover or any other vintage SUV. You can then end the experience with an exclusive breakfast. How about this to start the day? Simply spectacular isn't it?
Burj Al Arab High Tea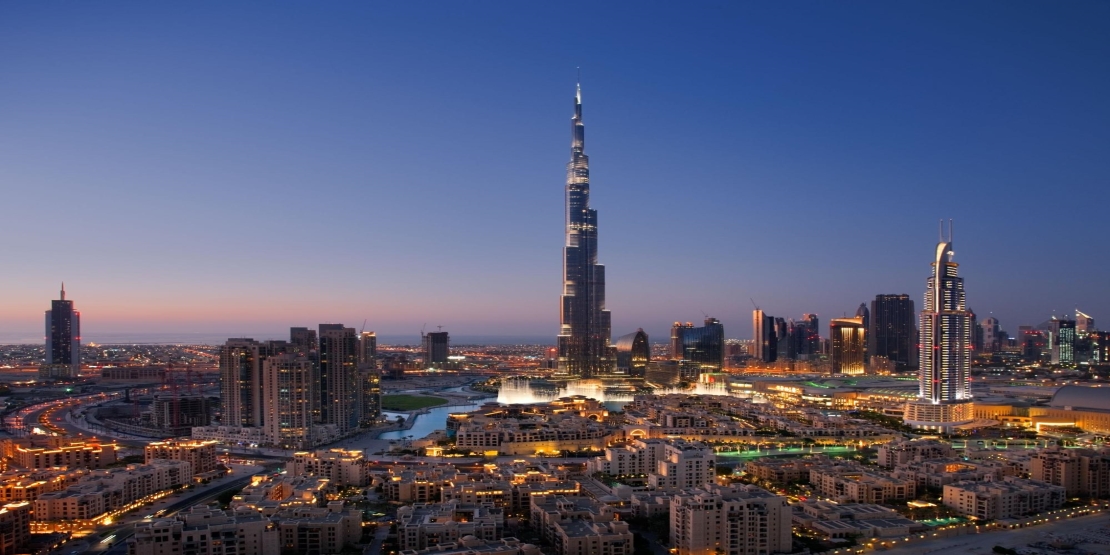 Luxury in Dubai means coming back once again to the famous Burj Al Arab. Along with staying the night here, make sure that you indulge in the high tea experience! You will love the gorgeous views of the city as you sip your favourite cuppa at a fabulous height. The hotel offers the very best Sky Tea in the world along with high tea, Asian afternoon tea and a lot more. Even if you are not staying at this hotel, you can get a pickup from the location along with a drop off afterwards.
Premium Dhow Cruises
Couples looking for intimacy amidst the beauty of Nature can look for a romantic cruise on a Dhow. The 5-star global menu will be accompanied by a private butler, a live station for cooking and the stunning backdrop featuring a lit-up Dubai with its magnificent buildings and pathways. The choice of music is yours, which is another plus point! Looking to pop the question or simply surprise your beloved? You know where to head!
Mini Yacht Cruise
In fact, if you are someone who does not want to hire a luxury car to get around Dubai and love the water, a mini yacht cruise may be a great solution. The water always has lower traffic and you can readily admire the wonderful landmarks and skyline of Dubai. Watch the Palm Jumeirah and Burj Al Arab come alive while sipping on refreshments and eating to your heart's content. You can stop and take a nice cooling dip on the way! Of course, it goes without saying that your favourite music will add to the overwhelming beauty of the experience.
Bottom Line
Imagine waking to the breath taking skyline of Dubai. Feels peaceful and tranquil, right? Now daydream of Dubai as a magical country where you feel ecstasy and at your best. Go Dubai Tourist and Visit now to experience the urban oasis.