The capital city of the United Arab Emirates, Abu Dhabi has the best taxi service network in the country. Abu Dhabi's taxi service network is strong and well-managed, allowing locals and tourists to travel around the Emirate conveniently. Abu Dhabi taxi services are a comfortable way of traveling if you need privacy and do not prefer sharing the ride with anyone. Thus, the Abu Dhabi taxi booking process is uncomplicated and pretty straightforward.
This article covers everything about Abu Dhabi taxi services. Scroll down to know the different types of Abu Dhabi taxis, booking services, taxi fare rates and much more. 
Abu Dhabi Taxi Services
In Abu Dhabi, taxi services are regulated by the TransAD (Centre for Regulation of Transport by Hire Cars). Together, with the help of the Emirates Driving Company, the centre guarantees that public transportation in Abu Dhabi is effectively managed and accessible, safe, and well-organised. An extensive orientation course and assessment test are now compulsory for all new drivers. This must be done until they can operate their taxis.
Listed below are the different types of Abu Dhabi Taxis and their services –
Different Types of Abu Dhabi Taxis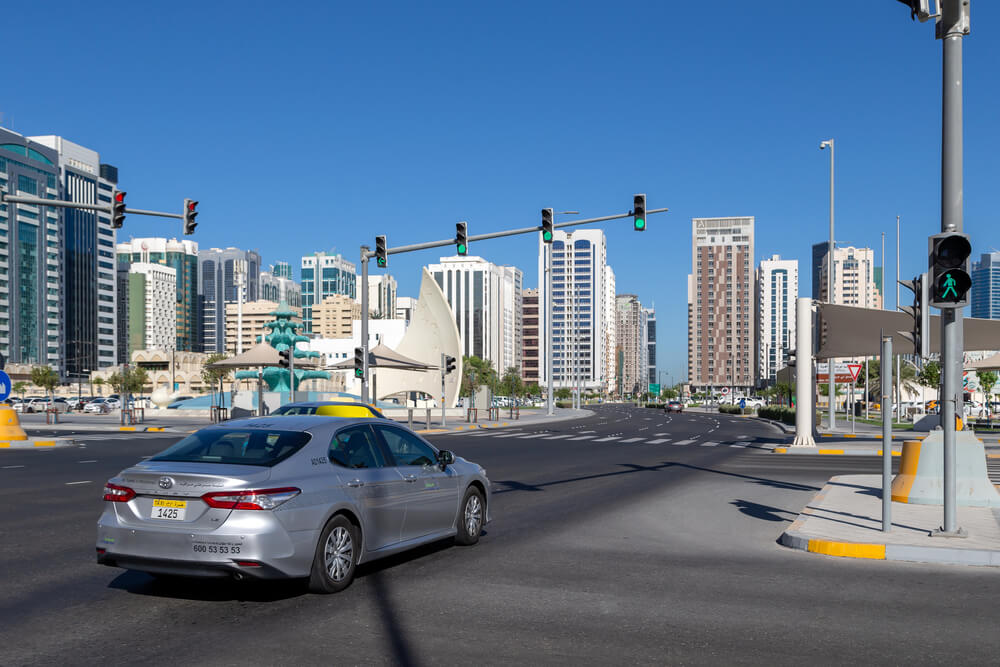 Abu Dhabi Taxis are the most common mode of transportation in the city. Thus, one can easily spot a fleet of them outside the city's attraction spots, recreational centres, hotels, malls, restaurants, medical facilities, bus terminals, and residential properties. The percentage of hybrid taxis in Abu Dhabi is around 85%. The number of taxis in the emirate has reached about 6,400, with almost 1,308 eco-friendly vehicles hitting the roads this year. 
Several authorised Abu Dhabi taxi companies operate numerous types of taxis that run on a meter. Besides the regular taxis, Abu Dhabi has Pink taxis, Airport taxis, and Mercedes Vito taxis.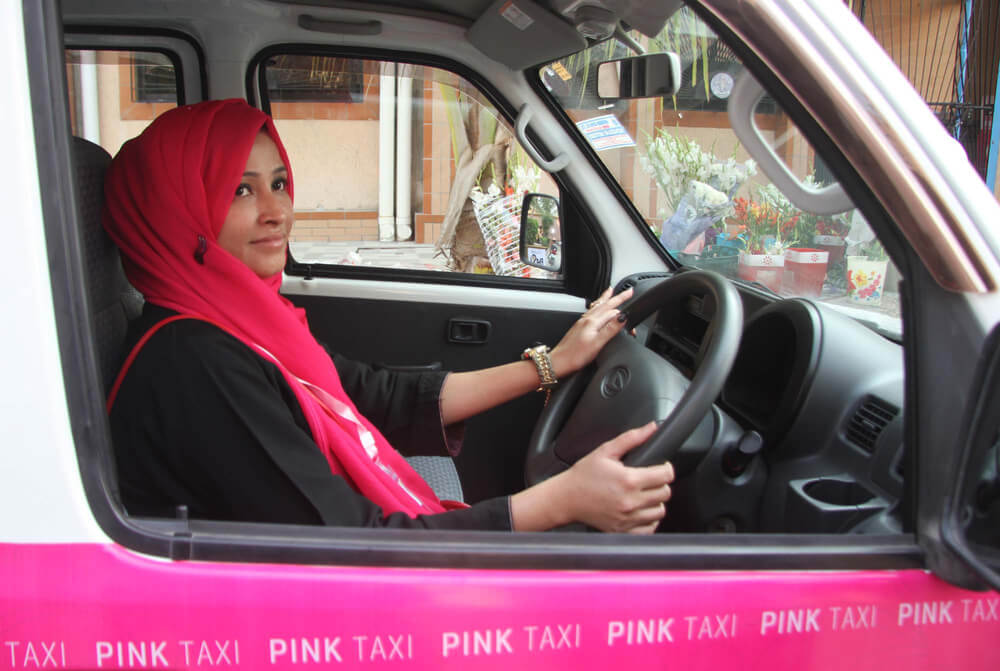 In Abu Dhabi, pink taxis are driven and operated by women. It specialises in providing commuting options for women and children younger than ten years old. In 2010, TransAD introduced this category of public transport. All the services and taxi fares of the pink taxi are similar to those of other taxis. To book a Pink Taxi in Abu Dhabi, call their customer service number : 600-535-353.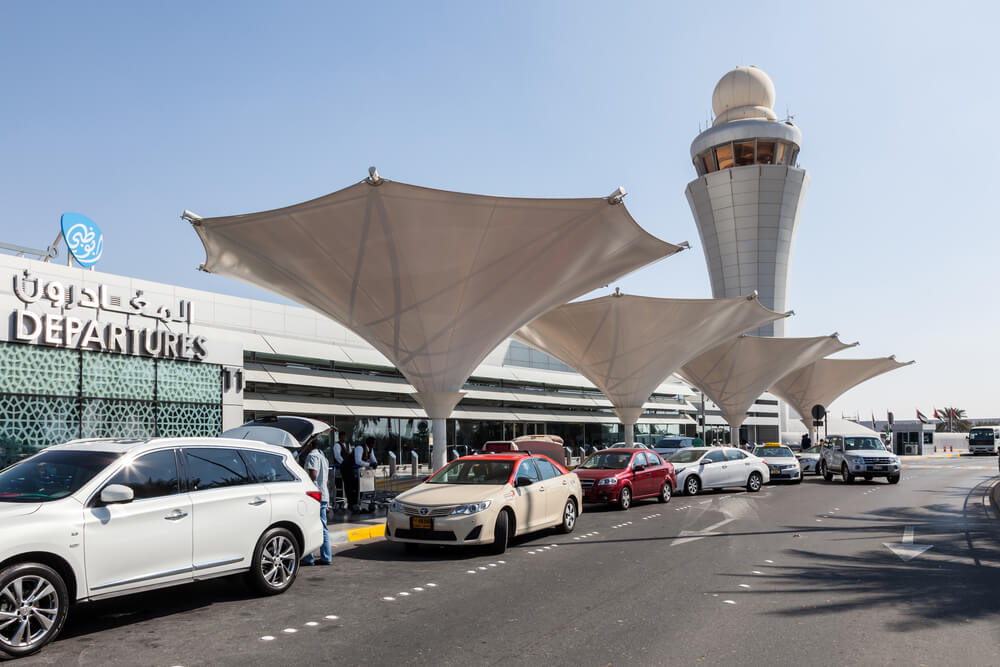 The Abu Dhabi airport taxis are simple to locate and offer a fuss-free ride to the desired location. Throughout Abu Dhabi International Airport, airport taxis are always available at designated points within the terminals. Airport taxis run on a meter and charge the same as public taxis in the city. The minimum taxi fare from the Abu Dhabi airport is AED 20.
Call the Abu Dhabi Taxi Booking Number : 600-535353 – to book an airport taxi.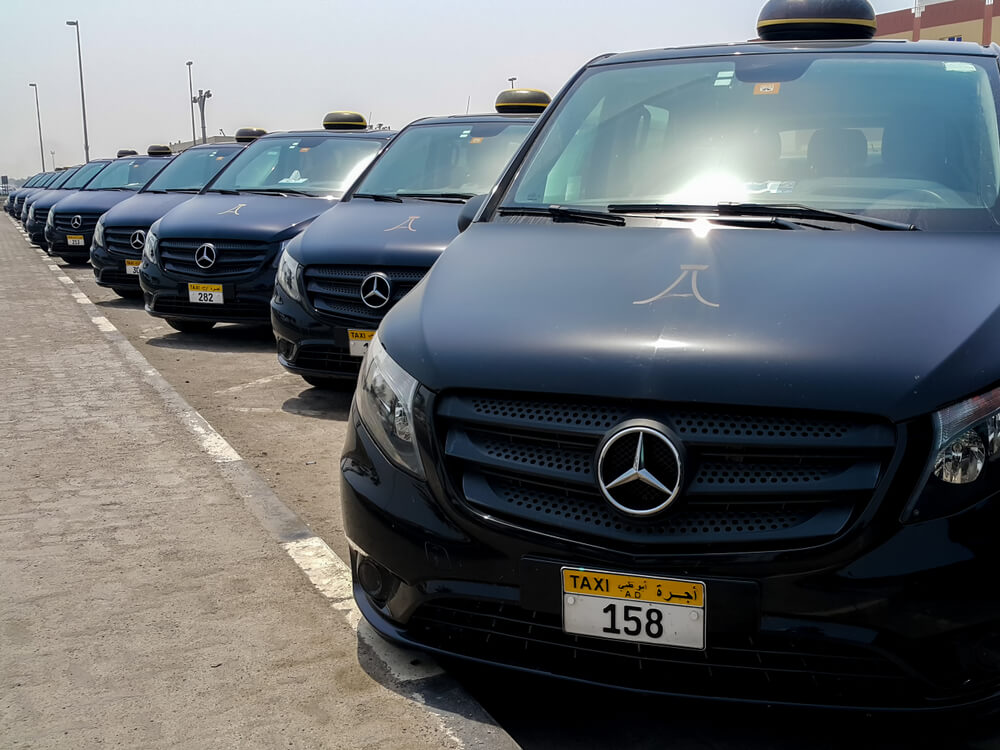 Luxury airport taxis such as the Mercedes-Benz Vito are readily available at the arrival halls of Terminal 1 and 3 of the Abu Dhabi International Airport. This airport taxi service is specially designed for people with disabilities and special needs. 
Mercedes Vito taxis feature the latest technology, advanced GPS, extra baggage space, and an online tracking system. They provide trained and multi-lingual drivers for a safe, secure, and convenient transport option.
The minimum taxi fare for a luxury airport taxi starts at AED 25. Passengers have the option of paying in different currencies.
Abu Dhabi Taxi Booking Services 
Fleets of taxis operate under multiple authorised taxi companies. They regulate the metered taxis in the city and ensure that the guidelines of TransAD are followed diligently.
The authorised companies that provide Abu Dhabi taxi services are –
Al Arabia Taxi

Emirates Taxi

Al Ghazal Taxis

Cars Taxi

National Taxi

National Transport

National Transport Company

Tawasul Transport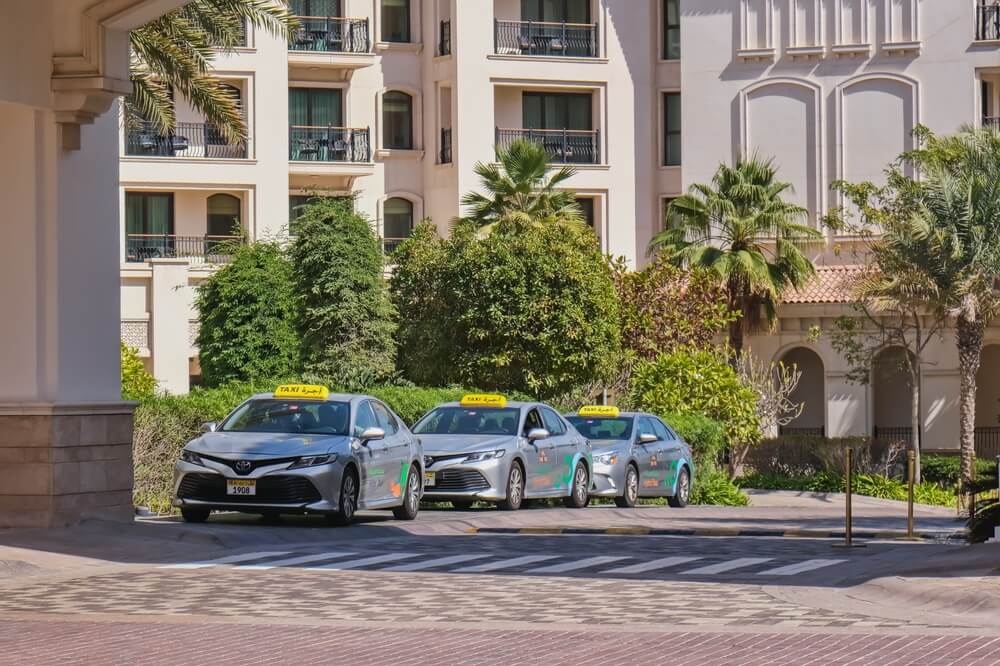 Booking a taxi in Abu Dhabi is a no-brainer. One can easily book an Abu Dhabi taxi through various platforms. Every booking created is monitored by the transport services ensuring to fulfil the needs of the passengers. Here are several platforms to use to book an Abu Dhabi taxi. They are –
Abu Dhabi Taxi Booking Through Call
You can call the Abu Dhabi taxi booking hotline to reserve a taxi if none are readily accessible on the streets. A customer support representative will help with the reservation, and after it is verified, the taxi will arrive at the destination at the scheduled time.
The Abu Dhabi Taxi Booking Number is : 600-535353
Taxi Booking via Smartphone App
You can make a quick taxi reservation with the Abu Dhabi Taxi smartphone app. TransAD Integrated Transport Centre (ITC) created this software to help locals and visitors alike. The taxi will come within 10 minutes of being ordered on the app. The Abu Dhabi Taxi App is available for download on Apple and Google Play Store. Features of the Trans AD app connected to taxis include:
A 24/7 customer centre

Tracking taxi location when booked

Cancel a taxi booking

Keep a record of previous taxi rides

Provide customer feedback

Visit other places in Abu Dhabi and book a taxi to other destinations within the city 

Taxi Booking on DARBI App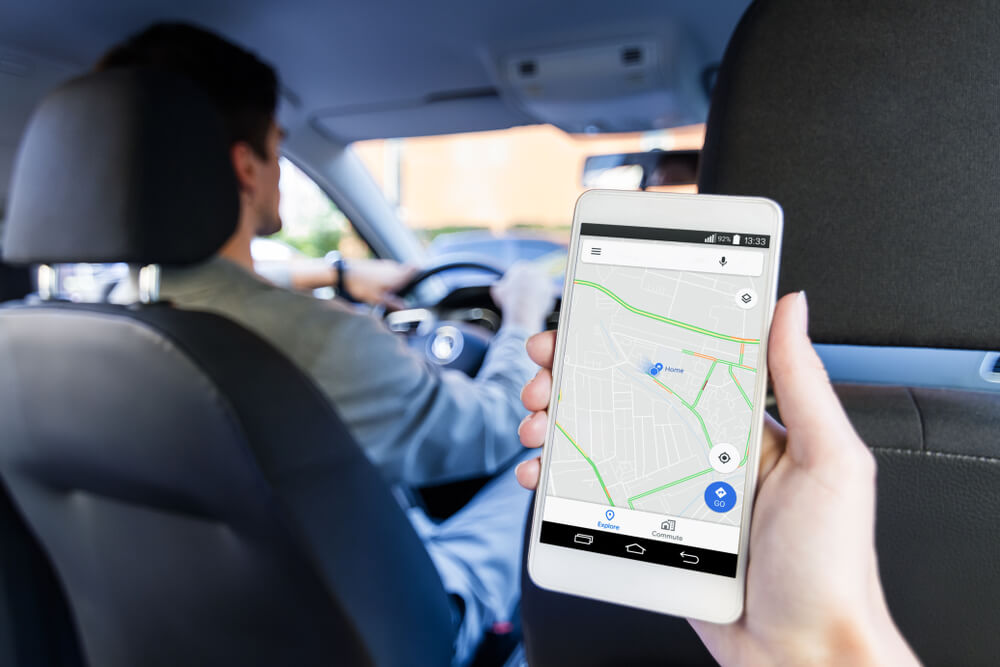 Using the Darbi app and website, you may also reserve a taxi in Abu Dhabi. The app calculates the taxi fare from pick-up to final destination. You can book a taxi using the DARBI app or their website by following these steps:
Log onto the DARBI website or app and select the option "Book a Taxi" from the drop-down menu

Enter all your details such as name, gender, and mobile number after choosing "Book Now". 

A code will be sent to your registered mobile number by the app.

Enter the selected destination after the code. Additionally, you can choose a spot on the map by using the pin.

After filling in all the details, select "book" and wait for a confirmation message. 

Abu Dhabi Taxi Booking – TRANSAD App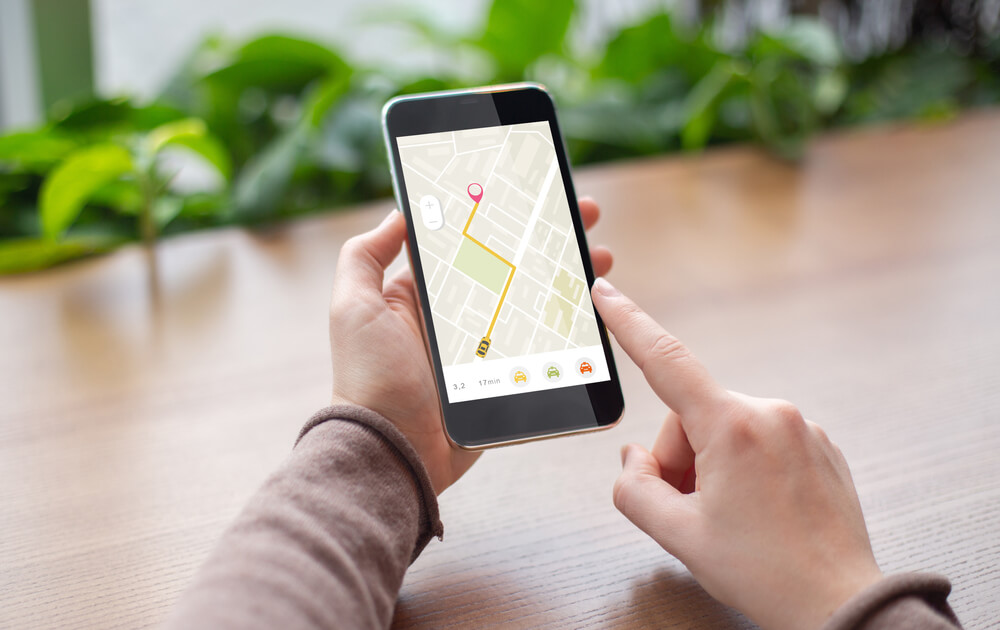 Another smartphone application that will help to book an Abu Dhabi taxi is the TransAD mobile app. Premium taxi services are available on the app to travel between different emirates. 
This is how you can book a taxi via the app –
Download the TransAD Taxi app on your phone via Apple or Google Play Store.

Select the taxi booking menu and choose the type of taxi you prefer

Search and enter the pickup location to confirm the ride.

The app has the option to cancel the taxi ride as well. 
Abu Dhabi Taxi Stands
Besides all the fancy smartphone applications to book a taxi in Abu Dhabi, there are numerous dedicated, old-school taxi stands available at multiple shopping centres, hospitals, airports and bus terminals, and hotels in Abu Dhabi.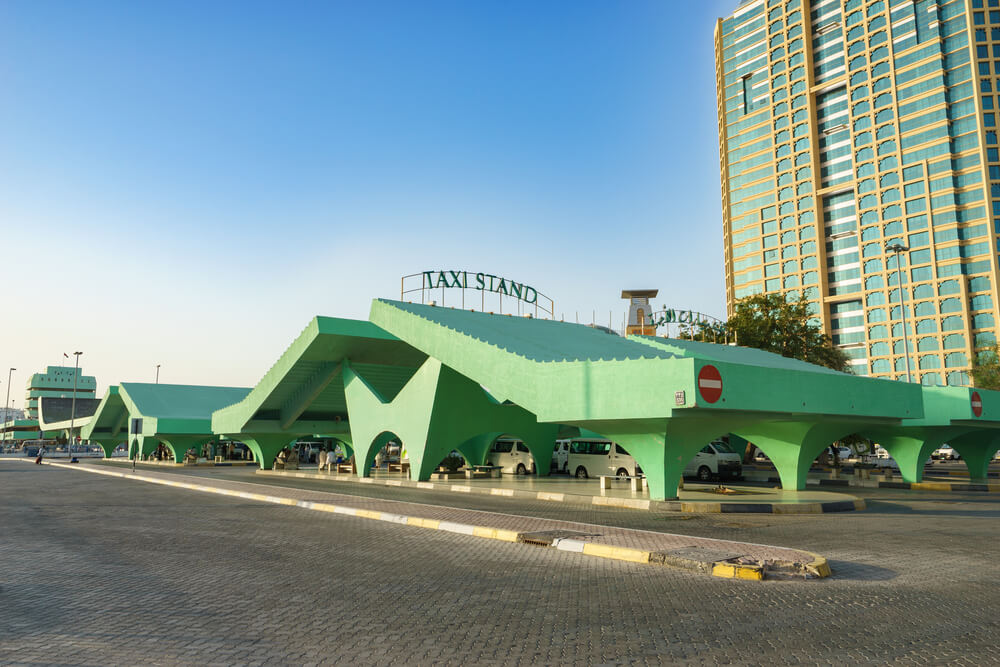 All About Abu Dhabi Taxi Fare 
The fare for a taxi in Abu Dhabi is payable in cash as well as with credit cards. Using metered taxis in Abu Dhabi allows the passenger and the taxi companies to keep track of fares based on the location. Here is a breakdown of the taxi fare in Abu Dhabi –
| | | |
| --- | --- | --- |
| Time | 6 AM – 10 PM | 10 PM – 6 AM |
| Minimum Fare | AED 12 | AED 12 |
| Starting Fee | AED 5 | AED 5.50 |
| Every 1 km up to 50 km | AED 1.82 | AED 1.82 |
| Every 1- minute waiting time | 50 fils | 50 fils |
| Booking Charges | AED 4 | AED 5 |
The listed Abu Dhabi taxi fares are same for regular taxis and Pink taxis. 
Passenger Rights and Responsibilities 
A passenger booking a taxi in Abu Dhabi has certain rights and responsibilities. They include –
Rights of a Passenger
The freedom to select the route to the preferred destination.

To check the taxi meter.

Request for air conditioning in the taxi.

Refuse to pay a tip to the driver.

Ask and investigate for the taxi driver's identity card. 
Responsibilities of a Passenger
To pay the full taxi fare, including booking and toll charges (if any).

Wear a seat belt throughout the journey.

Must not smoke, eat, or drink inside the taxi

Do not compel the driver to stop in an unsafe or illegal location

Kids under 12 months of age should use a child car seat. 
Facts about Abu Dhabi Taxi Services
Abu Dhabi taxis identify with their silver livery with a yellow taxi roof sign. They are easily recognisable from far away. 

Several Abu Dhabi taxi drivers are fluent in English, enabling accessible communication for tourists.

The taxi drivers are not familiar with street names. Thus, it is advised to know the exact location of your destination or a nearby landmark.

Remember to take the receipt from the taxi driver in case you leave something behind. Contact the call centre as they will be able to identify the Abu Dhabi taxi number and inform the driver of the same. You are likely to get hold of all your belongings, as Abu Dhabi is a safe city.

People of determination and elderly people are given the benefit of discount cards to use when booking a taxi by the Ministry of Community.
Book Your Taxi Ride Now
We know that the UAE is very strict regarding rules and regulations. With COVID not entirely eradicated, all Abu Dhabi taxis are sterilised and sanitised at the beginning and end of every shift.
The higher authorities have made living and commuting in Abu Dhabi extremely comfortable and accessible. Abu Dhabi taxi booking is easy and reliable, either through a call or a smartphone application with courteous and helpful drivers. Travelling via a public taxi is safe and secure, especially for women who can opt for the pink taxis in the city.
If you plan on travelling to Abu Dhabi, hop on to a silver livery and enjoy every inch of the Emirate without any worry. 
Some Useful Articles for you :
Frequently Asked Questions (FAQs)
How do I call a taxi in Abu Dhabi?
Call on Abu Dhabi Taxi Booking Number - 600-535353, to book a taxi in Abu Dhabi.
Is it easy to get a taxi in Abu Dhabi?
Yes, it is easy to get a taxi in Abu Dhabi. You can book a taxi via call or the TransAD app.
Can I use Uber in Abu Dhabi?
No, Uber does not operate entirely in Abu Dhabi.
Are taxis allowed in Abu Dhabi?
Yes, taxis are allowed in Abu Dhabi. A fleet of taxis is available in the city with trained drivers and numerous platforms to book an Abu Dhabi taxi.
How much does a taxi cost in Abu Dhabi?
The minimum fare for a taxi in Abu Dhabi is AED 12.
How do you order a taxi in Abu Dhabi?
To book a taxi in Abu Dhabi, you can hail a taxi from the streets or book through the TransAD app's hotline number - 600 535 353 or on the Abu Dhabi Taxi app.
Are taxis in Abu Dhabi expensive?
Taxis in Abu Dhabi are reasonably priced and are available in huge numbers.