Bluewater Island Dubai is a purpose-built lifestyle tourist destination on a man-made island. This unique urban getaway offers scenic ocean views with a range of leisure facilities, retail and dining outlets, luxurious resorts, and entertainment avenues. The island houses an exclusive selection of residential apartments, penthouses, and townhouses carefully designed to complement the lifestyle of the inhabitants. The multi-mode transport systems provide easy access to the mainland of the city. 
So, let's get started and explore the beauty of this vibrant destination.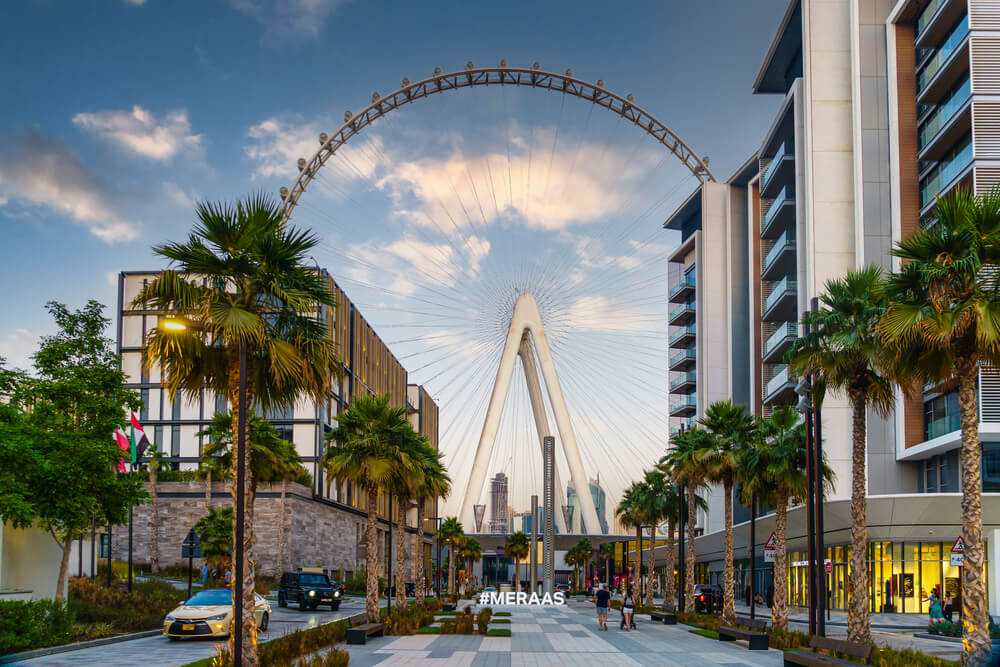 Bluewaters Island Location
The Bluewaters Island location runs off the coast of Jumeirah Beach Residence in the Dubai Marina area. It is the newest attraction in Dubai's stellar list of marvels, located only 300 metres from the coastline. Further, it is connected to the mainland by an overpass and Wharf Link pedestrian bridge. The island is known for Ain Dubai, the highest observation wheel in the world. From residential buildings, retail therapy, to restaurants and entertainment, the marvellous island address has it all. Amongst many things, the Blue water island restaurants offer some lip smacking gastronomy.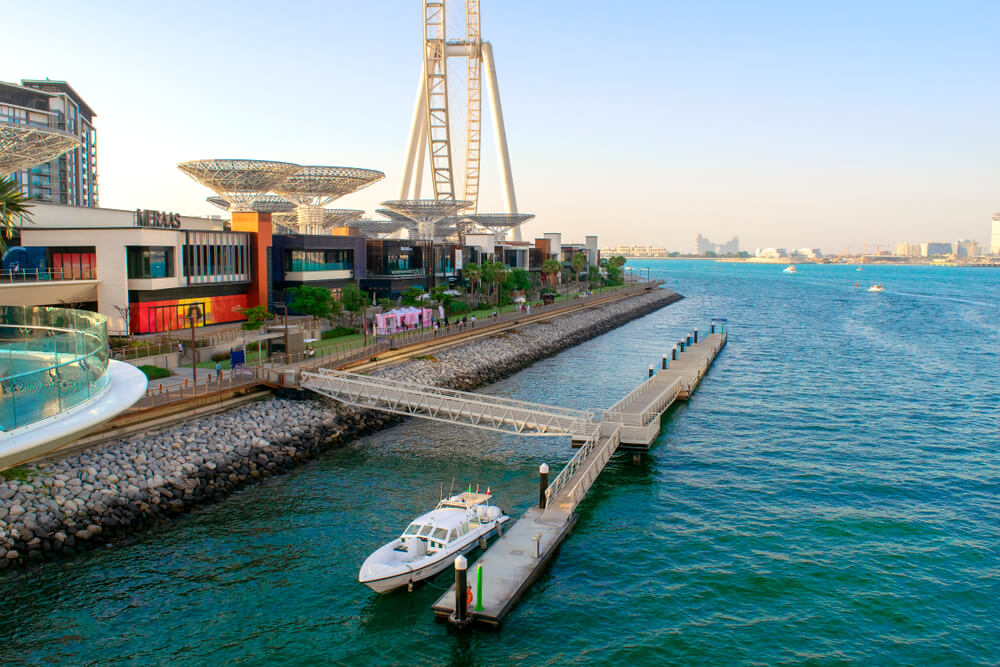 6 Things to Do in Bluewater Island Dubai
Bluewater Island is home to world-class attractions, luxury resorts, a large shopping zone and fabulous restaurants becoming the hotspot in Dubai. 
Bluewaters houses the world's tallest and largest Ferris Wheel Ain Dubai, which stands tall at 210 metres. The wheel has the capacity to carry up to 1400 passengers in 48 capsules, offering a complete rotation in 45 minutes. Due to the unique design of this carousel, the wheel is not interrupted while the passengers are riding. The gondolas of the Ferris Wheel are the size of the living room due to their enormous dimensions. It can carry up to 40 passengers and offer its visitors awe-inspiring views of Palm Jumeirah and the magnificent skyline of Dubai. This observation wheel weighs 10,000 tons while another 7,000 tons of steel were used to support it.  As a result, it has resistance to massive sand storms and severe earthquakes. Entirely made of glass, each capsule measures 30 sq. metres and features LED screens for video and light shows to be projected. 
 

 

View this post on Instagram

 
Experience Luxury at Caesars Palace Dubai
Two luxurious hotel resorts with their own beach club are subsidiaries of Caesars Entertainment, a company mainly known for Caesars Palace and its casinos in Las Vegas. The Caesars Palace in Dubai is the first hotel to be built without a casino.  Nestled on Dubai's most sought-after Bluewaters Island, the hotel lives up to its regal legacy with fine hospitality and premium facilities including world-class entertainment, tantalising dining, outdoor infinity, pools, spa & salon, thrilling indoor and outdoor activities. The hotel offers the most upscale living accommodation to tourists at the Bluewater Islands with 194 rooms and suites overlooking stunning sea views and some of the most exclusive dining outlets in-house. Gordon Ramsay's Hell's Kitchen is the major highlight here, serving the best flavours with a dash of theatrics. 
Unwind at the Cove Beach Dubai
Known as one of the most amusing and popular tourist locations in Dubai, Cove Beach is the perfect place to laze away the day. With the stunning azure waters of the Arabian Sea serving as the backdrop, it invites you to spend a comfortable time enjoying the plethora of services at the beach. Housing a Two. O restaurant, Rose lounge and swimming pools, there's a distinctive Mediterranean vibe here that you'll want to soak in. This lifestyle destination offers a range of personalised services that make guests feel like royalty. Enjoy exciting lounge areas, famous seafood, and absolutely serene views worth admiring. The enchanting beach club is lively on weekends with party music playing in the backdrop. 
 

 

View this post on Instagram

 
Dine-in at Exclusive Restaurants
Bluewaters Island's restaurants are exquisite, encompassing more than 150 shops and restaurants with panoramic views of Dubai Marina and Palm Jumeirah. The major highlight of the island is the diverse international cuisines from around the world, with Arabic, Thai, Italian, Mexican, Indian and Japanese dishes serving you with a stunning setup. Among the Bluewaters Island restaurants the most notable ones include the London Project and Gordon Ramsay's Hell Kitchen
The London Project at Bluewater Island is one of the coveted restaurants in Dubai,  with elegant interiors and incredible food derived from seasoned cookbooks of exotic recipes. The trendiest restaurant offers an eclectic mix of dishes and inhouse podcast studio tunes embracing the new concept an "immersive dining destination"
 

 

View this post on Instagram

 
Average cost for two :

AED 590 

Location

: Ground Level, Near Ain Dubai 

Timings

: 12:00 pm – 01:00 am, Thu-Fri: 12:00 pm – 02:00 am

 Gordon Ramsay's Hell Kitchen
Inspired by Gordon Ramsay's reality TV show, this theatrics restaurant with red and blue kitchens serves up world-class Ramsay signature dishes. The Hell Kitchen carries out an interesting fun culinary challenge every Friday, from 12.30 pm – 15.30 pm. Enjoy your zest with flavoursome servings of an a la carte menu at this upscale restaurant. 
Average cost for two:

AED 565 

Location

: Caesars Palace,  Dubai 

Timings:

07 am- 10:30 pm
Indulge in Retail Therapy
Being a shopping paradise, Dubai is home to more than a hundred stores. People can shop their heart out on the island which offers elite and homegrown brands. Enjoy the shopping spree in Arabia To Go and Camel Company, and buy a lot of souvenirs to take home.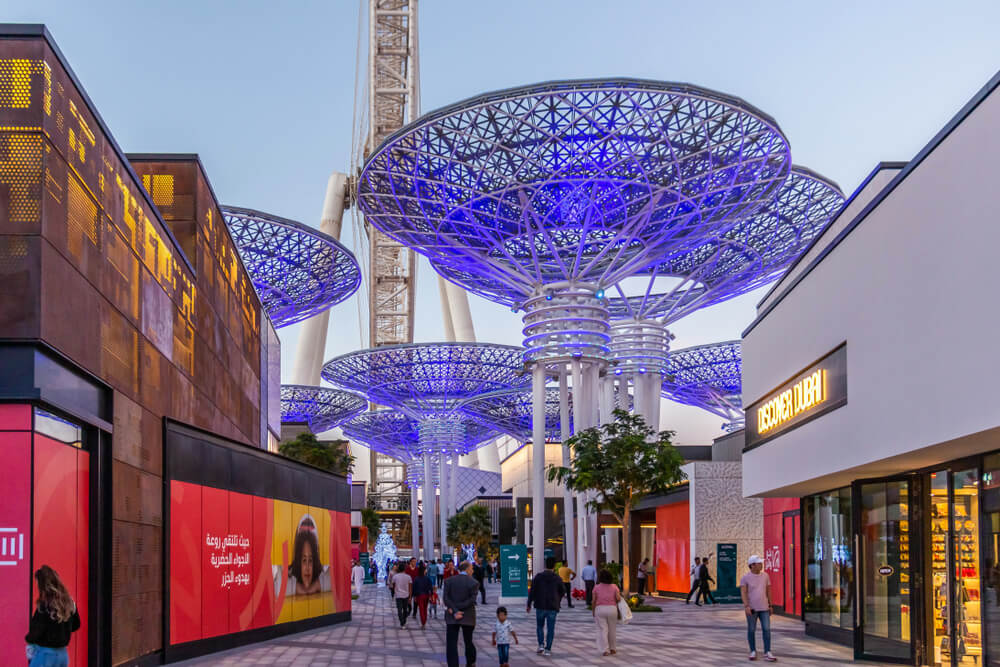 Meet the Stars at Madame Tussauds
The latest Madame Tussauds wax Museum opened in the Gulf Country, inviting people to admire the wax statues of famous people, leaders, artists, and athletes from around the world. It also features various regional icons- Nancy Ajram and Balqees Faithi.
The museum is divided into six different zones to enjoy the amazing experience and click pictures with your favourite celebrities.  
 

 

View this post on Instagram

 
Timings-

  Sun-Thur: 12:00 am – 08:00 pm, Fri-Sat: 11:00 am – 09:00 pm

Duration

– Approx 2 Hours
Accessed Route to Bluewater Island
Although it's technically an island, thanks to the overpass system it's easy to get to the Bluewater from the surrounding areas. People with private vehicles can travel from Sheikh Zayed Road to the island. There are over 2000 parking bays on-site on Bluewater Island. In addition, for pedestrians, there is a 265-metre-long bridge the Wharf Link connecting the Island to Jumeirah Beach Residence (JBR). 
Bluewater Island Timings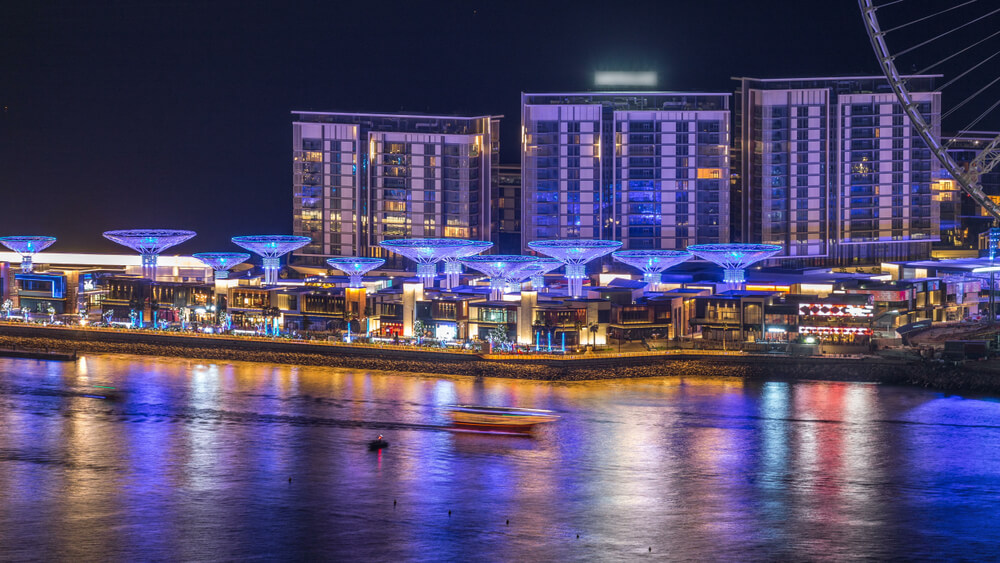 The best time of the year when you can plan an enticing visit to Bluewater Island is during winters since temperatures are significantly lower. The months from October to April offer pleasant weather to explore the vibrant attractions on the Island. 
Monday to Thursday : 10 AM – 11 PM
Friday to Sunday :  10 AM – 12 AM

Some More Useful Articles for you :
Frequently Asked Questions (FAQs)
Where is Bluewater Island Dubai?
Bluewater Island location is off the Jumeirah Beach Residence coastline, near Dubai Marina, in Dubai.
Can you walk to Bluewater Island?
Yes, take the 265 m long pedestrian link bridge over from Jumeirah Beach Residence.
When are Bluewater open?
Bluewater opens up every day from Monday to Thursday: 10 AM – 11 PM and Friday to Sunday: 10 AM – 12 AM.
Do you need to book in advance to visit Bluewater?
Yes, there are several hotels on Bluewater Island. You can book one in advance to ensure that you have accommodation while exploring the island.
What is the best time to visit Bluewater island?
The best time of the year when you can plan a visit to Bluewater Island is during winters due to pleasant weather to enjoy the world-class attractions.
How do you get to Bluewater Island from Dubai?
Bluewater' bridge and multi-mode transport systems are used to travel to the island.