With iconic structures across the world, Dubai's latest offering is the state-of-art Mohammed Bin Rashid Library. This unique monument in its all glory is an example of knowledge and culture in the UAE region. The library is designed to provide a platform for intellectual and imaginative minds across the region and the world. It is said to be the biggest library in the Arab world with an ocean of knowledge, books, and much more. 
In this blog, we delved into the details of Dubai's latest cultural landmark – Mohammed bin Rashid Library 
About Mohammed bin Rashid Library
Mohammed bin Rashid Library a world of imagination and storehouse of knowledge opened its magnificent doors to the public on 16th June 2022. This ambitious project was inaugurated by Sheikh Mohammed bin Rashid, Vice President and Ruler of Dubai.  Located on the banks of the Dubai Creek in Al Jaddaf, this bibliotheca spans seven floors over a whopping 54,000 square metres of land and features nine thematic libraries. It boasts an amphitheatre, a literary museum, a conference centre, a two-storey cafe, and a picturesque garden. 
Built at a cost of  AED 1 billion, the Mohammed bin Rashid Library houses 1.1 million books in 30 languages and joins Sharjah's House of Wisdom in paving the way for libraries of the future in Dubai. 
Architectural Features of Mohammed bin Rashid Library
This uniquely-shaped structure was designed by the consortium of Obermeyer Group in Munich and the ACG Architecture Consulting Group. The building was built on the concept of a Rehal, the traditional wooden book rest used to hold the Holy Quran during recitation. The Library in Dubai is the epitome of creativity and sustainability. 
The library is eco-friendly and gets 10% of its energy from solar panels installed on the roof of the building. Its distinctive design insulates the building's interiors from heat and helps regulate the building's internal environment. In addition, the ceiling windows allow natural light in, minimising the consumption of electricity and recycling water to reduce water consumption by half.
The expansive seven-storey library spans over a million printed and digital books in Arabic and foreign languages, over six million research dissertations, about 73,000 musical scores, 75,000 videos, nearly 13,000 articles, 500 rare acquisitions, more than 5000 printed and digital historical periodicals that charts several years of history, and about 35,000 printed and digital newspapers from all over the world.
Sheikh Mohammed Bin Rashid Library Al Jaddaf comprises nine libraries, each housing a unique collection of material catering to every target audience. 
It boasts more than 100,000 titles and is the place to seek popular novels and non-fiction titles on topics like history, health and science, technology, education and more. 
It's a hub of the history and culture of the UAE in many languages and genres. From rare collections of photos of the country to books written by citizens and residents, it has everything in between.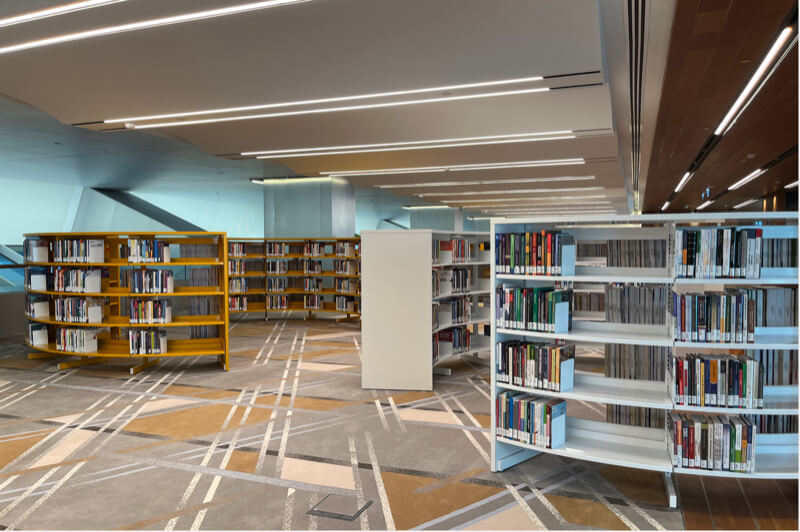 The Young Adults' Library
This section in Mohammed bin Rashid Library caters to youngsters of all ages with varying interests. From manga and anime to Captain Majid to books in business, economics and literature, this area appeals to the younger generation.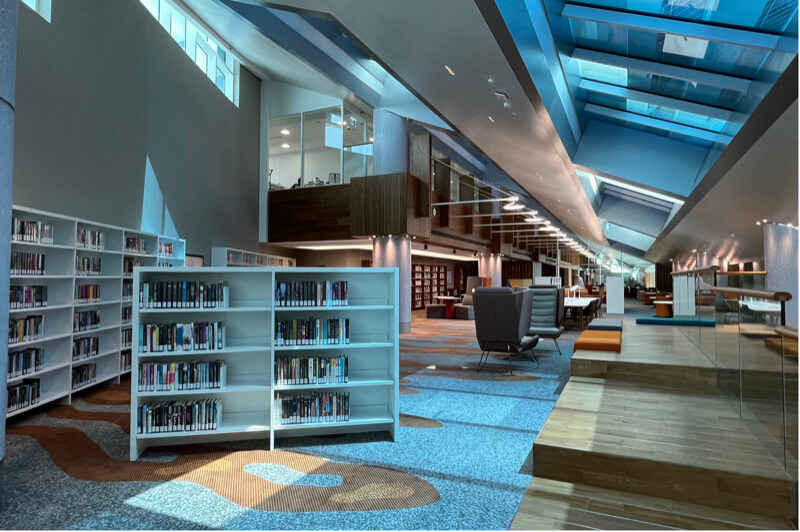 With an inviting play area, bursting with colours and 17,000 titles, it categorises children of various ages. The library includes board books, picture books and much more for the little ones to explore and enjoy.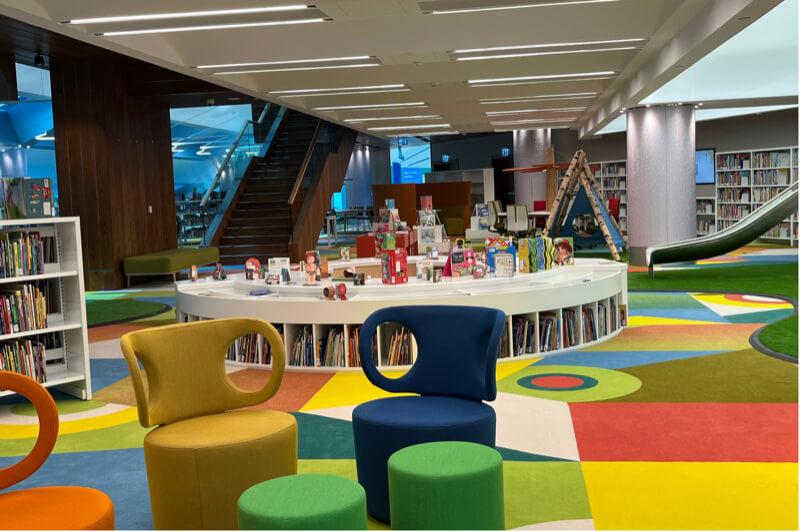 Private Collections Library
With unique and private collections of resources dated prior to the 1950s, this specific library requires exclusive permission to access it.
The Maps and Atlases Library
This library is located on the first floor and is for the geography buffs with rare maps and atlases from all around the world. 
This part of the Mohammed bin Rashid Library is packed with prolific collections of media and art resources with topics including architecture, design, history of art, DIY, music, cinema and more. A small, 4-seater media room screens theatre plays, documentaries and indie flicks.
This section is dedicated to businesses, entrepreneurship, economics, accountancy and management and has separate study areas 
This section at Mohammed bin Rashid Library houses a rare collection of magazines and periodicals from the 1950s in English and Arabic languages. 
Technological Advancement
The Mohammed bin Rashid Library use avant-garde technology and artificial intelligence system (AI) for learning, research, and information. From an electronic retrieval system, automated storage, self-service kiosks, a book digitisation lab, and smart robots that answer visitors inquiries, to virtual reality (VR), and other advanced technologies, providing the best possible visitor experience.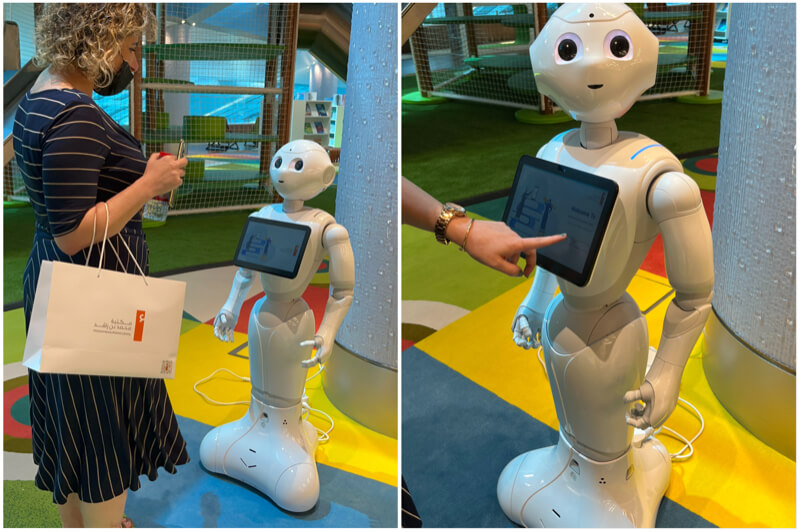 Other Amenities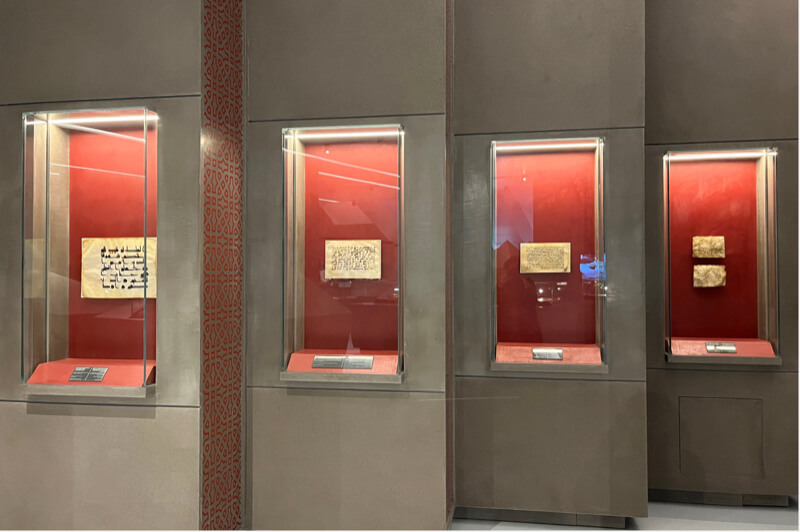 The Library is built and designed to empower the visually impaired with a Braille service. It includes a dedicated area providing a quiet space for people of determination and autistic individuals.

Literary Treasures spanning hundred of years is captured in the Treasures of the Library section. Located on the seventh floor, it showcases rare and old manuscripts some of them dating back to the 13th century.

The MRB Library houses an 800 sq. m. cafe spanning two floors that offers spectacular views of the library gardens and Dubai Creek.

The amphitheatre is located on the creek side of the library complex designed to host intimate cultural events and music performances. 
Timings, Entry Fee and Contact Information
Monday – Saturday (excluding Friday) : 9 AM to 9 PM
Friday : 2 PM to 9 PM
Sunday : Closed
The Library operates conventionally with no entry fee required for the visitors. However, a paid Mohammed bin Rashid library membership scheme is introduced that allows Dubai residents to borrow books for varying lengths of time. 
Mohammed Bin Rashid Library Contact : +971-4-317-5606
Mohammed bin Rashid Library Website : www.mbrsg.ae/home/library.aspx
Mohammed Bin Rashid Library as a Cultural Centre
The library is part of the foundation group- Mohammed Bin Rashid Al Maktoum Global Initiatives (MBRGI). This ambitious monument is aimed at highlighting the history and culture of the UAE and the Arab world and creating a stimulating environment for the future generation. In addition, helping to redefine the concept of libraries in the 21st century with advanced technology to maximise the reader's experience.
The library with its treasure trove of knowledge plays a pivotal role as a Cultural Centre in shaping the future of society.
A Video Tour of MBRL :

Some More Useful Articles for you :
Frequently Asked Questions (FAQs)
Is Mohammed Bin Rashid Library open?
Yes, the Mohammad Bin Rashid Library is open to the public from 9 am to 9 pm and is closed on Sundays.
When was The Library Inaugurated?
The MRBL was inaugurated on 16 June 2022 by HH Sheikh Mohammed bin Rashid Al Maktoum, the Vice-President and Prime Minister of the UAE.
Is There A Fee To Enter The Library?
No, there is free entry at Mohammed bin Rashid library Dubai.
Are Children Allowed To Enter The Library?
Children above the age of five are allowed to enter the premises of the library.
Does The Library Offer A Membership?
Yes, the library is expected to launch a paid membership scheme soon for the residents of Dubai.
What Are The Library's Timings?
The library opens from 09:00 am to 09:00 pm six days a week and is closed on Sundays.
Can I Get A Free Parking At The Library?
Yes, the MRB library has a nine-storey underground parking area with free car parking.
Can I Reach There By Metro Or Bus?
Yes, you can travel from Al Jaddaf Metro Station or take a bus via Dubai Bus route C04, which stops at the Creek Metro Station.
How Many Books Does Mohammed Bin Rashid Library Have?
The MBRL has a spanning collection of 1.1 million printed and digital books in Arabic and foreign languages.