Careem Bike entered the micro-mobility space by acquiring the UAE-based company Cyacle, which was re-branded as Careem Bike. Launched in 2019, Careem Bikes in Dubai is the first of its kind bike-sharing initiative in Dubai that was launched in partnership with the Roads and Transport Authority (RTA).
When looking for a means of public transport in Dubai, the emirate offers varying options. You can choose either a bus or a taxi; Dubai has fantastic metro and tram services. With Careem Bikes launching, the locals and the travellers get another option to choose from. In 2019, the RTA signed a long-term contract with the company, based on which Careem plans to install and operate 3,500 bicycles from 350 stations over five years.
1,750 bikes have been placed at 175 stations as part of Phase II. As of February 2022, has completed a total of 1,592 million trips. Owing to the above-mentioned figures, the project is considered a massive hit.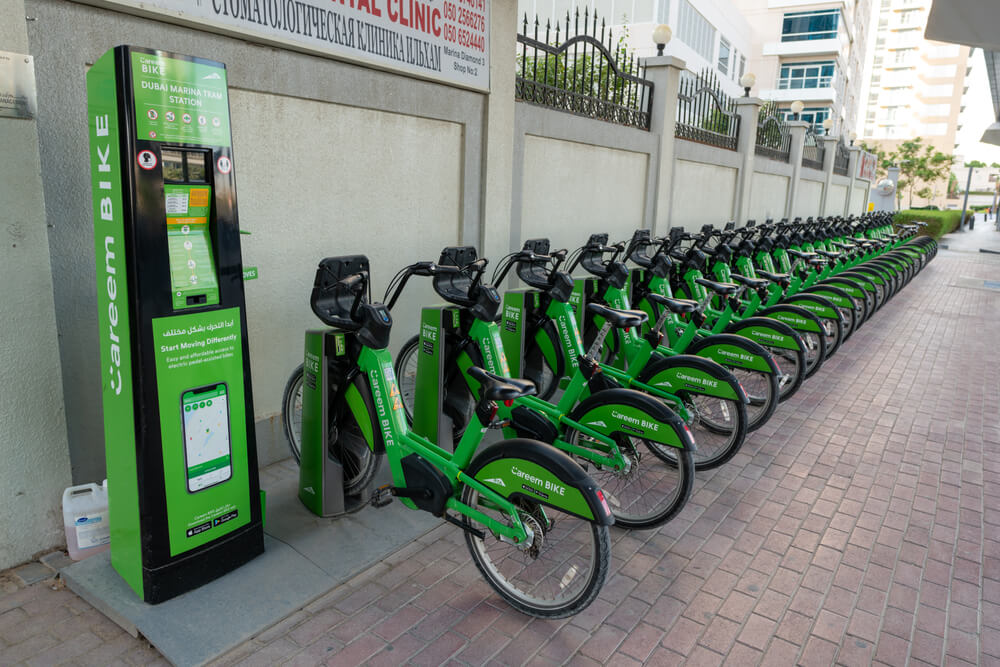 How Do Careem Bikes Work?
The emirate has an extensive public transport network, so it's a rather easy city to navigate. From the Dubai metro to the tram, taxis, buses, and even a monorail, exploring Dubai is just a hop away. And with Careem Bikes, exploration has become ever easier.
Travellers looking for bike rentals in the emirate can now use Careem Bike, which uses solar-powered docks and the freshest smart systems to ensure effortless operations. These bikes are operated using kinetic energy and pedals.
How to Use Careem Bikes in Dubai?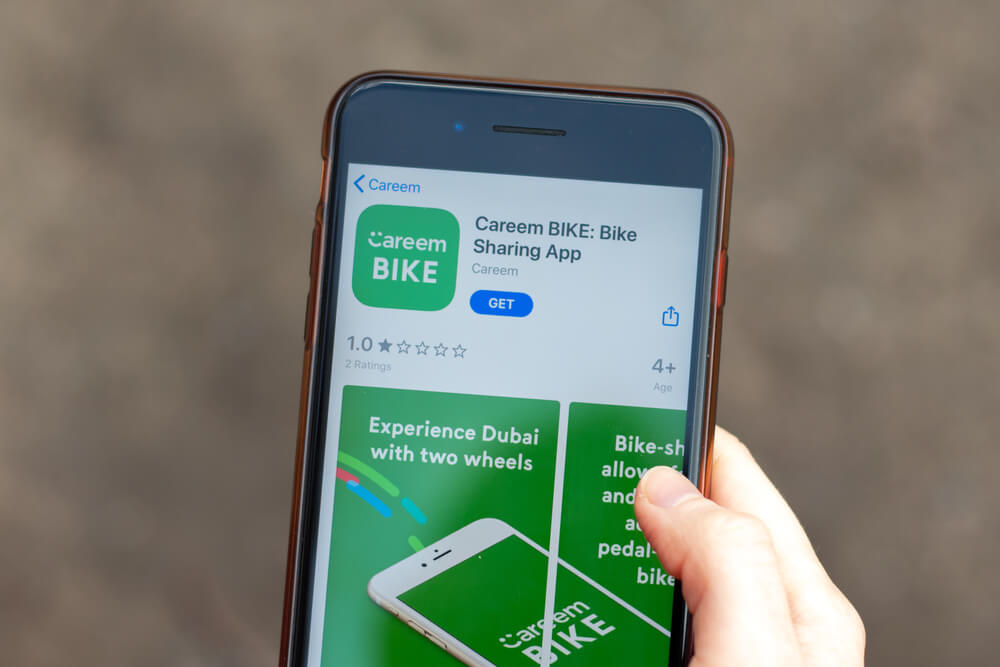 To use Careem Bikes in Dubai, Simply follow these steps:
Open the Careem Bike App, and Log in with your Careem account.

If you don't have a pre-existing account, you can sign up and create a new one.

Select a membership plan according to your preference.

If you wish to subscribe to the Careem Plus plan, you will need to do so from the Careem Bike app itself.

Once you have an active plan, you can find which station is nearest to you or will be the most convenient for you on the app.

You can then go to your desired station and unlock any bike present by either scanning the QR code on the bike's frame or by entering the 5-digit code on the keypad right on the dock.

Once fed with the required code, a green light appears on the dock, and the bike unlocks. 

Lift the seat or pull it backwards on the handlebar to remove the bike.

Once done, you're free to use the bike however you wish!
One can take as many 45-mins trips as they like while the membership stays active. However, additional fees apply once the trip is extended beyond 45 minutes at AED (United Arab Emirates Dirham) 10 for every additional 30 minutes.
Where are the
Careem Bike Stations in Dubai
 Located? 
Careem Bike stations are available across the emirate. Presently, there are 78 stations, but the service aims to establish 350 Careem Bike stations in the next five years in Dubai.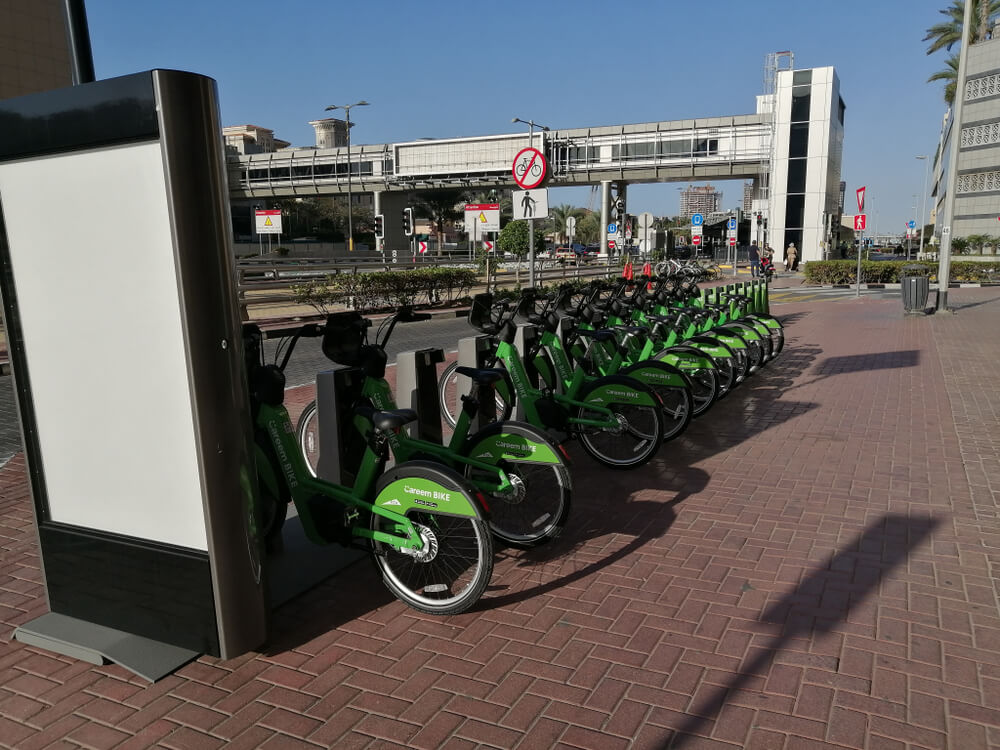 Spot these Careem Bike Stations in Dubai on your next trip to the emirate:
Jumeirah Lake Towers (JLT)

Barsha Heights (TECOM)

Expo 2020 Dubai

Dubai Marina

The Greens

Downtown Dubai

Palm Jumeirah

Deira

Jumeirah Beach Road

Dubai Canal

Karama

Mankhool

Dubai Internet City

Dubai Media City

Al Qudra

Umm Suqeim

Al Quoz
But it is to be remembered that one can ride the Careem smart bicycles at a speed of 30 kilometers per hour on the designated bicycle tracks, the laneways, the safe roads, and only in areas covered by the service.
Careem Bike Dubai Contact Number and Support
The Careem Bike Dubai Contact Number and Details have been mentioned below for your convenience.
Support channel
Details
Availability

Helpline

+971 444 05263  (Dubai)

+971 444 05262 (Abu Dhabi)

Monday to Saturday – 8 AM to 11 PM (GST).

Email

[email protected] (Dubai)

[email protected] (Abu Dhabi)

 

Office Reception

Dubai :

Warehouse 30

Al Serkal Avenue,

Dubai, UAE

 

Abu Dhabi : Shop 3B, M15 Omeir Bin Yousef Building Musaffah, Abu Dhabi, UAE

Monday to Friday – 9 AM to 5 PM
Careem Bike Prices and Memberships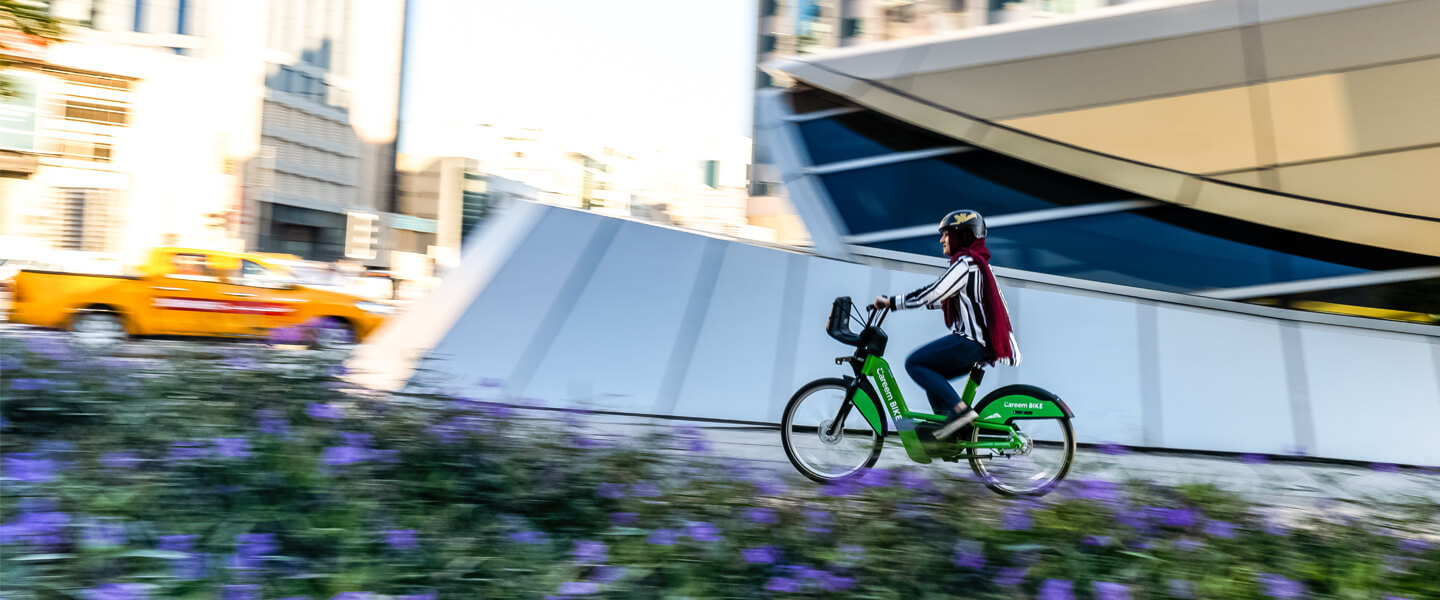 Careem Bikes in Dubai can be rented on a membership basis and are available as daily, weekly, monthly and yearly packages.
The details of the various membership plans have been mentioned below for your convenience. Take a look at Careem Bikes Price in Dubai to find your perfect fit. 
| | |
| --- | --- |
| Membership Plan | Price |
| Yearly | AED 420 |
| Monthly | AED 75 |
| Weekly | AED 50 |
| Daily | AED 20 |
| Careem Plus | AED 19 (Monthly subscription) |
The amounts mentioned above are for a certain defined period.

The prescribed maximum duration for a ride is 45 minutes. An additional AED 10 charge applies for every extra 30 minutes.

You can take as many 45-minute with any package you choose.

Once you become a Careem member, you can use the services of your choice while your subscription lasts.

For any ride session that surpasses the 60-minute time duration, an overtime fee of AED 20/hour gets applied.

Users who want to return the Careem Bike can go to the nearest Careem Bike station once the session expires and dock it.

All Careem Bike users must strictly be over 15 years of age to avail of Careem Bike services. 
Why Choose a Careem Bike?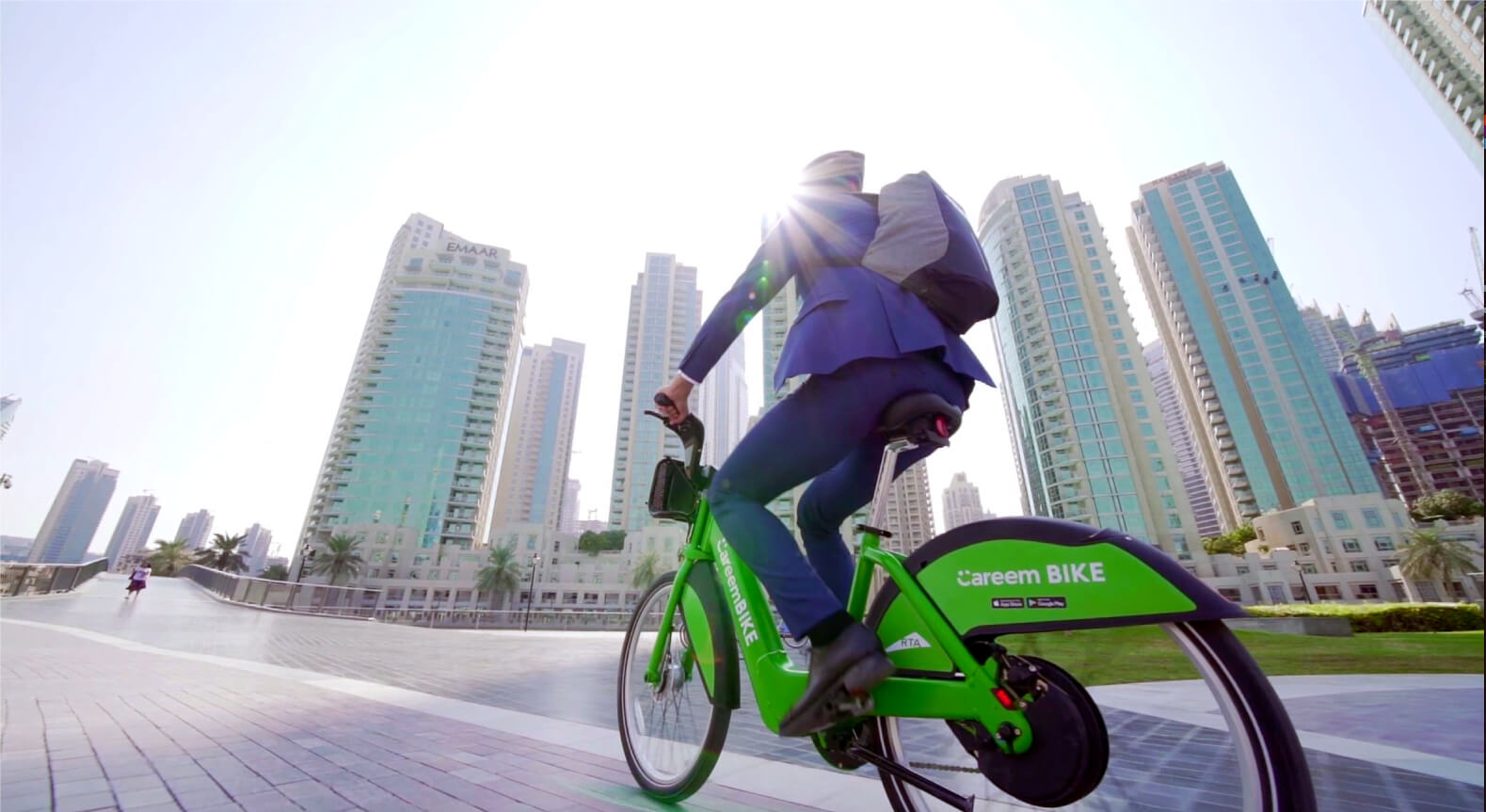 Let's see a few reasonable options to opt for Careem's Bike in Dubai :
Faster Option than Walking :
Careem Bike is certainly faster than walking and perfect for quick trips. Because of the convenient bike station locations, accessibility to the Careem Bike services persists. They are conveniently located at Dubai Metro stations, within communities, and in key areas.
Careem Bike is an affordable way to get around Dubai with daily, weekly, monthly, and annual subscriptions.
Everything is done at the tap of a button. Locating a station, renting a bike, and paying with the Careem Bike app is incredibly easy.
Pedal assisted, electric motors and solar-powered docks make Careem Bike one of the most sustainable modes of transportation while staying fit. 
More Useful Articles for You : 
Frequently Asked Questions (FAQs)
What should I do in case of an Accident?
Unfortunately, if an accident occurs, immediately inform the police at 999 and ambulance services at 998. The riders should also apprise Careem Bike Support at +971-4-440-5263 for further assistance.
What happens if the careem bike is damaged or lost?
Careem Bikes, in such cases, will be charged up to AED 5,000 in either case. Your legal obligation is to keep the bike safe when in your possession.
Can I carry the bike by bus or metro?
While boarding the bus or the metro, you must dock the bike before. You can pick up another bike from within the share service area when you exit at another station.