Do you adore cute cats but can't keep them because of family allergies or your strict landlord? No worries, now you can hang out and play with your cute furry favorites at the Meow Cafe in Abu Dhabi. 
Aside from meeting the cute rock stars (cats) at the cafe, the delicious baked goods and flavourful coffee are other reasons you should add this cafe to your favorites list. Go through the deets to learn more about this paw-some cafe.
What is a Meow Cafe?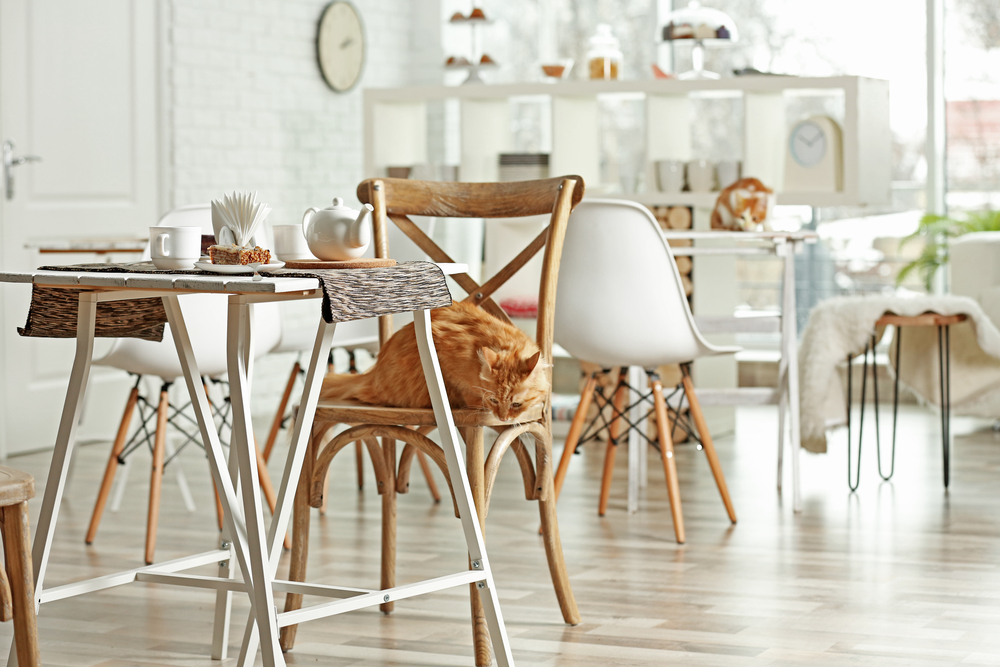 The Abu Dhabi Meow Cafe is a place whose attraction is cats who can be played with and watched by visitors. Usually, these cafes are typically adorned with cat themes to keep them comfortable and feel at home. It's where patrons pay a cover fee to spend some quality time with their furry friends. 
The world's first cat cafe, named the Cat Cafe Garden, was started in Taiwan in 1998 and eventually turned into a global tourist attraction. This unique concept first bloomed in Japan, which swiftly swept across the oceans and gained popularity. Thus, you can see such concept cafes throughout the world. Abu Dhabi introduced its first cat cafe to help patrons pay and play with the cute kittens following the pattern. 
Inside-out All About Meow Cafe in Abu Dhabi
You can meet Mocha, Candel, Yuki, Caramel, and a bundle of fluffy, playful kitties at the first cat cafe in Abu Dhabi. The Meow Cafe has separate quarters for the cats where these furry tails are free to roam around. Moreover, this cafe keeps a vast range of cat species, from Persian to Siamese, wherein you will get to interact with all sorts of cat breeds.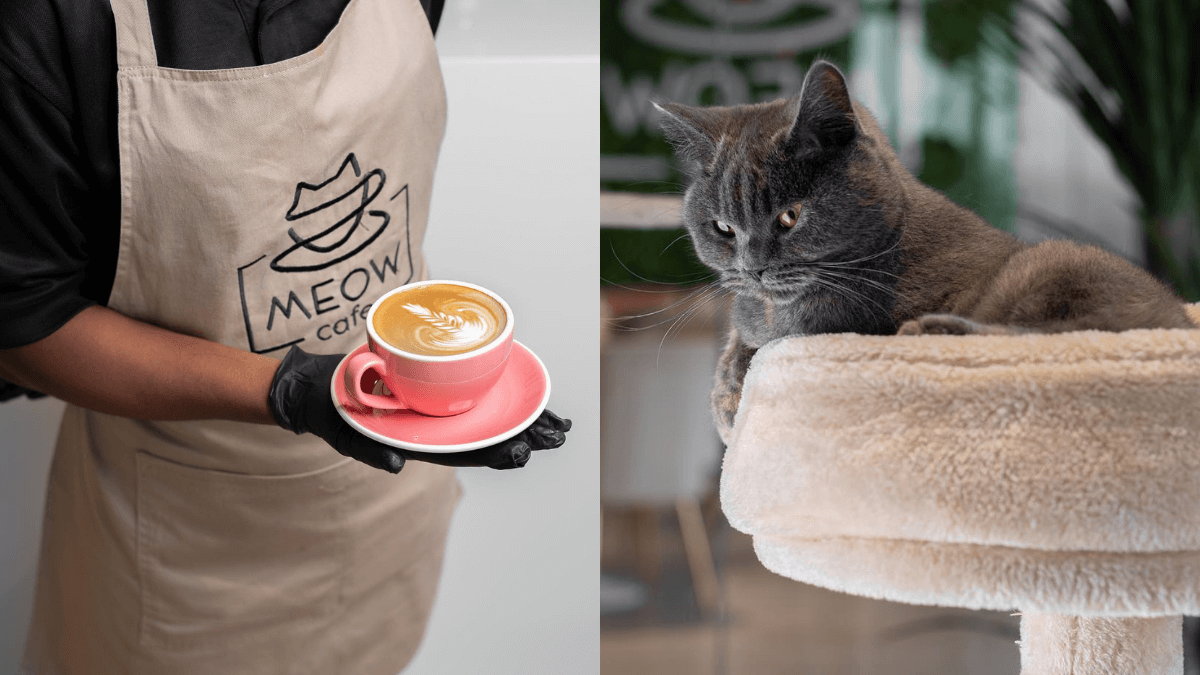 Location: The Meow Cafe in Abu Dhabi is located at Al Muneera, the beachfront residential society on Al Raha Beach. 
Eateries: The Meow Cafe entertains visitors in many different ways, as this cozy, well-lit place is home to dozens of cats. Apart from this, there is a cafeteria that serves a variety of beverages and tasty goodies for the visitors to indulge in. Tiramisu, mini pancakes, crepe cakes, Zaatar croissants, and other tasty delights are always ready for grabs.  
Along with these delicacies, if you want to hold a glass of tasty beverage, there are some excellent choices to be made, from a range of coffee and iced Americanos to super tasty Spanish lattes. 
Entry Fee and Timings of Meow Cafe in Abu Dhabi
Timings: if you wish to make some cute feline friends, you can visit the Meow Cafe and eatery between 10 AM to 10 PM.
Ticket Fee: When visiting a Meow Cafe, patrons must pay a cover fee. Thus, the entry fee to access the cafe is AED45/hour for adults and AED35/hour for children under ten years of age. 
Note- 
Children under three years of age can enter the Meow Cafe for free. 

The ticket price is given above only includes the entry fee. You need to pay for beverages and meals separately. 
Rules and Regulations at Meow Cafe Abu Dhabi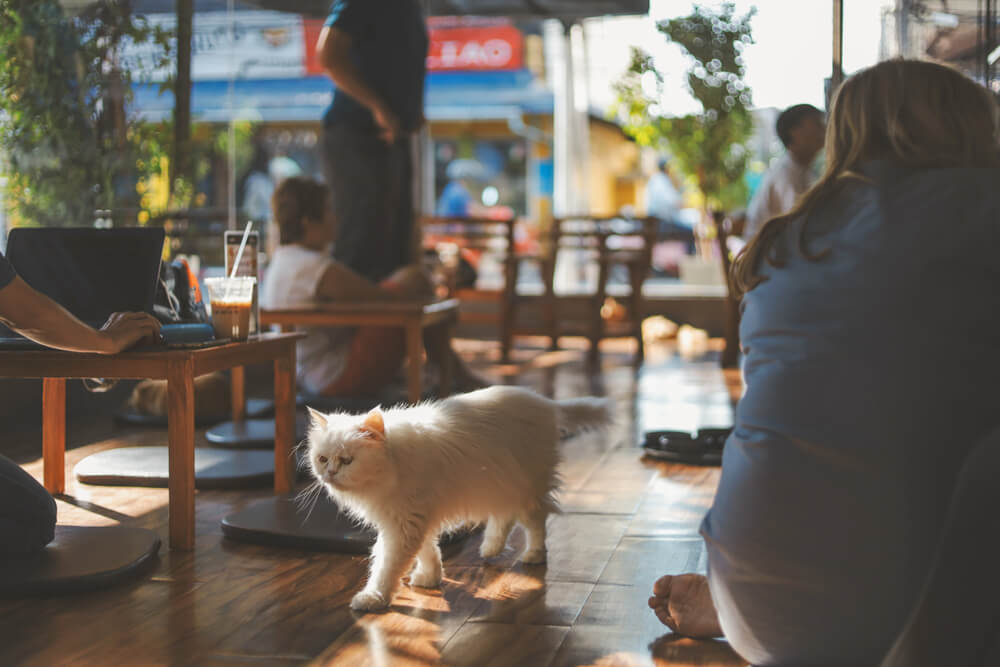 The rules and regulations at the Meow Cafe in Abu Dhabi are regularised for the safety measures of both visitors and residents.
Putting on a face mask is necessary except while drinking and eating.

Hand sanitisers should be used frequently, mainly before entering the cafe.

Visitors are allowed to eat and drink in the cafeteria only.

We understand it's tough to resist picking up these fuzzy cats, but not all cats like being picked up by every passing visitor. Thus, it is important to ask the cat lounge attendant before picking up any cat.

If you are allowed to pick the cat, it is against the rules to bring it close to your face.

No jumping, throwing, running, yelling, or stomping is allowed.

Cats are renowned for sleeping a lot. Hence, you shouldn't wake up any cat if you find one sleeping. 

You are allowed to capture the pictures but without turning on the flash.

You are not allowed to take the cats out of the cat lounge; therefore, it's important to keep an eye out for cats while opening the doors of the lounge area.

While offering them a meal, always ask the attendant if the cat eats a particular meal at that specific time.
What's More?
If you want to visit cat land, there is the Meow Cafe in Abu Dhabi, home to different species of cats from across the world. This cafe doesn't just let you play with these quirky cuties but also allows you to learn about different cat breeds. You can enjoy this place while having a delicious meal from its cafeteria. But again, you should never forget that a cat is also an animal. Hence, you must learn the rules and regulations before visiting the place to keep your visit safe and fulfilling. 
Frequently Asked Questions (FAQs)
What criteria make a good cat cafe?
Keeping a Cat-friendly environment is the most important factor in the best cat cafes, following other factors such as physical appearance, humane behaviour, and the number of cats.
Are cat cafes cruel?
While some cat cafes experience less generous behaviour, others are truly charitable ventures. There is a decent argument that keeping the cats surrounded by frequent visitors where they are continuously petted by the visitors, which also includes boisterous kids, isn't a good treatment.
Can I take my cat to the cat cafes?
No, bringing your pet cat to the cat cafe is not allowed.
Are cat cafes humane?
The cat cafes are generally not humane as they are confined spaces with a revolving population of visitors. And reportedly, cats need a stable environment.
Can I bring food to the cat cafe?
Usually, the cat cafes maintain a balanced diet for the cats, and no outside food can be fed. However, you can buy them treats from the counter, but that too in a limited quantity for a day. And it is advisable to ask the cat advisor not to confuse the purchasing quantity.
Where do the cats stay in the cat cafes?
Not to shock you, but the cat cafe is itself their home. Most cat cafes try to keep the cafes comfy in every possible way until somebody adopts them.
What can I not do in the cat cafe?
You need to follow a big guideline when entering the cat cafe. On top of every rule, you are not allowed to take pictures; you must not turn on the flashlight, and you cannot chase or hold any cat. Also, you need to behave normally without any overexcitement and keep hygiene in mind; you should also wash your hands before entering and after leaving the cat cafe.
Where is Meow Cafe located in Abu Dhabi?
The first Meow Cafe in Abu Dhabi opened at the Al Raha Beach mall in Al Muneera, Abu Dhabi.