Dubai is more than just high-rise buildings, sandy deserts, glittering malls, and a skyline. It is an emirate that is full of culture and life. So, if you are in Dubai looking for the best shopping place in Dubai, be it with your friends or family, you shouldn't miss the unique shopping experience at Souk Al Marfa. It is the traditional market hub that boasts uninterrupted views of the harbour and has everything a visitor needs. From antiques to daily essentials, Souk Al Marfa Deira has it all at unbeatable prices. 

Read more to find out all about this colorful and vibrant souk in Dubai.
An Overview of Souk Al Marfa, Dubai
The Souk Al Marfa in Dubai is a 1.9-kilometre-long traditional wholesale market. It is located at Deira Islands, in front of an amazing waterfront community of 4 man-made islands. It was developed by Nakheel Malls and DP World as a complete, air-conditioned indoor shopping place that serves everything from carpets and clothes to electronics. 
Souk Al Marfa Deira Island has small kiosks, retail stores, street food stalls and showrooms. As Souk Al Marfa's location is close to Deira Wharfage, Mina Al Hamriya, and Mina Rashid, the localisation of the market enhances the proximity to the ports. Moreover, the market makes it feasible for traders to ship goods directly from their stores.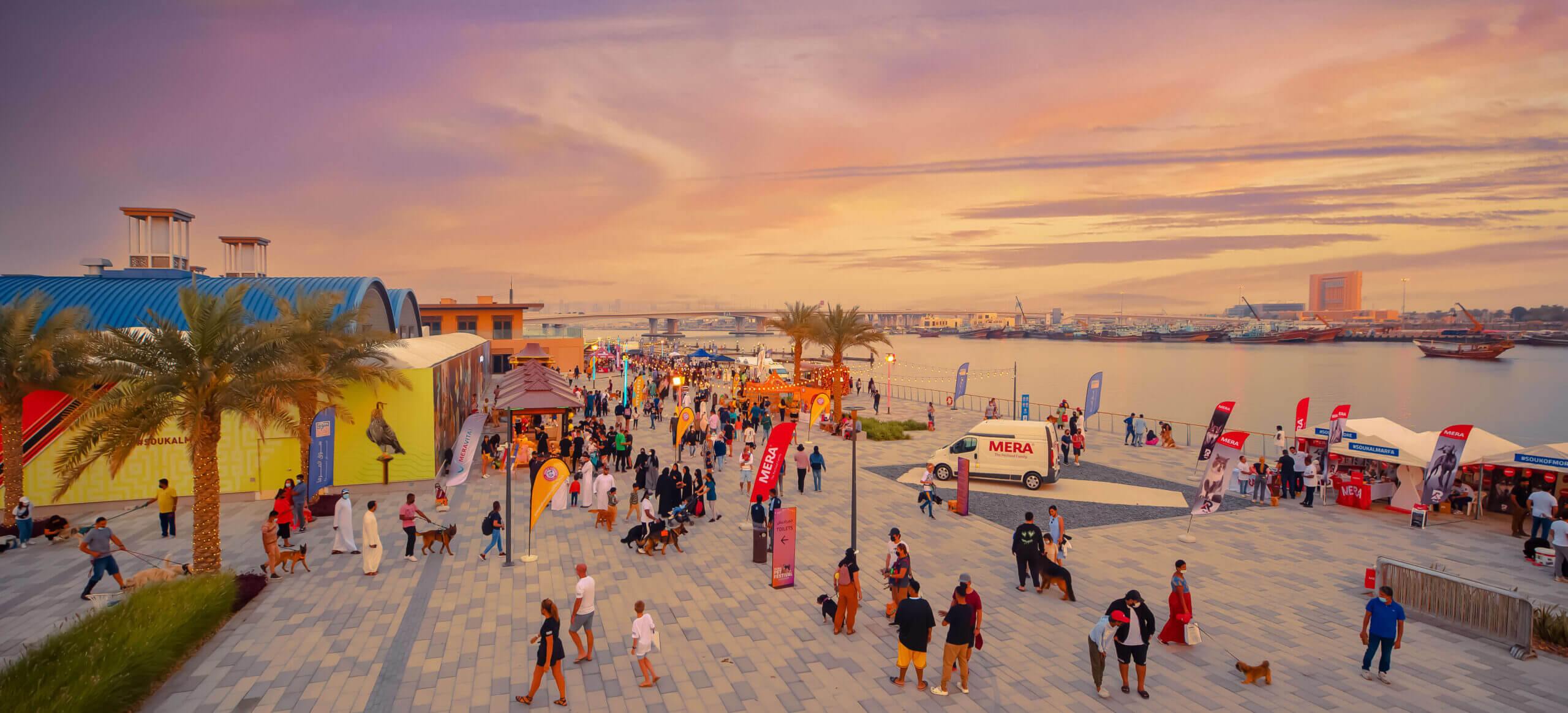 Apart from being close to the port, the Souk location also provides other advantages to traders, such as complete ownership to foreign investors, repatriation of profit, money, ancillary amenities and logistical convenience.
Souk Al Marfa Deira Island covers around 3.1 million square feet and features four different villages. Once the construction of all these 4 villages is completed, this waterfront market place will be home to more than 1,000 stores, 3200 parking spots, and custom-built loading docks for trucks. The souk also houses a Thai market that provides Thai food, handicrafts, and clothing. 
This is a grand wholesale market in Dubai which is strategically located near the ports for easy and fast shipments of the goods. The market is located north of Dubai in Deira Islands. Apart from the ports, Souk Al MArfa's location also comes in close proximity to Dubai airport Sharjah and the northern emirates. 
Outlets at Souk Al Marfa Deira Islands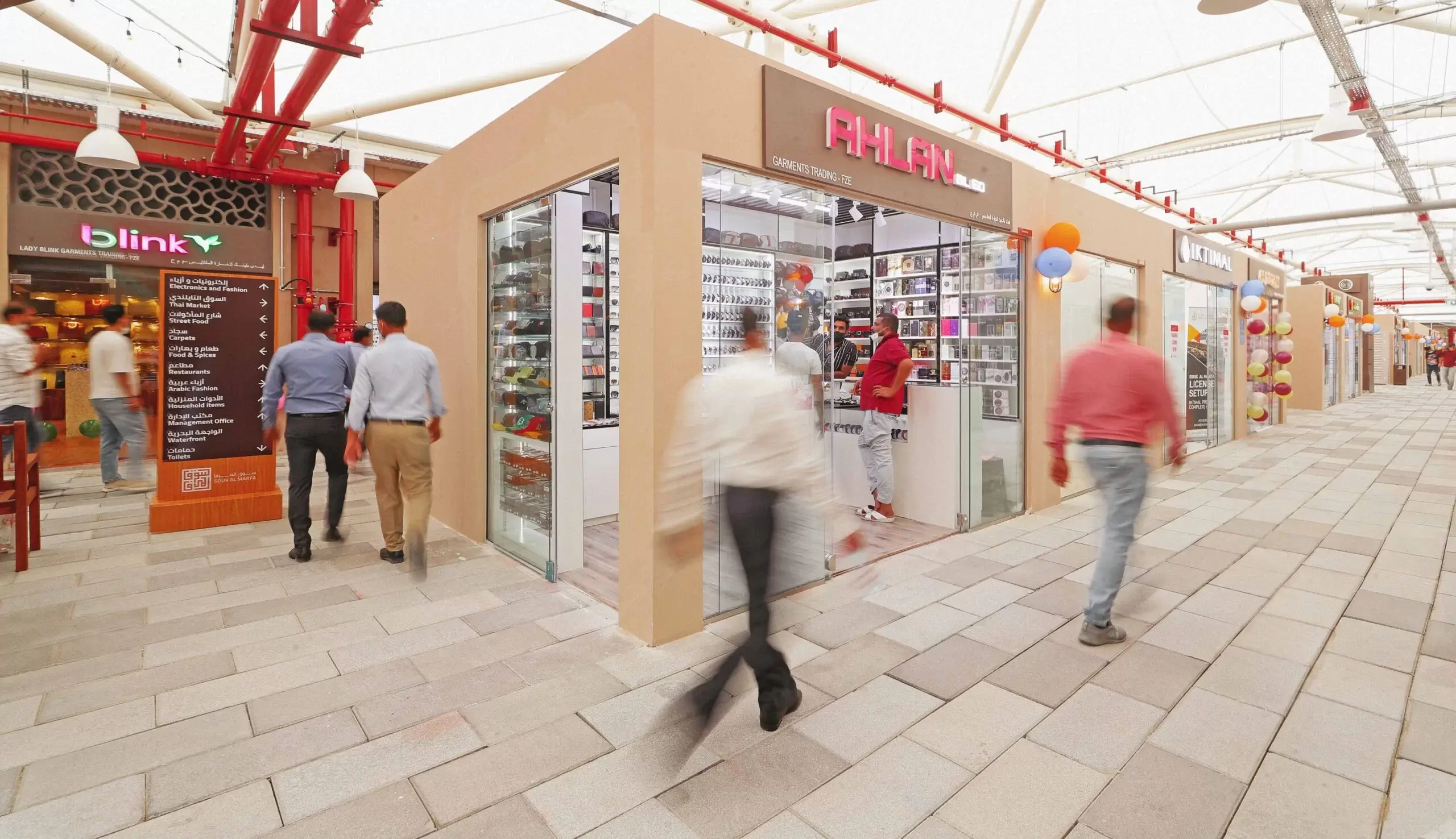 Souk-Al-Marfa is the largest wholesale trading marketplace that features different shops and stores and allows an amazing bargaining option. You can also expect to get some fine goods such as building materials, toys, household goods, lamps, cosmetics, skincare products, among others.
Here is a list of some of the shops that have already opened:
You can head over to Mohie El-Din Supermarket for your grocery shopping. 
Cafes and Restaurants at Souk Al Marfa Deira Islands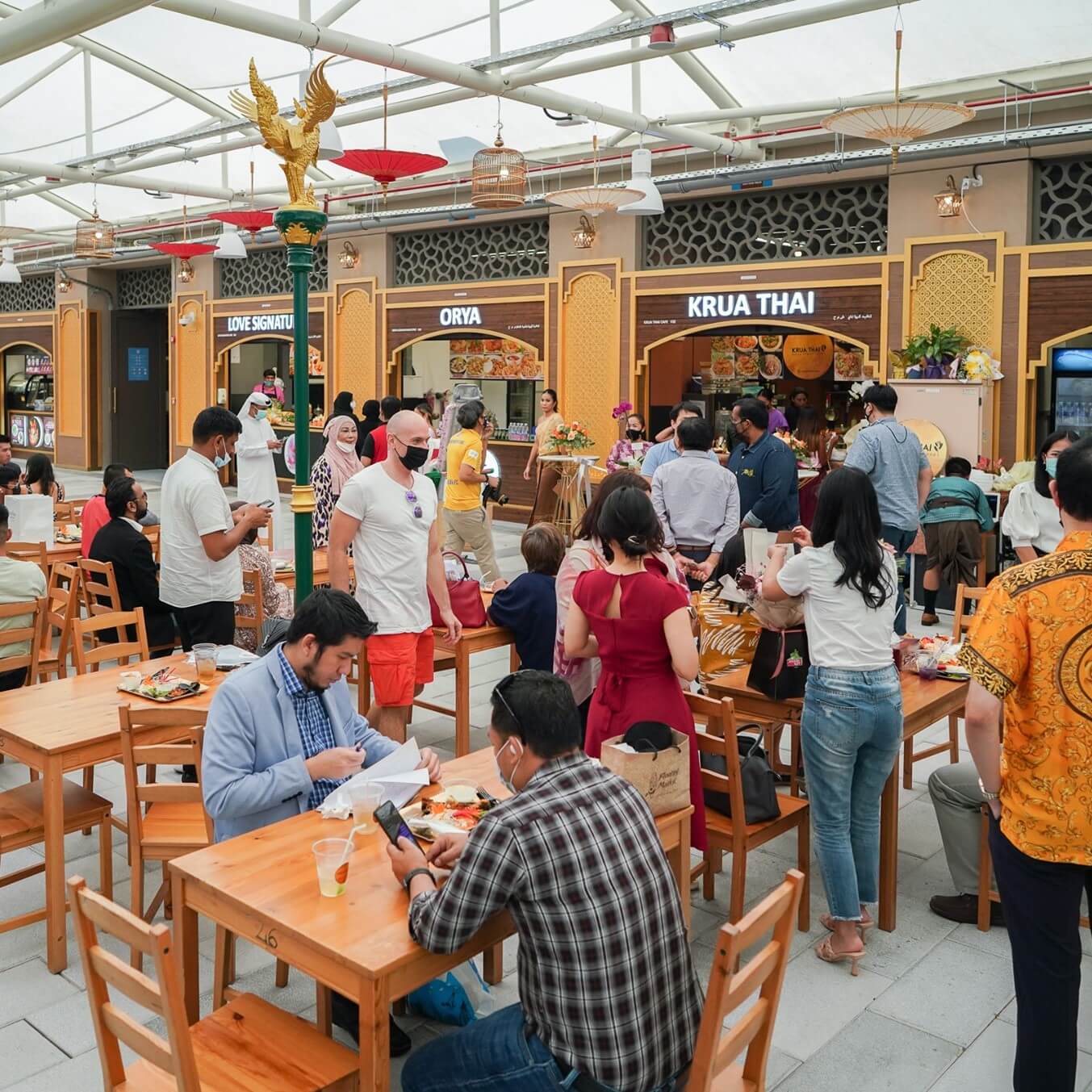 The cafes and food outlets at Souk Al Marfa in Dubai serve some of the finest and most delicious food and beverages. Some renowned options in the market are listed below:
Besides these outlets, there are several other options available throughout the market. Also, luckily, there are options available to get to this outstanding souk for visitors relying on public transport.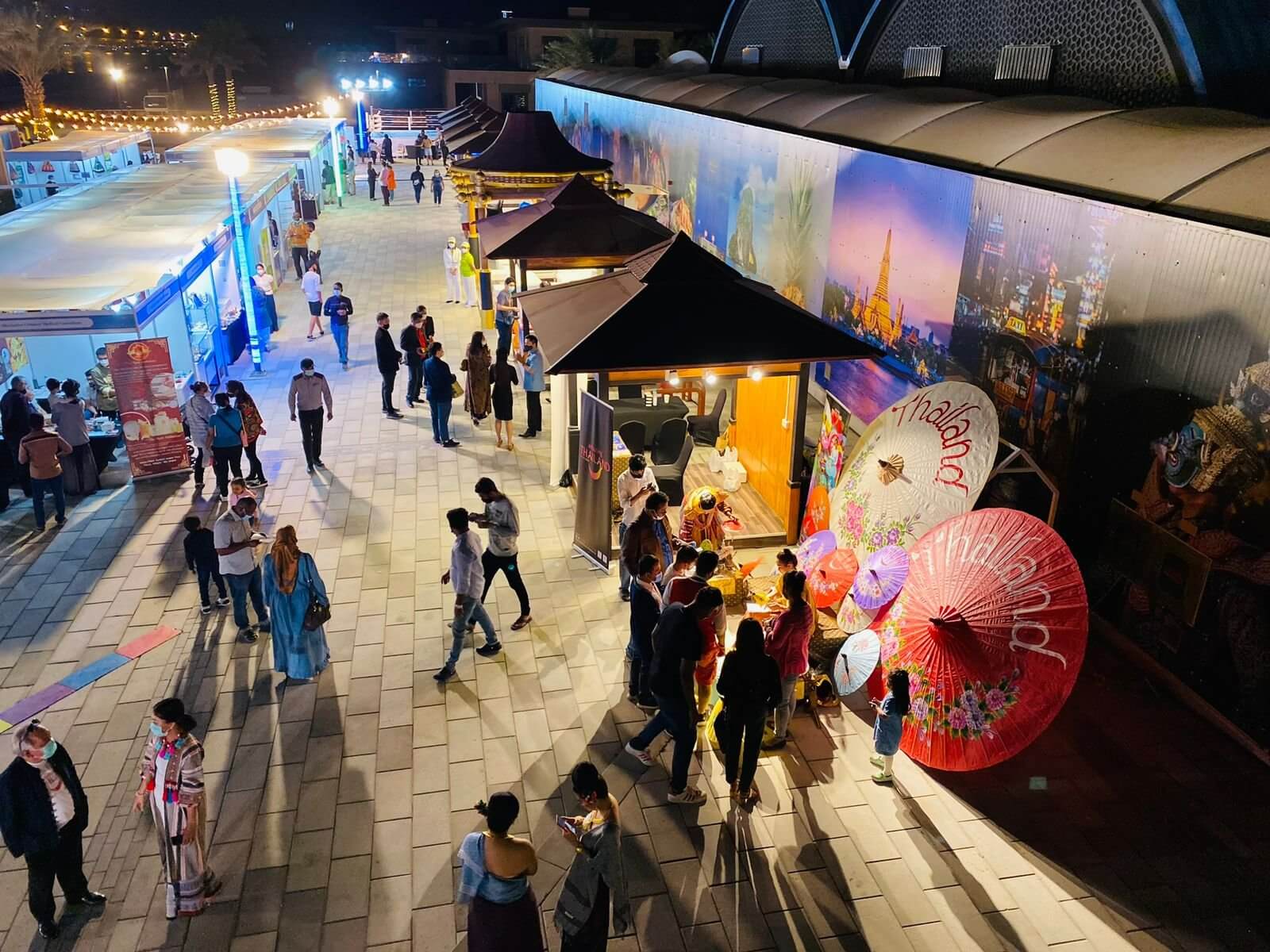 In addition to the shopping and eating, entertainment is not far behind to greet the visitors of Souk Al Marfa. When it's entertainment at this waterfront wholesale market, along come the Abra and Ferry tours to take you through the chills of the water after your hectic shopping time. The journey by ferry and abra offers some splendid views of the Deira Old Souk, Deira Creek, Deira Corniche, and Gold Souk. 
Complete information about the ferry time durations is listed below:
Duration : 25 minutes.
Timings : On weekdays (05:00 pm to 10:00 pm), on weekends, i.e., Friday to Sunday (10:00 am to 12:00 pm and 05:00 pm to 10:00 pm),
Below are the details of the ferry tours that run between Al Ghubaiba and the market:
Duration : 20 minutes.
Timings : On weekends, i.e., Friday to Sunday (06:00 pm to 10:00 pm),
Note: Children under 5 years of age get complimentary rides.
Shuttle Service is Complimentary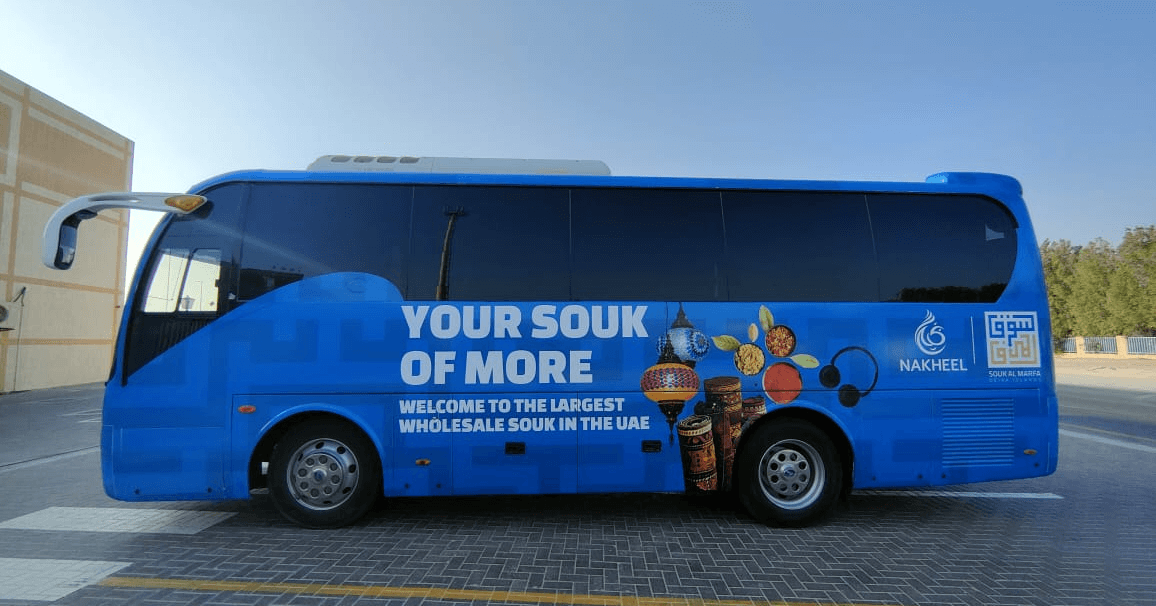 Visitors could also use a free shuttle service offered by the Souk. To avail the benefit of this complimentary facility, you can take a bus from any of the hotels, such as, Hyatt Regency Dubai, Sheraton Dubai Creek Hotel, Ibis Styles Dubai Airport, Pullman Dubai Creek City Center, or more. 
A visitor could also download the schedule of this complimentary shuttle service from the official online site of Souk Al Marfa Dubai, or they can also contact the supervisor at +971-55-805-1962. 
The roads and transport authorities of Dubai have launched a specific bus route, known as SM1, for the visitors of the Souk. The bus runs every 60 minutes from the Gold Souq bus station to the Souk Marfa, routing through Al Khaleej Street from 6:00 am to 11:00 pm. Meanwhile, you can also use Dubai taxi facilities like Careem services or Uber to get to the market. 
Wrapping it up
Dubai is a place full of love, light, and life, and Souk Al Marfa is the next example of these three, again featuring services for the residents of Dubai. It is a waterfront wholesale market located near three ports that make it feasible for the trader to ship the goods directly to the stores. As you now know, the market is huge with numerous outlets. It is good to go through the details before you pay a visit to this place. Also, you can book your tickets in advance for the ferry and abra by checking their route and timings.
More Useful Articles for You :
Frequently Asked Questions (FAQs)
What are the opening hours of Souk Al Marfa?
The opening hours of Souk Al Marfa are 12:20 pm to 12:00 am from Monday to Thursday, and from Friday to Sunday, the timings are from 12:00 pm to 2:00 am.
What are the contact details for the Souk Al Marfa?
For any information or assistance at Souk, you can also call the management at +971-8-0062-54335.
Why should businesses invest in the Souk Al Marfa?
Souq Al Marfa, Deira Islands is the appropriate development destination that companies must consider. It provides an easy return and profit on the investment, along with complete foreign ownership without any local sponsorship, and ensures the least paperwork through a single-window system.
Are there any other souks in Dubai besides the Souk Al Marfa?
Yes, Dubai has several souks to entertain its citizens, such as Spice Souk Dubai, Dubai Gold Souk and Deira Perfume Souk.