Considered one of the most romantic days of the year, Valentine's Day is full of celebrations, love and laughter.  As the day is around the corner, you might be in the preparation to make the most out of it. Therefore, we are here to make you fall in love with Dubai's luxury paradise. This season calls for a perfect romantic breakout in the city.  Celebrating Valentine's Day in Dubai might just be the perfect idea to spend some quality time with your partner.
In this article, we have curated some of the best places for you to explore with your companion whilst enjoying Valentine's Day in Dubai. 
Best Restaurants to Spend Your Valentine's Day in Dubai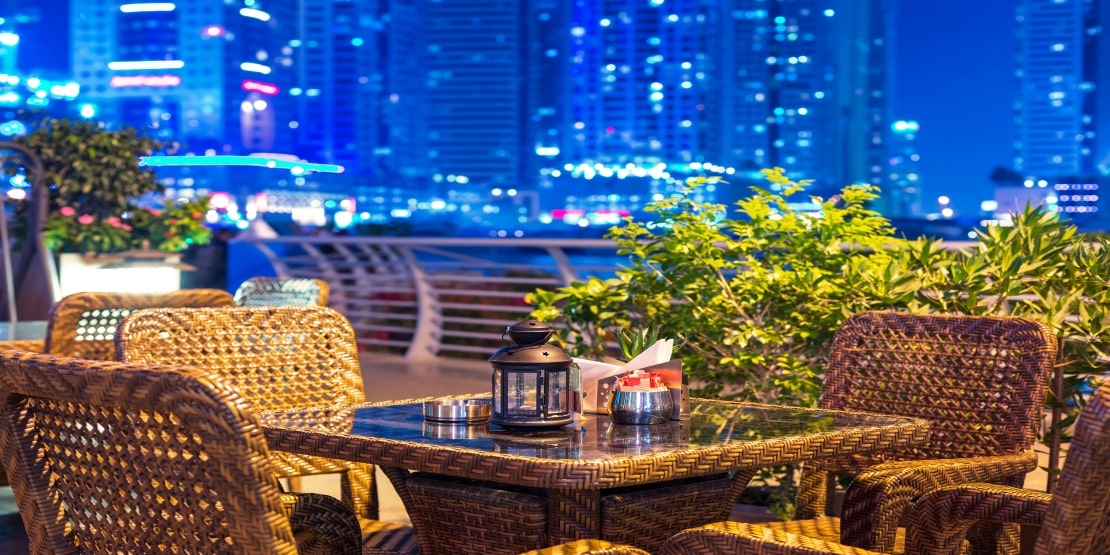 Atmosphere Grill and Lounge
Atmosphere Grill and Lounge is an ideal place for planning your romantic lunch. Located in Downtown Dubai, this restaurant is placed on the 122nd floor of the highest tower in the world, Burj Khalifa. Atmosphere Grill and Lounge could be a great idea for having your afternoon tea with their signature cakes. The lunch table being placed right next to the window makes the vibe altogether more romantic. You can visit this place between 12:30 pm – 4:00 pm and the minimum dinner rate is AED 200. 
This is one of the best places to spend Valentine's Day in Dubai. With an open-air sunset blush, this place offers scenic views. Located in Palm Jumeirah, this place is famous for getting your hands on a seafood diet. The preparation of food in this restaurant is said to be inspired by the salty ocean. You can visit this place between 12:30 pm – 11:00 pm and the minimum dinner rate is AED 580. 
The most noted restaurant on the list is this Ossiano restaurant that is located in the Mediterranean, Dubai, known for its aquarium vibe.  This restaurant gives you a wholesome experience of having dinner along with stingrays & sharks. Apart from this, you can also opt for their skilled divers that allow you to deliver messages to your loved ones. The minimum dinner rate is AED 995. You can visit the restaurant between 6:30 pm – 10:00 pm. A perfect place to spend your Valentine's in Dubai.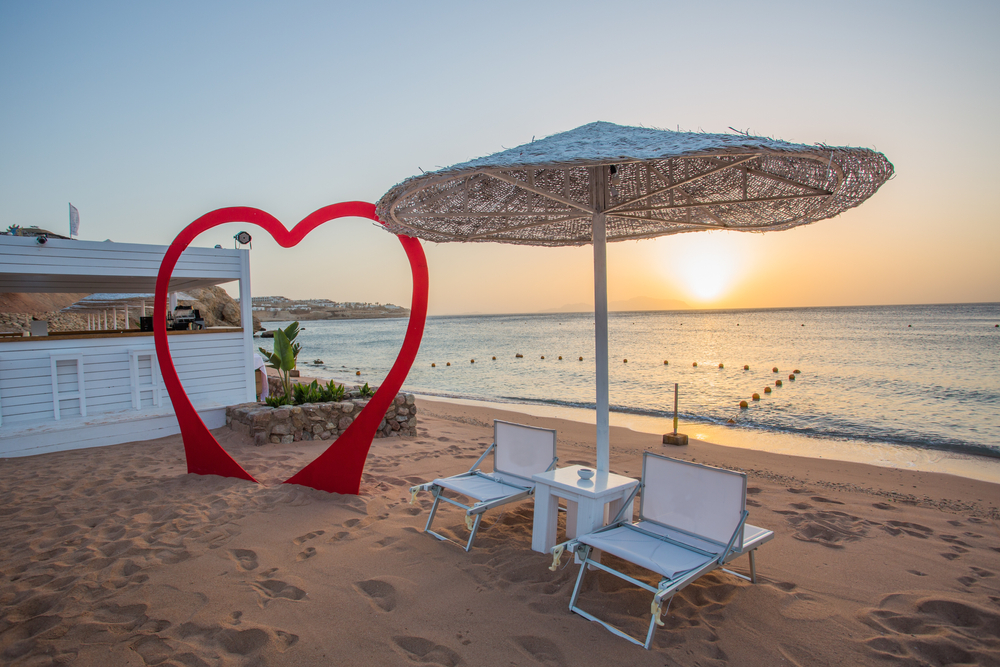 Sho Cho Japanese Restaurant 
Spend this valentine in Dubai with the impressive view of the Burj Khalifa. As the name suggests, this restaurant is well known for its Japanese Cuisine. This is your best pick if you wish to spend a romantic night with Japanese gastronomy. You can visit this place between 7:00 pm – 3:00 am. The minimum dinner rate is AED 440.  
Another very famous seafood restaurant Pierchic is located in Al Oasr, Madinat Jumeirah. It's known for its experience of water dining. This place has also won many awards for being the most elegant romantic spot in Dubai. You can visit this place between 12:30 pm – 3:00 pm or 6:30 pm – 11:00 pm. Apart from this, it is also famous for its stunning view and lighting. The inspiration for this restaurant is taken from the world's ocean. 
This French restaurant is located in Gate Village 8, DIFC. The restaurant includes both light French food and streaming wine in a French-made-styled living space. A perfect spot for celebrating Valentine's Day, in Dubai La Petite Maison is open from 2:00 pm – 3:00 pm or 7:00 pm – 1:00 am. The minimum dinner rate is AED 600. 
It is okay if you don't want to stick to the idea of just having your lunch or dinner, as we have a perfect escape for you! Billionaire Dubai is the perfect spot if you wish to add some elements of tune and dance to the day along with your normal dinner dates. Plan a perfect evening with Billionaire with some amazing beverages, dance, and music. 
There is no one more romantic and loveable than Italians, which is why we have a perfect Italian restaurant on the list. Amore Mio located at Torno Subito is well known for its romantic vibe along with its signature beverages. 
Apart from visiting the above-mentioned lavish restaurants, there are definitely many other spots that you can visit for spending your Valentine's Day in Dubai. Some of which have been mentioned below
Other Places to Visit for Valentine's Day in Dubai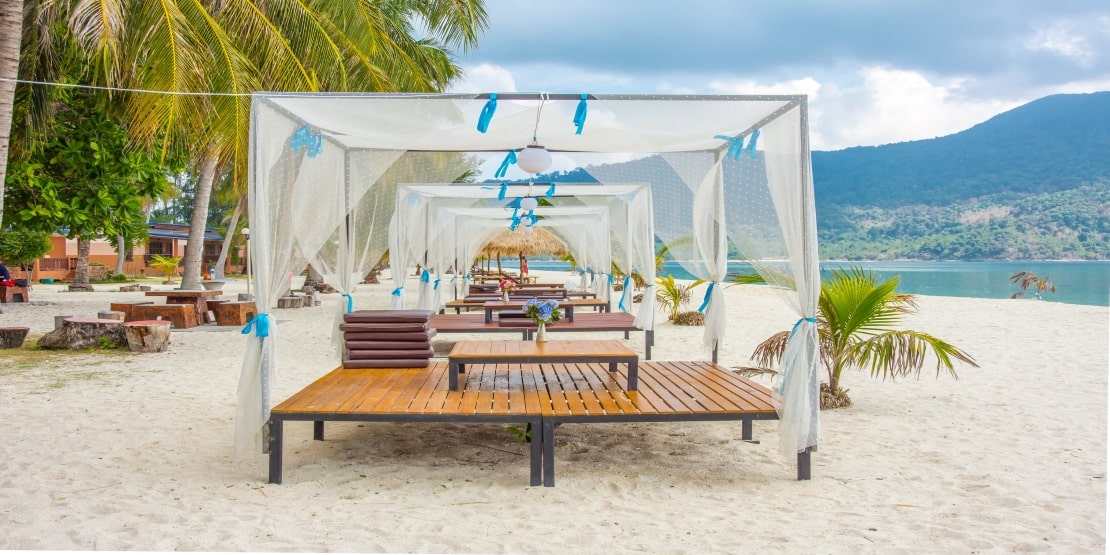 Get a Hot Air Balloon Ride
One of the best experiences that an individual can witness in Dubai is a hot air balloon ride. This is the best way for you to get a view of the beautiful dune in Dubai along with it witnessing the glorious skyline. Apart from the extraordinary view , this experience is also accompanied with a great food menu. The exciting ambience makes it a perfect plan for Valentine's Day in Dubai. You can get this balloon ride in the morning, the charge for the same is AED 1,195 for adults.
Another amazing experience to celebrate Valentine's in Dubai with your partner is a helicopter tour. When on the tour one of the interesting things that you might witness are  the palm islands. This ride takes you on a complete tour starting from Dubai Souk to Palm Jumeirah to Atlantis to old Dubai, Burj Al Arab as well as Burj Khalifa! Once you complete your ride you also get a certificate for the same stating your ride along with a picture clicked with the pilot of the helicopter. This is a 12 min and sometimes even more tour for you. It costs about 656 DHS (starting price).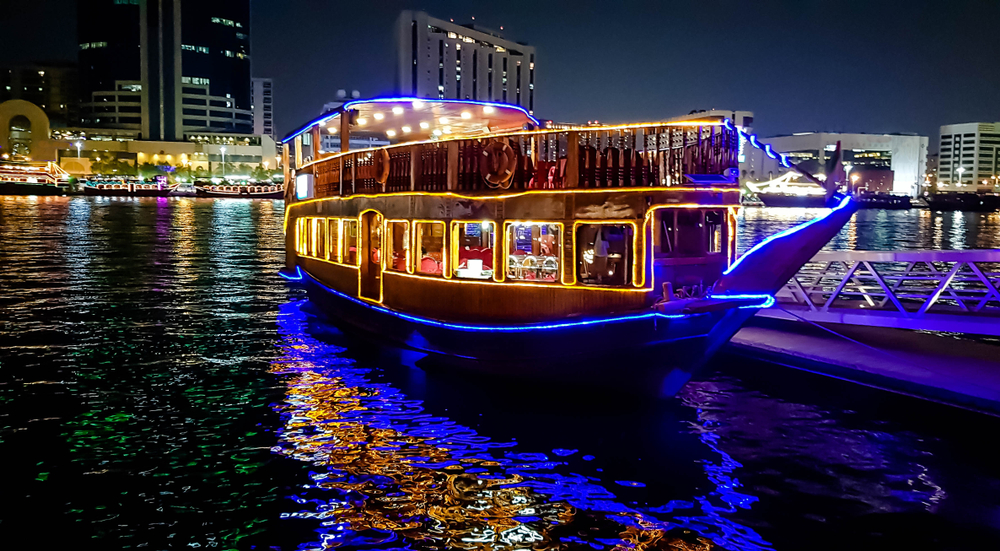 This time witness the beautiful skyline with your partner with the experience of a Dhow Cruise. The two places where you can get to experience the Dhow Cruise are Dubai Creek & Dubai Marina. This tour is nothing less than a dream filled with Iranian Bazaars on one and Morrocan on the other side. You can get to start with this tour at 6:00 pm in the evening and your 2 hours long journey. The cost of this Dhow Cruise is AED 125.
Frequently Asked Questions (FAQs)
Where can I spend my Valentine's Day in Dubai?
There are various famous restaurants and places that you can visit to celebrate your valentine's day. These include: Al Maha, Marina Social, Balloon Ride, Prime 68, Ossiano, Japanese Restaurants, Voco Bonnington, Mezzanine Bar and Kitchen.
Does Dubai Celebrate Valentine's Day?
Yes, Dubai is a perfect destination for you to spend your day with your loved ones on Valentine's Day.
When do we celebrate Valentine's Day?
Valentine's Day is celebrated on 14th February every year.
What are the 14 days of Valentine's Day?
Valentine's week starts from 7th February and consists of Rose Day, Propose Day, Chocolate Day, Teddy Day, Promise Day, Hug Day, Kiss Day, and finally, celebrates Valentine's Day on 14th February.
How does Dubai celebrate Valentine's Day?
Dubai celebrates Valentine's Day by exchanging gifts & roses to their loved ones.