Are you a Bollywood lover who loves thrilling action, spectacular drama, entertaining dance and romantic music? If yes, then Bollywood Park Dubai must be on your bucket list of the top Dubai attractions. Situated in Jebel Ali, this magical world of filmi fantasy is a key attraction, forming a great part of the grand Dubai Parks and Resorts. This resort in the emirate is 25 million square feet in size and involves two other theme parks as well. 
Uniquely blending the prototypical Bollywood movie experience with the magnificent theme park attractions, Bollywood Park in Dubai is divided into six zones. Each zone of this enormous entertainment park is truly commendable and is exclusively dedicated to Bollywood. So, if you wish to know more and feel the magic of the blockbuster Bollywood movies coming to life in Bollywood Park Dubai, then this guide has got you covered! 
Here, we have rounded up all the important details of this one-of-a-kind theme park in Dubai.
Bollywood Park Dubai – A Perfect Treat for Hindi Movie Lovers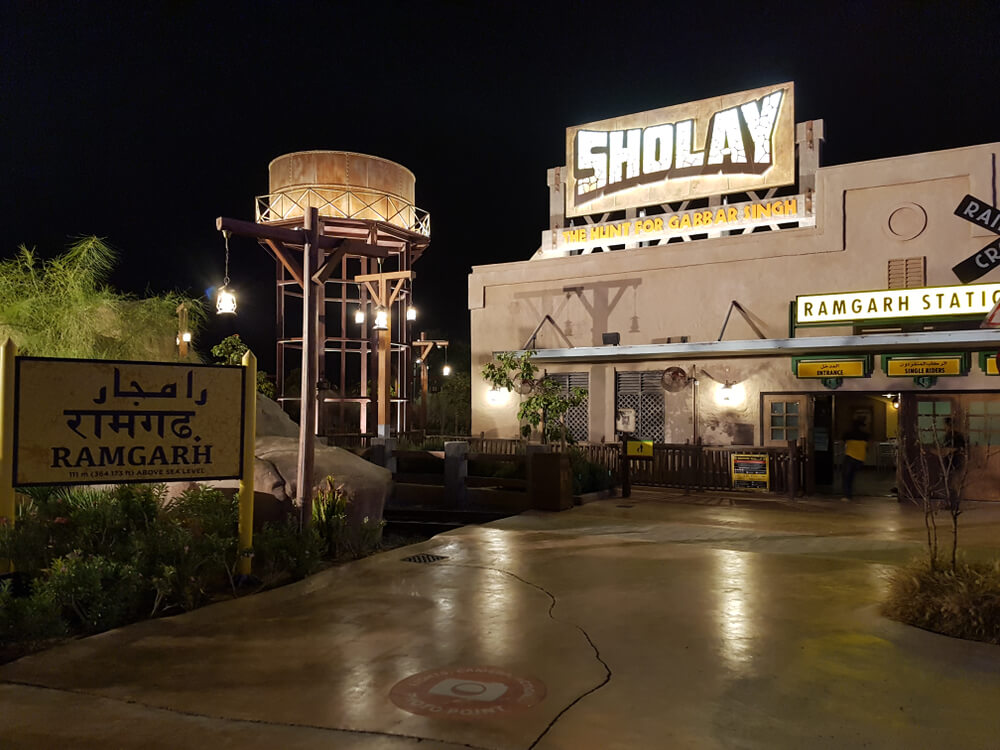 Bollywood Park opens its gates to every Bollywood movie fan around the world. With thrilling rides, mouth-watering food, exciting live performances, and much more. This theme park in the UAE involves everything that every Hindi movie fan will love. It is the world's first Bollywood-inspired theme park and is spread across six zones, each offering a wide range of attractions. All this makes Bollywood Park Dubai a 'Must-Visit' destination where the magic of India's most prolific film industry can be experienced. The theme park is well-known for recreating the charm of old-school Mumbai and bringing some of the industry's top hits to life. 
On your visit, you can enjoy the rural ambience at the Lagaan set with a plethora of fascinating rides. Not only this, Bollywood Park Dubai offers a fine dining experience based on the super hit Hindi movie 'Mughal-E-Azam'. The royal ambience at this dining spot will definitely make you feel like an emperor while you satisfy your hunger. You can even stroll through Mumbai Chowk, which is pretty famous for its hustle and bustle. Furthermore, if you wish to have a glimpse of the soul of Bollywood Park, make sure to watch the live performances at Rajmahal Theatre. It will surely add charm to your evening. In short, if you are a true Bollywood fan, your dream will come true here. 
Six Interesting Zones of Bollywood Park Dubai
Witness the representation of all-time-favorite Bollywood blockbusters in six charming zones. 
1. Bollywood Boulevard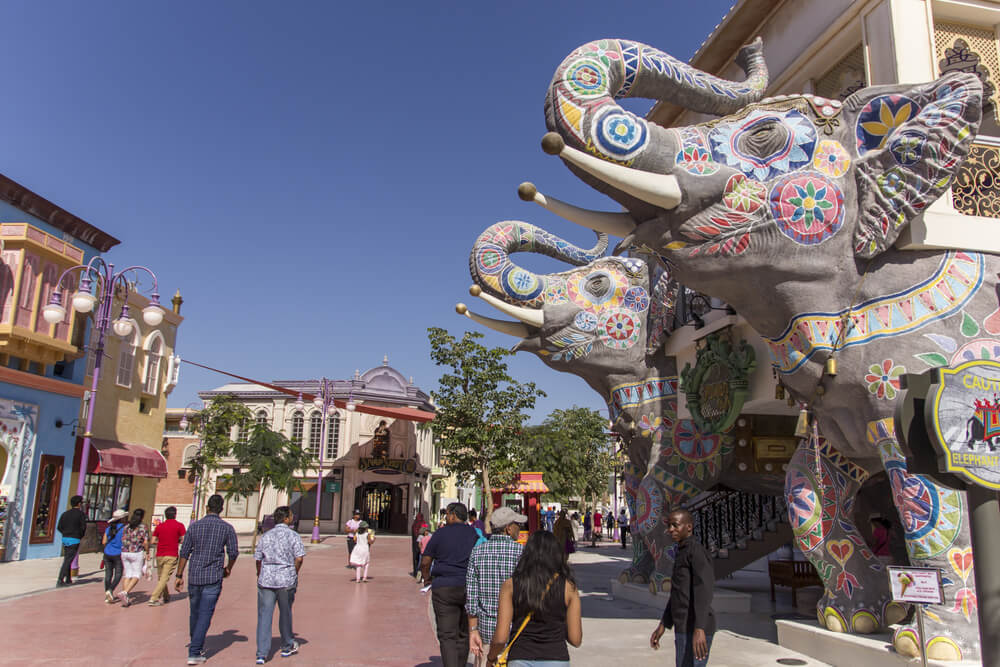 Bollywood Boulevard at Bollywood theme park in Dubai welcomes visitors with a vibrant display of restaurants, cafes and live entertainment. In this multi-cultural zone, you can experience the diversity of cultures from all corners of India. From Bhangra to Kathakali and from Tiger Dance to Garba, all the live performances will amaze you. What makes this zone stand out is its creative entertainment element combined with street-like dining places. 
Top Attractions:
Desi Emporium – Shop unique and movie-themed items
Cinemagic – Know the process behind the production of a Bollywood movie 
Cinema Circle – Captivating Rain Experience
Rock On – Satisfy your cravings
Crossroads – Enjoy music and dance performances
2. Rustic Ravine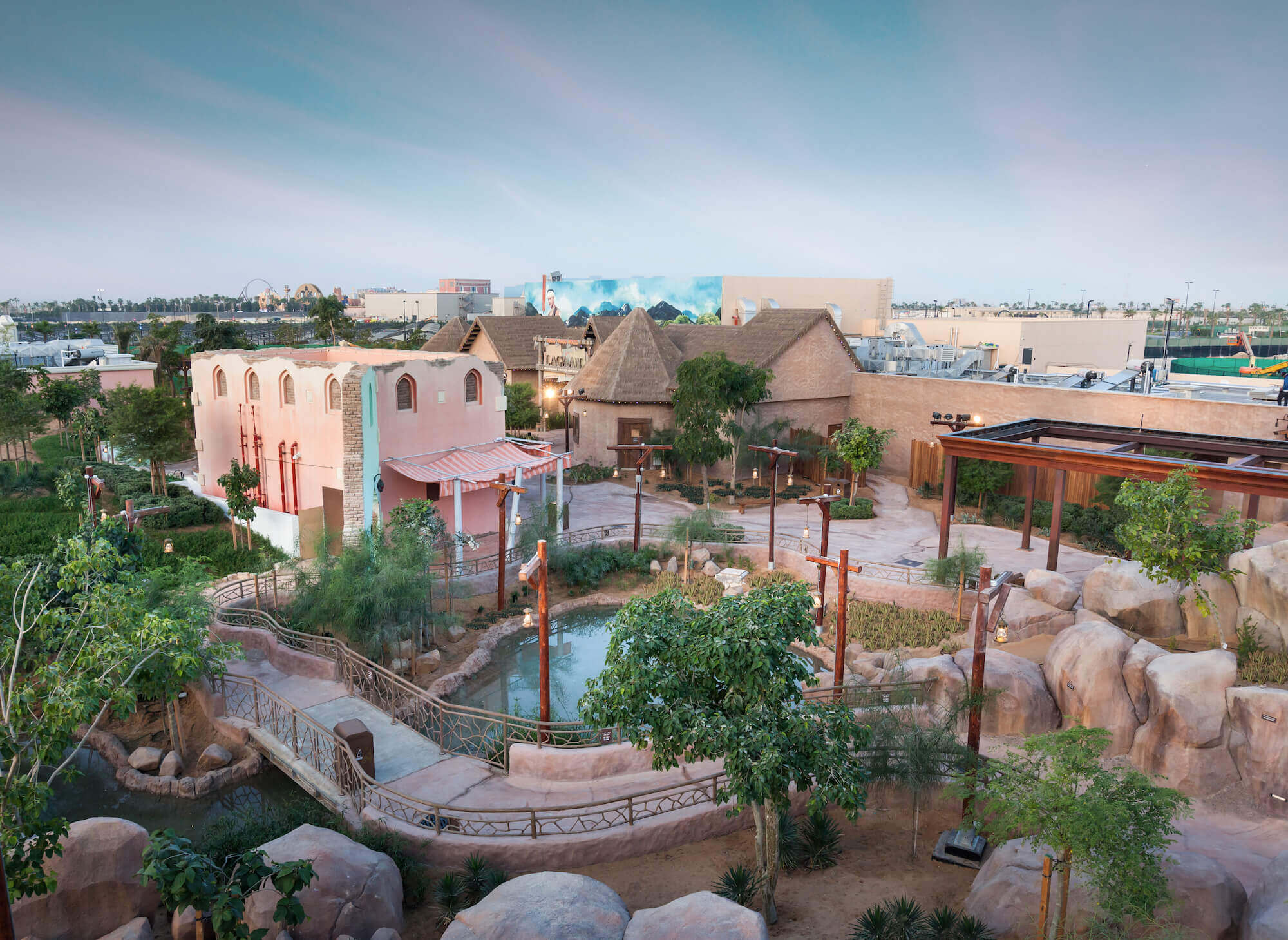 Replicating the vibrant Indian village scene, the Rustic Ravine Zone in Bollywood Park Dubai gives you a typical village vibe. The spirit of rural India comes to life in this amazing setting. Rustic Ravine will take you on a memorable journey through the rural sections of the country. The best part of visiting this zone is that you can be a part of limitless adventures, as played out in Sholay and Lagaan (famous Bollywood movies). Don't forget to enjoy the new ride i.e. Bollywood Skyflyer, the tallest and world-record-breaking ride. 
Top Attractions:
Lagaan – A replica of Champaner Village
Dabangg – A live stunt show
Sholay – The hunt for Gabbar Singh 
3. Mumbai Chowk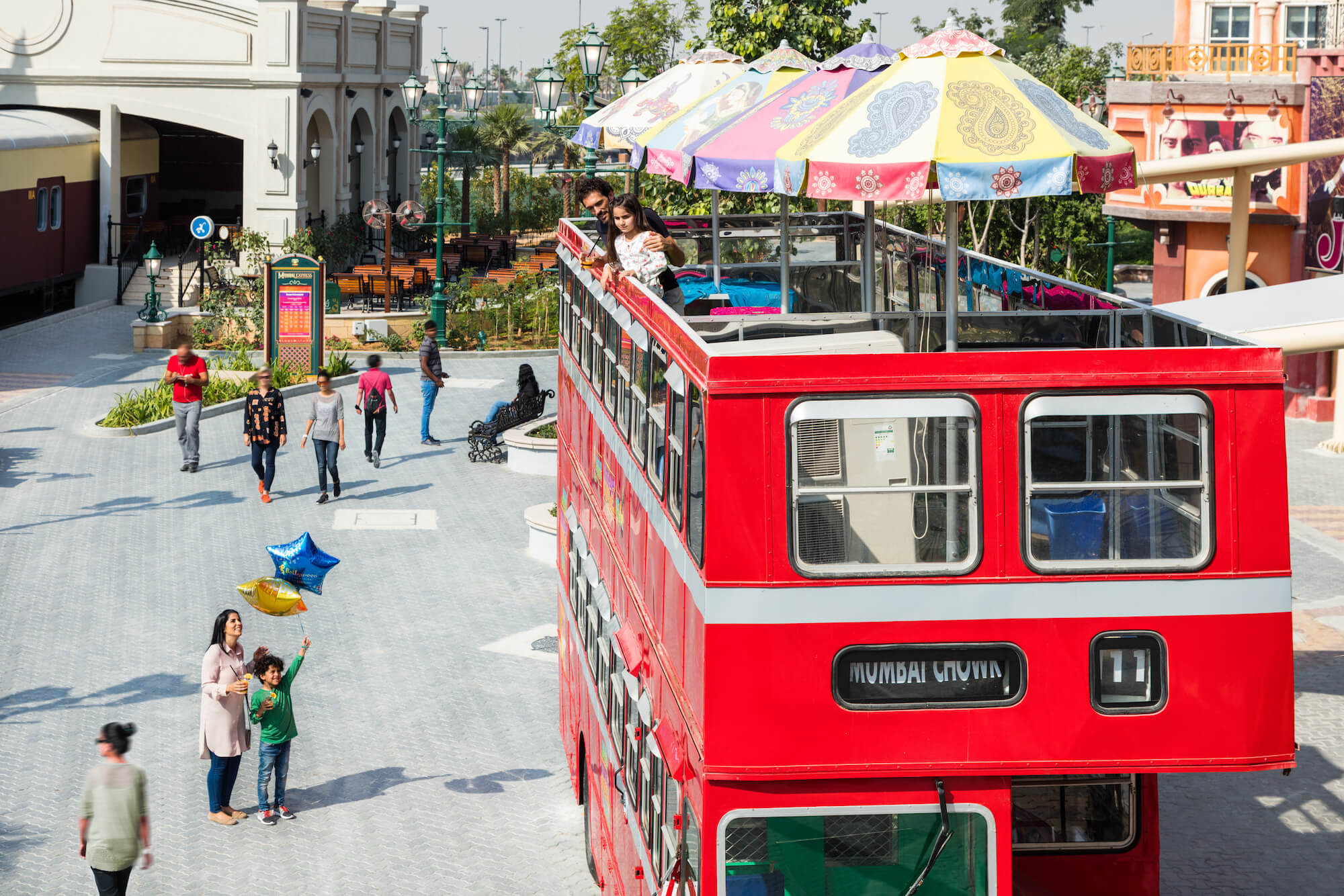 True to its name, this dynamic zone in Bollywood Park Dubai gives you a complete Bombay vibe. You can stroll the streets of Mumbai Chowk with its world-famous food, party, and shopping spirit. If all this does not satisfy you and you wish to add some thrill, join the Mafia Boss Don. With all this, Mumbai Chowk will drop you into the spirit of visiting Mumbai's original hub of leisure and dining. 
Top Attractions:
Mumbai Express – Train rooftop stage
Don – The Chase
Victoria Station – Resemblance of Mumbai's Chhatrapati Shivaji Terminus
4. Royal Plaza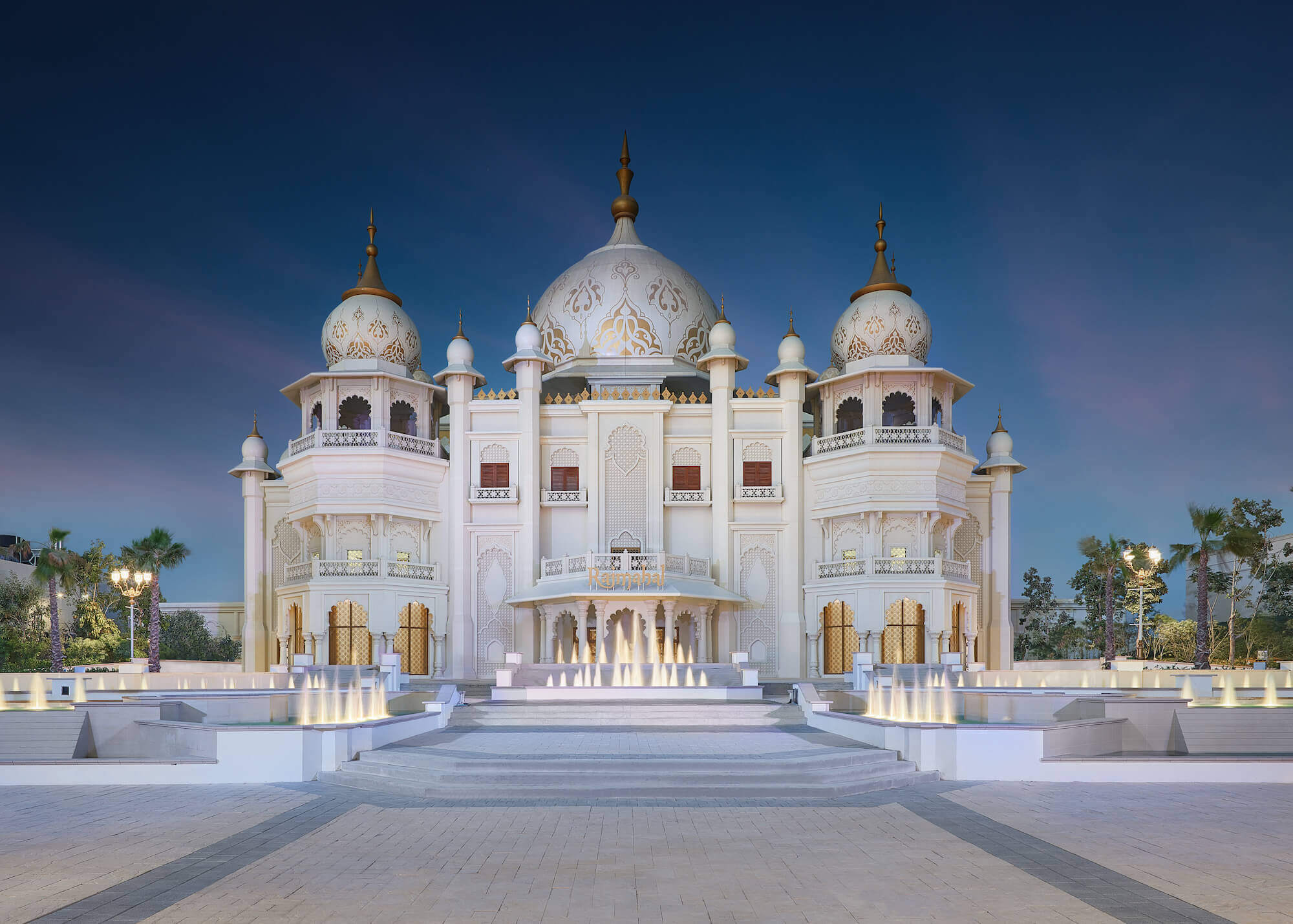 If you want to feel the luxury of Hindi movies in high definition, then Royal Plaza is the right zone for you. This zone in Bollywood Park Dubai boasts cheerful sections like Stars on Steps wherein you can enjoy spectacular live performances along with classic Bollywood music. Apart from this, the Rajmahal Theatre will allow you to experience visual splendour like never before. 
Top Attractions:  
Rajmahal Theatre – Enjoy opera-style music show, Jaan-e-Jigar
Mughal-E-Azam – Epic dining venue
5. Bollywood Film Studios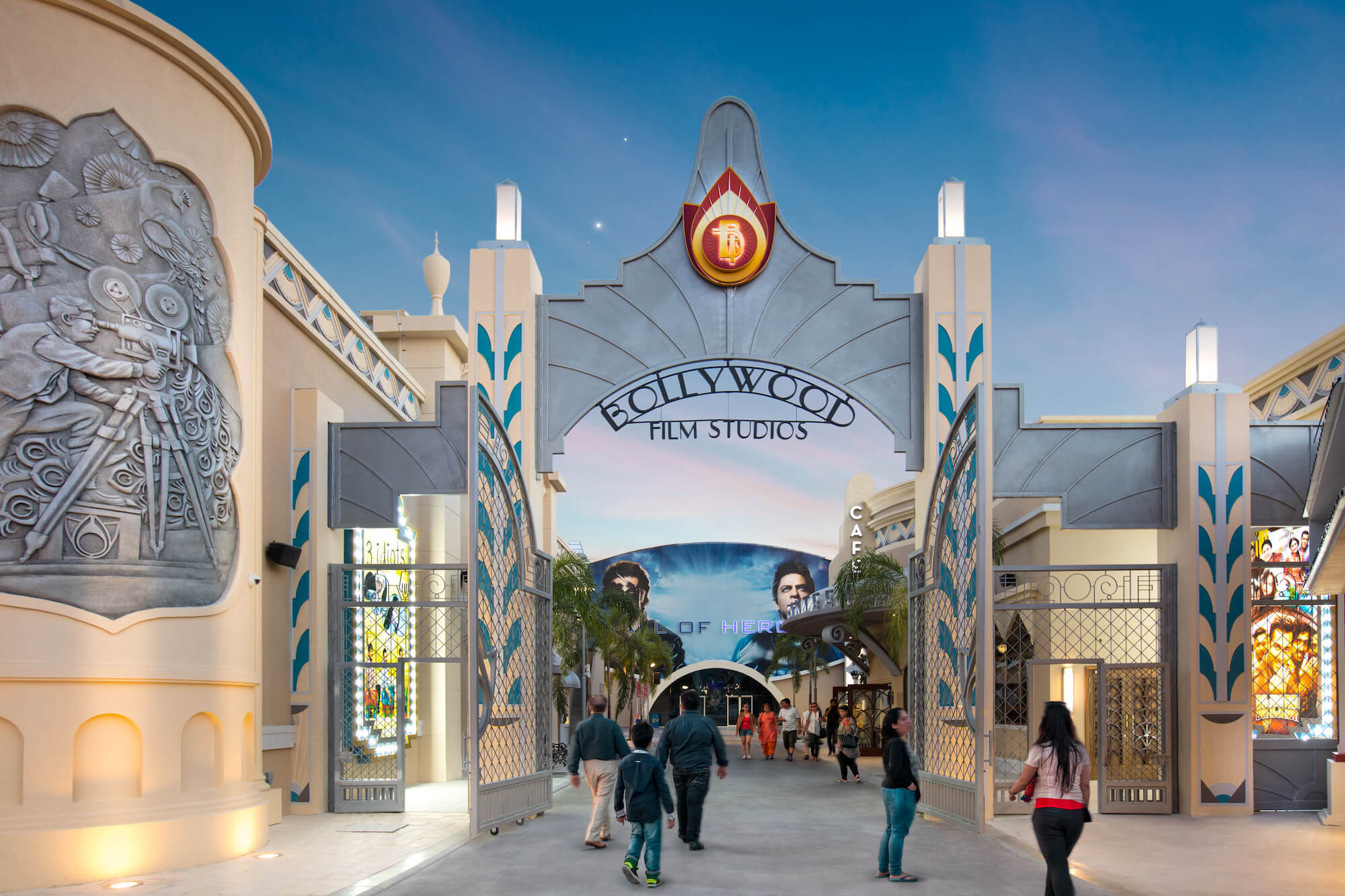 By offering mind-blowing entertainment options with attractions like Krrish and Ra.One, the Bollywood Film Studios zone in the theme park is much loved by kids. The thing that makes this zone noteworthy and exciting is the Bollywood superhero's fight. 
Top Attractions:
Extraordinary Rides – Enjoy a 4D virtual ride
Rangmanch – Colourful Indian village
6. Mela Junction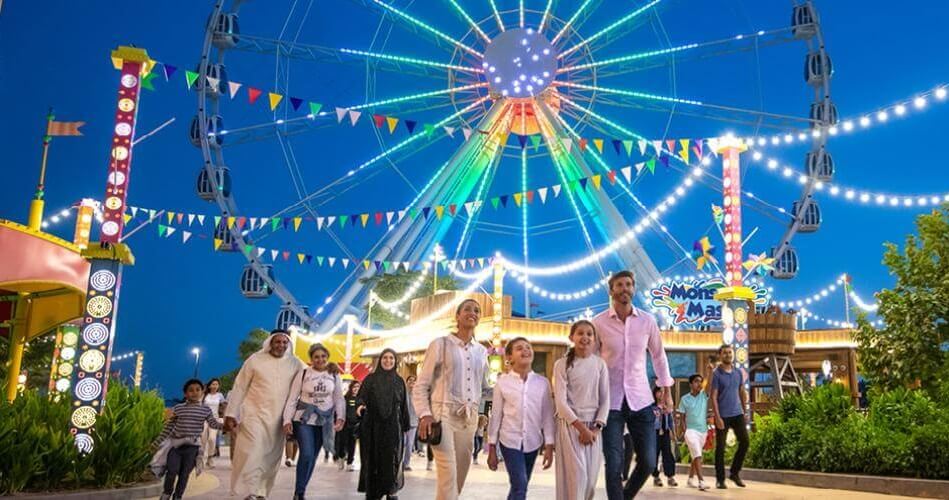 As the name implies, the Mela Junction zone in Bollywood Theme Park in Dubai gives you all the carnival vibes. This is the newest zone of the park that is gaining an excellent response from the visitors. With its colourful and vibrant decor, Mela Junction will surely make you fall in love with its aura. Also, if you love thrilling rides, you will find plenty of family-friendly rides that are safe. And, if you feel hungry after spending hours in the Mela Junction, then you can enjoy delicious Indian delicacies at the popular dine-in restaurant i.e. Namaste India. 
Top Attractions:
Thrilling Rides – Hawa Hawaii, Monsoon Masti, Rodeo ki Sawari, Wheel of Stars, etc
Namaste India – Satisfy your hunger with appetising Indian Delicacies
If the briefing of these six zones is so exciting, then imagine how exciting it will be to visit Bollywood Park in real life! Well, if you are planning to visit this wonderful theme park soon, you need to know about Bollywood Park Dubai ticket price and Bollywood Park Dubai timings. So, let's get an idea of this in the upcoming section. 
Ticket Prices and Timings 
Bollywood Park Dubai Ticket Prices
The different categories of Bollywood Park tickets along with their prices are stated in the form of a table below:
Ticket Type
Ticket Price 
Benefits 

1 Day Bollywood Park Pass 

AED 295

1 day access to the entire Bollywood Park including 17+ rides and free parking at Dubai Parks and Resorts

Bollywood Park Summer Pass

AED 330

Unlimited entries to the park till 15th September, access to 17+ attractions and ride, free

parking at Dubai Parks and Resorts

Two Park – Summer Pass

AED 395

Unlimited access to Bollywood Parks and Motion gate Dubai all summer long

Silver Annual Pass

AED 495

Access 300 days a year, 10% F&B discount, 20% photo discount, 10% retail discount and 10% discount on Roxy Cinemas ticket

Gold Annual Pass

AED 595

Access 365 days a year, 1 free small popcorn, 20% admission ticket discount, 50% discount on Q-Fast, 15% Retail discount, 30% Photos discount, 20% discount on Green Planet standard ticket, 20% discount on Laguna Waterpark standard ticket, etc.

Platinum Annual Pass

AED 795

Access 365 days a year + VIP benefits (with more discount on all the benefits under Gold Annual Pass)
** Children below 3 years of age are valid for free entry. Valid proof of age is needed**
NOTE : The information about each 'Ticket Category' above is stated in brief. For more detailed information, you can visit the official website of Bollywood Park Dubai. 
Bollywood Park Dubai

Timings
As updated on July 13th, 2022, the Bollywood Park Dubai timings are 2 P.M. to 10 P.M. from Sunday to Saturday. 
NOTE : Please make sure to check the timings on the morning of the day you are visiting because the Bollywood Park hours are subject to change. 
A Video Tour of Bollywood Park Dubai
Plan Your Visit to Bollywood Park Soon!!
With six stunning zones, 17+ thrilling rides, breath-taking live performances, and amazing dining venues, every nook and corner of Bollywood Park Dubai has got something really special for you! It is a fabulously established theme park that pays tribute to the ongoing and successful Indian film industry aka Bollywood. So, if you are looking for Indian vibes in Dubai, then this place is for you. We hope the guide above has cleared all your doubts relating to this wonderful theme park.
Some More Useful Articles for you :
Frequently Asked Questions (FAQs)
Who owns Bollywood Parks in Dubai?
Raed Kajoor Al Nuaimi, CEO of DXB Entertainments PJSC, owns Bollywood Park Dubai. This popular tourist destination in Dubai is the Middle East's largest multi-themed entertainment spot and showcases attractions based on a few of Bollywood's biggest hits.
Is Bollywood Park Indoor or outdoor?
The Bollywood theme park in Dubai is both indoor and outdoor. The indoor area has multiple Bollywood theme-based shows and fantastic rides. On the other hand, the outdoor area is perfect for clicking pictures and enjoying with family and friends.
Is there a Disneyland in Dubai?
Alas, there is no Disneyland in Dubai. However, the emirate has top-grade theme parks that are no less than Disneyland in any way.
What is the biggest amusement park in Dubai?
IMG Worlds of Adventure is the biggest amusement park in Dubai. This amusement park is a salute to the characters from Disney's Marvel and Cartoon Network universe. Moreover, it hosts the tallest and fastest roller coaster in Dubai that can reach unbelievable speeds of 60 miles an hour in just three seconds.
When did Bollywood Park Dubai open?
Bollywood Park Dubai was opened on November 17th, 2016.
How much do Bollywood Parks Dubai tickets cost in 2022?
In 2022, the Bollywood Park Dubai ticket price is AED 330 for a single park and AED 395 for two parks. Furthermore, you can also buy an Annual Pass that costs nearly AED 495.