Dubai is one of seven emirates known worldwide for its ultramodern architecture, nightlife, development, luxury, and infrastructure. It's a desired place for tourists from all over the world. Therefore, for Dubai, convenience comes first in serving its people and guests. Thus, the launch of Dubai Metro in 2009 has altered the entire landscape of the city. It has made getting around Dubai affordable and simpler. Are you planning a Dubai visit? Look no further than this handy guide to learn about Dubai's metro time, fare, routes, stations, etc. 
Dubai Metro Timings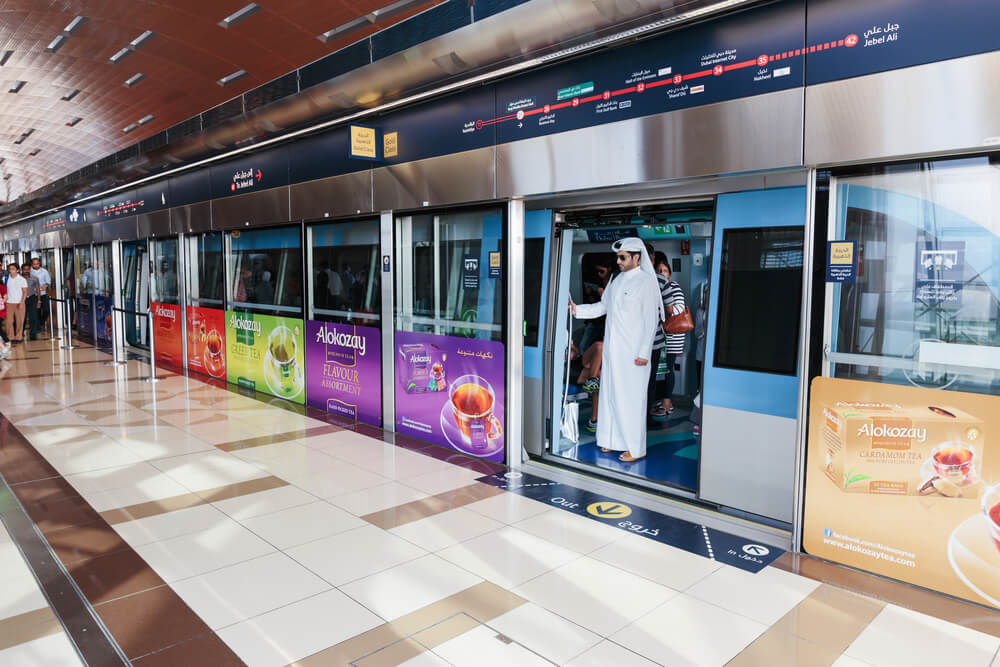 The metro has different times on weekdays and weekends, although it is operational throughout the week. Below is the day-wise list of Dubai metro timings for all the lines:
| | | |
| --- | --- | --- |
| DAYS | STARTS AT | ENDS AT |
| Monday to Thursday | 05:00 am | 12:00 am |
| Friday  | 05:00 am | 01:00 am (Next Day) |
| Saturday | 05:00 am | 12:00 am |
| Sunday | 08:00 am | 12:00 am |
Dubai Metro Stations List

The metro network includes 35 stations on the Red Line, 20 stations on the Green Line, and the New Route 2020. Below you can see the latest list of Dubai metro stations. 
The Green Line Metro Station List
| | | |
| --- | --- | --- |
| Etisalat | Al Qusais | Dubai Airport Free Zone |
| Al Nahada | Stadium | Al Qiyadah |
| Abu Hail | Abu Baker Siddiqui | Salah Al Din |
| Union | Baniyas Square | Gold Souq |
| Al Ras | Al Gubaiba | Sharaf DG |
| Burjman | Oud Metha | Dubai Healthcare City |
| Al Jadaf  | Creek | – |
The Red Line Metro Station List
| | | |
| --- | --- | --- |
| Center Points | Emirates | Airport Terminal 3 |
| Airport Terminal 1 | GGICO | City Center Deira |
| Al Rigga | Union | Burjman |
| ADCB | Max | World Trade Center |
| Emirates Towers | Financial Center | Burj Khalifa/Dubai Mall |
| Business Bay | Al Safa | Equiti |
| Mall of the Emirates | Mashreq | Dubai Internet City |
| Al Khail | Sobha Realty | DMCC |
| Jebel Ali | Ibn Battuita | Energy |
| Danube | UAE Exchange | The Gardens |
| Discovery Gardens | Al Furjan | Jumeirah Golf Estates |
| Dubai Investment Parks | Expo 2020 | – |
The New Route 2020 Red Line Extensions' Metro Station List
| | | |
| --- | --- | --- |
| The Gardens | Discovery of Gardens | Al Furjan |
| Jumeirah Golf Estates | Dubai Investment Parks | Expo 2020 |
Dubai Metro Ticket Price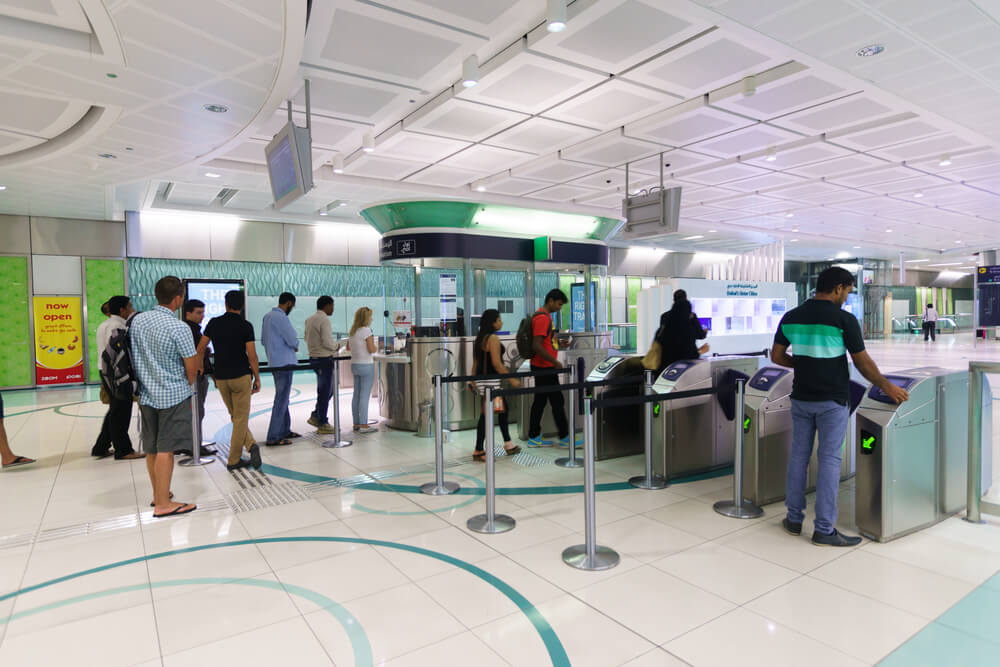 Ticket prices vary depending on the number of zones and routes you travel on. Go through the quick breakdown of metro ticket fares and NOL cards.
| | | | | |
| --- | --- | --- | --- | --- |
| Zone  | Silver  | Gold | Personal  | Red Ticket |
| Under 1 Zone | AED 3 | AED 6 | AED 3 | AED 4 |
| 2 Adjacent Zones | AED 5 | AED 10 | AED 5 | AED 6 |
| Multiple Zones | AED 7.50 | AED 15 | AED 7.50 | AED 8.50 |
Dubai Metro Ticket Fares for NOL Cards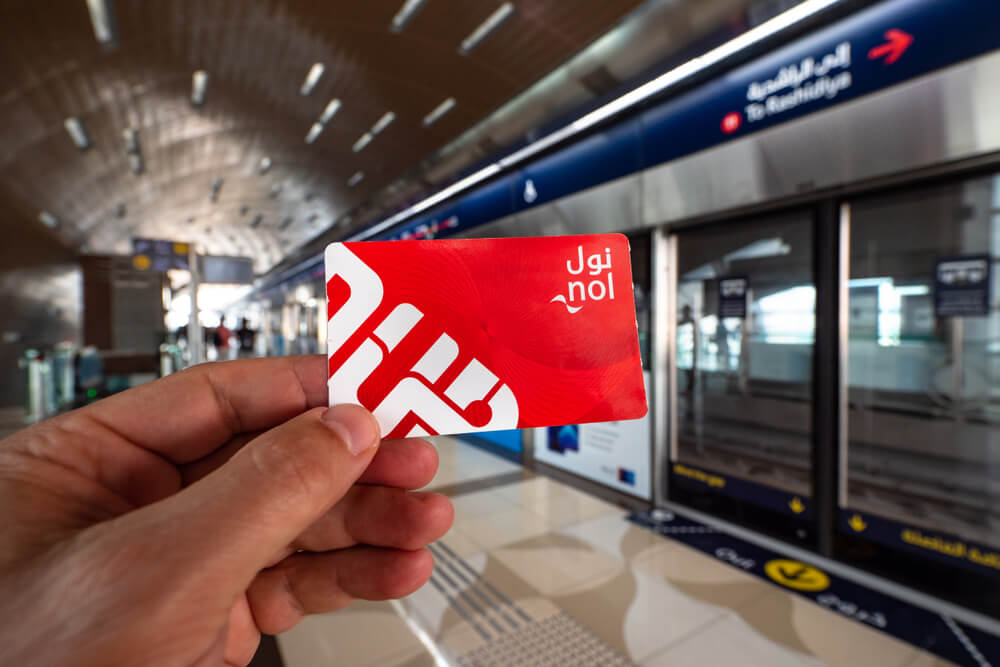 Below is the NOL card price list, which you can purchase for a single trip (Regular or Gold).
| | | |
| --- | --- | --- |
| Zones | NOL Red Ticket Regular | NOL Red Ticket Gold |
| Under 1 Zone | AED 4 | AED 8 |
| 2 Adjacent Zones | AED 6 | AED 12 |
| Multiple Zones | AED 8.50 | AED 17 |
The Dubai Metro monthly pass service provides an easy way for a regular traveller to use the pass multiple times throughout the month. NOL card users can benefit from the below service.
| | | | |
| --- | --- | --- | --- |
| NOL Card Type | 1 Zone | 2 Zone | All Zones |
| Silver | AED 140 | AED 230 | AED 350 |
| Gold | AED 280 | AED 460 | AED 700 |
RTA Dubai Metro Zones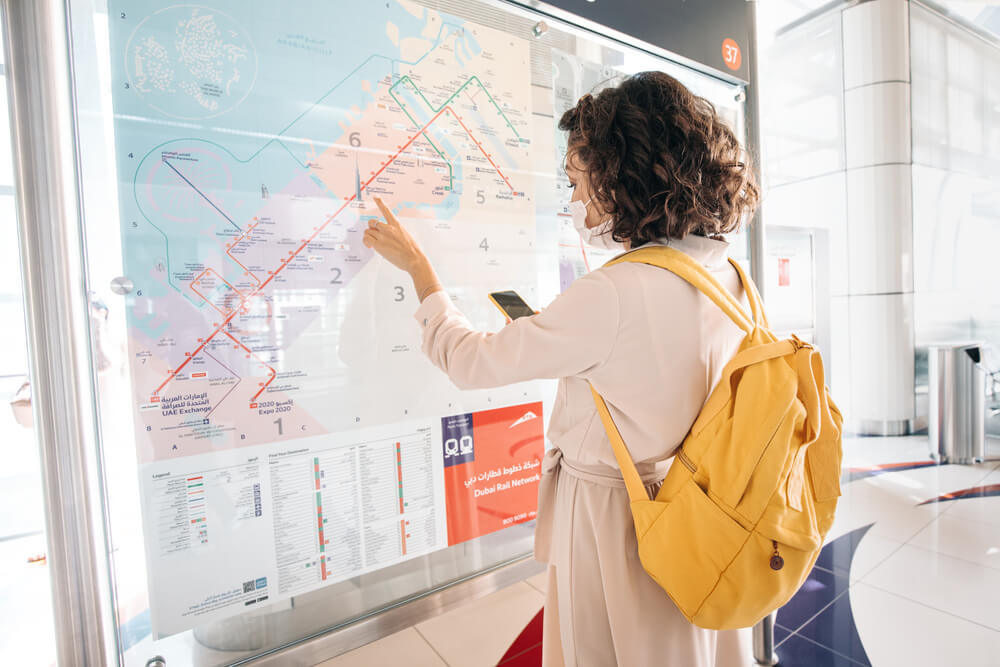 Dubai city is subdivided into seven public transport zones, as featured in the Dubai metro station maps. With the beginning of Dubai metro Route 2020 stations, the metro will cover five of the seven zones, i.e., Zone 1, Zone 2, Zone 3, Zone 5, and Zone 6.
The number of zones you cross during your metro journey will calculate your total charge. All the RTA Dubai Metro zones mentioned above also route passengers to other modes of transport such as bus stands, water buses, and trams. 
If a passenger is conducting a single journey via two different modes of transportation, it will be considered as one, but the transfer must be made within half an hour, i.e., 30 minutes. 
Dubai Metro App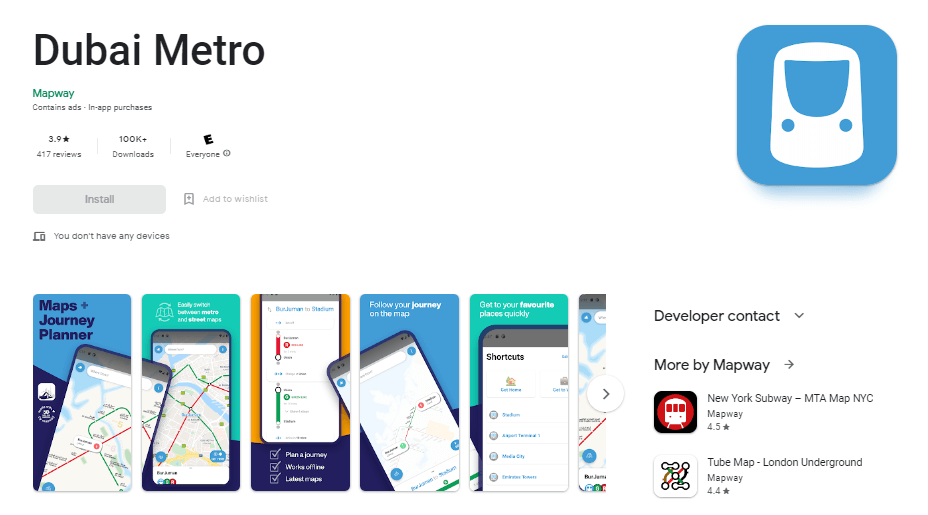 After gathering all the details about the Dubai's metro, from its timings and station list to its operational zones, monthly pass, and ticket price, Let's get set go and check out the Dubai Metro app to see metro fares from source to destination station. Also, this app helps you find the metro maps. This easy-to-use application for Dubai metro also features the metro routes to help passengers board in the right direction without any hassle. 
Even if you are new to Dubai or you have just visited Dubai for a vacation, you must try a metro journey to go through the city in the most relaxing manner. Therefore, using the Dubai metro app will let you skip the language barrier by asking for directions from other passengers who might not know your language and who might confuse you by boarding in the wrong direction. 
Dubai Metro Map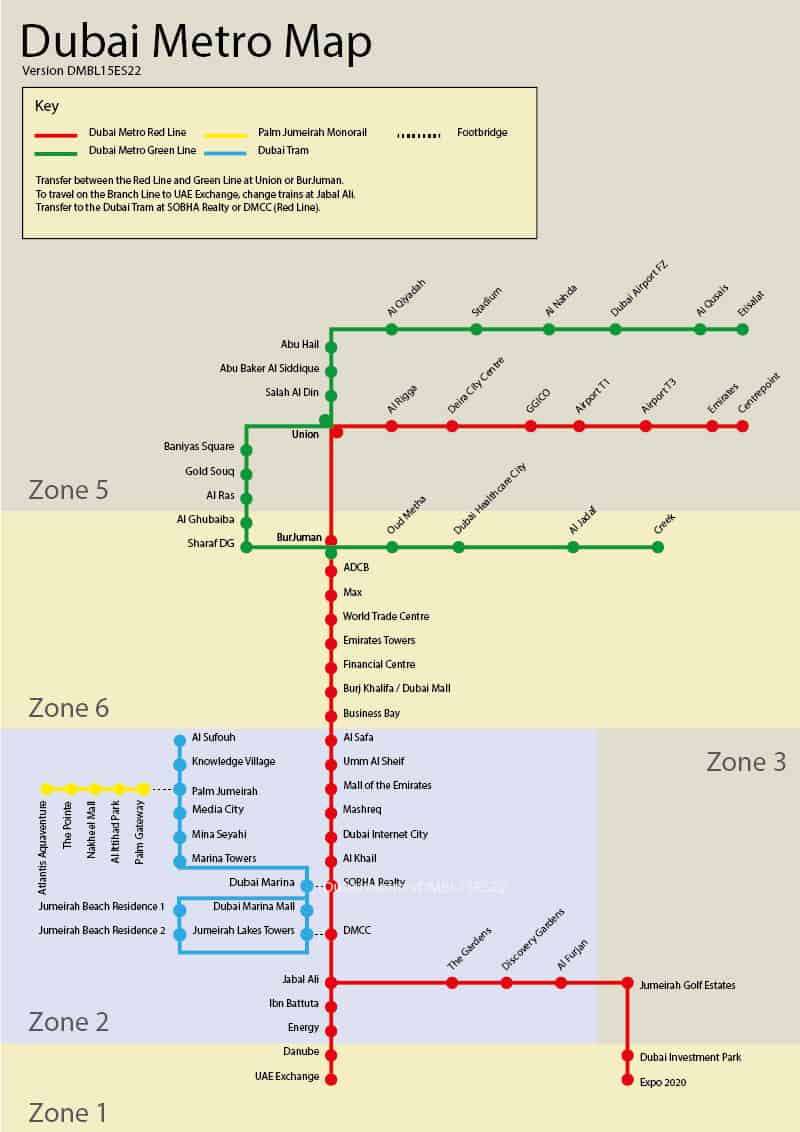 The Metro is a convenient commuter service to travel throughout the city. The metro trains in Dubai are operational on multiple lines, which take you to different regions. Thus, it becomes quite difficult for people at times to understand the metro station maps. For this reason, the Dubai metro map is subdivided into three parts to keep it simple for people to understand the entire route. 
The schematic map (first map): the schematic Dubai metro stations map displays the stations on both the Red and Green lines. It also represents the transport zones that the stations lie in. The details of the zones are useful to calculate the fare from the starting point to the end point. 
The interactive map (second map): the interactive map of the Dubai's metro station map displays transport zones and stations on both lines. It also shows the Dubai Tram system route, hotels, shopping malls, the Palm monorail, and other tourist attractions. 
The overlay map (third map): the overlay map of the Dubai's metro stations map displays Green and Red Lines that are overlaid on the map. 
Dubai Metro Careers
To get a job at Dubai Metro, you just need to follow the below criteria and groom yourself well. Figure out the job vacancies in the Dubai's Metro Careers list from entry to advanced level. The Dubai's Metro will improve your skills and pay you well, along with several perks like food, transportation, laundry, tax-free salary, and fully-furnished accommodation. 
In a Nutshell
Be it your visit or your permanent residence in Dubai, the city never fails to serve you at its best. And the Dubai metro rail service is one of the best examples of how this opportunist emirate serves comfort to everyone. From a single trip and your daily commute to your permanent employment source, Dubai provides ease in every aspect to improve your life. The nominal charges for using the metro service make it affordable, and the long routes make it convenient for all the passengers to get through the city. But it's good to go through the route map, stations, and ticket charges to keep your journey straight and smooth.
Some More Useful Articles for you :
Frequently Asked Questions (FAQs)
What is Dubai Metro commonly known as?
The Dubai Metro is widely known as a rapid transit rail network in the emirate of Dubai.
What are the red and green lines in the Dubai metro?
There are two main lines in the Dubai metro, i.e., Green and Red. The Green line starts at and ends at the Creek metro station, whereas the Red line starts at Centre point and terminates at Expo 2020 metro station.
What time is the last metro in Dubai?
Dubai's Red and Green lines are operational from Monday to Thursday till 1:15 am. On Friday and Saturday, the metro will run till 2:15 am.
What time does the metro open in Dubai?
The Red and Green lines in Dubai are operational from Saturday to Monday from 5:00 AM.
Does the Dubai metro go to the airport?
Yes, the Dubai metro goes to Dubai airport at Terminal 1 and Terminal 3.
Is there a Dubai metro app?
Yes, Dubai Metro has an easy-to-use app, 'RTA Dubai App' with simple features to help travellers plan their relaxing journey within the city.
Which metro stations are near Dubai Mall?
Going to Dubai Mall, the nearest metro station within walking distance to the mall is Burj Khalifa/The Dubai Mall station.
Is the Dubai metro available 24 hours?
Dubai Metro runs every day of the week, but between its specific timings.
Can I carry luggage on the Dubai metro?
A person can carry two luggage pieces in a Dubai metro, i.e. a suitcase which should not be bigger than 81cm x 58cm x 30cm and a carry-on which shouldn't exceed 55cm x 38 cm x 20cm.
How much does the metro cost in Dubai?
Dubai Metro tickets range in price from 4 to 17 dirhams, depending on the zone and ticket type.
Can I buy NOL cards for a single trip?
NOL is a smart card that allows you to pay for using several RTA transport modes in Dubai with a single tap.
Can I pay cash for the Dubai metro?
Yes, you can purchase an NOL card to travel on the Dubai metro, but you can only use a credit card or cash to make the payment.
Where can I buy metro tickets in Dubai?
You can purchase a single-time travel ticket or an NOL card to travel on the Dubai Metro at any metro station, bus stand, or supermarket like Waitrose, Spinneys, or Carrefour.
How to get to Dubai Marina by metro?
You can use the app to check your location's Dubai Metro maps to Dubai Marina. The nearest location to Dubai Marina is M1. It is, therefore, possible to find out on which line M1 is located.
How to go to Global Village Dubai by metro?
You can take the metro to the nearest metro to Global Village, Dubai, which is Al Fahidi Metro Station.
How to get to Dubai's miracle garden by metro?
You can take the metro to the Dubai Miracle Garden with the help of the Dubai Metro app. Take the nearest metro line to the Dubai Miracle Garden, MOE (Mall of the Emirates metro station).
How to get to Dubai Airport Terminal 1 by metro?
You can take the metro to Ggico metro station to get to Dubai Airport Terminal 1 as this metro station is on the Red line and one of the nearest metro stations to the airport of Dubai.